Balans Soho Society Café in Seven Dials welcomes those in the pursuit of pleasure for all-day and late night dining with a laid back café-style approach. Not for the fainthearted, it's a place to indulge in the company of fellow bon vivants. A café where rules are made to be broken and a place where you feel like giving into temptation.
Before we got to the new Café in Seven Dials, our temptations began early with a visit to Balans Soho Society Restaurant in Old Compton Street for cocktail hour before dinner to indulge in the new G & Tea cocktails launched to celebrate National Afternoon Tea Week in typically indulgent Balans style. The roguish rascals behind the bar have developed an indulgent new twist on tradition by infusing their favourite gins with the delicate flavours of various teas in order to create five unique new cocktails.
For further indulgence, each delectable G & Tea cocktail is garnished with a delicious mini afternoon treat, be it a traditional teacake, a chocolate brownie with fresh raspberry, classic cucumber sandwich or my favourite a smoked salmon canape. These cheekily alcoholic alternatives to the genteel British tradition of Afternoon Tea are an irreverent slap in the face of tea and scones!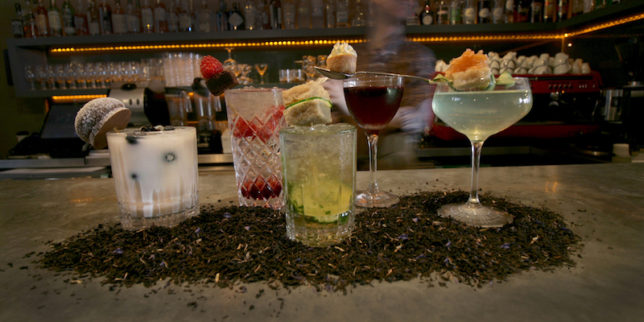 Priced at £12 each, the limited edition cocktails are only available at Balans Soho Society Restaurant on Old Compton Street each day between 2pm – 6pm during Afternoon Tea Week.
They're so special I had to take to the new Instagram stories to show the world exactly what they would be missing if they didn't pop down an order one. The only criticism is that the choice is limited to 5 but there are other choices available on the cocktail menu – that too on 2 for 1 at certain times of the day. We started with a chocolate brownie and slice of elderflower cake also known as a Swoon Around Noon and a Hazy Shade Of Grey.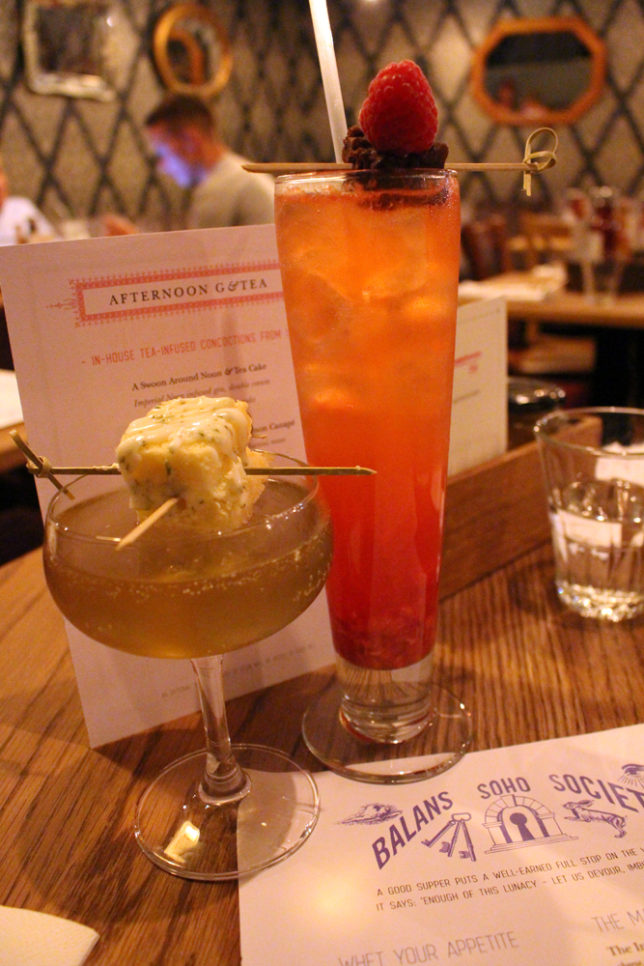 A SWOON AROUND NOON: Mixing the finest Imperial Noon infused gin, with rich double cream, rhubarb syrup, smooth egg white and soda water, this silky cocktail is garnished with a miniature chocolate brownie and a raspberry to satisfy that sweet tooth.
A HAZY SHADE OF GREY: Delicate but decadent, this Blue Flower Earl Grey infused gin cocktail could get you into all types of trouble, thanks to the delicate scent from the lavender syrup combined with champagne and topped off with a miniature elderflower cheesecake.
Our second round of drinks included the following a cucumber sandwich and a smoked salmon canape.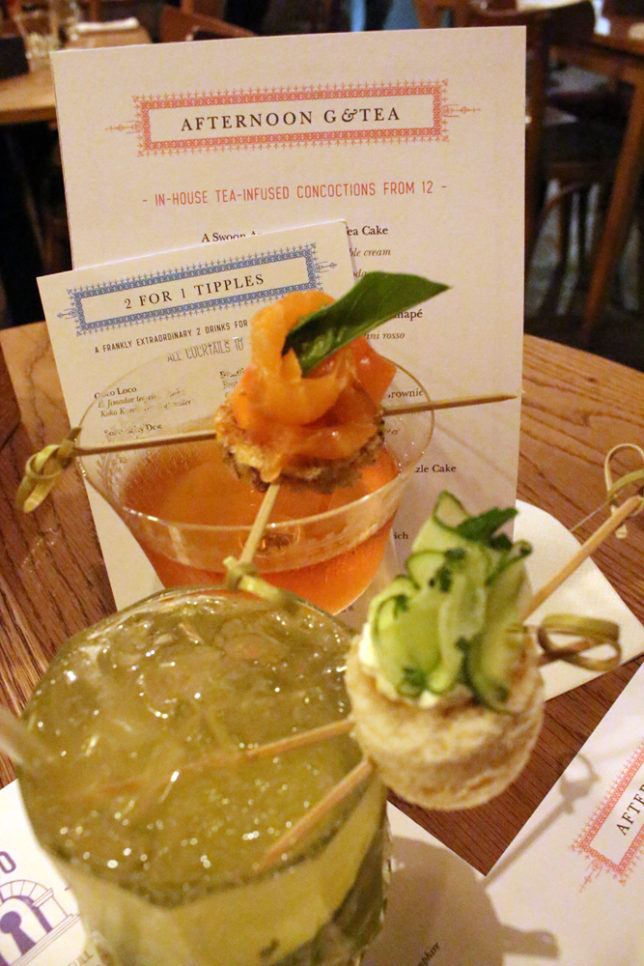 DARJEELING FEELING: Like a cool breeze on a warm summer's evening, this Darjeeling infused gin cocktail is muddled with rich brown sugar, cooling cucumber and fresh mint, before being topped up with soda water and garnished with a crust-less cucumber sandwich.
SOUCHONG LAPDANCE: Exotically Eastern and reminiscent of colonialism, this refreshing creation mixes Lapsang Souchong infused gin with Chatreuse Liqueur, lime purée and egg white. To bring out the delicate flavours, the cocktail is served with a smoked salmon and sourdough canapé.
There is one more to try but we didn't partake in this one although our neighbours did and it looks rather delightful. For those of you interested in trying the fifth and final cocktail it is called The Irrelevant Time Of Day. Your taste buds will be teased by this tropically timeless tipple that combines Orange and Passionfruit tea infused gin with Grand Marnier, blood orange syrup and soda water. A miniature teacake complements the citrus zing. Having given in to the gin, it was time to wind our way over to Covent Garden to sample Balans Soho Society's extensive café style menu at the new Seven Dials Café.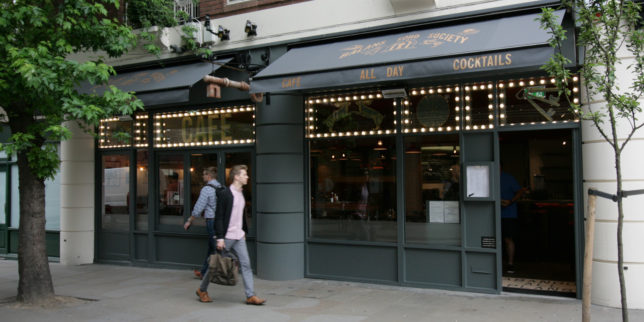 Overseen by Executive Chef Crispin Chetwynd, a culinary superstar who has spent time touring the globe with the likes of Paul McCartney, Michael Jackson and Pink Floyd, the seasonally-changing dishes shine a light on the best local produce from the likes of Ginger Pig and H. Forman & Sons (the oldest smokehouse in London).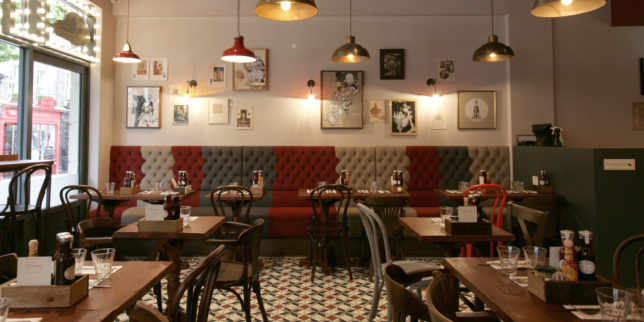 We arrived were greeted by one of the most upbeat wait staff we have met in quite a long time.  His name was Tom, he was studying mechanical engineering and even though he had put in a long day already, his positive and friendly attitude set our evening off to a fabulous start. As did the following cocktails and light starter of bread and olives to make sure that alcohol didn't go to our head.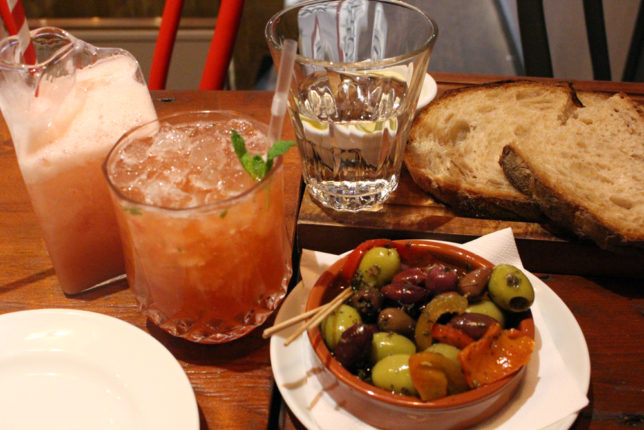 Starters include light bites on petite plates such as coconut shrimp with mango salsa and crab croquettes with brown crab aioli. How could we resist?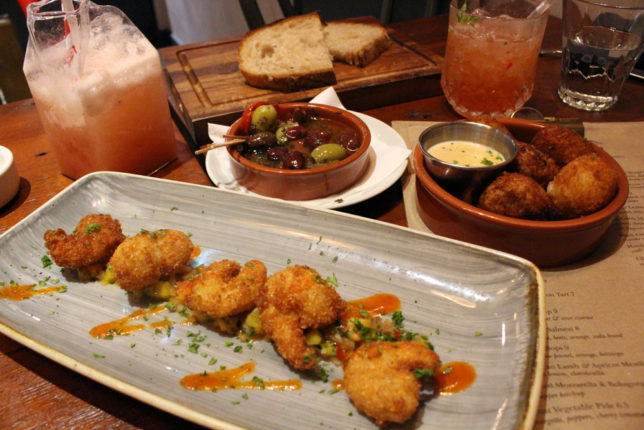 For me the crab croquettes really stood out as a starter that everybody who likes seafood should try…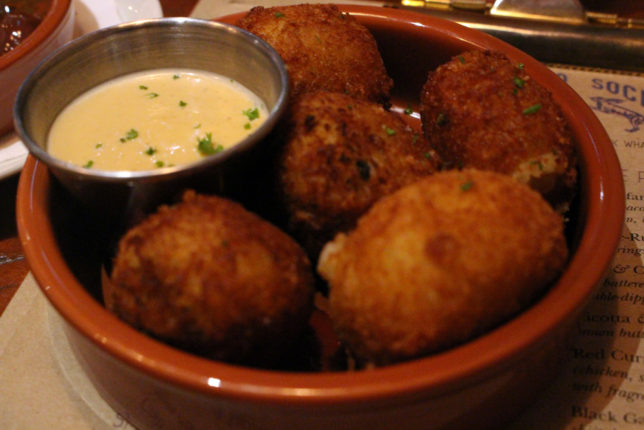 The coconut shrimp were a little small for my liking but perfectly cooked with a nice crispy, crunchy, coconutty coating providing a full flavoured fantastic experience with each bite.
The mains include quintessential Balans Soho Society favourites from the coffee-rubbed bavette with onion rings and chipotle tomatillo salsa to The Infamous Balans Burger.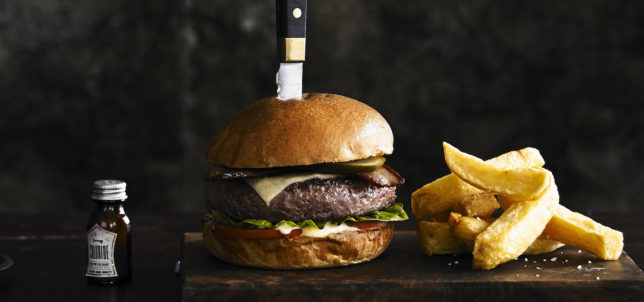 With a reputation as good as this burger, it seemed the done thing to do to order one that too… medium rare. It came to the table looking just like it's promotional photos.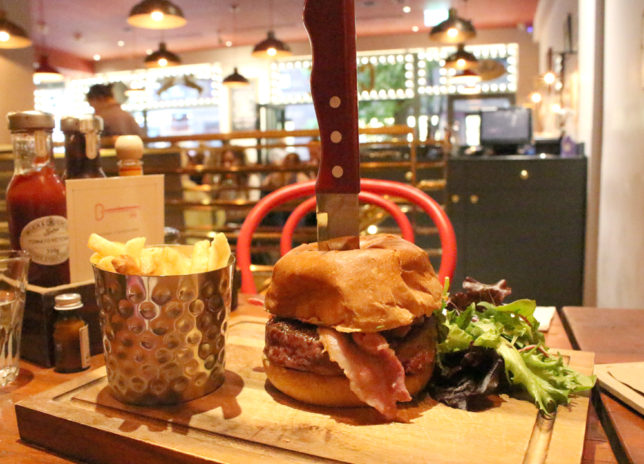 and when I cut it up to see how medium rare it was, this was the result…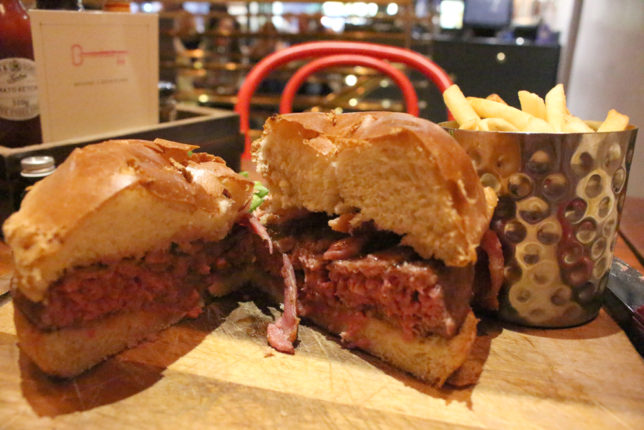 Absolute perfection! Note I had asked for my burger to be served plain but the original burger comes with cheese, relish and salad. My dining companion chose the crab linguine. A hearty portion with a good sprinkling of crab, full of flavour and a hint of chilli.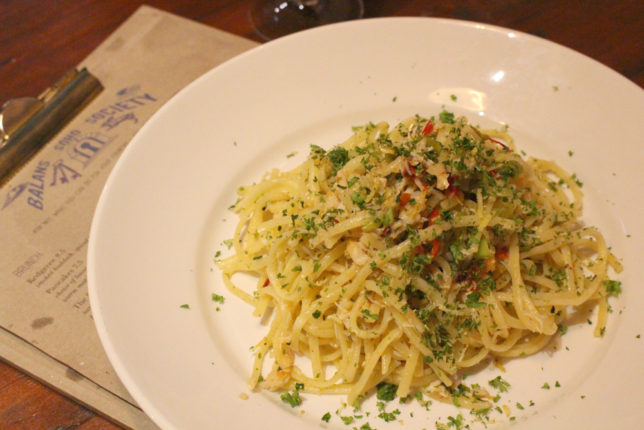 Randomly served with a side of carrots. Can't figure this particular choice out but the carrots were a good addition to the table!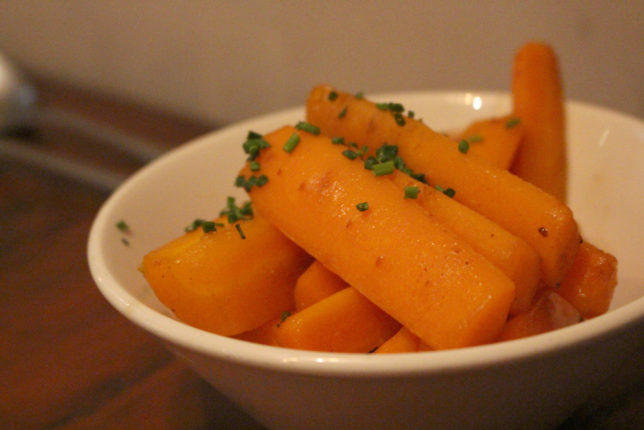 Indulgent desserts change daily and include freshly baked cakes like carrot, chocolate, coffee, red velvet and banoffee. Pretty full by this time having partaken in the Gin and Tea earlier, I chose to abstain from the dessert but my dining companion still had room for carrot cake and a scoop of vanilla ice cream.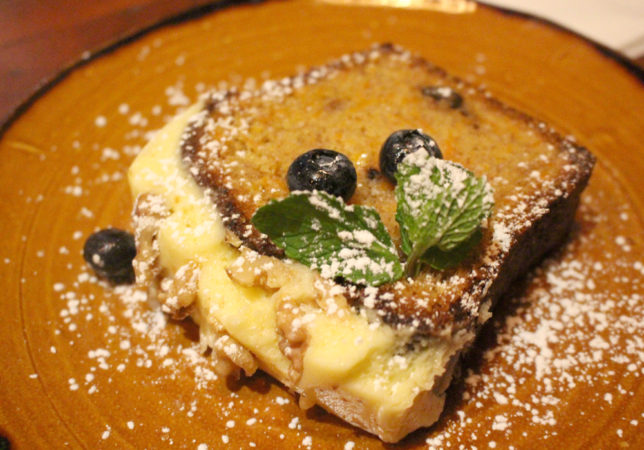 The facades and interior of Balans Café on Seven Dials spring to life from the vision of Simon Costin, who made his name creating outlandish fashion shows for Alexander McQueen and has since worked with Stella McCartney and Hermès. Updating the décor yet keeping it lovingly lived-in and a bit rough 'round the edges, you'll find tributes to Soho past in the detail. The edgy and slightly risqué artwork and festooned lighting are a nod to all things theatrical reflecting the area's theatrical history.
Also newly-introduced is the member keyholder card, which basically rewards you for being you, whether you're good, bad or downright naughty. Bestowed benefits include birthday double points, access to exclusive cardholder-only events and unexpected gifts thrown in for good measure. I am now a proud holder of a keyholder card and intend to be using it very soon.
Balans Soho Society Café
32-34 Monmouth St, Seven Dials, London WC2H 9HA
www.balans.co.uk
T: @BalansLondon
I: @BalansSohoSociety