2020 was the year we adapted, pivoted and transformed our homes into the place we did absolutely everything…including our workouts! Exercise for many became the one saviour of the day, a time to re-energise, de-stress and take some valuable time out for ourselves. However, motivation to workout at home, and actually get results, can be difficult for anyone who's not a personal trainer and navigating what equipment to purchase can be a minefield. But that doesn't have to be the case. The busy and results-focused amongst you will be excited to learn that a technology known as 'whole body vibration' (WBV) training has resurged in popularity as it enables you to upgrade your entire workout, plus stretch and massage, in half the time of a regular workout, whilst getting you incredible results! First used by the Russian cosmonauts in 1970 as part of their space training program to improve bone and muscle mass, WBV is used extensively by professional athletes and teams and is the fitness and wellbeing industry's best-kept secret. If this intrigues and excites you, then do read on…
Power Plate, the leaders in WBV, developed a machine especially for home use. It's perfectly sized, portable and vibrates at set frequencies to accelerate your muscle contractions whilst you perform exercises on the platform. It does this by instructing your muscles to contract and relax at the same speed as the machine vibrates (between 30-40 times per second). This is super fast even by elite athlete standards as you can't even blink that fast! The best part is, all you have to do is step on and move your body and you'll have more muscles doing more things, more often! Literally, any exercise you would do on your yoga mat – squat, sit up, push up, downdog, hamstring stretch and glute massage to name a few – can be performed on the vibrating platform to improve strength, flexibility and aid recovery, faster! A typical workout on Power Plate is just 20-30 minutes in length including the warm up and cool down. Better still, even if you don't want to workout, you can just hop on to stretch and massage any time of day as part of your self-care routine.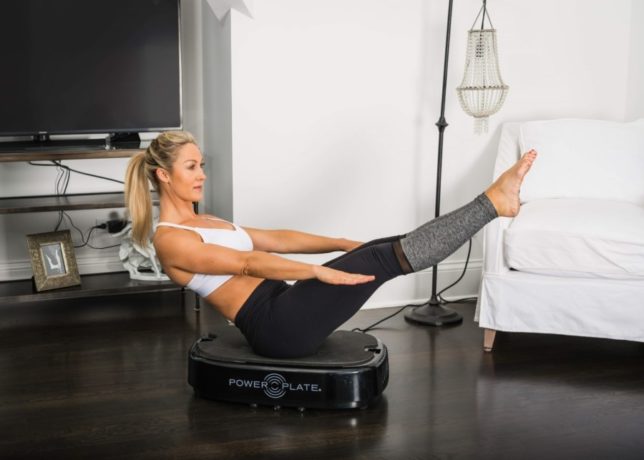 Power Plate enables you to do the following:
PREPARE FASTER
Perform any stretch exercise on the vibrating platform and you'll experience an instant increase in flexibility and mobility. The vibration increases blood flow which warms the muscles and makes them more pliable and stretchy. Goodbye aching back from sitting at your desk all day, and hello instant relaxation and pain reduction. Just 5 minutes of stretching on Power Plate can completely reset your body. I do this first thing in the morning and mid-afternoon to re-align and revive my tired body.
PERFORM BETTER
A short routine of exercises on the platform will fatigue your muscles faster than on the ground, making the need for lengthy sessions a thing of the past. Power Plate has a free app with 10-30 minute workout routines for you to follow along to, whether you're looking for strength, cardio, Pilates or Yoga inspired sessions. You'll find my workouts on the app too so please do welcome me into your home as your coach! Your muscles respond automatically to the vibration with a reflex response, and do so rapidly, leading to improved strength and muscle definition. The Power Plate platform actually moves in 3 dimensions so your body has to respond to this instability and as such, your proprioception and stability will improve too. The vibration gives back to you in the sense you can feel exactly what muscles are experiencing the deep contractions. Very satisfying especially if you're looking to tone up specific body parts. Every machine comes with straps you can attach to the machine for additional upper body exercises.
RECOVER QUICKER
Never has self-massage been so gratifying. This is the best part of WBV (in my opinion) and it's so simple! Just lay the fleshy part of your muscle (thigh, hamstring, calf muscles, lower back or triceps) on the vibrating platform and allow them to passively receive the vibration. This will accelerate blood flow and lymph flow to remove toxins from the body, speed up recovery and tackle any tight muscles in minutes. The vibration has also been found to reduce cellulite through the direct vibration stimulation to parts of the body that typically have poor blood flow (outer thigh and triceps for example). Definitely a win in my book as cellulite can be so stubborn to remove and actually quite painful!
Power Plate certainly gives you more bang for your buck when it comes to a home workout piece of equipment. Not only does it upgrade your workouts, improve flexibility and assist your recovery routine as discussed, but it has also been found to reduce visceral fat, increase energy expenditure and calorie burn, and improve your hormone profile by increasing human growth hormone, reducing the stress hormone cortisol and accelerating the release of feel-good endorphin hormones. What's more, exercise with Power Plate can boost immune function, which I'm sure we can agree is of high priority as Covid-19 affects those with immune deficiencies the most.
Welcome to the best-kept secret in the health and fitness and the perfect at-home solution for all your exercise and wellbeing needs… the Power Plate!
Power Plate's home machines include the Power Plate Personal, Power Plate MOVE, MY5 and MY7 models. Visit www.powerplate.com for more information.
About the expert
Caroline Pearce is a world-renowned fitness and health professional with 2 degrees in Sport Science, Nutrition and Physiology from Loughborough University. A former athlete, Caroline competed for Great Britain in heptathlon and bobsled and was twice a National Champion. An author, spokesperson and master trainer, Caroline has travelled the globe for 20 years teaching the principles of Whole Body Vibration to medics, physical therapists and sports coaches. When not teaching, researching or presenting fitness principles, Caroline is a television presenter for BT Sport, broadcasting UFC and Boxing. You may also know her as 'Ice' from the revival of the hit TV show 'Gladiators'! Follow Caroline on social media @carolinepearce for workouts and training advice, and check out her website at www.carolinepearce.co.uk