Stuck for the perfect gift for your mum (or mother figure) this Mother's Day 2022? We've got you covered. SLOAN! celebrates Mother's Day with our selection of unmissable gifts that are guaranteed to make your mother's day on Mother's Day from luxury macarons to luxurious sleepwear!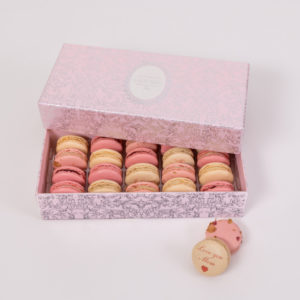 Ladurée
The Mother's Day Gift Box from Ladurée - the quintessential luxury French pâtisserie - honours the special day with this beautiful pink pastel colour 20 macaron gift box featuring 4 vanilla personalised with 'Happy Mother's Day', 4 Rose macarons, 4 Orange blossom, 4 Rose Cardamon macarons, 4 Raspberry Ginger macarons. The box is available both in-store and online until 27th March 2022. Ladurée UK stores are located in Covent Garden, Harrods, Royal Exchange, Burlington Arcade, St Pancras Station and Selfridges & Co Manchester.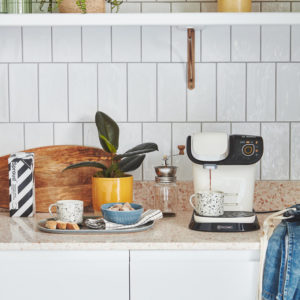 TASSIMO
The TASSIMO MY WAY 2 Coffee Machine is a perfect coffee pod machine for mums, designed by Bosch. Thanks to the integrated BRITA water filter, mum will have the best tasting coffee shop quality coffee every time. This TASSIMO machine offers more than just coffee. Mum can use her favourite TASSIMO pods to create any hot drink she likes.
Olverum
Your mother will love nurturing and nourishing her mind and body with the Head-to-Toe Selfcare Ritual from Olverum. She can gently buff her body with the Body Polish which will leave skin smooth and glowing. Then to truly nourish the skin, the ritual continues with one of the Olverum Body Oils. Select the right oil to suit her skin and needs. Then to finish the ritual, end with Olverum Facial Oil, which restores vitality to both skin and spirit.

Pen Heaven
The Parker Sonnet fountain pen has an ageless appearance, with an elegant profile and tasteful decoration forming a figure of unassuming beauty. This combination of red lacquer with 23k gold plate is a popular romantic gift, and it's also favoured by anyone who prefers splash of colour in their stationery drawer. Featuring a contoured, high-gloss grip for superb comfort and control, this delightful Parker Pen makes handwriting a joy.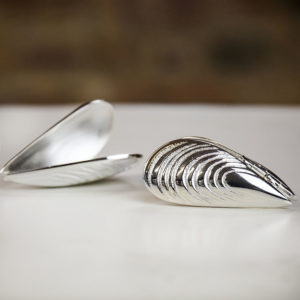 Farrar & Tanner
Culinary Concepts Silver Plated Mussel Eaters, available in pairs from Farrar & Tanner, will make a stylish accompaniment for your mother's dinner parties. These silver plated pincers, fashioned into the style of a mussel shell, allow quick and easy removable of mussels from their shell. A luxury accessory for mums who enjoy seafood, they are packaged in a gift box so your work's half done.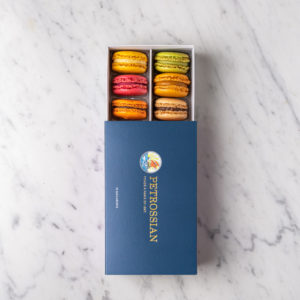 Petrossian
The Petrossian Macarons Box contains an exclusive selection of 12 sweet macarons handmade in Suffolk using only the finest ingredients. The Italian meringue shells are made with free range eggs, all flavours are natural and they are gluten and alcohol free. Flavours include salted caramel, lemon, vanilla, raspberry, pistachio, passion fruit chocolate, fresh mint, orange chocolate, blackcurrant, hazelnut, pecan & cinnamon and milk chocolate.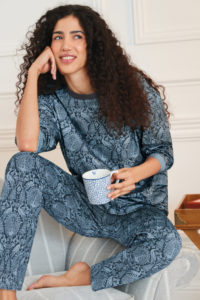 Laura Ashley
The stunning new Laura Ashley sleepwear collection has been designed using well-loved archive prints and features a garment for every sleep style from button-through pyjamas & robes to nightdresses and even a beautiful quilted jacket. We love this PJ set in a beautiful peacock damask print. The elegant peacock design is inspired by an archival 1970s Laura Ashley wallpaper print and makes for a luxurious statement cotton two-piece that is perfect for lounging at home in on Mother's Day and beyond. The sleepwear collection starts from £28.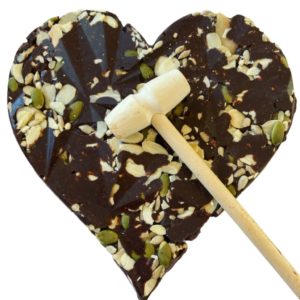 SIMSANTÉ
Perfect for Mother's Day and impossible to resist, the new SIMSANTÉ chocolate heart slabs are filled with organic guilt free chocolate infused with antioxidant and protein rich nuts and seeds, ancient grains and more. Each box comes with your choice of 2 flavours and a wooden hammer!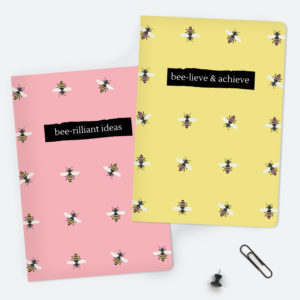 Dotty About Paper
These Dotty About Paper bee-themed notebooks share a cute bee pattern with pretty pink and yellow colours. The covers read 'bee-lieve & achieve' and 'bee-rilliant ideas', two quirky quotes to keep Mummy motivated! The 48 pages of ruled paper provide plenty of room for lists of fun things to do with the little ones.
Some of these gifts were also featured in the 29th Edition of SLOAN! Magazine. Read the free digital issue here.