Here's our selection of the best board games for all the family from ones for little kids to ones that appeal to the big kid in all of us!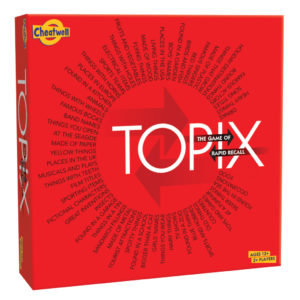 Topix
Played against the clock, Topix is a race to find as many examples as you can for your given topic; the catch being that all your answers must start with the same letter.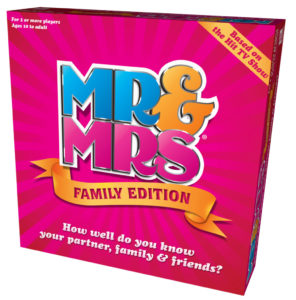 Mr & Mrs Family Edition
Mr & Mrs is based on the hugely popular All Star Mr & Mrs hit ITV show hosted by Phillip Schofield, where players are challenged to answer in-depth and entertaining questions about their partner, friends or family members. It has over 300 questions and is guaranteed to cause laughter, blushes, blank looks and a whole lot more! How well do you know your partner or family member is the question!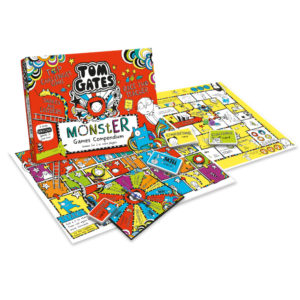 The Brilliant World of Tom Gates
The Tom Gates Monster Games Compendium is perfect for a family Christmas! Three brilliant games in one box. Enjoy the ups and downs of Snakes and Ladders, the fast and frantic Race the Teacher and then be tested in the Top Challenges game where spinning the spinner will give you an awesome challenge to complete.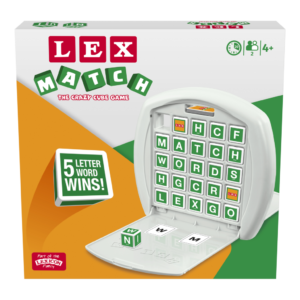 Lex Match
Lex Match is the crazy cube game in which you have to be the first to make a 5 letter word. Players take it in turns to push out the cubes in an attempt to to make a 5 letter word to win the game. Each turn the player has the opportunity to either create a 5 letter word or use the cube to disrupt their opponents' potential word. Words can be made horizontally, vertically or diagonally. The LEX cube can be any word you like, so players should keep an eye out for these special cubes if they spot them in the grid. If your opponent makes a word that uses a letter on one of your cards, you steal their points! Lex Match is great for all ages including kids and adults. You can also use three or four letter words for younger players. When the game is finished, you can pack it all up, including the cubes and cards, in the game grid which also works as a handy carry case.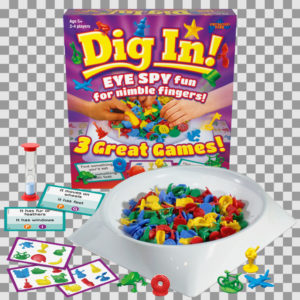 Dig In
Dig In is a whole new kind of game which combines frantic finding fun whilst getting kids to practice thinking, co-ordination and social skills. There are 3 ways to play, starting with classic Eye Spy, each player must try to quickly spot and dig out six figures shown on their game card. The first to complete their card wins! In games 2 and 3, players race to spot figures either starting with a random letter (things starting with R), or with a common theme (things that eat food) from the 128 pieces on the table. First to find their items wins! Simple enough for a five-year-old but engaging enough for adults to play along, Dig In is as captivating as it is appealing and brings fun and learning together.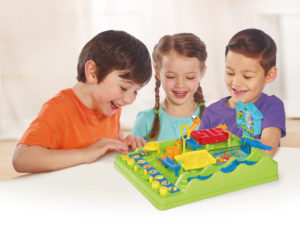 Screwball Scramble
Master the maze in TOMY's nostalgic Screwball Scramble Game. Created in the late 70s this game is a gift that keeps on giving, even in the 21st century. Players guide the screwball through a crazy obstacle course in a race against the clock. Rock across the tilting walkway, swing the magnetic crane to catch your screwball and wobble across the table maze. You'll need determination and skill to find your way through the tunnel maze and catapult to the finish. Set a time on the Screwball Scramble board game and see if you can beat it to become the Screwball Scramble champion. Play solo or challenge your friends to master the Screwball Scramble Game. This colourful board game is packed with playful screwball obstacles that kids can move in different ways to get their ball to the finish.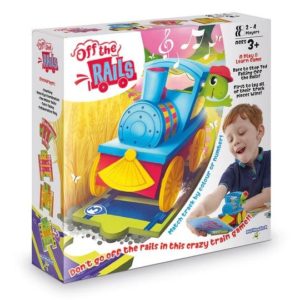 Off The Rails
In this laugh-out-loud game, Ted the Tortoise has fallen asleep and is heading for an unfinished section of track. The aim of the game is to lay new track fast enough to prevent him going off the rails. Each player starts with 3 track pieces and the remaining pieces are laid face down. Players take turns to add a section of the track and match by colour or number. If they cannot lay a track piece they must pick up another and add it to their hand with play continuing to the player. There's no time to hang around as Ted's train will speed up to make the game more challenging!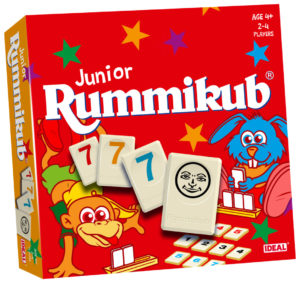 Rummikub Junior
Suitable for 4 years +, Rummikub Junior is played with 40 tiles (numbered 1 to 10 in 4 colours) plus a set of star tiles. The object of the game is to collect as many stars as possible. Earn a star when you make a run or add to a run that is already laid.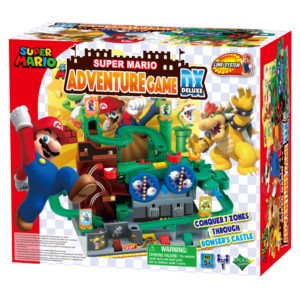 Super Mario Adventure Game DX
Suitable for kids 4 years +, Super Mario Adventure Game DX is perfect for Super Mario fans. This exciting action game tests your ability to deliver your playing marble to the goal using the three buttons and two revolving wheels whilst tackling seven tricky obstacles! There's lots of gimmicks and movement without the need for batteries.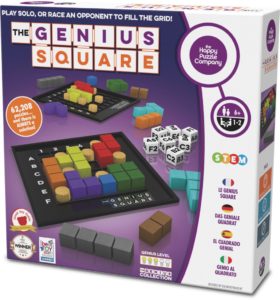 The Genius Square
Suitable for 6 years +, The Genius Square is perhaps the cleverest game ever invented. Complete the square using the nine coloured shapes, once the seven blockers are in position. Race your opponent, or challenge yourself - it may seem impossible, but there will ALWAYS be at least one solution... and that's why it's called The Genius Square!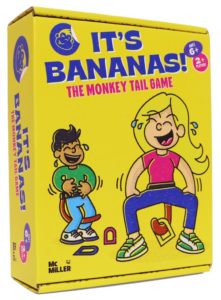 It's Bananas
Suitable for kids 6 years +, It's Bananas is the hit party game with over 50 million viral views! The game gets players howling from the first squat to the last whack of a coconut. Players split into two teams, strap on their monkey tails, warm up their thighs and compete in a series of silly monkey-inspired challenges! Whoever collects the most bananas wins!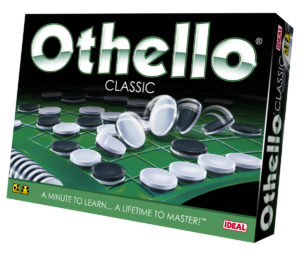 Othello Classic
Suitable for kids 7 years +, Othello is the internationally acclaimed two-player classic strategy game that takes a minute to learn and a lifetime to master! Gameplay involves trapping and capturing the opponent by placing the disks on the board. Each player's lead can change with the flip of a disk in this classic fast-paced strategy game.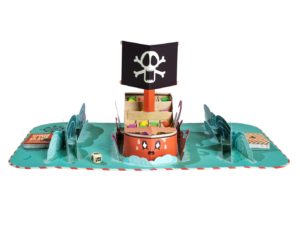 Fire In The Hole
Suitable for 7 years +, Fire In The Hole centres around a large 3D pop-up ship that gets bombarded by felt cannonballs! Choose FIRE to take a shot or SABOTAGE to trick your fellow pirates. Simple enough for kids, silly enough for adults and has the sneaky twists and turns for even the most strategy-loving gamers.100% eco friendly and plastic free.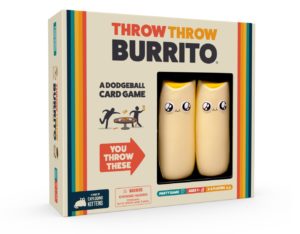 Throw Throw Burrito
Suitable for kids 7 years +, this wacky game is the world's first dodge ball card game! Try to collect matching sets of cards faster than your opponents while simultaneously ducking, dodging and throwing squishy airborne burritos. The cards you collect earn points, but getting hit by flying burritos loses them.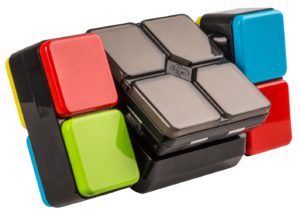 Flipside
Suitable for kids 8 years and over - although younger kids might enjoy it too - Flipside is the utterly addictive, fast-moving electronic puzzle game! Kids have to master the moves to beat the blocks, flip to find the colour and slide to match the lights. They can either play it by themselves or with friends. Even adults will find it hard to put down! As it's compact and lightweight, Flipslide is perfect for gaming on the go!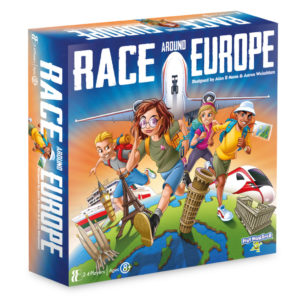 Race Around Europe
Take your travels by land, boat or plane as you attempt to race around Europe! No game or route is the same! From the creators of Ticket to Ride, a fun game where kids can learn about Countries, Capitals and Landmarks as they travel across Europe! Players use Country and Transportation Tiles to chart a course across Europe. The first player to complete a 10 trip journey, where each trip connects to the next, is the winner!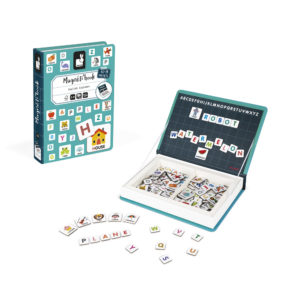 Janod
The English Alphabet Magneti' Book is self-contained in a cardboard box the size of a book, It features easy-to-hold magnets to learn the alphabet the fun way! The perfect gift to incorporate playtime with learning. Ideal for play at home, in the car, on holiday or at Grandma's house.