Inspired by professional kitchens to ensure a sparkling performance every cycle, the KitchenAid 3T133 PFE UK is a powerful, quiet and fully integrated dishwasher with a 14 place setting capacity.
Probably our number one favourite dishwasher to date, the KitchenAid 3T133 PFE UK integrated dishwasher provides an outstanding clean alongside an unparalleled level of hygiene – removing 99.99% of bacteria in just 2.5 hours – the perfect cycle for the hardworking chopping boards of busy home cooks.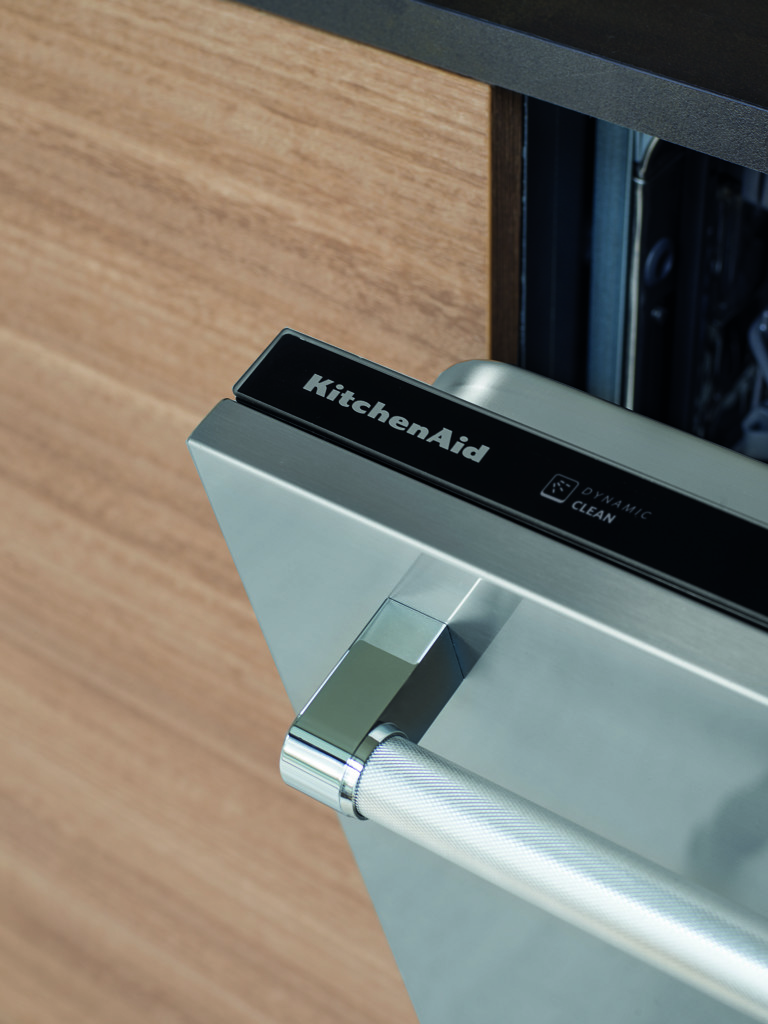 With a host of excellent features, we loved this low noise dishwasher. At only 41dBA, you can just turn the dishwasher on at any time and it won't interrupt conversation, making it ideal for those who have family dinners around the kitchen table.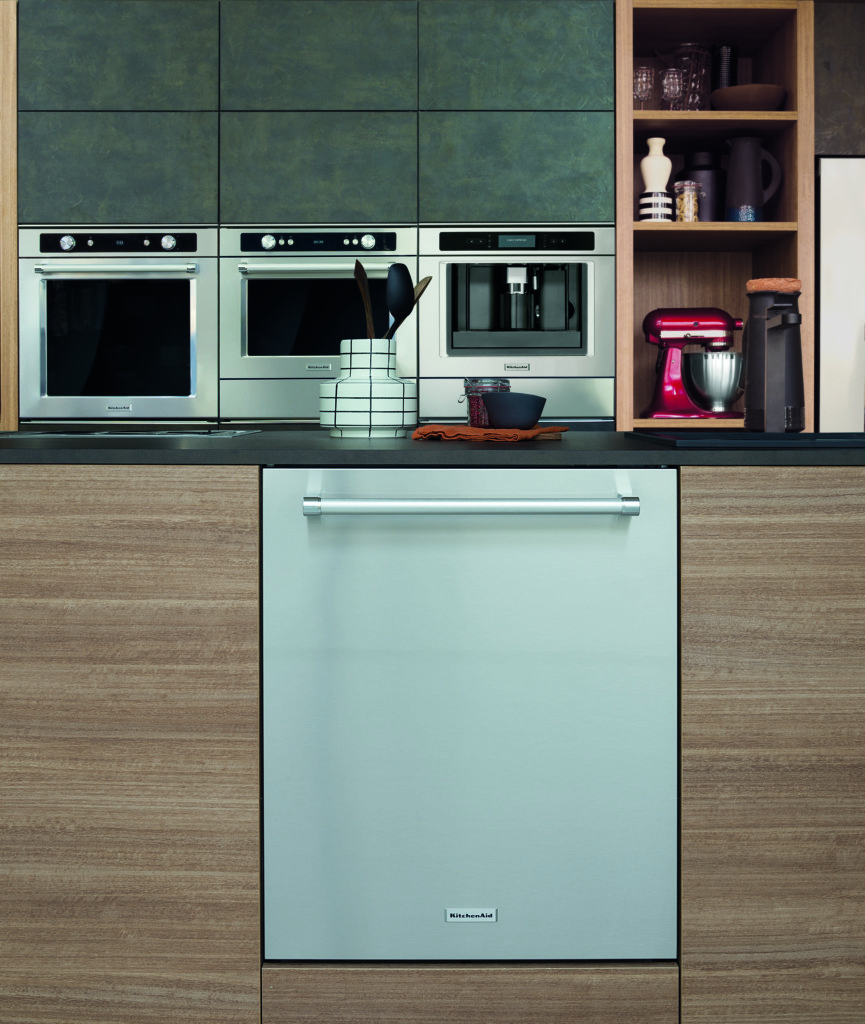 Complete with high-pressure jets, the Dynamic Clean Pro technology of this KitchenAid dishwasher delivers sparkling professional performance every cycle, removing even the most stubborn dirt. The rear jets offer added flexibility, allowing you to position pots and pans vertically, providing you with more space for your plates.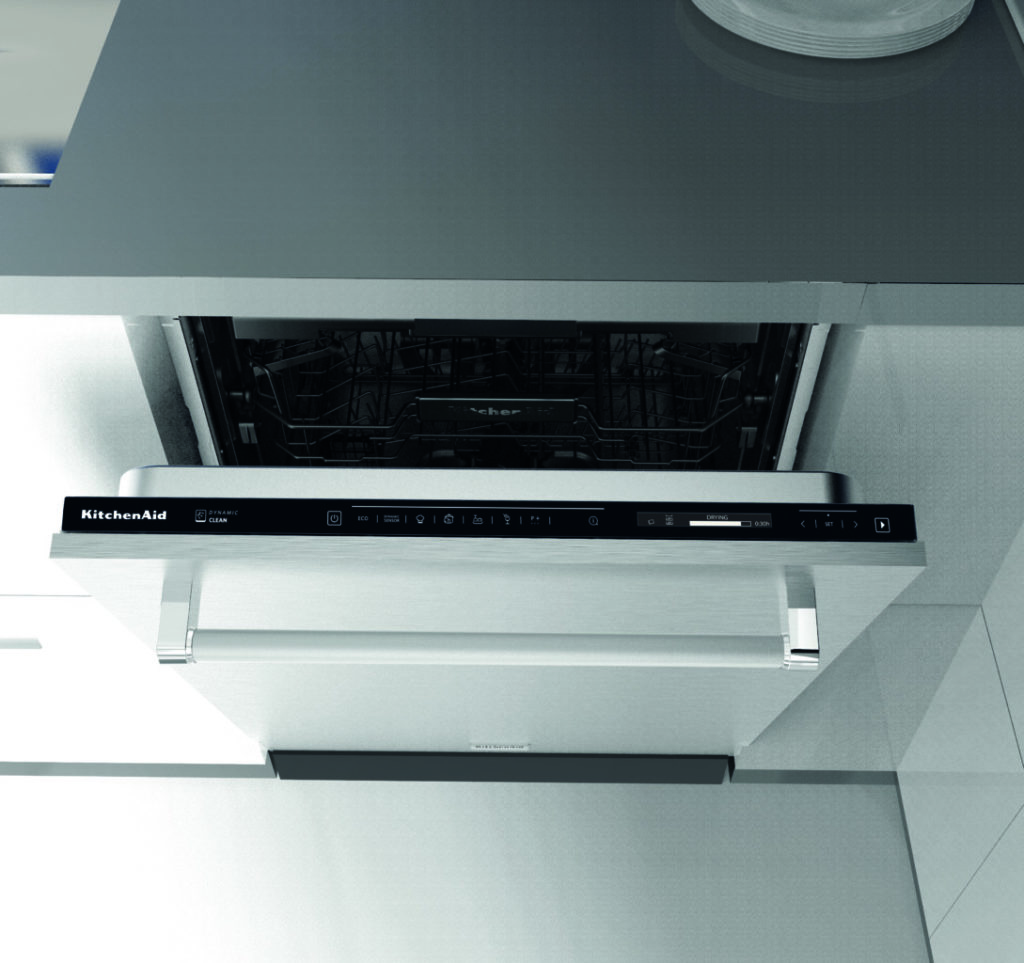 You can trust the high quality of this KitchenAid dishwasher. Stainless steel interiors and spray arms guarantee a reliable, robust appliance that stands the test of time. Powerful water jets deliver excellent, high performance results so you no longer need to soak or rinse dishes, saving you precious time & saving the planet by not draining resources.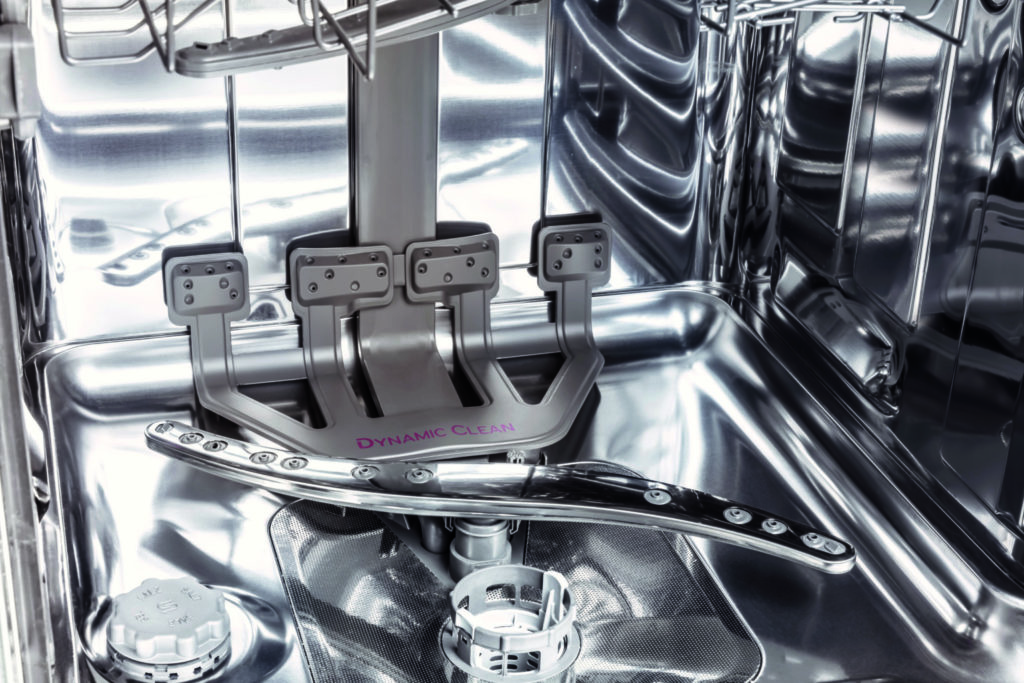 Speaking of which, the SLOAN! Review Panel were impressed with the 9 litres water consumption of this dishwasher given the powerful results of every cycle.
With 14 place settings, even the largest of dinner parties is no match for this KitchenAid dishwasher and the dedicated washing area for large kitchen utensils in the third rack means no more worrying about how to fit your ladles, spoons or spatulas in the dishwasher – yet another user-friendly feature of this amazing KitchenAid dishwasher.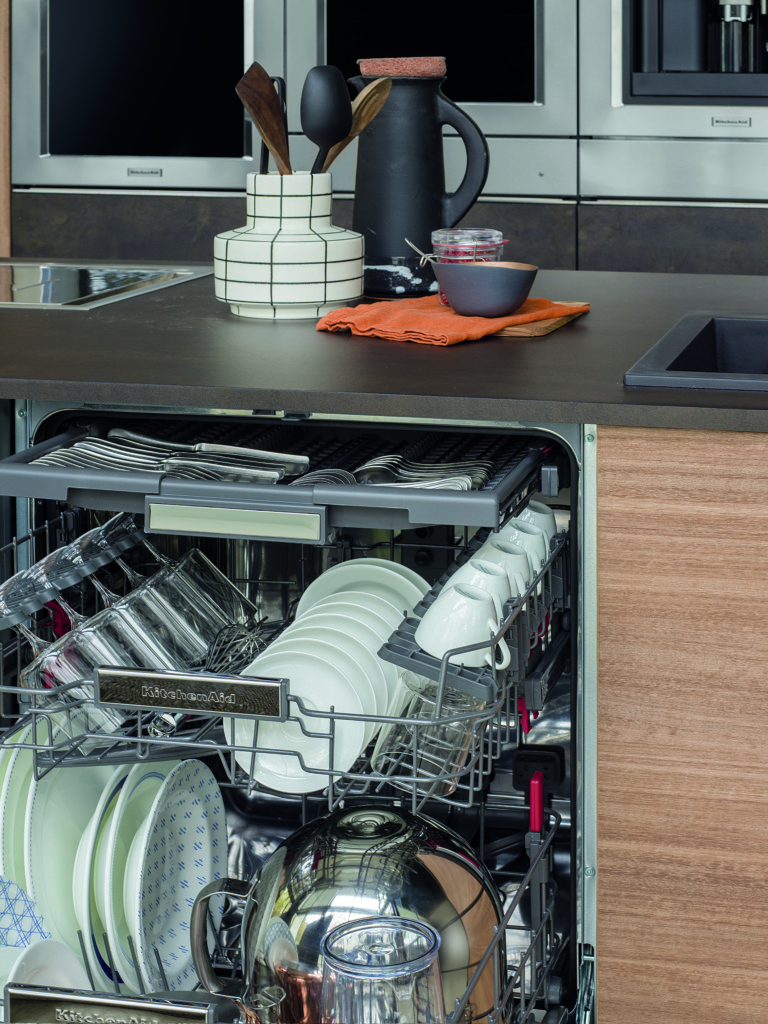 The stainless steel adjustable holders in the second rack provide dynamic, flexible options when loading your dishwasher. They offer you the choice to either support small cups and glasses, or be folded over to make room for standard-sized glasses.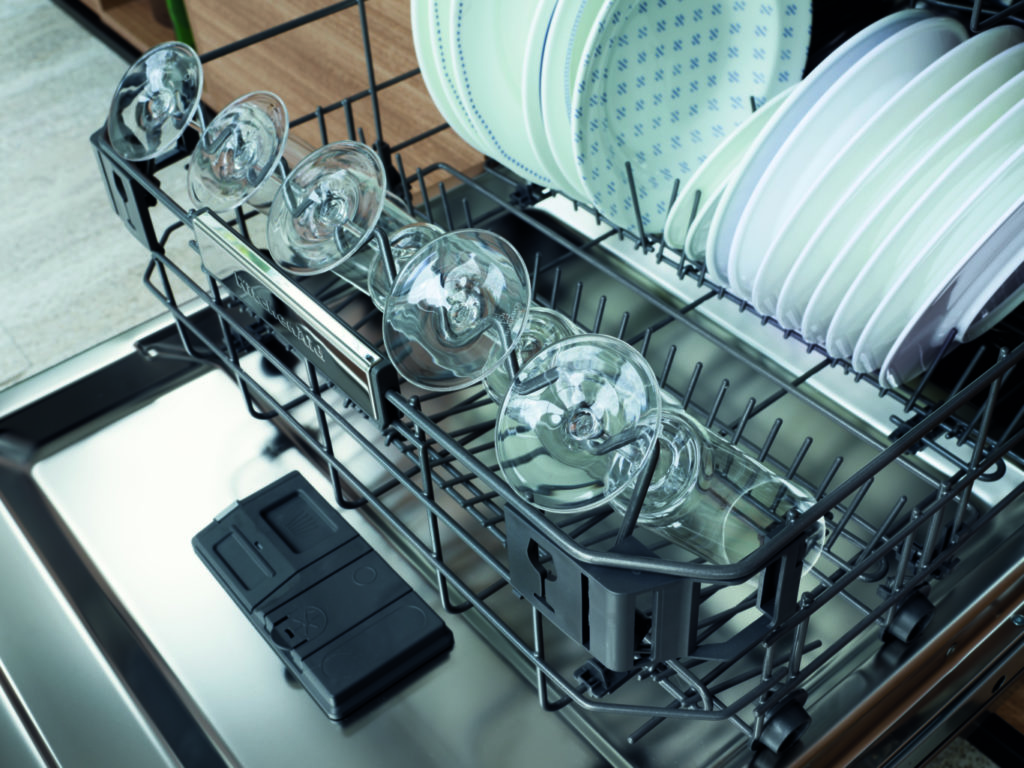 The advanced internal LED lighting offers greater visibility throughout the whole of the dishwasher tub for super simple loading of your dirty dishes whilst the intuitive display provides clear feedback at a glance throughout the wash cycle.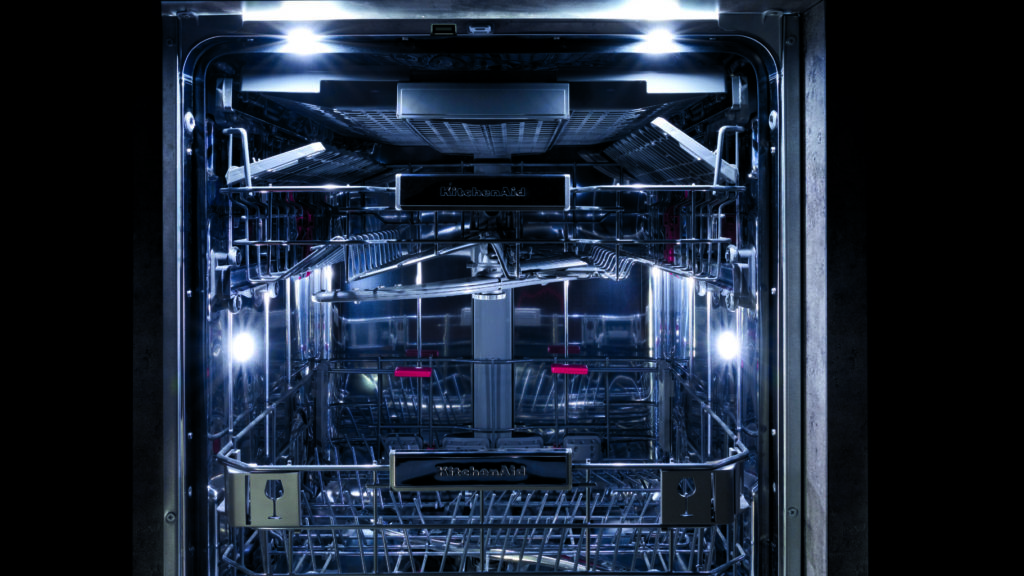 The deceptively simple AirPro Dry technology offers KitchenAid's best-in-class drying performance with 15% less energy consumption*. At the end of the cycle, the dishwasher smoothly and automatically opens by a few centimetres, allowing the natural air flow to dry your dishware, giving you perfect drying results, even on plastics.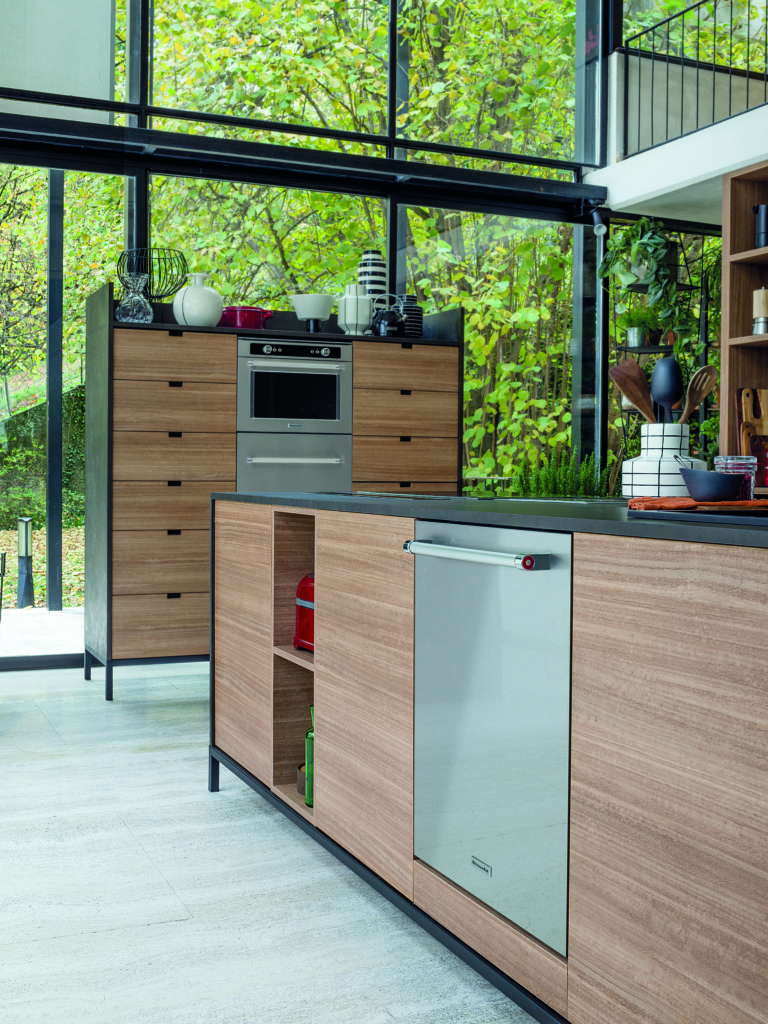 SLOAN! loves this dishwasher and we know you will to!
The KitchenAid 3T133 PFE UK fully integrated dishwasher is priced at £900 and is available from KitchenAid London Experience Store, 98 Wigmore Street, London, W1U 3RD. Appointments of your preference for in-store, telephone or virtual consultations can all be booked online at www.kitchenaid.co.uk/store/the-kitchenaid-experience-store-and-showroom
Disclaimer: * based on average drying performance and respective energy consumption of KitchenAid built-in dishwasher with 2 racks, Dynamic Sensor and Air ProDry on a combined load including plastics, glass, steel and porcelain as compared to KitchenAid built-in dishwasher with 2 racks, Dynamic Sensor and without Air ProDry. Drying performance results may vary based on dishwasher model and load.