On 25 August 2016, The Duke and Duchess of Cambridge visited a helpline service run by YoungMinds to help tackle the stigma associated with calling support services and encourage those who need help to seek it. Young Minds are part of the Heads Together campaign spearheaded by The Duke and Duchess of Cambridge and Prince Harry to change the conversation on mental wellbeing from one of fear and shame to one of support.
For many people, a barrier to seeking help when they need it is the lack of awareness on who to contact, who they will be speaking to and fear of what will happen next. This visit was an opportunity to dispel some of the myths surrounding helplines by profiling the kind of people who will be at the end of the line as well as well as the types of questions and responses people can expect if they call.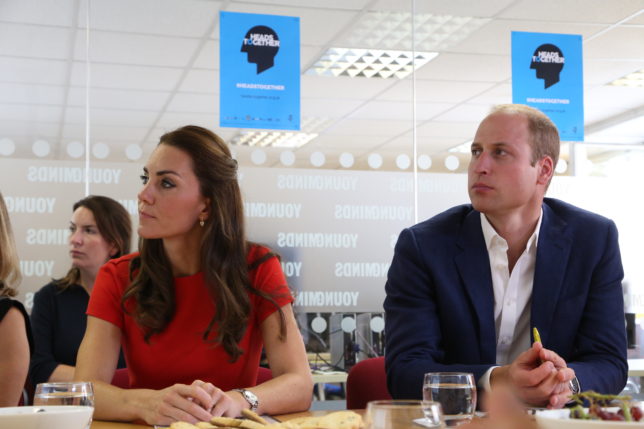 The YoungMinds Parents helpline offers support and advice to any adult worried about the emotional problems, behaviour or mental health of a child or young person up to the age of 25. During their visit, Their Royal Highnesses met some of the people who volunteer with the helpline to find out more about their experience and what motivated them to get involved.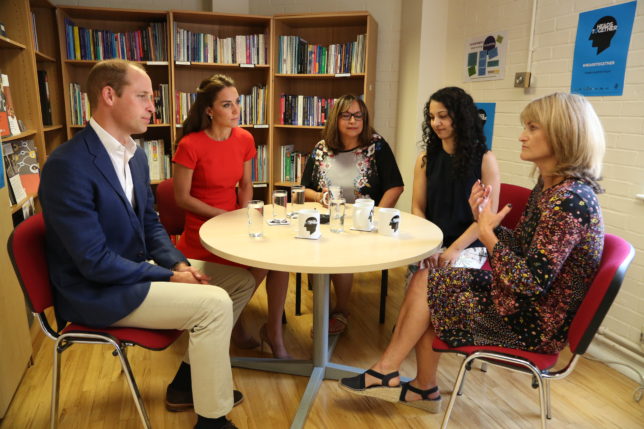 They then got a taster of the training that people receive to become a volunteer including learning about helpline skills. This taster training session allowed them to gain a better understanding of what callers will experience if they contact the helpline.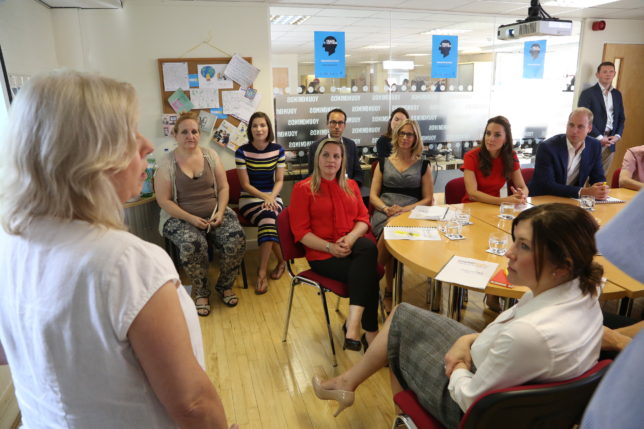 As part of the training, the Duke and Duchess also listened in on some of the calls the helpline received during their visit and heard first-hand how volunteers handle enquiries before sitting in on a debrief session. This was an opportunity for volunteers to discuss how they handled the call and also receive feedback to develop their volunteer skills going forward.
Thousands of young people across the UK will have just received their GCSE exam results. This can be a particularly difficult time for students, as well as their parents, who are worried about the impact their results can have on their future. Whether it's coping with the pressure of exam results or coping with a difficult time, everyone needs support from time to time. Friends and family can be a great first response for many but others simply don't know who turn to for help. The Heads Together team of charities provide vital, expert support including through helplines staffed by volunteers who can relate to the difficult times callers are going through.
The Heads Together campaign wants everyone to feel comfortable with their everyday wellbeing and able to support their friends and families through difficult times.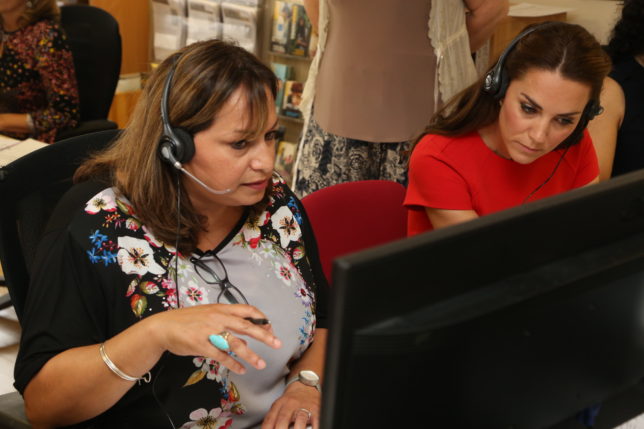 Their Royal Highnesses met Debrina Lloyd-Davies, one of the volunteers. Debrina from Whetstone in Barnet is humbled by the honesty of callers in talking about the challenges they face in coping with mental illness and their frustration with under resourced services. The on-going training and support provided by the Helpline team is extremely effective. Debrina is extremely proud to be part of the organisation and has learnt a lot about herself in how she is able to offer her empathy and support to other parents who in many cases don't know where to turn for help. This volunteering opportunity has been an invaluable learning curve and she feels enriched for it. It has also provided her with the necessary foundation to start her training as a psychotherapist.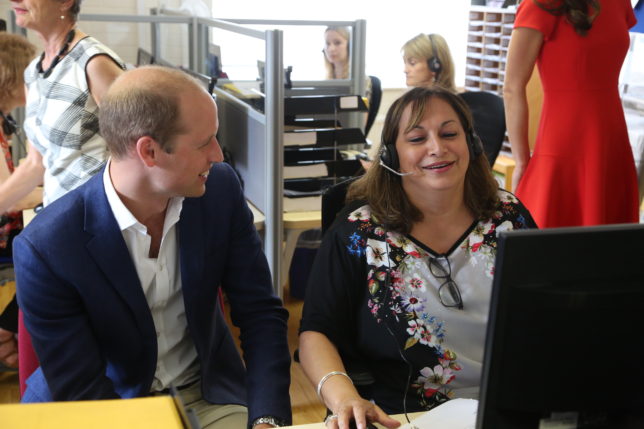 The Duke and Duchess of Cambridge also met with volunteer Bridget Parker. Bridget is from Guildford and is a parent of two teenagers and one young adult. She has a good understanding of the concerns facing parents and how important and valuable it is to have the possibility of accessing services. She has become increasingly interested in mental health issues affecting young people and really enjoys using her counselling, teaching and organisational skills in one setting.
The Duke listened in to a call taken by volunteer Becky Russell.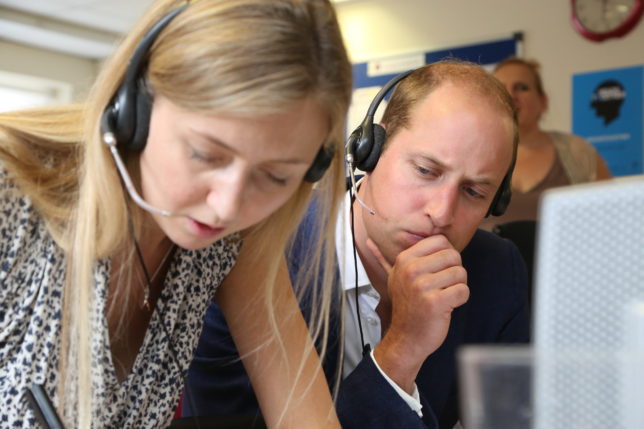 The Duchess of Cambridge sat with volunteer Saida Tahir as she took a call from a parent in need of advice and support. Saida, from Hampton, chose to volunteer for the Helpline after a family member was diagnosed with depression and anxiety. It was when she started seeking out help and talking about mental illness that the situation began to improve. She realised the healing power of sharing feelings and thoughts with other people who understand and listen in a non-judgmental way.  Getting much needed help and support made such a positive impact, she wanted to help other people going through this to benefit from her experiences. Saida loves the feeling of knowing that callers have had their concerns listened to and that they feel supported and understood.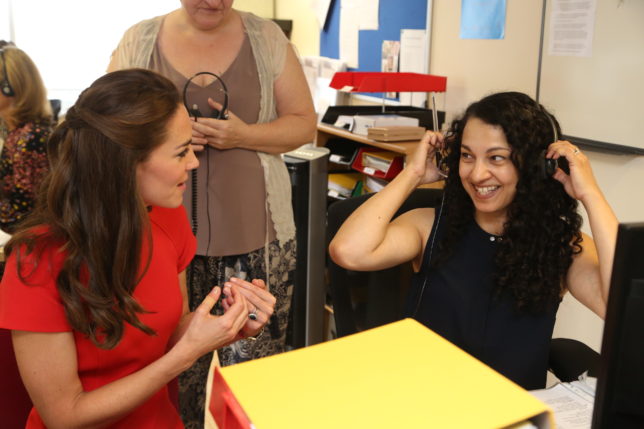 The Duke and Duchess of Cambridge and Prince Harry are spearheading the Heads Together campaign to build on the great work that is already taking place across the country, to ensure that people feel comfortable with their everyday mental wellbeing, feel able to support their friends and families through difficult times, and that fear no longer prevents people talking or getting the help they need.
Heads Together brings together a team of charity partners that have achieved great progress in tackling stigma, raising awareness, and providing vital help for people with mental health problems. The team covers a wide range of mental health issues that are close to The Duke and Duchess and Prince Harry's passions. They are:
Anna Freud National Centre for Children and Families
Best Beginnings
CALM – The Campaign Against Living Miserably
Contact (a military mental health coalition)
Mind
Place2Be
The Mix
YoungMinds
The privilege of being the 2017 Virgin Money London Marathon Charity of the Year gives Heads Together a positive platform to raise funds for the support provided by the campaign's charity partners and to start millions of conversations.
The Heads Together campaign is being generously supported by The Hans & Julia Rausing Trust, ShareGift and the first three Heads Together founding corporate partners – Dixons Carphone, Unilever UK and Virgin Money. This support will help amplify the aims of the campaign as well as fund specific projects designed to help us all with mental health.
Images and film courtesy of the Heads Together campaign