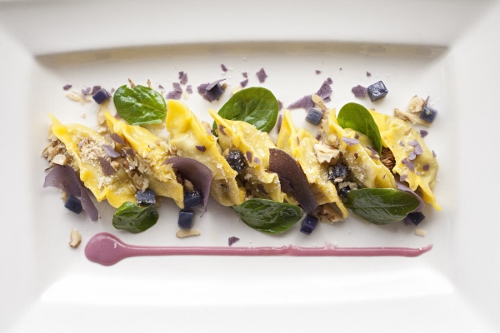 The menu at Enoteca Turi is inspired by regional Italian cuisine which adapts traditional methods of cooking to the contemporary restaurant scene. One look will tell you that Head Chef Michele Blasi has not compromised the dishes, and the unusual ingredients on the menu are not often seen outside their traditional region in Italy.
Proprietor Giuseppe Turi has always understood the importance of the raw ingredients used in cooking. He has made it a cornerstone of his operation to ensure that he is constantly sourcing and re-assessing what he buys and from whom. He believes this is the only way to ensure that the quality of the dishes he is serving his Enoteca Turi customers remains consistently high. And when you are a local restaurant with a large regular clientele, this is especially important.
Head Chef Michele Blasi and Enoteca Turi are a perfect match sharing a passion for reproducing traditional regional dishes but with a modern twist. Eating at Enoteca Turi has been said to be like being teleported to the sun drenched plains of Italy. All the main ingredients from barba di frate, cime di rape, catalogna chicory, radicchio, borlotti beans and of course plum and cherry tomatoes and olive oil are all variously sourced from Umbria, Tuscany or Campania and the cured meats such as prosciutto toscano and capocollo, come from specialist artisan butchers in Italy.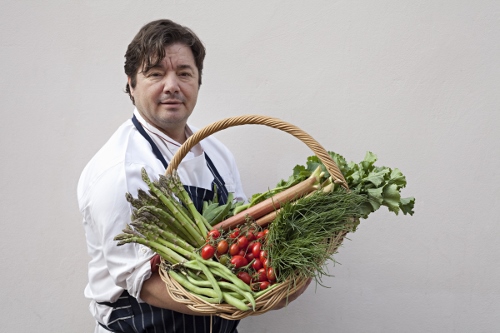 Enoteca Turi owes much of its success to the fact that it changes its menu seasonally so with a new head chef there is little surprise that a fresh new menu of culinary delights awaits customers. Uniquely capturing the many and much differing regional flavours of Italy from North to South it includes a take on the classic Venetian dish "Sardine in Saor". In order to produce a lighter dish, easier to digest, Michele has substituted fennel for the traditional onions, and lightly sautéed mackerel for the deep-fried sardine, and layered them in a terrine on a sauce of pureed fennel.
Enoteca Turi is one of London's few remaining independent London restaurants run by husband and wife team Giuseppe and Pamela Turi whose passion for food and excellent service are the real reason for its enduring legacy. But their passion does not simply stop at food. A review of Enoteca Turi is not complete without reference to its famous wine cellar. Lovingly collected over 20 years Enoteca Turi's cellar now boasts over 350 wines, with prices to suit all wallets. The ethos at Enoteca Turi is that a meal is not complete without a lovingly chosen complementary bottle of regional wine.
The SLOAN! Review
Enoteca Turi is known for its authentic regional cuisine to such a point that each dish on the menu states which region of Italy it originates from. With such promise of traditional Italian dishes made with authentically sourced ingredients, it was challenging deciding on which delectable sounding dishes to choose from.
For the starter, I chose Smoked Duck Breast served with crisp summer leaves, a tangy raspberry dressing and horseradish cream inspired by the cuisine of the Trentino region of Italy. My dining companion chose a starter sized pasta Sicilian dish of light pillows of ravioli filled aubergine and buffalo mozzarella served with baby plum tomato and shaved pecorino.
For the main, I enjoyed a Tuscany/Piedmont inspired dish of Roast Rabbit filled with crunchy pistachio and fragrant rosemary which was wrapped in lardo di Colonnata. This was served with tender braised rabbit and a trio of pan-roasted peppers. My dining companion tried the succulent Roast Fillet of Turbot which was wrapped interestingly in potato and served with a salad made from samphire (a restaurant favourite), juicy olives and salty capers accompanied by a fresh tomato coulis. This fish dish comes from the Liguria region of Italy.
In addition the authenticity of every single starter and main course at Enoteca Turi, one of the other interesting features is that they have paired each of these dishes with the best wine which complements the flavours of the ingredients. What's more, without a sommelier, the restaurant makes it easy for the diner to select this pairing by simply and clearly listing the wine with reference numbers which correspond to the wine list. This means that you can confidently choose the right wine with your meal with certainty.
I decide to try out their recommendations by choosing the delightful dessert wine from Veneto, I Capitelli IGT 2011. The wine is made from 100% Garganega and is rich and complex on the palate with apricot, honey and pear flavours which perfectly complemented my dessert choice of the Lemon Meringue Parfait which was served with a raspberry salad and mini limoncello baba. My dining companion chose a lovely summer dessert with the quirky name Trifle in a Jar which was a lemon sponge and peach served in 3 ways with Prosecco, bergamot panna cotta and compote.
Enoteca Turi is understandably a well-loved Italian restaurant by the discerning residents of Putney and, based on our delicious dining experience, is definitely worth a visit.
Enoteca Turi
28 Putney High Street, SW15 1SQ
Tel: 0208 785 4449
www.enotecaturi.com