Hilton Hotels & Resorts has recently opened its newest property in the UK, Hilton Bournemouth. The new hotel joins 67 hotels within the Hilton portfolio across the country, including new additions at London Bankside and the Ageas Bowl, Southampton.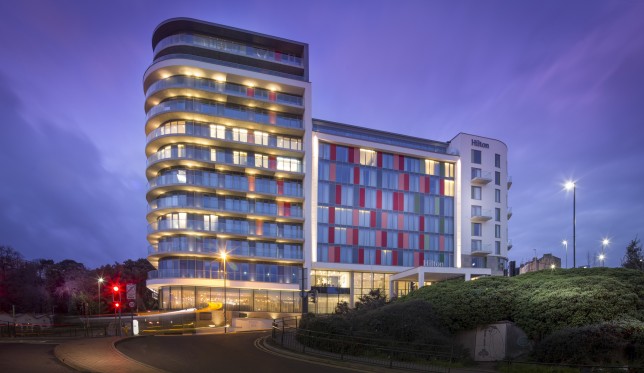 Classic design and quirky innovation are central to the hotel's aesthetic, with bespoke interiors and furnishings designed exclusively for Hilton Bournemouth by Ray Kelvin throughout. Hilton Bournemouth was developed by privately owned property company THAT Group, which owns the hotel and neighbouring Hampton by Hilton Bournemouth. Housed in a soaring glass structure, the 172-room property offers panoramic views to the coast and across the popular seaside town.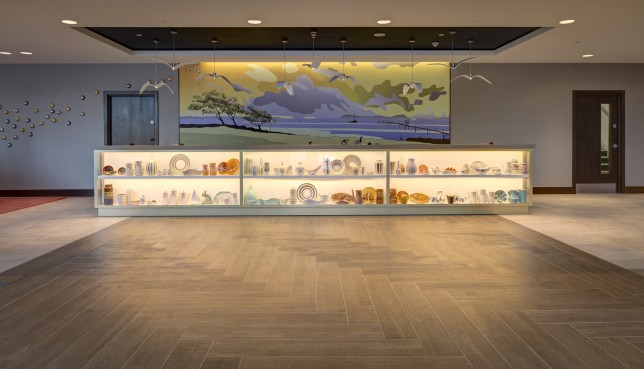 Soon after the hotel's opening, SLOAN! spoke to Rob Palleschi, global head, full service brands, Hilton Worldwide. He told us: "With miles of beaches and buzzing nightlife, Bournemouth was a natural fit for Hilton Hotels & Resorts to bring its brand of hospitality and continue its expansion in the UK. This property incorporates cutting edge design with all the Hilton touches our guests identify with. Our collaboration with THAT Group and the opportunity to incorporate Ray Kelvin's design expertise has created a posh getaway for travelers to create memorable experiences."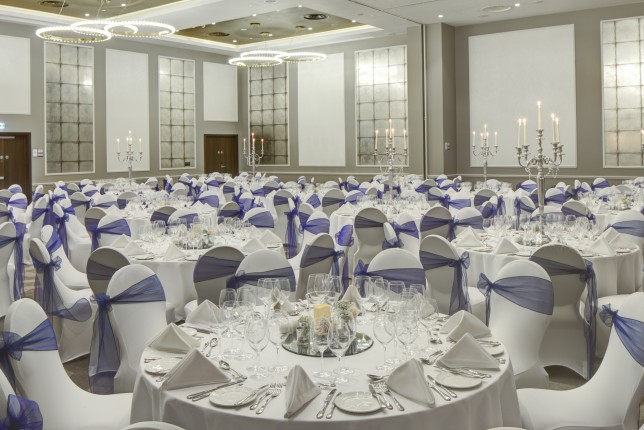 Simon Vincent, executive vice president and president, Europe, Middle East & Africa, Hilton Worldwide, said: "Bournemouth has set a precedent for holiday makers and we're proud to continue this tradition in the form of Hilton Bournemouth, the arrival of which has transformed the south coast skyline. Bournemouth is home to the UK's fastest-growing digital economy, and our hotel embodies this innovative spirit. It is a great pleasure to welcome our newest hotel in Bournemouth."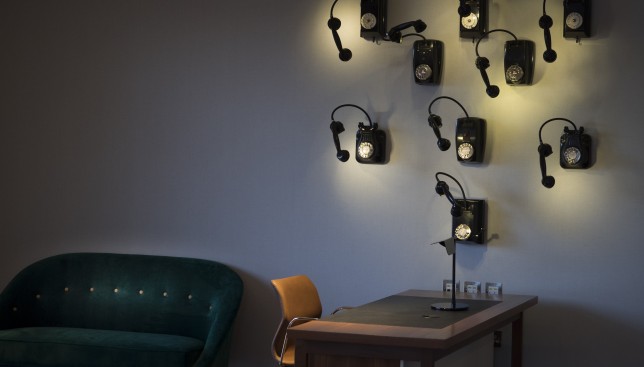 We also spoke to Peter Tisdale of THAT Group, who said: "After four years' hard work we are delighted to finally open the doors of the Hilton Bournemouth, as part of our Terrace Mount development. No ordinary design, the exquisitely curated hotel incorporates refined aesthetics with a quirky edge. Sitting perfectly alongside the innovative design and technological industries of the area, it's a real head turner. We're excited to welcome guests and hope they take some time to put their feet up, relax and enjoy their surroundings. Finally, we would like to thank everyone who has contributed to this impressive project over the four year period, your dedication is appreciated."
Local craftsmanship and design influences are visible around the hotel, including specially curated items celebrating the best of British design. Artworks include a collection of local Poole Pottery, one of the largest on public display, and Colin Moore's mural of Poole Harbour, which hangs in reception.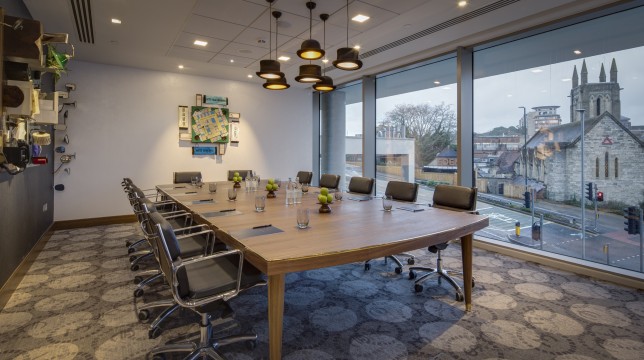 Featuring eight unique meeting spaces and one of the largest ballrooms in Bournemouth, capable of hosting more than 350 guests, the hotel has collaborated with THAT Group to create a series of themed rooms capturing the pace, creativity and diversity of business. From typewriters emerging out of the walls to bowler hats hanging from the ceiling, each space offers guests a breath of fresh air.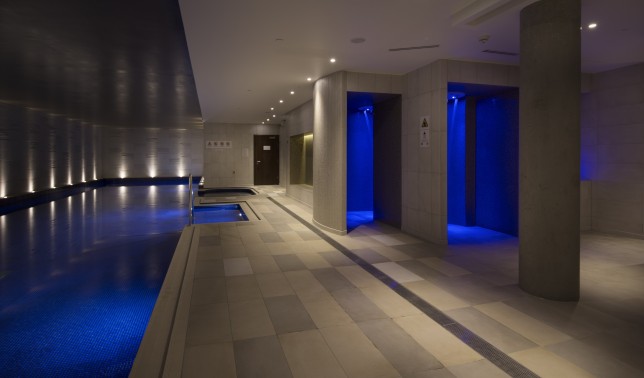 The hotel is home to one of the UK's first eforea spas as well, offering guests personalised, transformative journeys to help invigorate, relax and revitalise. The spa features a pre/post treatment relaxation lounge and four treatment rooms with an extensive wellness menu. The health club offers a 24-hour state-of-the-art fitness suite, steam room, sauna and a heated 20-metre indoor pool in addition to a salon.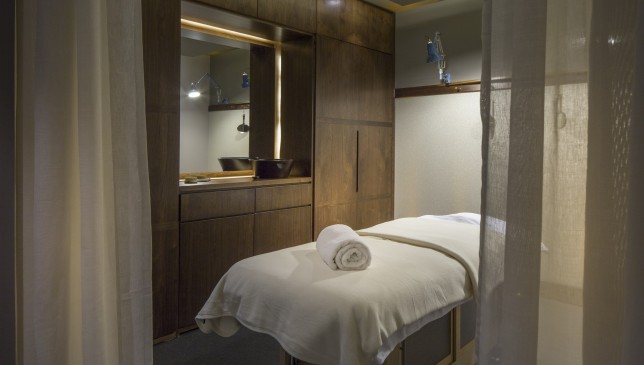 Before dinner, we savoured a couple of delicious cocktails in the hotel bar. Bournemouth's definitive destination bar, LEVEL8IGHT The Sky Bar, wows guests with its sumptuous surroundings and even more sumptuous cocktails.
Check out the ornate lighting in the bar which helps make LEVEL8IGHT one of the classiest joints in town.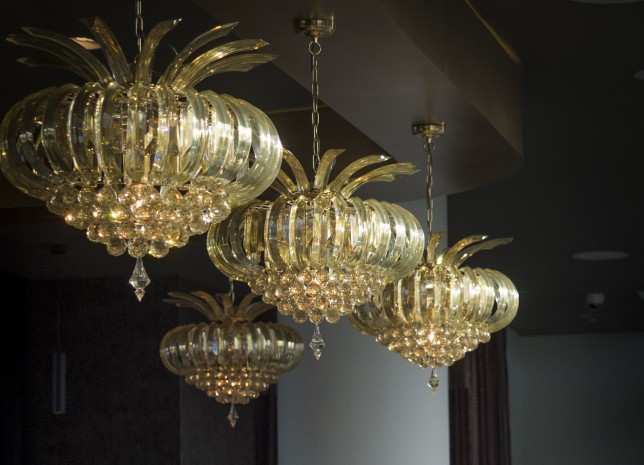 We enjoyed bespoke cocktails whilst enjoying spectacular panoramic views across the Bournemouth coast line. One of the highest bars in town, it is located on the eighth floor of the hotel offering tables with a view, both inside and out on the terrace.
After our pre-dinner drinks we moved on to the hotel restaurant for our heavily anticipated dinner. Schpoons & Forx restaurant, created and overseen by renowned chef and broadcaster Matt Tebbutt, offers guests the very best of British cuisine with a contemporary twist. Fresh, seasonal sharing plates sit alongside dishes from the tandoor and stone oven.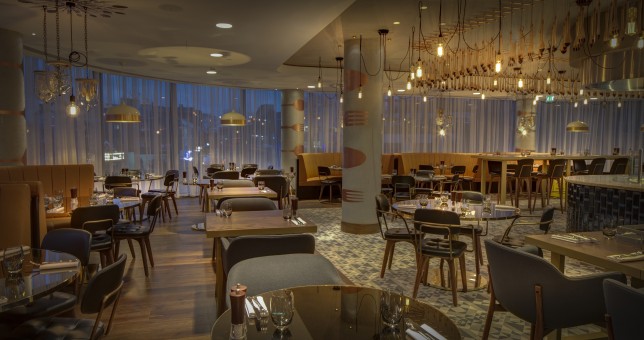 Before taking our seats we checked out the chefs handiwork in the open kitchen.
For our dinner at Schpoons & Forx, we started with Crisp Cockles which tasted even better with a fresh squeeze of lemon.
This was closely followed by Grilled Dorset Rock Oyster with Parmesan, Garlic and Herb Crumb which was elegantly served and tasted divine.
Our appetites whetted, we then sampled the slow cooked pigs cheeks in parsley, garlic, melted onions & green chilli.
We also enjoyed the sautéed scallops with ham hock & broth, mustard fruits & salsa verde.
For mains we had Tandoor Roasted Rib Steak. The meat is dry aged for 42 day aged before being basted in tarragon, shallot & port butter and roasted in the tandoor. The Rib steak was served with watercress & duck fat scraps.
Duck fat scraps take the humble chip to a whole new level of taste sensation. Here's a closer look at their crispy yumminess.
My dining companion went for the mixed roasted fish & shellfish cooked with thyme, garlic, parsley & vermouth. The dish included mussels, clams and red mullet. A veritable seafood heaven for fish lovers.
Dessert was thinly sliced pineapple, coconut pavlova, passion fruit and lime which looked as good as it tasted. The soft coconut meringue perfectly complement the sweet pineapple and tart pulp of the passion fruit.

Situated only a short walk from the town centre, Bournemouth's famous blue flag beach and Bournemouth Gardens, the Hilton Bournemouth is also within close proximity to renowned conference and entertainment venue the Bournemouth International Centre (BIC). In addition, superb transport connections mean Bournemouth Airport is within easy reach, offering flight routes across the UK and Europe.
Apart for some teething issues with the Reception team, we thoroughly enjoyed out stay at the Hilton Bournemouth and highly recommend sampling Matt Tebbutt's wonderful menu at Schpoons & Forx whilst enjoying the warm hospitality of the restaurant team. Don't forget to make time to sit back and savour one of the bespoke cocktails at LEVEL8IGHT. Bournemouth can be proud of its new addition to the world of hospitality and culinary excellence.
Hilton Bournemouth
Terrace Road, Bournemouth, BH2 5EL
+44 (0)1202 804 775