Launceston Place has just unveiled a vibrant and fresh new look, following the success of their appointment of head chef Ben Murphy earlier this year. The spring refresh of the 1839 Kensington townhouse aims to infuse the restaurant with a brighter, more contemporary feel, in keeping with the lively changes brought to the menu by Ben.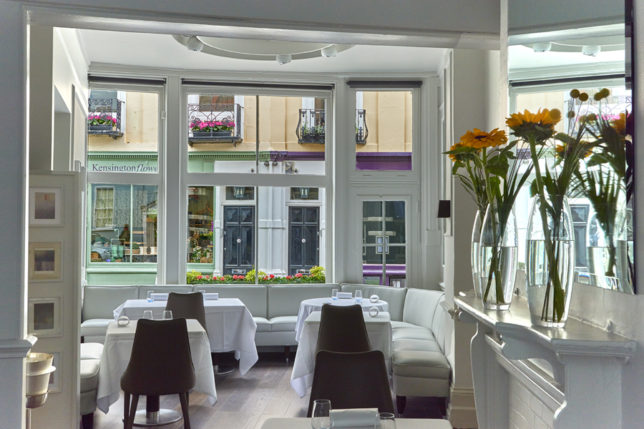 The refurbished restaurant has a wonderfully elegant and contemporary feel. The rejuvenated look is ceerful and modern in style, including new, blue-veined timber floors and a light, fresh colour scheme of French grey. D&D London's David Loewi says of the refurbishment: 'We're thrilled to unveil Launceston Place's new look; a hidden gem in a beautiful location, its contemporary, fresh and light design makes it the perfect setting in which to enjoy Ben's modern European menu.'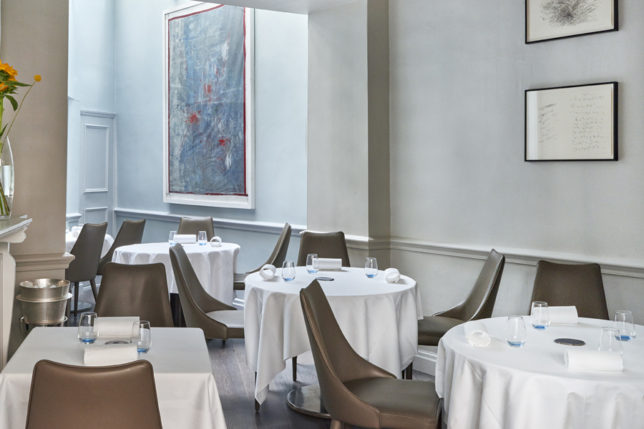 Designed to be a blank canvas, this fresher palette provides the backdrop for the restaurant's impressive new collection of contemporary art, curated by Islington's Amar Gallery. Inspired by Ben's culinary creativity and combining figurative expression with peaceful minimalism, the collection includes paintings by Korea's minimalist artist Lee Ufan, and London-based illustrator and painter Howard Tangye. Meanwhile, intricate and hand-painted murals planned for the staircase walls will be unveiled this summer.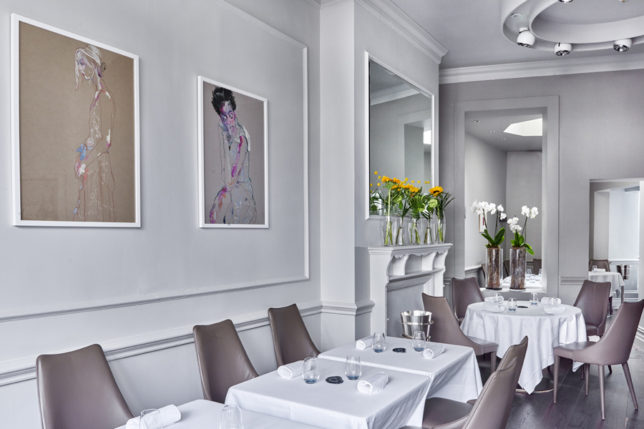 Launceston Place's award-winning head chef joined in January 2017 and is said to be is one of London's most exciting chefs, having started his career at Koffmann's at The Berkeley, under the guidance of mentor Pierre Koffmann. Before joining LP, Ben was previously head chef at The Woodford restaurant, which, under him, won London Evening Standard's London Restaurant of the Year Award 2016 and received a coveted five-star review from the late AA Gill. Ben was named Chef to Watch 2016 by The Good Food Guide and took home the Breakthrough Chef of the Year gong at the Food & Travel Awards – all of this within the space of a year. Ben has worked at triple Michelin-starred Les Prés d'Eugénie in the south of France, as well as three-star Épicure Restaurant at Le Bristol in Paris, before returning to London's Greenhouse Restaurant in Mayfair, which also holds two Michelin stars.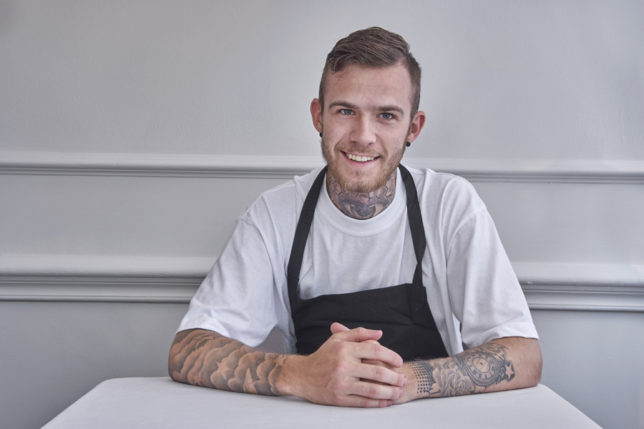 In a nod to spring and the rejuvenated new interior, Ben has made some delicious tweaks to his menu, introducing seasonal dishes which appear alongside his signature dishes, including the much-acclaimed Carrot with lovage, yoghurt and caraway. The front-of-house team share Ben's acclaimed pedigree as the new General Manager Sandro Alessandrini, worked with Ben at Koffmann's at The Berkeley and the Head Sommelier Piotr Pietras recently won 1st Place in the UK Young Sommelier 2017 competition. We sampled Ben's elegant and well-executed eight-course tasting menu begin with a round of excellent virgin mojitos as an aperitif.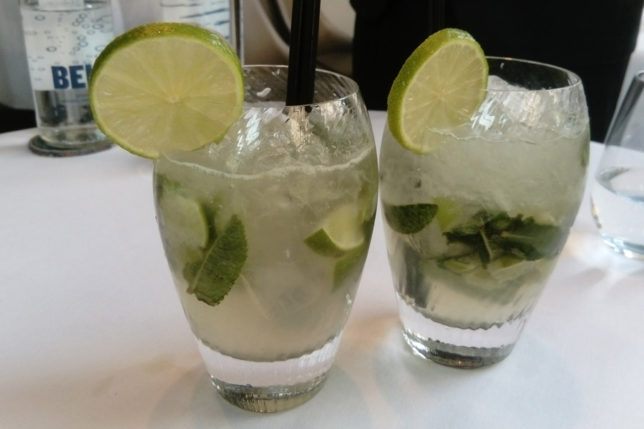 To start we began our culinary adventure with canapés of Chicken Caesar wraps served alongside cornets of chicken liver parfait and puffed rice.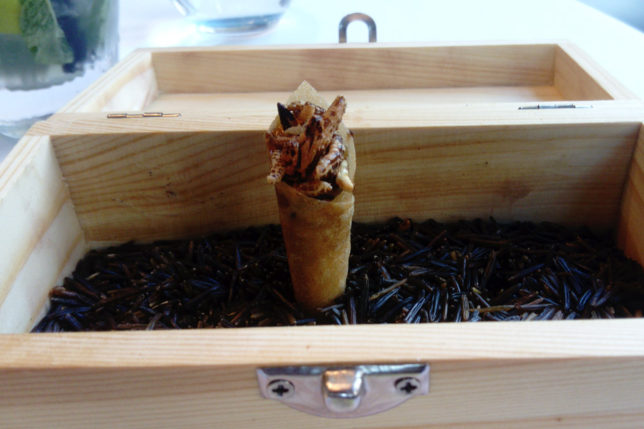 The bread course of Caraway Bread was served with a yogurt mousse butter.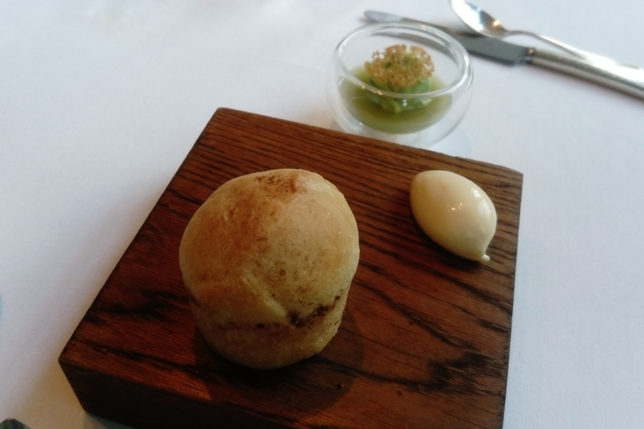 The Egg and Soldiers consisted of celeriac mousse and diced celeriac topped with egg foam and served with brioche soldiers on bed of hay. This quirky egg dish was perfectly seasoned.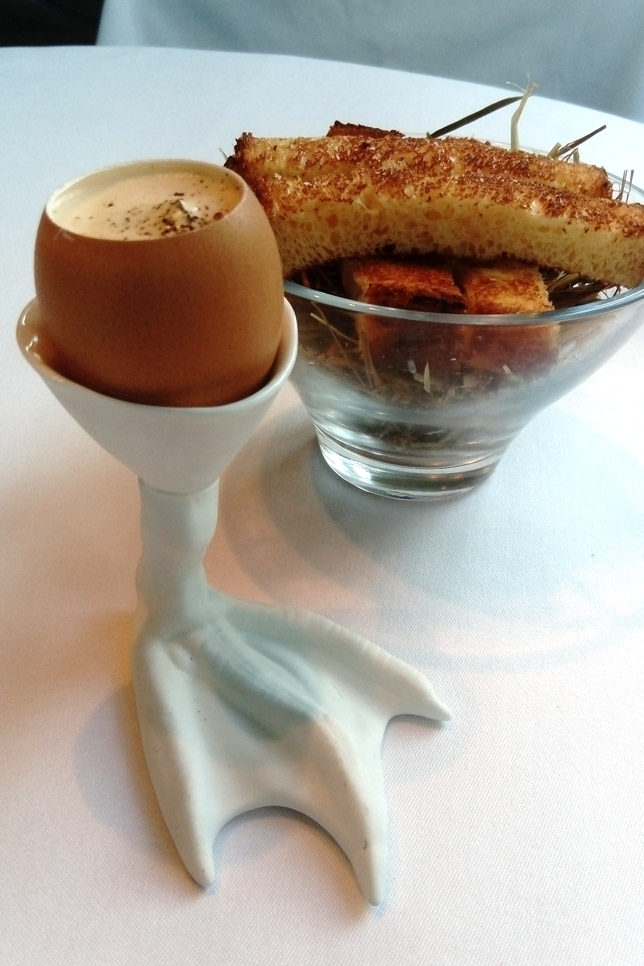 Next was the much acclaimed Carrot dish of carrot tossed in oats with dehydrated carrot on lovage oil, goats yoghurt and carrot powder. If you're wondering how they created the perfect spiral, it's a kitchen secret!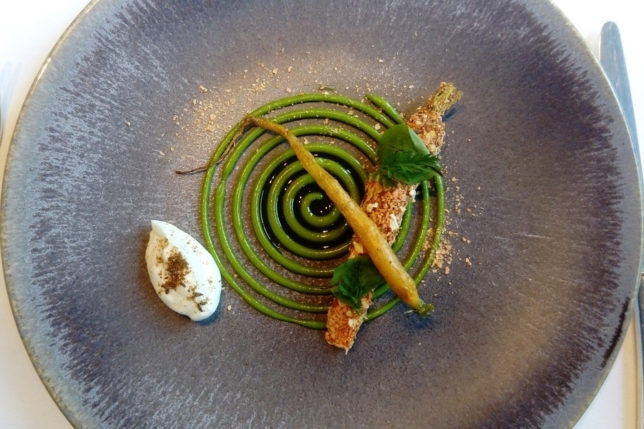 Followed by spelt with herb puree of parsley, tarragon & rosemary, topped with crispy onions and quail's egg.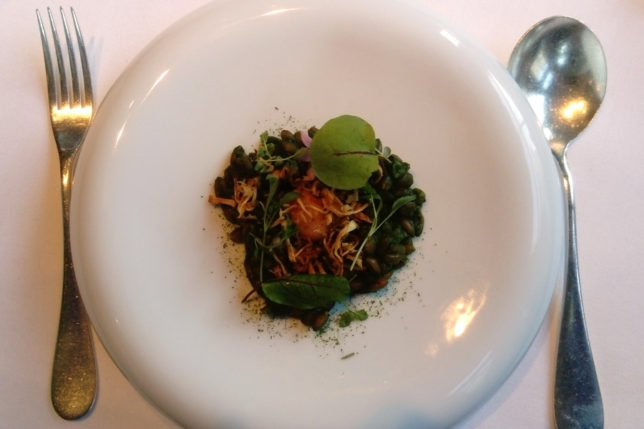 My dining companion was then served the Mushroom dish of wild mushrooms with parmesan shavings and parmesan foam.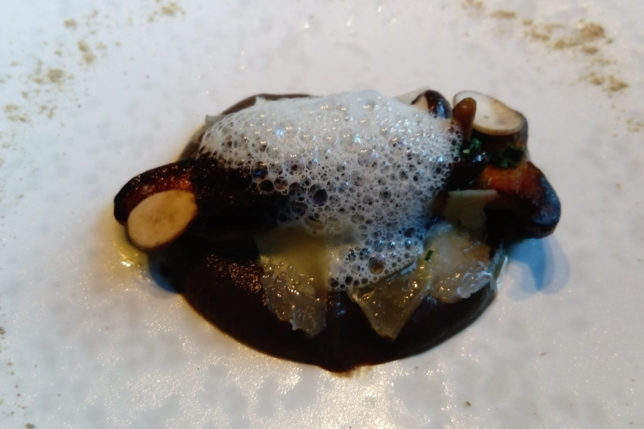 I instead had the Octopus which was expertly cooked and served with chicken wing, chorizo and courgette with a full-bodied chorizo consomme.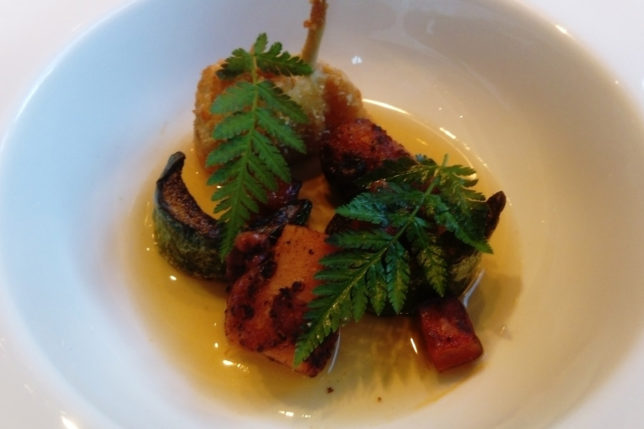 We then had the Monkfish with banana puree (that tasted totally savoury without a hint of banana aroma) and served with onion four ways – chargrilled spring onion, pickled roscoff onion, sautéed onions and spring onion sauce. The monkfish had an interesting texture with the cooking method perfectly complementing the fish without drying it out.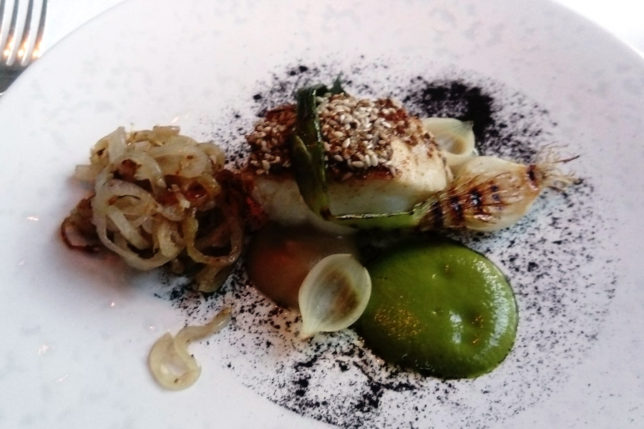 This was followed by the Pork dish of Presa Iberica pork tenderloin served with ponzu, aubergine and crackling that was lighter than air and melted in the mouth. The pork was served with buttery Pont Neuf potatoes.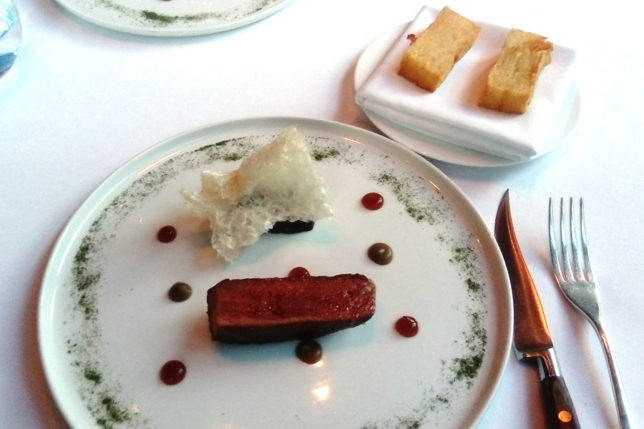 The cheese trolley had a selection of at least 4 choices each of goat, soft, hard, washed and blue cheese. My dining companion – a lover of good cheese – commented that the Goat's was particularly delicious and the choice of camembert doesn't take your head off. The aged gruyere was sweet and nutty but not too strong. Her choice of washed rind had walnut flavours and she picked out a maple aroma too. She also said the Stilton was nicely creamy and not too acidic.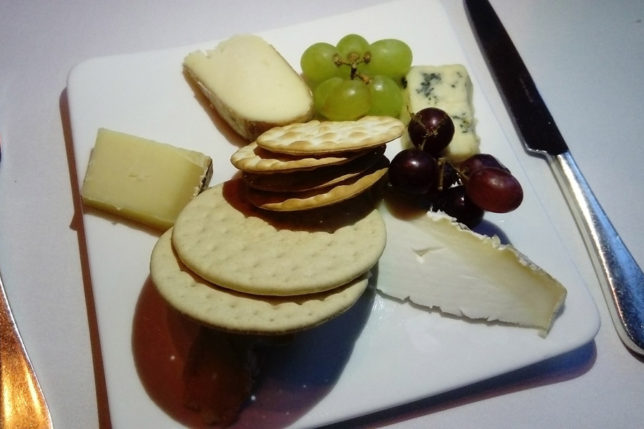 The cheese course was followed by a palate cleanser of apple, cucumber and sicily cress.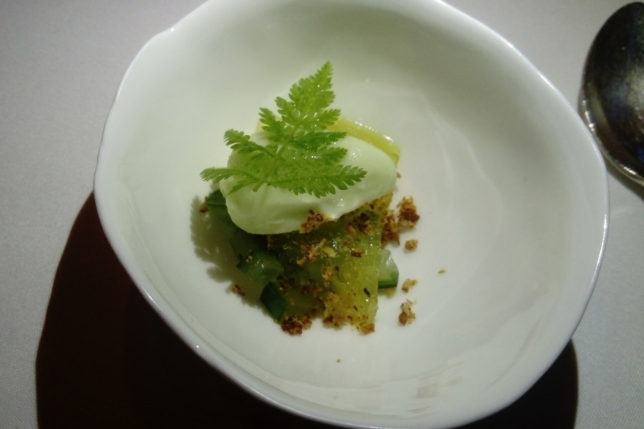 Dessert was the famous "Solero" – updated for the new season with a cherry glaze and served with cherry sorbet and an interesting dill sauce that added a pleasant herby flavour to the palate balancing the sweetness. Also on the plate were whole cherries dusted in dill with the cherry stones cleverly removed leaving the cherry whole.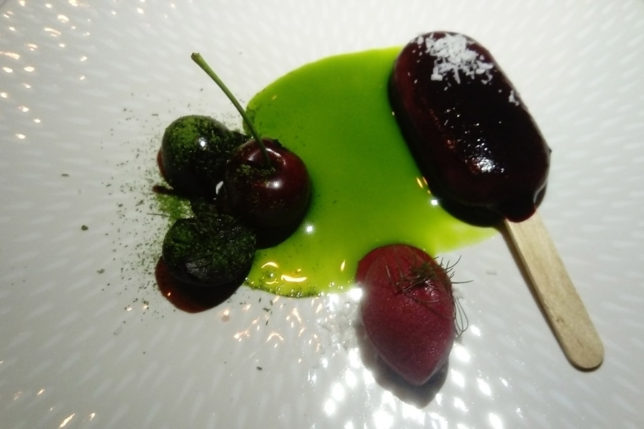 To end the meal, the petit fours included Lemon Pie "pops" of lemon mousse in a white chocolate shell and meringue; Meringue with citrusy yuzu; praline chocolates from William Curley and finally a chocolate tuile with fruit jelly.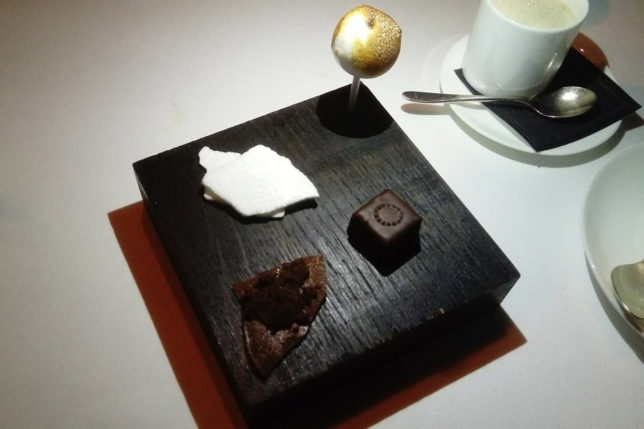 Ben's modern and exciting menus for Launceston Place showcase his creativity and individual style, taking dishes to the next level. The food looks extremely attractive on the plate whilst the distinct bold flavours remain harmoniously balanced across the menu. With food this good, expect to see Launceston Place win back its Michelin star in the not so distant future. This destination restaurant remains a neighbourhood favourite engendering great affection amongst its loyal guests. Furthermore, Launceston Place has been continually recognised for its distinguished wine list, being awarded AA 'Notable Wine List' in 2013, one of only seven restaurants to receive the accolade in the UK that year, as well as being awarded 'Best Wine List' at the Tatler Restaurant Awards.
Launceston Place
1a Launceston Place, London W8 5RL
020 7937 6912
www.launcestonplace-restaurant.co.uk
@LauncestonPlace

@DandDLondon
@benchef123
@polishsomm
@william_curley
@theamargallery