When you're exhausted, your sleep pattern is in disarray from travelling through time zones and you are then faced with living out of a suitcase, administering international business can feel like an uphill struggle. Yet for CEOs that work on a global platform, travel is an essential component of business life. Mastering the art of foreign transit is, therefore, a crucial precondition for inter-continental business success. As a hugely successful global businessman and Director of a company that exports to over 35 countries, James Milbourne is well versed in the trials and tribulations of foreign business travel. Here he offers his advice on how others looking to initiate a successful international career can reduce the stress of foreign travel.
"Pack Smart"
Always pack the night before you leave, there's nothing more stressful than looking for a travel adaptor when the Uber is already waiting outside. Buy a carry-on bag that has a laptop pouch separate to the main compartment as this is great for speeding through security, no time wasted showing the world your personal items, just slip it out and you're away.
Curb the jet lag
It might sound obvious but a fatigued and sleep deprived traveler is far less equipped to cope with the requirements of international business than one who is well rested and alert. If possible, arrive at your destination a few days in advance to give your body time to adjust. If this is not an option, try resetting your watch to the new time zone in advance and align your sleep pattern to that of your destination.
Once you arrive, think carefully about when you choose to sleep. Departing from Europe in the evening and flying to the US and Asia often guarantees a late afternoon/evening arrival, which means meaning you'll only have to stay awake for a few hours before going to sleep. Book yourself a dinner that evening and force yourself to stay up.
Opt for water over wine!
Dehydration is one of the most punishing side effects of flying, due to low humidity levels. To fight symptoms such as dry eyes and headaches, drink lots of water and avoid coffee, tea and alcohol as these all have diuretic effects.
Research your destination
Cultural sensitivity is vital for ensuring that a foreign business trip goes smoothly. To avoid any awkward situations, invest time into learning about a region's customs, political structure and core religious beliefs. Try to do this before getting on the plane, where you may encounter airline personnel and passengers from the country of your destination.
Be careful you don't inadvertently cause offense through your gestures during business meetings either. In Japan, for instance, the most senior person sits in the back behind the driver whereas the most junior sits in the front passenger seat. Likewise, during a drink toast, the most senior person's glass should be highest and the most junior the lowest.
Revise a few key phrases on the plane
Whilst your foreign colleagues or business prospects may speak English or have organised a translator, you can earn significant points for politeness by attempting to speak the language. And there's no need to fear the odd grammar mishap- it makes for a great icebreaker!
And lastly
Fly in comfortable clothing, there's nothing worse than an overly tight pair of jeans on a 12 hour flight. Research the right seat before you fly, use SeatGuru to make sure you book the best seat available and always be sure to build those airline loyalty points!
About James Milbourne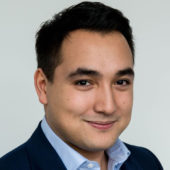 James Milbourne is Director of Canagan, Britain's finest grain free pet food and one of the UK's greatest untold export success stories. A family run business, loved by the pets of a diverse array of famous faces from reality stars to royalty, Canagan can now be found in 35 different countries.