MOMMI is a Peruvian-Japanese restaurant located in Clapham High Street. To champion the effortlessly healthy Nikkei tag for which they are renowned MOMMI has strived towards an entirely gluten-free menu since their launch. The good news for coeliac sufferers is that the restaurant is now officially gluten-free and accredited by the Coeliac UK giving them the ultimate stamp of approval for those looking for these special dietary requirements.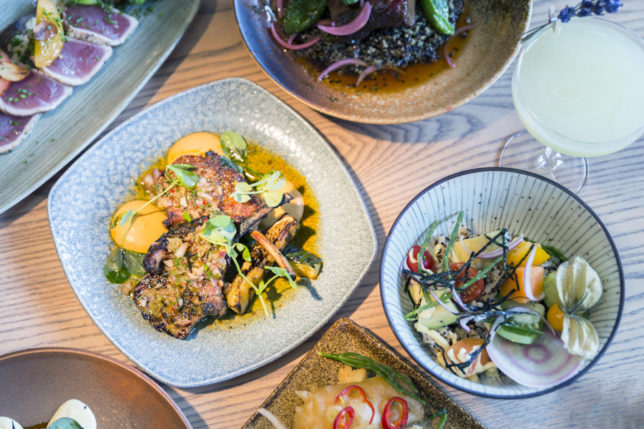 MOMMI has always encouraged a deliciously different dining experience with their small plate, market stall ethos delighting guests with epic flavours of taste profiles hailing from Latin America and Japan executed with striking precision and artistic flair.
The bespoke selection of Set Dining menus provides a curated balance between the fish, meat and vegetable dishes from the Robata Grill, Raw Bar and Hot Kitchen sections of the menu. The open plan kitchen also encourages diners to gaze upon the journey of their ingredients from picked to plate.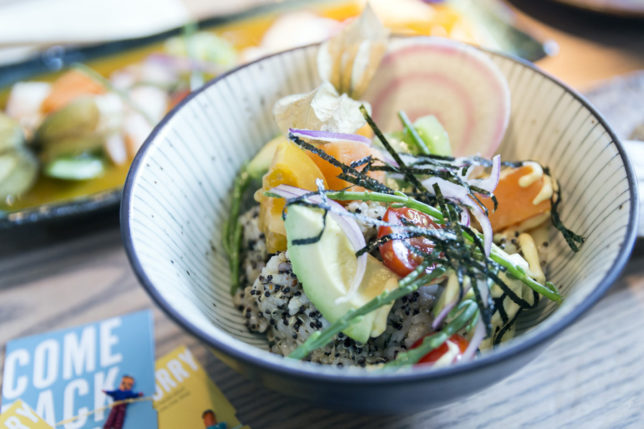 MOMMI's house dishes such as Nikkei chirashi sushi bowls, Japanese inspired ceviche and quinoa topped teriyaki are a natural fit for a gluten-free restaurant. However the most exciting part of MOMMI's journey towards becoming fully gluten-free was the development of their weekend brunch menu by the executive chef Paul Sowden. Sowden's brunch menu features the result of his experimental development process to produce delicious gluten-free alternatives to the staple brunch items we're familiar with such as waffles – here transformed into gluten-free Cinnamon Waffle Churros. The development process towards achieving full gluten-free status has been a challenging but exciting one for Sowden and his team.
The food choices at MOMMI are made for sharing with plates coming out from the kitchen at different times as soon as they are ready. It is recommended to choose 3 dishes per person or you can choose one of the four set menus. We began with cocktails and nibbles. To drink, I had the Machu Pistachu made with pistachio infused rye whilst my dining companion had the Miraflores Numero Dos made with Elderflower Liqueur and Gin. To nibble, we enjoyed the Corn & Lime Tortillas with Smashed Avocado and Rocoto Pepper Queso "House 22" Dip.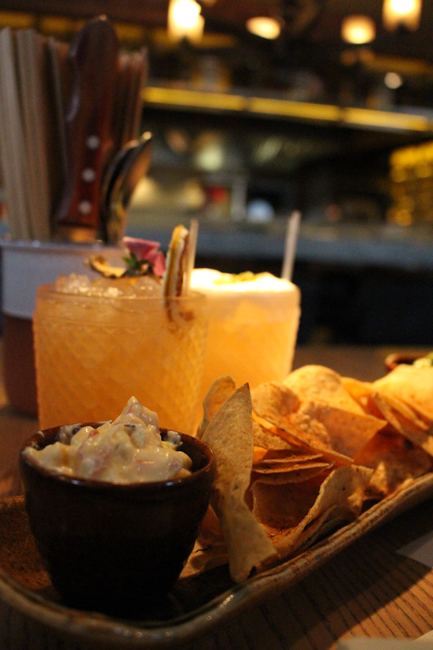 A fiesta of flavours was then presented to us starting with the pan fried king scallops served with chorizo butter, smashed peas, crispy baked serrano ham (looking visually arresting on the plate) and orange zest. You see in the background, a tasty dish of crispy sweet potato fries with aji amarillo, yuzu mayo and truffle salt.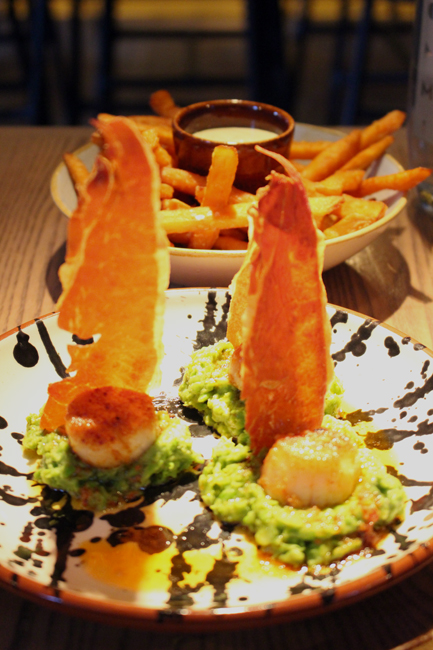 We then moved swiftly on to the mixed MOMMI Chirashi Sushi with seasoned sushi rice, house tartare sauce, tuna, salmon, seabass and toboki.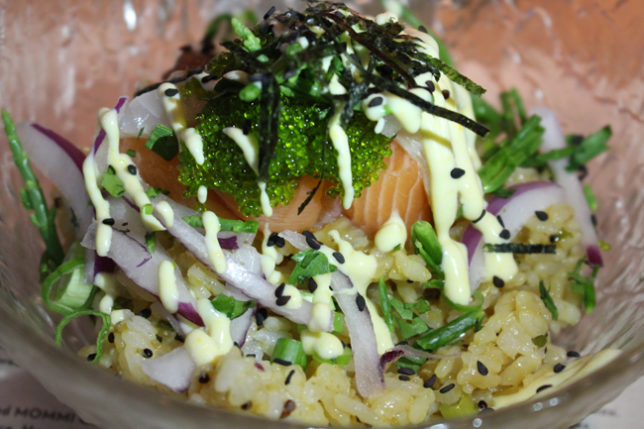 Joining this dish was the salmon nikkei sashimi with jalapeno, kumquat, coriander, truffle oil and garlic chips.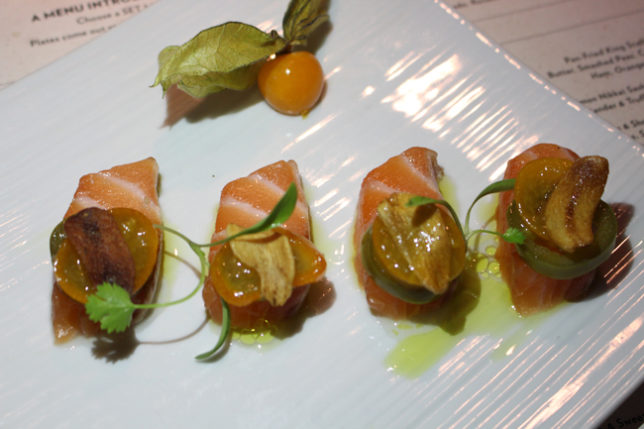 Also served was the braised sticky short rib of beef served with quinoa, lime picante, ama su roots and teriyaki padron peppers.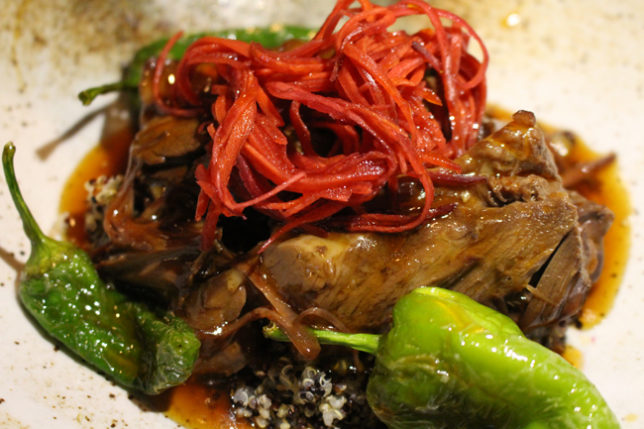 Our tastebuds tingled for the slow braised belly pork bites with roasted agave sweet potatoes, habanero chili ponzu, corn puree and chopped hazelnuts.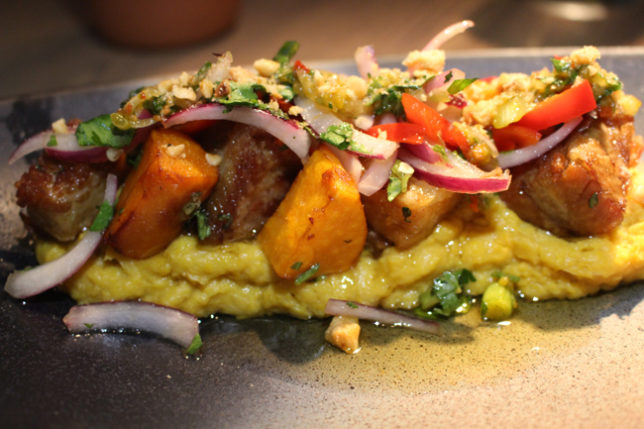 Our palates were delighted by the lamb cutlets yakitori with green tea miso, aji lomo, coriander and salsa ocopa.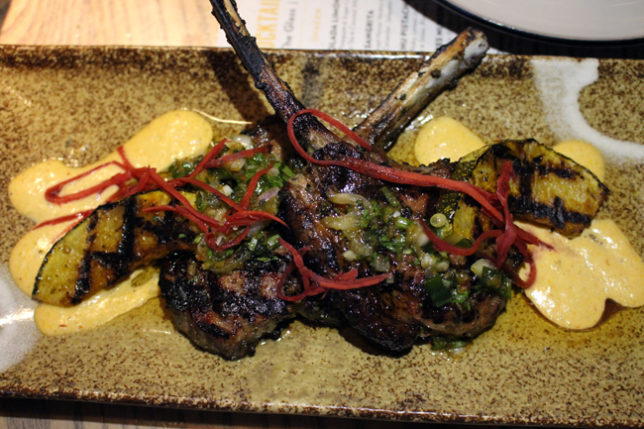 In addition to a comprehensive drinks menu including wines, beers and sakes, there is a beautiful selection of cocktails to enjoy with your meal. We particularly liked the Pachamama with dark rum, passion fruit, physalis, lime, falernum (ginger, almond, and vanilla spiked all spice) and the La Romanza with Aperol, blood orange, lemon juice rosemary and rhubarb syrup.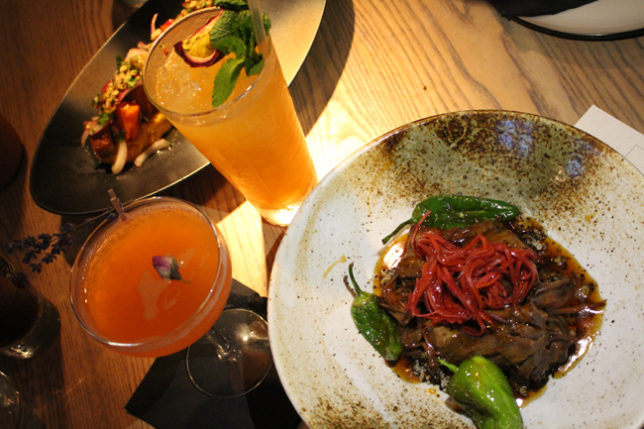 To finish is a short but sweet dessert menu where the star of the show is the Passion Fruit, Yuzu & Ginger Cheesecake served with Almond & Coconut Macaroon.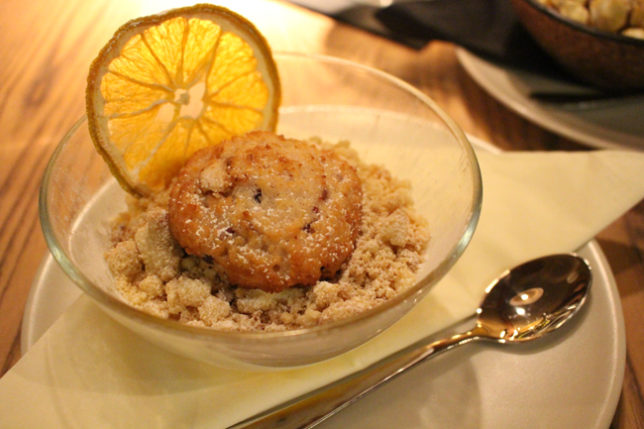 But the Peruvian Chocolate Mousse with Toffee Popcorn & Crispy Quinoa also vies for attention.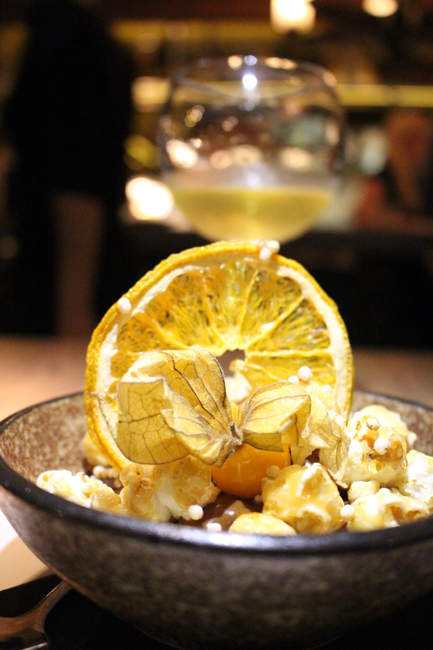 But if these don't catch your fancy then there are always the South American Super Fruit Ice Creams to choose from. We liked the sound of the Banana & Caramelized Lucuma.
MOMMI draws on the vibrancy of Miami, the eclecticism of Venice Beach, the upbeat rhythm of South America and the refinement of Japan to bring together a fiesta of flavours in one unique destination restaurant.
MOMMI
44-48 Clapham High Street, London SW4 7UR
0203 814 1818
www.wearemommi.com
@WeAreMOMMI