Are you one of these people who always seems to have a really busy morning grabbing breakfast as you run out of the door? Or do you prefer a little extra snooze time to a sit-down breakfast? Happen to be gluten intolerant too? Your breakfast breakdown will be a distant memory with the new Nairn's Gluten Free Breakfast Biscuit Breaks range – your breakfast match made in gluten-free heaven.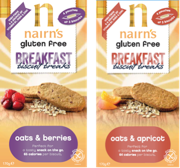 The new Gluten Free Breakfast Biscuit Breaks come in two varieties; Oats & Berries and Oats & Apricot. We love the Oats & Berries variety which is bursting with fruity berry flavours from the dried raspberries and cranberries and that classic oat crunch and creamy taste. The Oats & Apricot variety has the same light, crunchy biscuit perfectly balanced by the natural, creamy texture of the oats, but we found the apricot flavour to be quite subtle and not as tangy as we would have liked.
Whatever your personal preference, you'll be reassured to know that Nairn's Gluten Free Biscuit Breaks are made with simple, natural ingredients and pure gluten free oats, making them ideal for those who suffer from coeliac disease or follow a gluten free lifestyle. Nairn's Gluten Free Breakfast Biscuit Breaks also contain 33% less sugar than other healthy on-the-go biscuits, and at 65 calories per biscuit, these are great for anyone looking for a little sweet treat without a big calorie hit!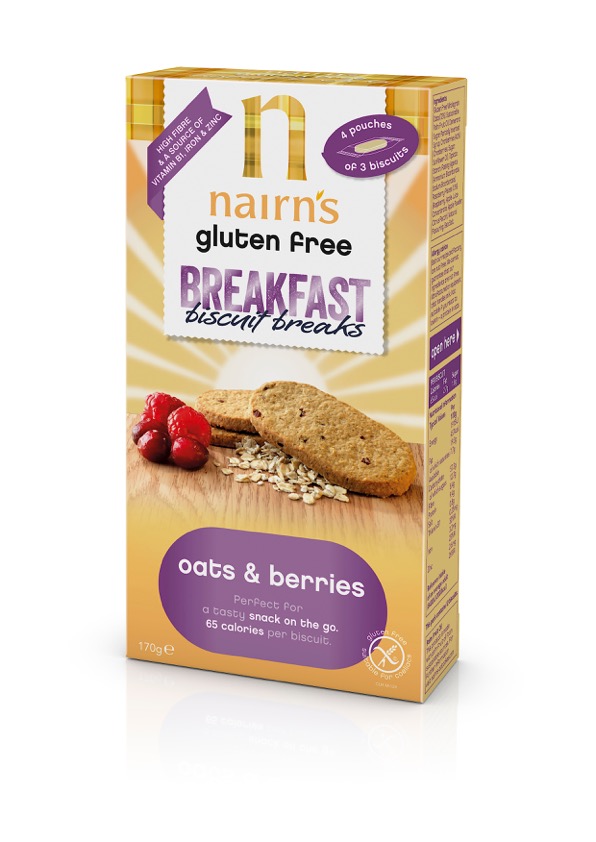 Oats have long been recommended by health and nutrition experts for their many health properties. Nairn's use wholegrain, rough gluten-free oats and oat flakes in their Gluten Free Breakfast Biscuit Breaks, which are high in fibre; filled with sustainable, slow-release energy, helping to power you through your day while leaving you to feel fuller for longer. Nairn's new breakfast biscuits are also a great source of vitamin B1, iron and zinc.
Nairn's delicious Gluten Free Biscuit Breaks come in handy pouch packs of 3, so are easy to pop in your bag, car or desk drawer for breakfast on the go. But they also make a satisfying snack for the post-afternoon slump or a tasty accompaniment to your tea break.
Nairn's Gluten Free Breakfast Biscuit Breaks – Oats & Berries are only £1.99 and are currently available from Sainsbury's & Waitrose, and will be available in ASDA from next month.