Skylon is an iconic riverside restaurant ideally located for theatre goers and the Southbank's weekend crowds looking to dine or simply enjoy a drink with an unrivalled view of the Thames.  The restaurant got a new lease of life this summer with exciting new menus from recently-appointed Executive Chef Kim Woodward plus a light, bright new look for its interior.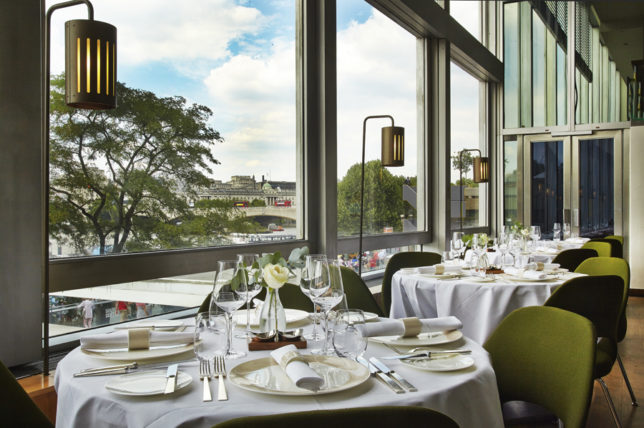 Containing a destination bar, stylish grill and beautiful modern British restaurant, Skylon is located within the Southbank Centre overlooking the River Thames. It was the first restaurant opened by D&D London, one of the UK's most progressive hospitality businesses, after the business was founded in 2006.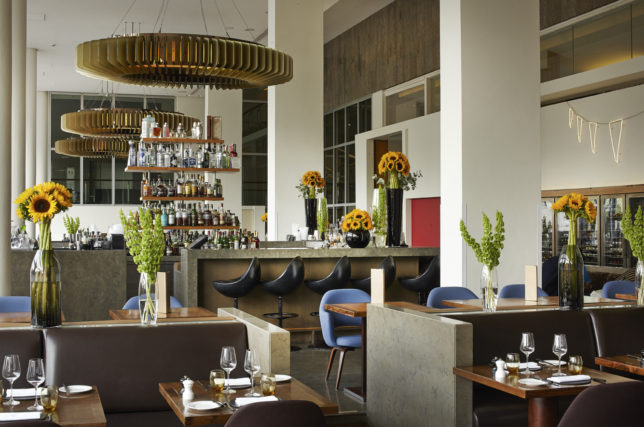 At the beginning of 2017, Kim Woodward was appointed as Executive Chef of the modern European restaurant. Kim's modern British menus are ingredient led, bringing diners expertly sourced produce from across the UK with sympathetically crafted dishes that enhance the distinctive flavour profiles of each component.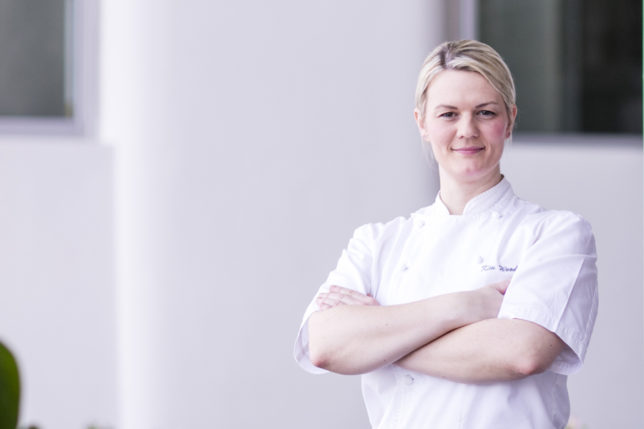 Kim's career started at the age of 18, when she moved to the US for a culinary internship, which led to her spending over 5 years at Big Cedar Lodge, Missouri. After returning to the UK she joined Gordon Ramsay Restaurants, starting out as Junior Sous Chef at Boxwood Café.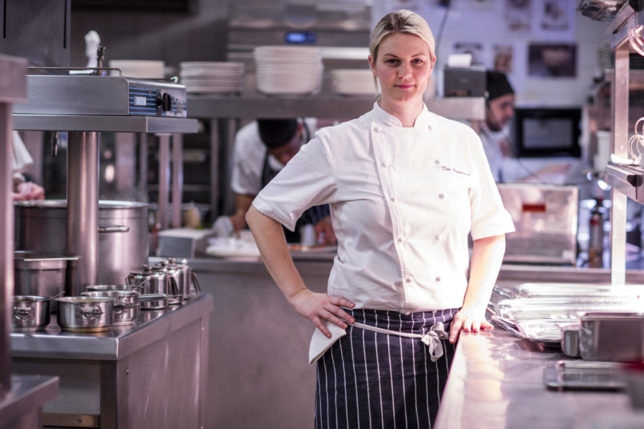 Subsequent appointments included roles at Gordon Ramsay Plane Food, York & Albany and in 2015 she was named as the first ever female Head Chef in Savoy Grill's 126-year history before her move to Skylon. Kim says, 'the quality of ingredients available across the UK and within Europe is unrivalled in my eyes, we are so lucky to have such amazing choice so nearby.'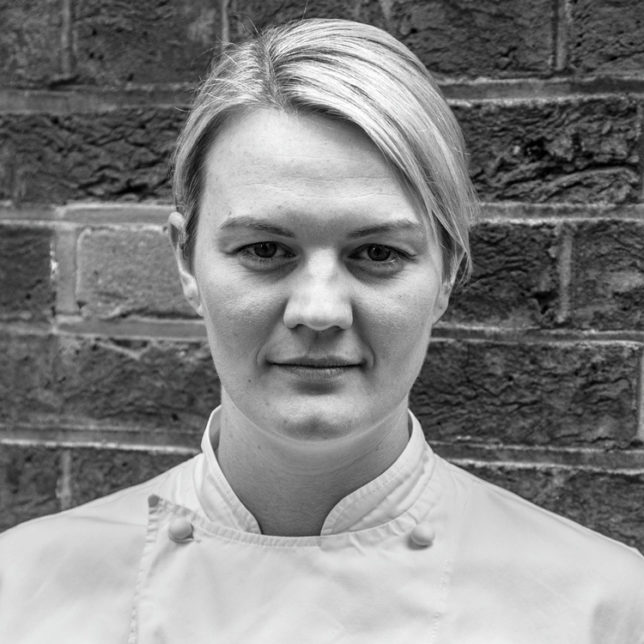 Kim's new menu features delicate starters such as hand-dived Orkney scallop ceviche with pink grapefruit and heritage radish, cucumber and truffle, with touches of European influence evident throughout, with the likes of roasted veal sweetbreads with French white asparagus, toasted almond foam and sherry vinegar gastrique.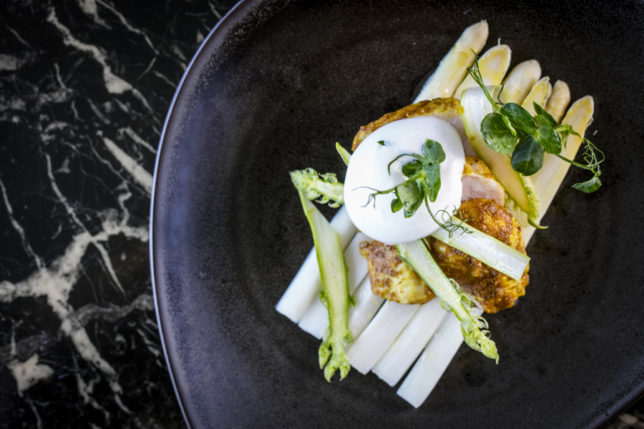 Kim continues the produce-led approach in a new menu for Skylon Grill, including dishes such as soy glazed Scottish salmon, fine green beans and toasted almonds. For a touch of nostalgia, desserts include profiteroles with vanilla cream, salted caramel and chocolate sauce and an old-school favourite, Knickerbocker glory.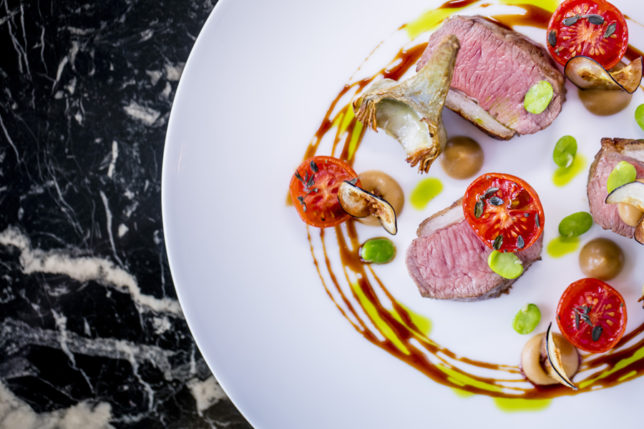 In addition, Skylon's weekend guests can enjoy a bountiful brunch including dishes such as warm waffles with macerated raspberries, crème fraiche and pistachios with the option of raising your brunch game thanks to unlimited Prosecco and Bloody Marys for £20 per person, when you order at least two options from our brunch menu.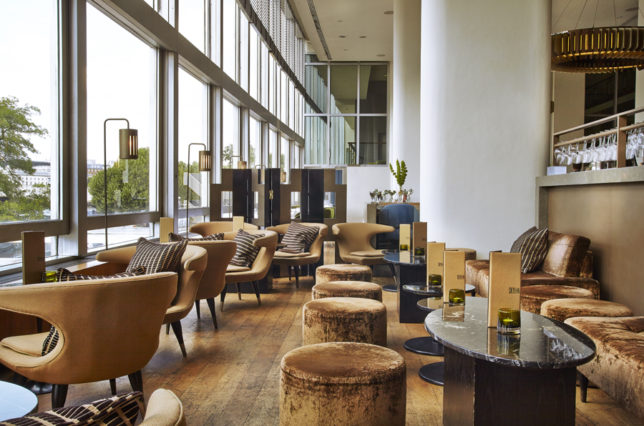 On our visit to Skylon, we were welcomed warmly by the manager before taking our seats at our table in front of the floor-to-ceiling windows. The fabulous view was made all the nicer with fabulous cocktails from the bar.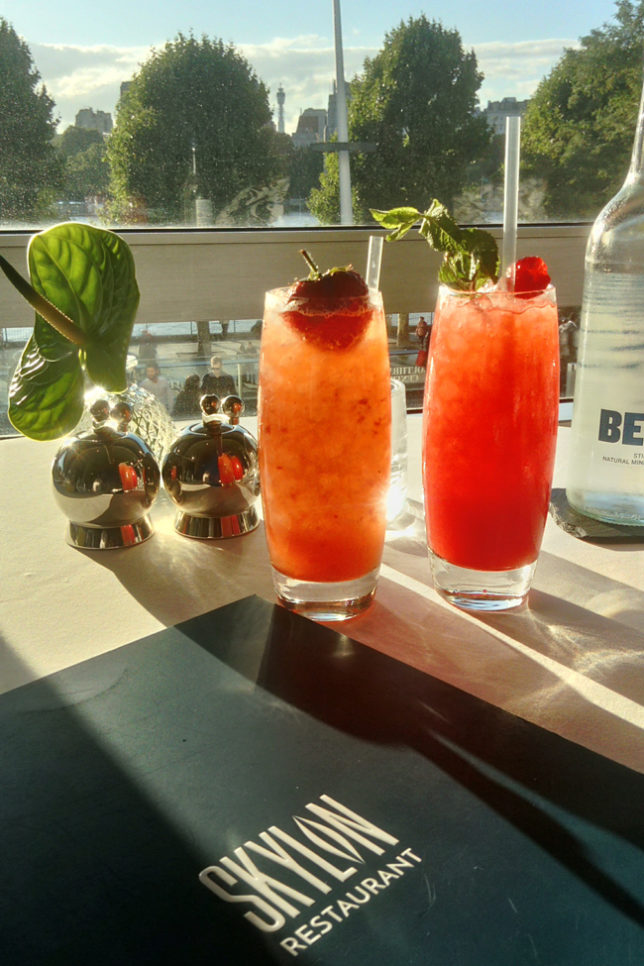 To start, the chef sent over a delightful pair of amuse bouches – Pressed Watermelon served with avocado, shimeji mushrooms, yellow baby plum tomato, lemongrass and chickweed.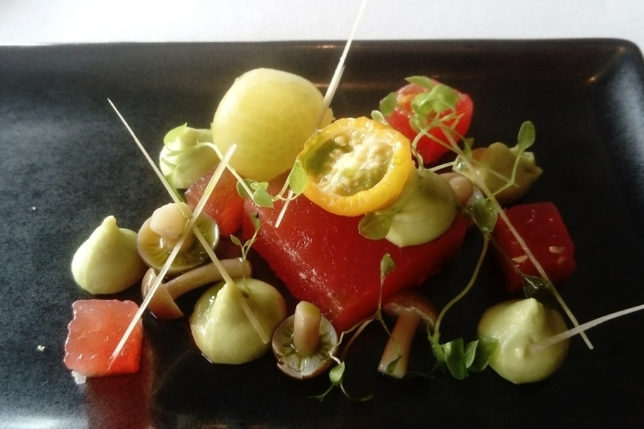 The other amuse bouche was Scallop Ceviche – hand dived Orkney scallops with pink grapefruit, heritage radish, cucumber and truffle.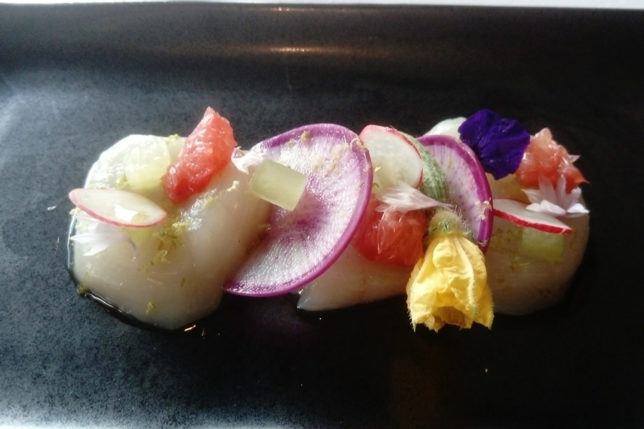 For the Starters, we went for the Pan Seared Foie Gras – meltingly soft in texture and rich in flavour – served with pickled cherries, apricot gel, toasted hazelnuts, oats, nasturtium leaves and cherry blossom.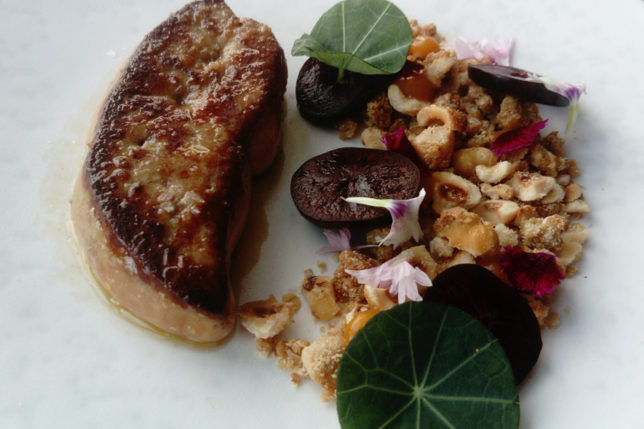 My dining companion sampled the Smoked Salmon Cannelloni with creme fraiche, gribiche, salmon caviar and cervil – it looked so beautiful on the plate, one felt a pang of guilt cutting into it.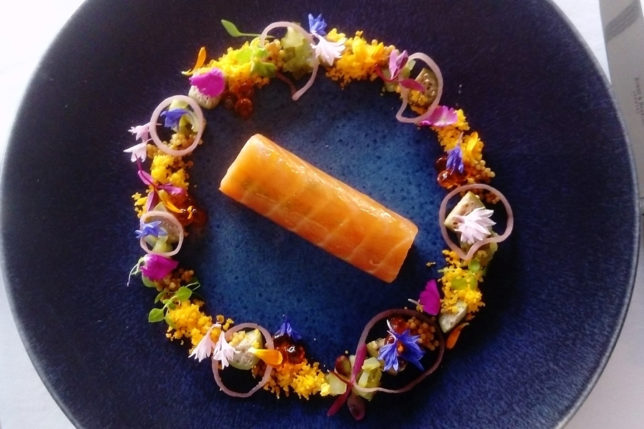 For the Mains, my dining companion had Scottish Angus Cross beef fillet with wild garlic, grelot onions and crispy shallot. Even though it was ordered medium, the meat was still beautifully tender and succulent.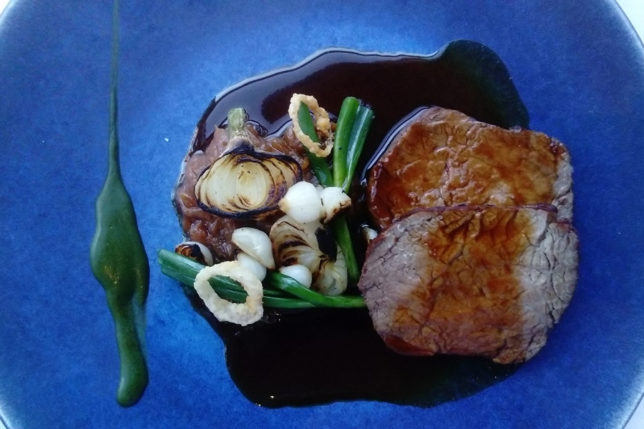 I went for the Roasted Lamb Cannon with crispy belly (an ingenious pairing), wild mushrooms, baby artichokes and cherry tomatoes.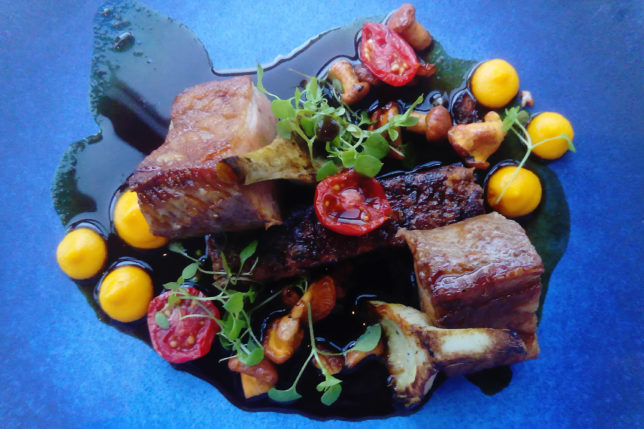 To accompany these marvellous mains, we ordered triple cooked chips, spring cabbage and chantenay carrots.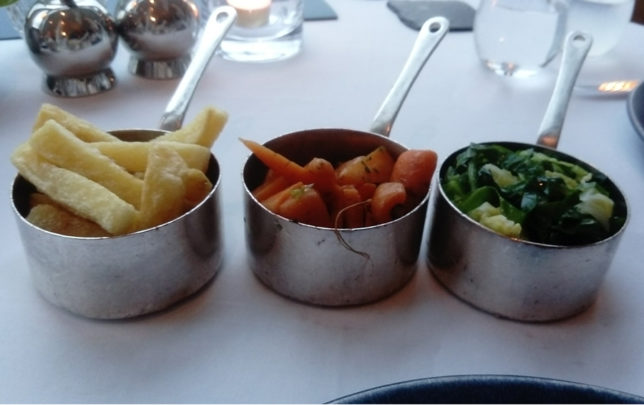 To end on a climax to this feast of flavours, I had summery dessert of Gariguette Strawberries served with  elderflower meringue, rose jelly and strawberry sorbet.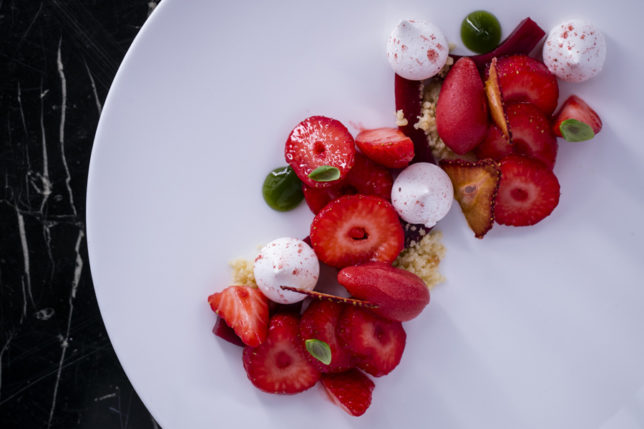 My dining companion indulged in the Cherry Blossom Parfait with pistachio crumb and cherry sorbet. A delight to the eye and the palate.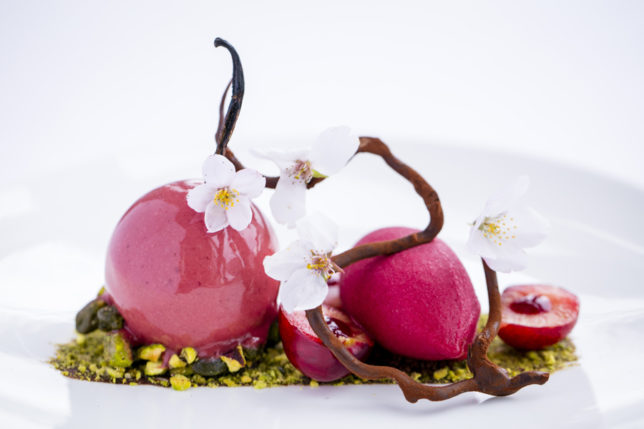 Finally with coffees, we were presented with these delightful petit fours – the perfect end to a perfect meal in a perfect restaurant.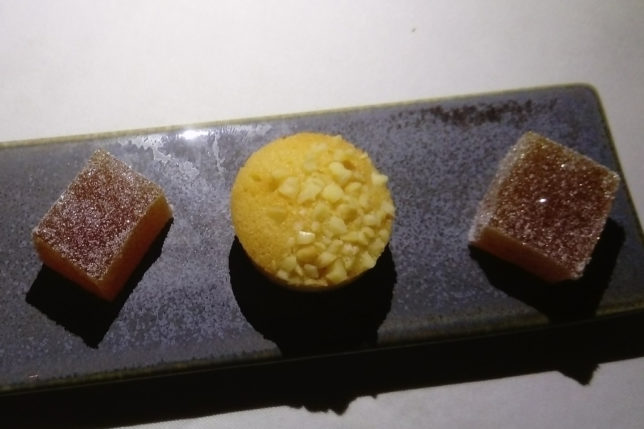 With this marvellous menu at Skylon, Kim Woodward has further enhanced her reputation as a leading culinary force on the London dining scene. We can't wait to return to try even more of her gastronomic gems.
Skylon
Royal Festival Hall, London SE1 8XX
020 7654 7800
www.skylon-restaurant.co.uk
@skylonsouthbank