Few sporting events command as much excitement as the quintessentially British tennis tournament, Wimbledon. Each year tickets get snapped up in the Ballot faster than Serena Williams' serve, so if you're currently empty-handed, don't despair! There's still the chance to get your hands on a ticket if you head down to the queue during this year's tournament, 3rd-16th July. While we Brits are well-known for our love of lining up in single file – as much as 55 hours for an Andy Murray game – the epic Wimbledon queue is one to prepare for.
Here Dave Cutler, Head of Innovation at Lavazza – the official coffee of the Wimbledon Championships for the seventh year running – offers his top tips on surviving the queue and ensuring you have a Wimbledon experience to remember.
Research is a winner
Each day during Wimbledon, 1,000 tickets are allocated for Centre Court and Courts 1 and 2, with an unlimited number of ground passes also available. Begin queuing at 6am if you want to get your hands on some of the more lucrative tickets. If you managed to get a ground pass, head to the resale ticket queue at the corner of Henman Hill from 3pm onwards to try your luck for Centre Court or Courts 1 and 2 tickets. Every time someone leaves a match on these courts, their ticket is sold on for a fraction of the price and the money given to charity. It's unlikely you'll get on court before 5pm so keep your fingers crossed for long sets and good weather.
Rain or shine, come prepared
It sounds obvious, but remember to check the weather forecast before queuing; British weather is as unpredictable as tennis itself. You could get lucky with a blazing hot day (don't forget sunscreen, a hat and water) or you might get downpours (rain macs and umbrellas are a must). As British summertime is often a mixture of both, wear clothes you can easily layer for smart comfort – whatever the weather.
Cash is king
Ticket purchases from the queue are cash only, so make sure you bring enough money to cover the costs. It also pays to have extra should you be tempted by the tasty food and drink serves on offer at various locations throughout the queue and inside the venue. A reported 57% of Brits can't do without a coffee after lunch*, with a Flat White being a firm favourite, so make sure you have enough cash to indulge as you wish.
British rules, British etiquette
It wouldn't be a British tennis tournament if there weren't any rules. The first one is for baggage; each person is entitled to one bag only, measuring no more than 40x30x30cm. Hard-sided containers or items such a picnic hampers, cool boxes, flasks and camping chairs are not allowed in, along with selfie sticks! Alcohol is permitted, but this is limited to one bottle of wine or champagne, or two cans of beer per attendee. Spirits are a total no-go. The final rule is no queue jumping. Not only is this bad etiquette but you are provided with a queue card upon arrival, both numbered and dated, so save yourself the embarrassment as you're likely to be caught out.
Refuel and rehydrate
You might be queuing a long time before entry is gained to the esteemed grounds, so be smart when it comes to keeping yourself fed and watered. Remember to pack ample snacks and supplies to keep you going – (and help pass the time). If you don't want to lug around your own refreshments, catering is available. The average Brit drinks 3.6 cups of coffee a day and Wimbledon is no exception. Thankfully there is free authentic Italian coffee to get you through the lull, giving that much needed energy boost.
Make it a queue to remember
The Wimbledon queue can be a great experience! A real camaraderie is formed when you all have the same end goal, and the opportunity to meet tennis fans from all over the world can be a buzz. Make the most out of the experience and strike up conversation with the people around you. There will also be lots of activity in the queue – so get involved, keep yourself entertained, and make it a day to remember. Keep your eyes peeled you might even spot some tennis legends.
About Dave Cutler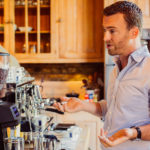 Dave Cutler is Head of Innovation at Lavazza. Dave spent the first 10 years of his career as a professional actor after graduating from drama school in 2003. During this time, he also worked as an Event Manager for a promotional company that counted Lavazza as one of its clients. Dave went on to meet the Lavazza team at several events throughout the years, including Wimbledon and at well-known food and coffee festivals. It was at these events working for the Lavazza brand that Dave discovered his passion for good quality coffee.
As Lavazza's Head of Innovation, Dave travels the UK showing people how to enjoy quality coffee (including running coffee and food pairing workshops at various festivals over the summer) and developing coffee serves. He is a member of the Speciality Coffee Association and has achieved their highest level in Barista training on their Coffee Diploma program.