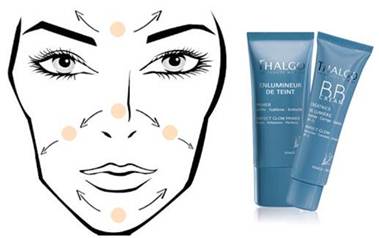 Thalgo BB Cream
For whom?
For women looking for a light coverage product which moisturises and adds radiance, and at the same time protects the skin with an SPF15.
Description
This BB cream restores radiance to the skin with a unique combination of Vitapulp, an unprecedented active ingredient that seems to visibly breathe new substance into the skin, and micro-prisms benefiting from the technology of "correction through coloured light". Its skin-embracing texture with coated pigments softens imperfections and irregularities, moisturises the skin and provides effective protection against UV rays for a perfect velvety finish.
Available in 3 shades : Ivory, Natural, Golden
Based on Thalgo's professional expertise , these application tips will bring out your skin's radiance :
1- Apply in very thin lines to the forehead, cheeks and neck.
2- "Stretch" the cream, working from the middle of the face outwards and using slightly upward motions.
3- For areas with more pronounced imperfections, apply an extra dab of cream and gently pat in.
Remove make-up at the end of the day
Thalgo Perfect Glow Primer
Addressing the demand for luminous and flawless skin, Thalgo, leaders in marine beauty, have developed an all-in-one solution to target dull skin with their new BB Cream Perfect Glow. The ultra-smart formula embraces the skin with high-performing actives to restore the skin's structure and reveal even radiance. An innovation in 'skincare-make-up', Thalgo's BB Cream Perfect Glow works on four levels to improve radiance, conceal, hydrate and protect the skin's natural beauty. The light, velvety emulsion comes in three shades: Ivory, Natural and Golden which blend perfectly with each skin tone for a flawless, natural finish.
Four levels to the Perfect Glow:
Improves radiance – breathes new substance into the dermis and epidermis through the use of VITAPULP, a Verbena extract rich in peptides and oligosaccharides. VITAPULP stimulates cell renewal and the synthesis of hyaluronic acid to help regain a plumped, smoothed and uniform complexion creating the perfect condition for skin to reflect and emit light and radiance.
Conceals – unique radiance-reflecting prisms optically correct skin colour by concealing imperfections, boosting radiance and neutralising unwanted shine. Particles of light and chameleon pigments ensure perfect dispersion to create an illuminating veil for an even, nude skin effect.
Hydrates the skin – green algae extract, SEVE MARINE®,has been carefully selected for its power to capture water and create "reserves" in the skin to continuously rehydrate and quench skin throughout the day. Its exceptional hydrating action continues throughout the day, ensuring skin regains softness and suppleness.
Protects skin's natural beauty – provides an SPF 15 through 100% natural marine sunscreen SUN'YTOL®,a patented innovation that provides a defense against UVA and UVB damage that can lead to skin ageing. SUN'YTOL® preserves and protects skin's natural beauty for a smooth and youthful complexion