Starting nursery or pre-school is an exciting time for children when they will be learning new skills, words, abilities and meeting new people. With the all-new Fire 7 Kids Edition, parents can continue their child's learning at home thanks to the thousands of age-appropriate books, audio books, movies, TV shows, educational apps and games available through Amazon Fire for Kids Unlimited.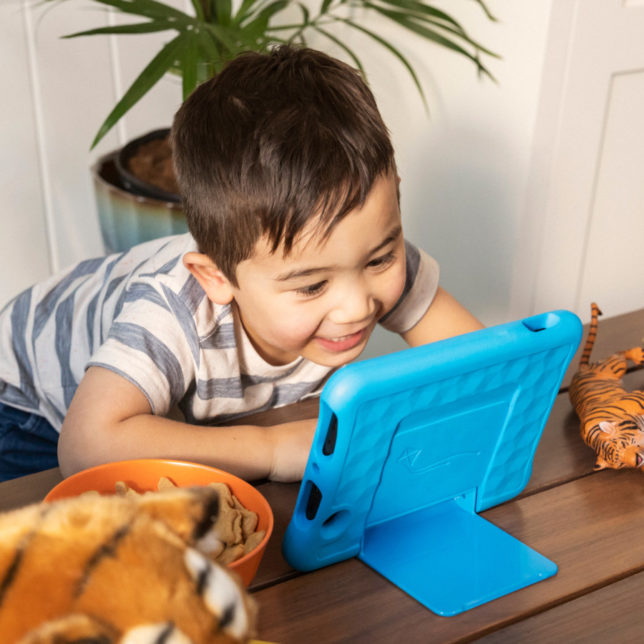 The all-new Fire 7 Kids Edition allows parents to manage and customise their child's Fire for Kids experience. This includes everything from setting bedtime curfews to tighter controls on screen time and content – as well as blocking access to videos and games until educational targets such as reading goals are met.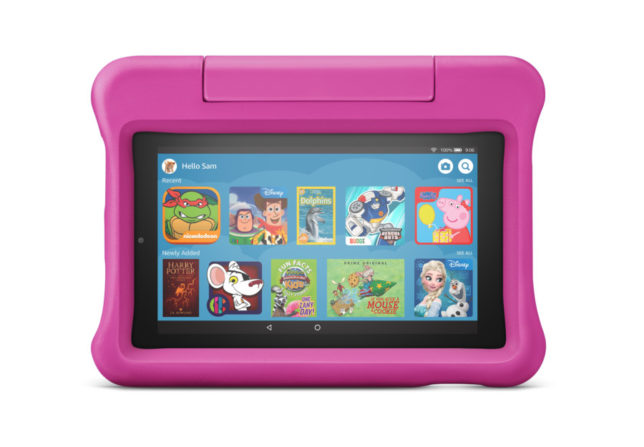 Parental controls can be implemented directly on a child's tablet or remotely via the Parent Dashboard – meaning parents can keep up to date and engage with their children on what they're reading or watching.
The all-new Fire 7 Kids Edition also features a new and improved kid-proof case available in pretty pink, beautiful blue or a new gender-neutral purple colour. Complete with an adjustable stand for easy hands-free viewing, all-new Fire 7 Kids Edition also boosts 16GB of storage, a faster processor and a 2-year guarantee giving peace of mind – if something happens, just send it back and Amazon will replace it – no questions asked.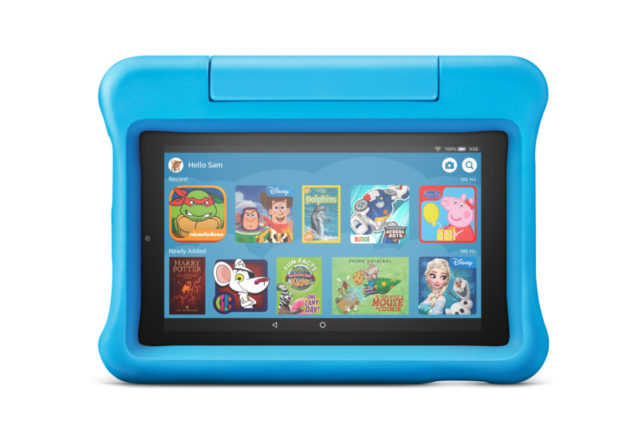 Over 10 million kids (and their parents) globally have enjoyed our Amazon Fire for Kids service, which provides the perfect balance between giving kids the content they love, while providing parents peace of mind knowing that what their kids are viewing on their device is age-appropriate. Fire for Kids offers parental controls that encourage learning before play, and gives parents the ability to manage their child's Fire for Kids settings.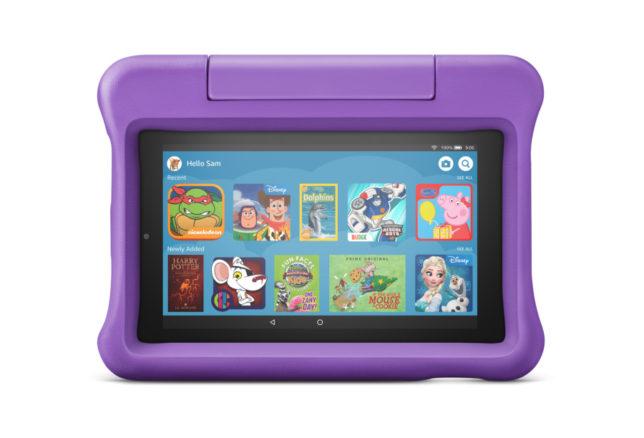 Your children will love this next generation of Amazon's most affordable kids tablet and you will too thanks to its easy-to-use parental controls that encourage learning before play.
Here are some of the features we love most about this learning tool that parents can totally trust:
Age filters – parents can adjust settings to tailor the Fire for Kids experience for each child and ensure the content their kids are viewing is age-appropriate.
Learn First – parents can set daily goals for educational content, and block access to entertainment content until after educational goals are met each day.
Screen time by category – parents can restrict certain categories, such as apps and videos, while leaving unlimited time for reading.
Total screen time – parents can choose a set amount of total screen time per day, after which Fire for Kids will shut down.
Bedtime – parents can control when Fire for Kids shuts down for the day and turns back on the next morning.
Weekday and weekend settings – parents can set time limits by weekdays and weekends.
Add or remove content – parents can add titles from their own content library into Fire for Kids, or choose to remove unwanted Fire for Kids Unlimited content.
Enable the web browser – parents can choose to enable or disable the kid-friendly web browser within Fire for Kids.
Parent Dashboard – parents can access this dashboard at parents.amazon.co.uk to view weekly activity reports of the digital content their kids are using in Fire for Kids and determine how to manage daily time limits and educational goals in addition to choosing what content each child sees.
Remote parental controls – The locking feature in Parent Dashboard makes it easy for parents to pause their child's devices for a set amount of time such as during mealtimes, as well as adjust their child's Fire for Kids settings remotely via any web browser on a mobile device or computer.
Connect with your children – parents can also access Discussion Cards in Parent Dashboard to see summaries of viewed content. Key themes and sample questions help parents initiate conversations with their kids about the books, apps, and videos they're viewing in Fire for Kids.
The all-new Fire 7 Kids Edition is £99.99 available from Amazon. Amazon Fire for Kids Unlimited is free for the first 12 months and thereafter is only £1.99 per month for Prime members or £3.99 per month for customers who are not yet Prime members.