If you're looking for the very best British produce to take your summer entertaining to delicious new heights then look no further than the exceptional range of carefully curated hampers from Dukeshill. This home of luxury fine foods, most famed as holders of the Royal Warrant to HM The Queen for their cured hams, has everything you need for the perfect addition to your summer dinners or garden parties allowing for stress-free entertaining with family and friends.
At the heart of the Dukeshill offering is its stunning array of hampers, many of which would make a delightful addition to summer parties and gatherings. Bring a traditional twist to your picnic with the Afternoon Tea Hamper, discover the array of gourmet goodies in the Savoury Hamper or enjoy Dukeshill's renowned hams and much more with the Cheese & Ham or Meat Lovers Hampers.
Meat Lovers Hamper (£95)
We reviewed the Meat Lovers Hamper which is presented in a beautiful 18″ wicker basket.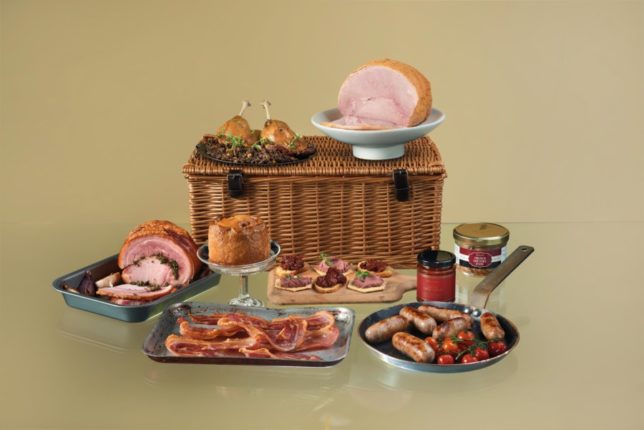 Boneless Wiltshire Ham (1.2kg) is the star of the show and was absolutely delicious and gets 5 stars. Moist and tender with lots of flavour, the ham is cooked & ready to eat with the bone removed for easier carving. The ham is unglazed and lends itself very well to dressing or glazing.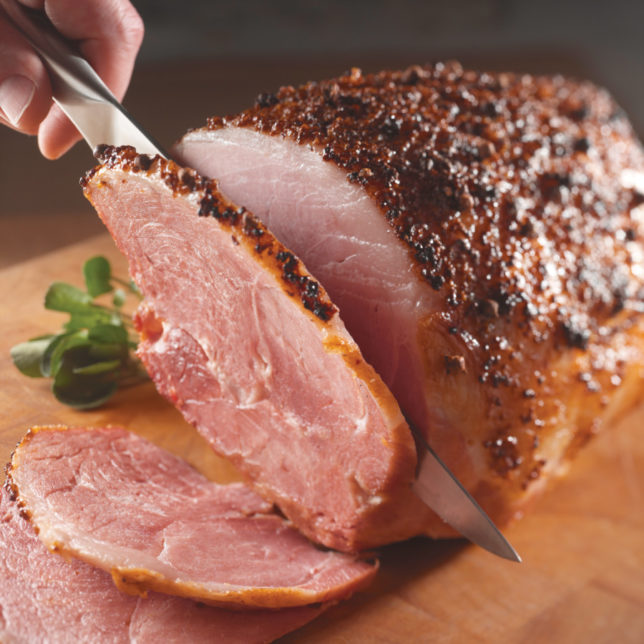 Porchetta Roasting Joint (1.2kg) was really delicious and very tender plus the skin did crackle which was great. As cold cuts, it was still very good. It would make a fabulous centrepiece for Sunday lunch or even a great alternative to the Christmas turkey. The Porchetta Roasting Joint is created by lightly-curing a boned pork loin which is then rolled with thyme, rosemary, fennel, garlic, lemon and seasoning.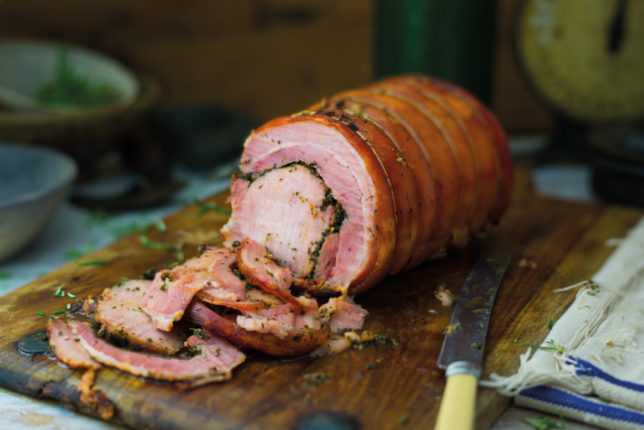 Traditional Pork Sausages (400g) are made with just the right mix of lean to fat pork meat and nothing too coarse or too fine. They cook beautifully in the frying pan and were some of the tastiest sausages we have had in a long time in our quest for the perfect sausage.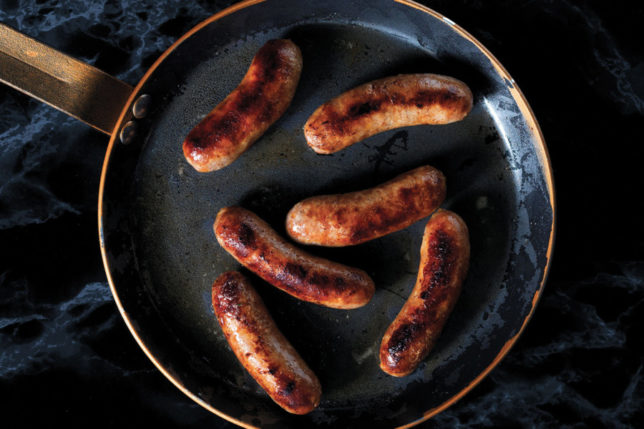 Confit Duck Legs (2 legs) were rich and tender having been cooked slowly and gently in the oven and then preserved in their own juices to encapsulate all the delicious flavour. When reheated in a pan until the skin is crisp and golden, these free-range succulent duck legs are best served with flageolet beans according to tradition however they are equally as nice when served with a green salad in summer or comforting garlicky mash during the colder months.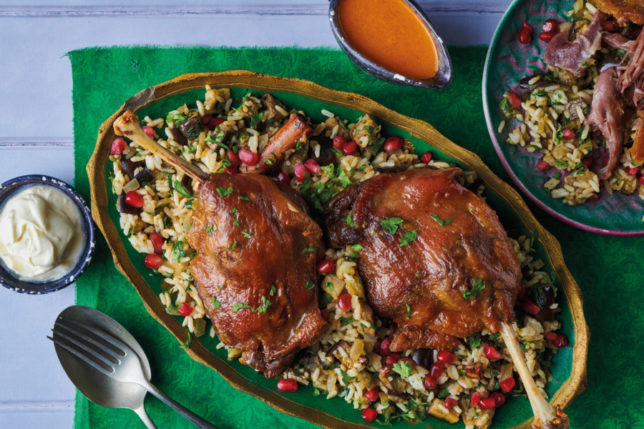 Family Pork Pie (454g) is lovely, very tasty and the pastry is not too thick. It is made especially for Dukeshill by one of the ten genuine Melton Mowbray pie producers.
Old-Fashioned Middle Cut Bacon (300g) was unsmoked and did not have a high water content in comparison to 'modern bacon' but seemed to have enough fat for both the bacon and the rind to be crispy. When cooked the bacon presented with a more golden colour and overall was very tasty. It should be noted that this traditional bacon has what one might describe as a 'piggy' taste which we enjoyed but others might need to get used to.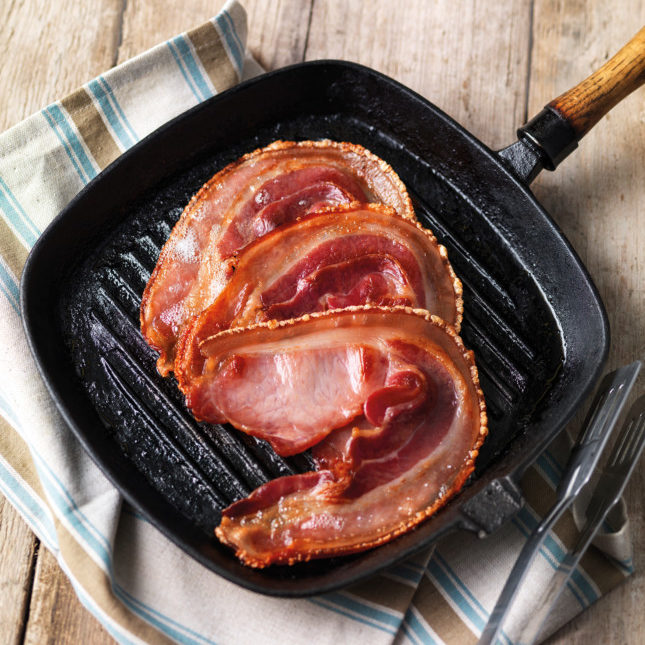 French Country Pâté (350g) is made in the foothills of the Pyrenees and has a typically coarse and rustic texture and a delicious flavour enhanced by a pinch of Espelette chilli which we're told is popular in the Basque region of France. It is long life and will keep for several months stored in a cool place.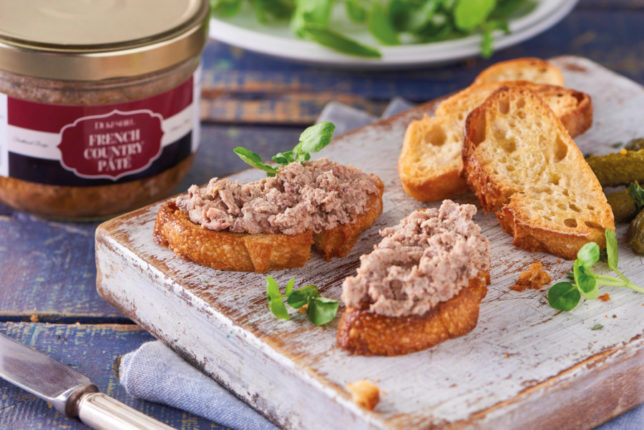 We were not so keen on the Lucy's Chorizo Jam as the chunks of Chorizo were a bit on the firm side and, as the Chorizo is quite an overpowering flavour, we think that it almost needs to be eaten on its own on little toasts. Others may find it enjoyable to eat with hard cheeses, stirred into pasta dishes, with eggs & avocado, or as a burger or baked potato topping.
Here are some other Dukeshill hampers offering something for everyone.
Cheese & Ham Hamper (£55)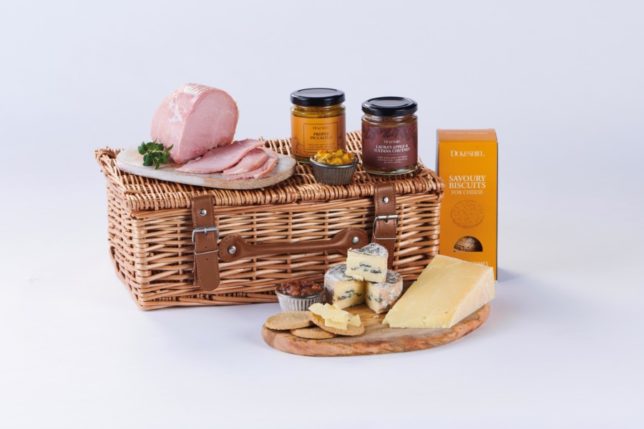 This perfectly formed hamper features a Wiltshire baby ham that has been steeped in oodles of clear blossom honey for over 24 hours to impart its wonderful flavour before baking. It's paired with Cote HIll Blue, a soft blue Lincolnshire cheese that offers a robust blue punch and a wonderfully creamy consistency and a tasty Isle of Mull Cheddar. Apple & Sultana Chutney, Proper Piccalilli and Scottish Oatcakes complete the offering.
Afternoon Tea Hamper (£69)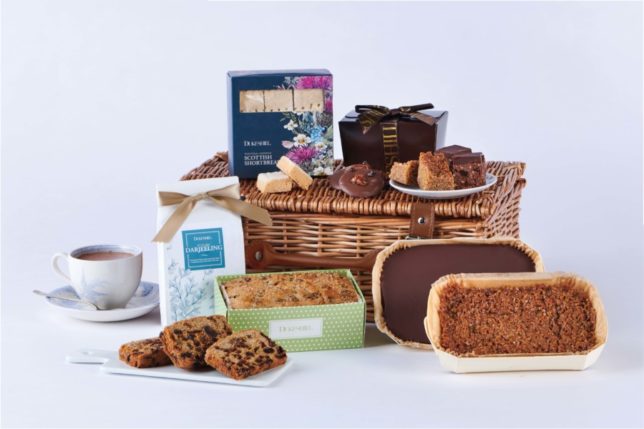 Ideal for sophisticated summer picnics, the Afternoon Tea Hamper has all you need to fill fancy finger sandwiches, thanks to the delicious thinly sliced Wiltshire ham made by Dukeshill's Master Curer and the superior traditionally smoked salmon sourced from the Shetland Isles. Sweet treats include a gooey luxury brownie made with the finest Valrhona Chocolate, plus a light fruit loaf cake and traditional melt in the mouth all-butter Scottish shortbread.
Savoury Hamper (£64)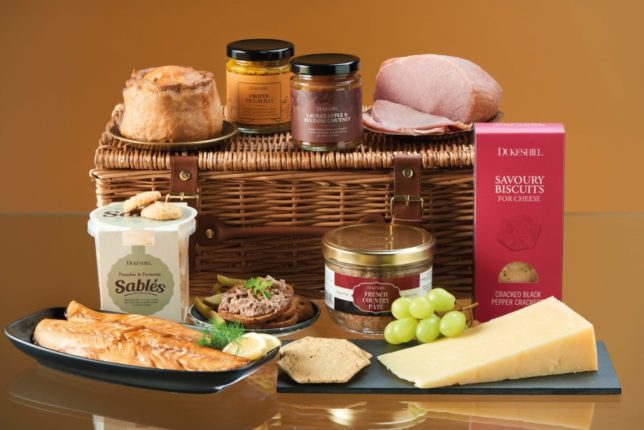 Alongside one of the renowned Dukeshill hams, you'll find a stunning selection of savoury treats packed into this wicker hamper. Picnic perfect, the Family Pork Pie features the best British pork, tasty jelly and rich crunchy pastry whilst the traditional pork pâté included is made especially for Dukeshill in the foothills of the Pyrenees. Smoked mackerel, cheese, crackers and chutneys provide the finishing touches.
Finally, with 2021 set to be the summer of the staycation, start yours off in style with the Holiday Welcome Box…
Holiday Welcome Box (£95)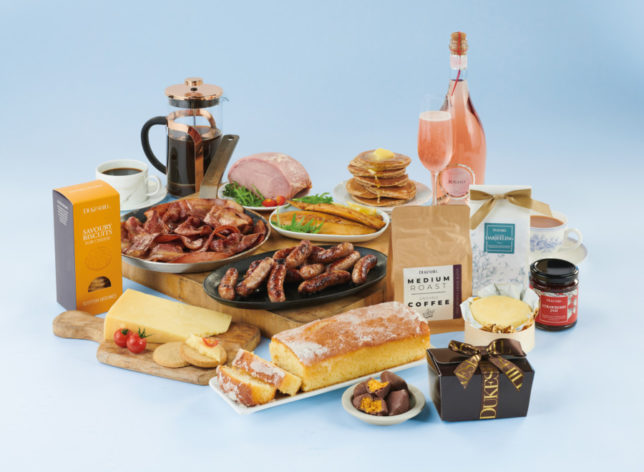 Deliverable direct to your self-catering accommodation, this hamper features a superb selection of Dukeshill bestsellers. From the very best ham and cheese to all you need for that first breakfast from lemon and poppyseed pancakes to the streaky bacon and traditional pork chipolatas. You'll also find a bottle of the charming Rosé Vino Frizzante, plus an array of delectable teatime treats such as the almond lemon drizzle cake and the milk chocolate covered honeycomb.
To discover everything you need for your summer entertaining and much more, all delivered directly to your door, please visit www.dukeshillham.co.uk