From Belgian chocolates to organic Easter eggs, we bring you a selection of the best Easter chocolates to enjoy this Bank Holiday weekend as chosen by the Editor and SLOAN! team.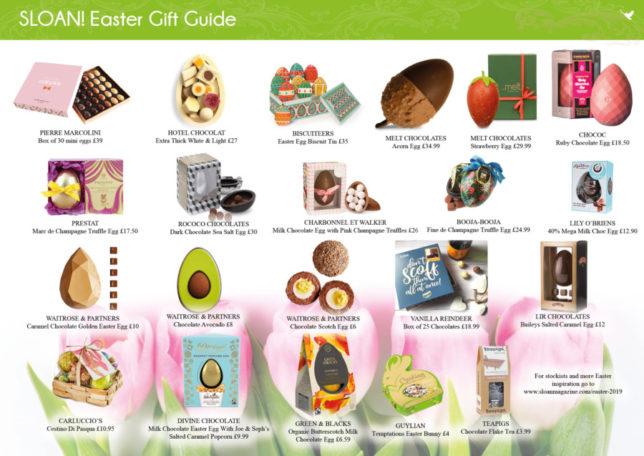 Pierre Marcolini
Each year, Pierre Marcolini's creative virtuosity finds expression in an Easter collection that is as playful as it is delicious. This season, he is reinterpreting his much-loved signature chocolate, the Heart, in his Joli Coeur (Lovely Heart) Easter Collection. For the ideal seasonal gift when visiting friends and family this Easter weekend, we recommend the Box of 30 Miniature Eggs containing ultra-smooth ganaches and crispy pralines, made by Maison Pierre Marcolini chocolatiers using carefully sourced ingredients such as Madagascan cocoa beans, caramel, hazelnut praline, Madagascan vanilla and Iranian pistachio praline. £39 available in-store at Pierre Marcolini's Marylebone boutique, Harrods, Selfridges and online at eu.marcolini.com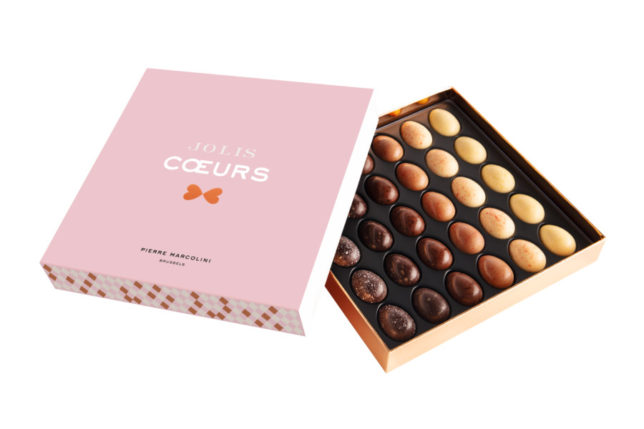 Hotel Chocolat
British chocolatier Hotel Chocolat is famous not just for their excellent chocolates but also for growing their own cocoa on the Rabot Estate in Saint Lucia. Their iconic Extra-Thick Easter Eggs are celebrating their 18th birthday this year and we love the Extra-Thick White and Light Egg (£27). This creamy white chocolate version has two halves of opulent white chocolate filled to bursting with lusciously creamy recipes that pair their high-cocoa white with fruit, nuts and more.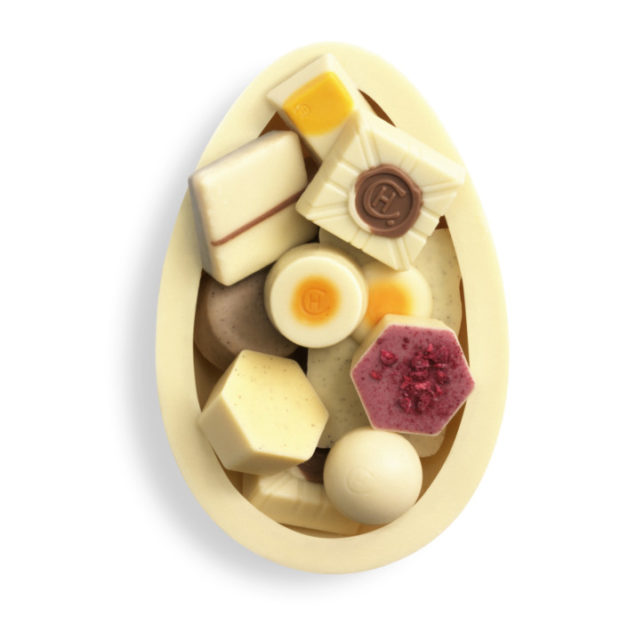 For something smaller but perfectly formed, why not try Hotel Chocolat's Dozen Quail's Eggs (£10) with 12 chocolate quail eggs filled with family-friendly recipes including salted caramels, pralines and simple truffles packaged in a sustainable egg box made from bagasse which is a sugarcane by-product and a brand new form of packaging for Hotel Chocolat and one of the most eco-friendly in the food industry.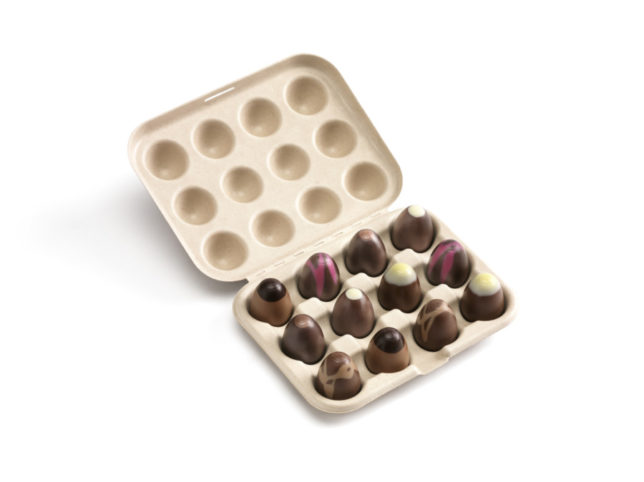 For a bit of fun, we suggest Hotel Chocolat's range of half-egg sandwiches such as the Cookie Dough & Ice Cream Sandwich (£10) with white and raspberry half-eggs sandwiched between two layers of crunchy caramel-milk chocolate. The Easter range is available in-store and online at www.hotelchocolat.com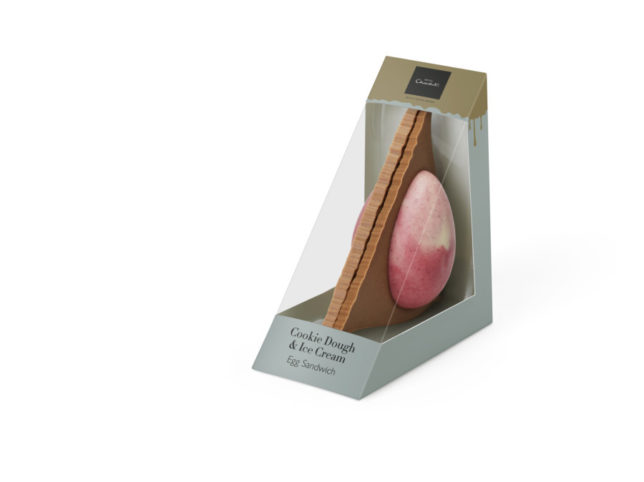 Melt Chocolates
Handmade in the heart of Notting Hill, Melt Chocolates are always something special and even more so at Easter. One of our favourites this year includes the Acorn Egg (£34.99) – an original Melt design beautifully hand-crafted in the kitchen located in Melt's boutiques to minimize food miles. This luxurious Easter Egg has a "cup" made of dark chocolate coated with almonds & cocoa nibs, a "tail" made of candied chocolate orange, and a "nut" made with silky smooth milk chocolate. For even more indulgence, it is filled with chocolate mini-eggs. We love the unique design and gorgeous luxury chocolate.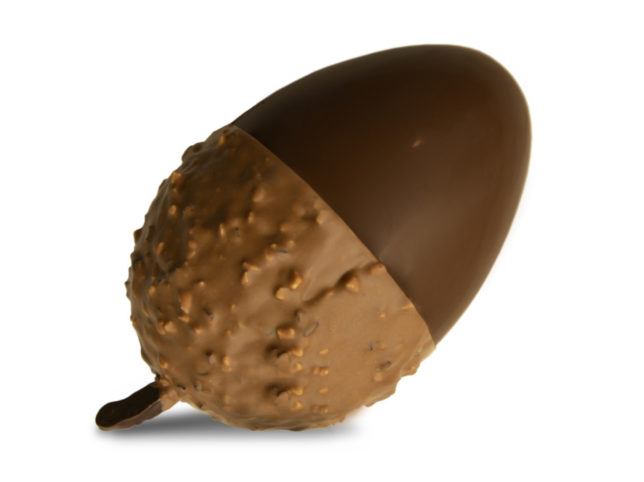 Another unique Easter Egg from Melt is the Strawberry Egg (£29.99) handcrafted with real strawberries and 70% dark chocolate consisting of a smooth inner layer of dark chocolate with strawberry chocolate outside layer and a passion fruit green head. Filled with strawberry and dark chocolate mini eggs, this is the perfect designer vegan egg. Melt's Easter range is available from their boutiques in Notting Hill and Holland Park or online at www.meltchocolates.com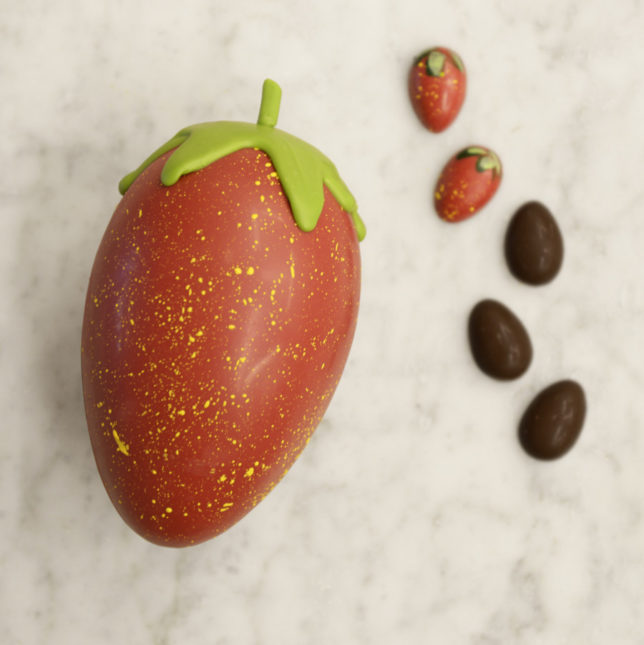 Chococo
Award-winning, artisan chocolatier Chococo presents its new collection of handmade Easter Eggs for 2019. It features new designs, packaging and recipes for all the eggs. The recently discovered ruby chocolate with its all-natural pink hue is adding a new dimension to the Easter chocolate collections and one of our favourites is Chococo's Ruby Chocolate Egg with its naturally fruity finish of refreshing raspberry taste. This unique, naturally pink Easter egg is made from 47% cocoa ruby chocolate with cocoa beans from Brazil, Ecuador and the Ivory Coast.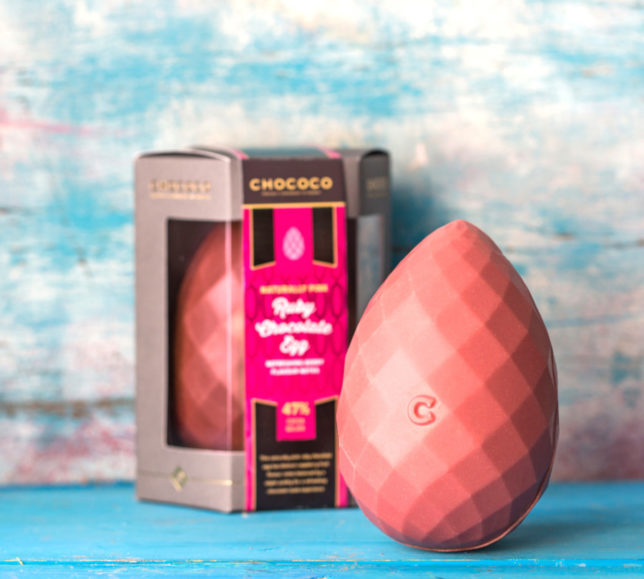 Chococo have also created the Vegan Milc Free Egg. An innovation in fine chocolate, this Easter egg is made from a new single origin chocolate developed by Chocolaterie Robert in Madagascar. It is called 'milc' chocolate as it is made using local Malagasy cashew nuts to give it a wonderful smooth creaminess with gentle hints of nut on the finish. This egg is naturally dairy-free so is suitable for vegans. Both Easter Eggs are £18.50 available from www.chococo.co.uk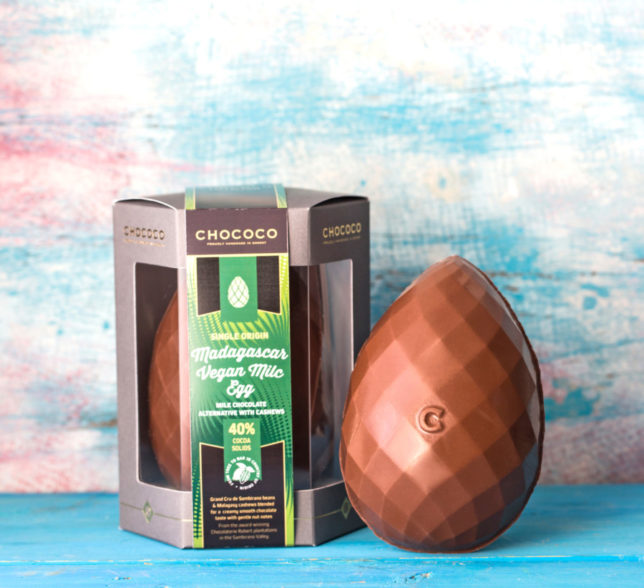 Prestat
Prestat, chocolatier to Her Majesty The Queen, has a delicious range of handcrafted beautifully packaged eggs to treat your loved ones to this Easter. One of our favourites is the Marc de Champagne Truffle Easter Egg (£17.50). This milk chocolate egg of 36% cocoa is made from a unique blend of single origin beans filled with Prestat's iconic Marc de Champagne truffles. These are classic truffles as first created by the Dufour family made with Marc de Champagne produced from the grapes of Épernay, the capital of champagne. The whipped-cream ganache is piped into a milk chocolate shell that is dusted in fine icing sugar. Presented wrapped in foil and secured with a pretty ribbon nestled in a lining of pink tissue paper inside a beautiful box decorated with a whimsical design by the artist Kitty Arden.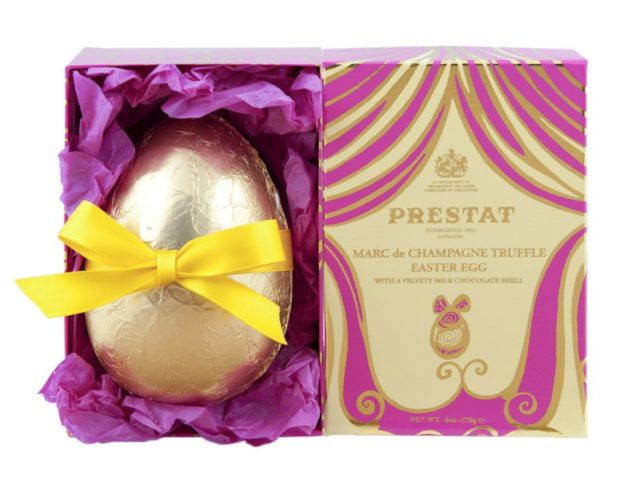 We also love the Pink Popping Prosecco Easter Egg (£17.50). The velvety milk chocolate egg is lined with creamy pink chocolate to match a clutch of Mini Pink Popping Prosecco Truffles. Biting into a truffle reveals a dark chocolate ganache centre and a magical built-in fizz that 'pops' on your tongue like the bubbles of sparkling Prosecco. Both Easter Eggs are available from www.prestat.co.uk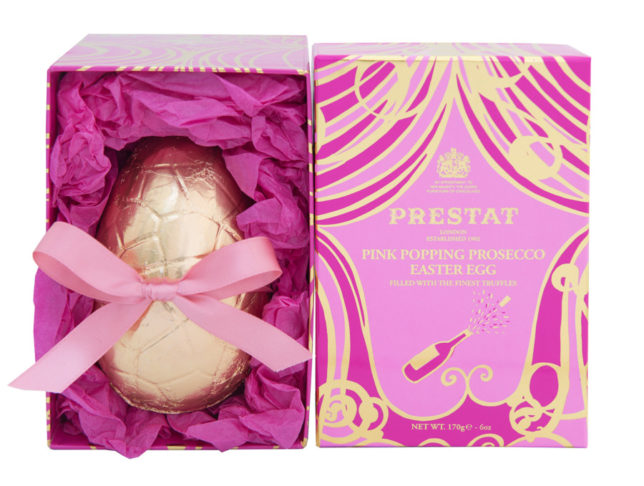 Biscuiteers
For a twist on the traditional chocolate Easter Egg gift, we love Biscuiteers Easter Egg Biscuit Tin. Inside the tin are nine decadently decorated chocolate biscuit eggs all hand-iced in Faberge style. Perfect for Afternoon Tea on Easter Sunday or as an out-of-the-ordinary gift to share with family and friends.  The Easter Egg Biscuit Tin is £35 and is available from www.biscuiteers.com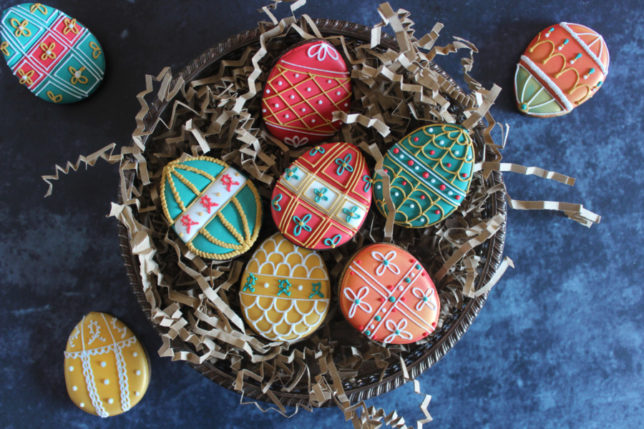 Rococo Chocolates
We've long been fans of Rococo Chocolates and their Kings Road shop with founder Chantal Coady OBE having been interviewed by Sloan Sheridan-Williams on her radio show. This year we fell in love with Rococo's Dark Chocolate Sea Salt Easter Egg made with Welsh Oak Smoked Halen Mon Sea Salt and filled with their bestselling salted caramels rolled in cocoa powder. The extra thick 65% cocoa dark chocolate egg has a rich hint of sea salt and the salted caramel truffles are sweet and sticky with perfectly balanced saltiness. £30 available from Rococo Chocolates' five London shops in Chelsea, Marylebone, Notting Hill, Covent Garden & Belgravia and online at rococochocolates.com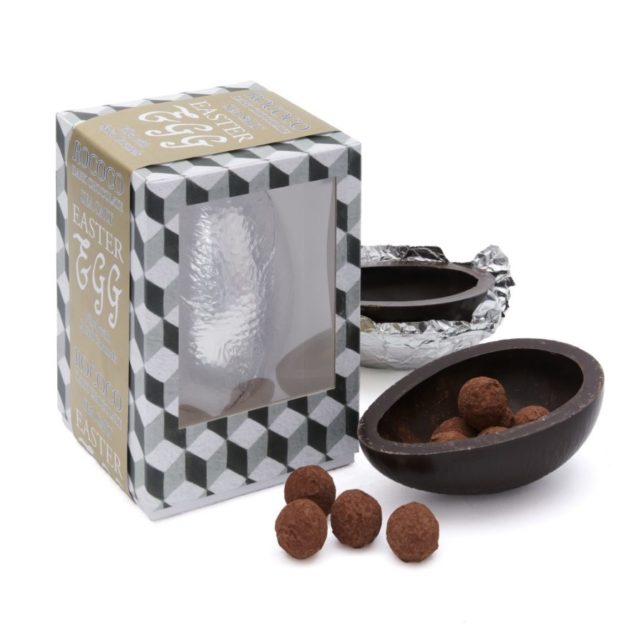 Charbonnel et Walker
Founded in 1875, Charbonnel et Walker is one of Britain's first and finest chocolatiers with the privilege to be endorsed by the Royal Warrant as one of the few chocolatiers to Her Majesty The Queen. We love this fine Milk Chocolate Easter Egg filled with decadent Charbonnel et Walker Pink Marc de Champagne Truffles presented in a beautifully illustrated gift box depicting a pretty Spring design with rabbits, birds and bumble bees. The Milk Chocolate Easter Egg With Pink Marc de Champagne Truffles is £26 available in-store at Charbonnel et Walker and online at www.charbonnel.co.uk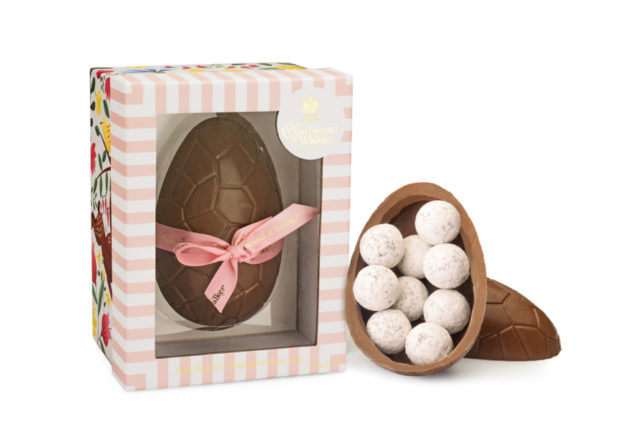 Booja-Booja
Presented with minimal packaging and supporting an incredible community initiative, Booja-Booja Easter Eggs make a show-stopping change to traditional chocolate eggs. Handmade and hand-painted by Kashmiri artisans in India, each egg-shaped chocolate box is filled with sumptuous Booja-Booja organic dairy free chocolate truffles handmade in rural Norfolk from just a handful of simple, natural ingredients and contain no additives, preservatives or stabilisers. Our favourite, the award-winning Fine de Champagne Truffle Easter Egg, is £24.99 available from Ocado and Able & Cole.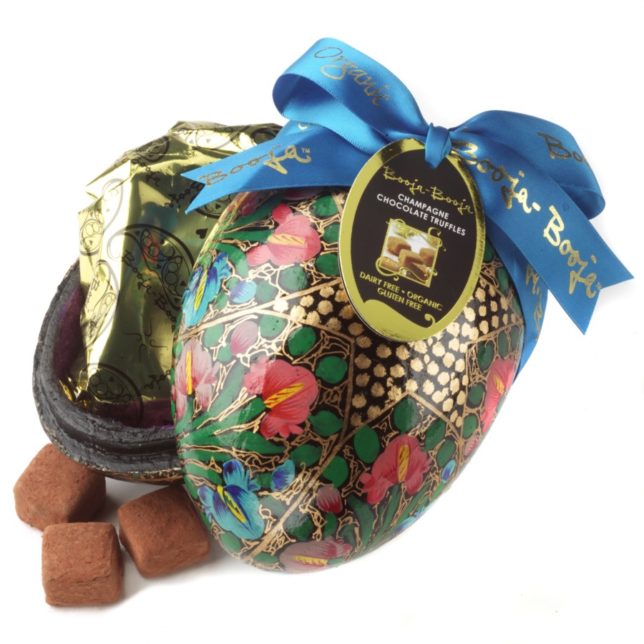 Lily O'Brien's
Luxury Irish chocolate brand, Lily O'Brien's has created two handcrafted Easter Eggs using the finest ingredients. The 40% Mega Milk Chocolate Egg (£12.90) contains 40% cocoa and delivers a fabulously intense chocolate hit, packed with high quality chocolate accompanied by a variety of seven handcrafted discs, with flavours ranging from Sea Salted Caramel to 70% Dark Belgian chocolate.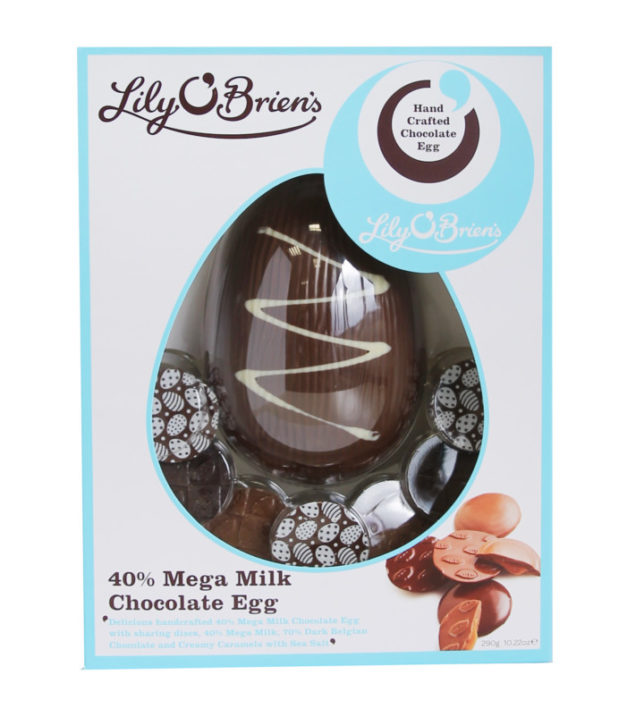 Back by popular demand, Lily O'Brien's' iconic Honeycomb Flame Wrap Easter Egg (£12.99) is the perfect gift for chocolate lovers to share with loved ones. The handcrafted milk chocolate egg incorporates delicious nuggets of honeycomb throughout and comes in a luxurious gift wrap. The Lily O'Brien's Easter Egg collection is available online at www.lilyobriens.co.uk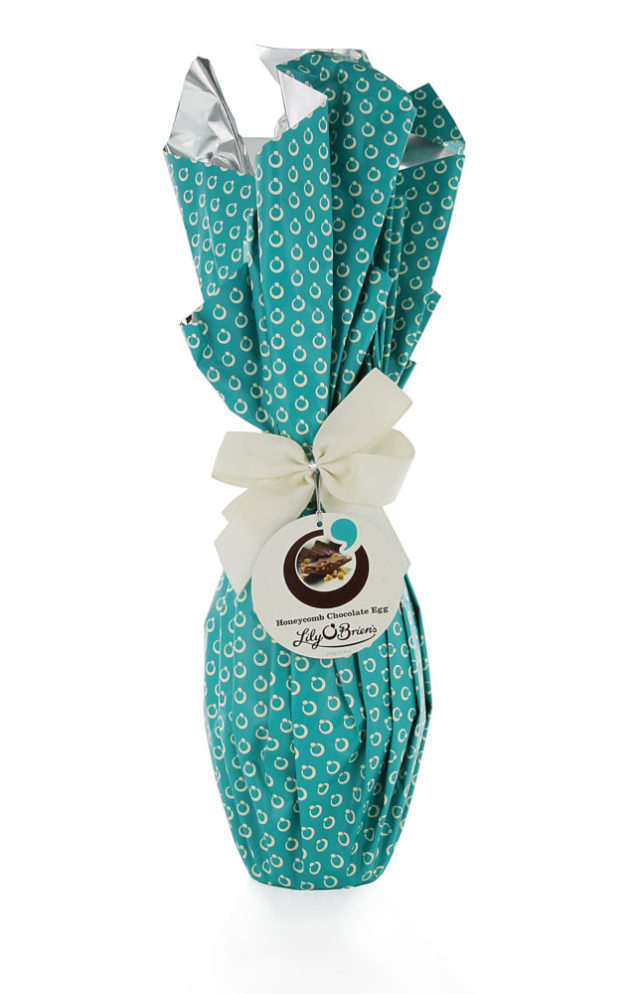 Waitrose
Although they rebranded last year to become Waitrose & Partners, this trusted brand from the John Lewis Partnership never fails to surprise and delight us here at SLOAN! One of our favourites from the Waitrose Easter collection is the Waitrose 1 Caramel Chocolate Golden Easter Egg with Gianduja Milk Chocolates (£10) – a stunning diamond-shaped, caramel flavoured, white-chocolate hollow egg hand-decorated with gold sparkle splash and accompanied by six milk chocolate gianduja squares finished with gold shimmer.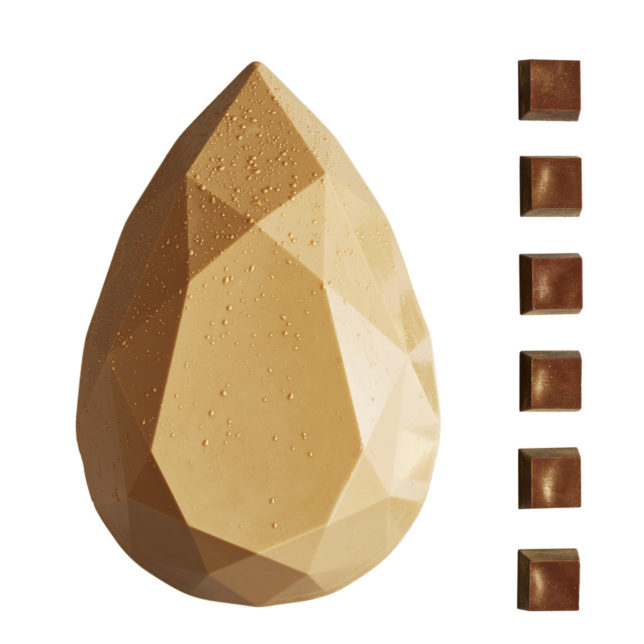 Following on from the phenomenal rise in veganism last year, it is no surprise that this Chocolate Avocado (£8) by Waitrose became the fastest-selling Easter egg in their 114-year history. With its smooth Belgian chocolate shell, white chocolate 'flesh' (made green with natural colouring), and chunky cocoa-dusted chocolate 'stone', it's easy to see why this fun, avocado-inspired Easter egg was a hit.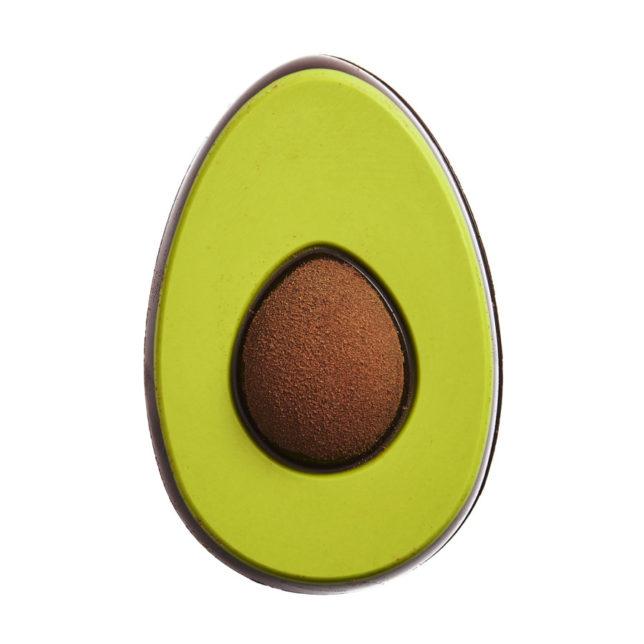 Heston Blumenthal is always one to inspire a raving fan base so it's no wonder that the Heston from Waitrose The Chocolate Scotch Egg (£6) has already sold out online and is only available in certain stores. A British picnic favourite sweetly reinvented for Easter with milk chocolate maple crunch replacing breadcrumbs, the meat is a delicately smoked milk chocolate caramel ganache while a zesty mango and yuzu fondant forms the golden yolk at the centre. The Chocolate Eggs and other Easter treats from Waitrose & Partners are available in-store and online at www.waitrose.com while stocks last.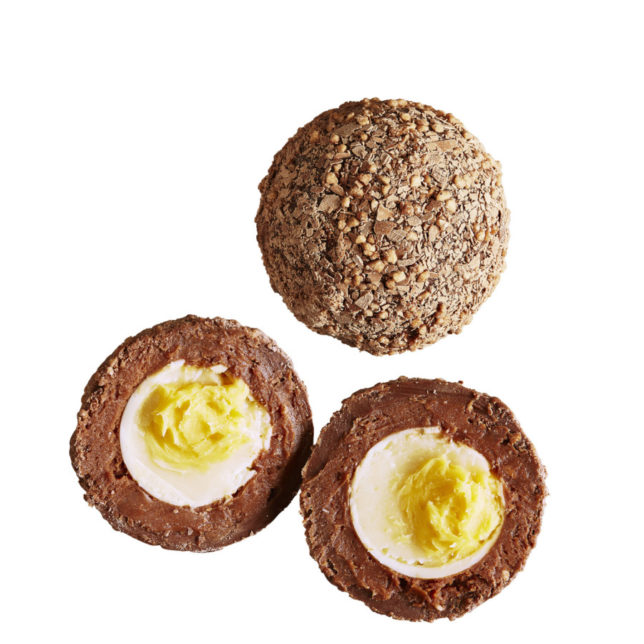 Vanilla Reindeer
If you're looking for a gift that's a bit different but truly personal, at Vanilla Reindeer you'll find both small and large personalised Easter eggs, as well as a range of personalised truffle boxes available in three sizes and containing delicious flavours like Intense Dark, Smooth Milk, White Lemon, Sweet Mandarin, and Dark Mango and Passionfruit. Box of 25 Chocolates is £18.99 from www.vanillareindeer.com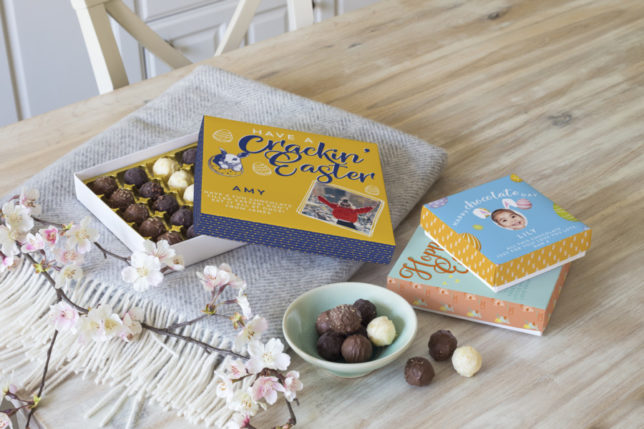 Lir Chocolates
Lir Chocolates have created the Baileys Salted Caramel Egg encased in crisp milk chocolate for an on-trend Easter Egg sure to please as the ultimate gift for Baileys lovers. The indulgent silky milk chocolate hollow shell has crunchy salted caramel pieces running through it. This melt in the mouth egg also comes with six irresistible shimmer chocolates; encased in creamy milk chocolate, they are filled with an oozing salted caramel centre. £12 from Tesco.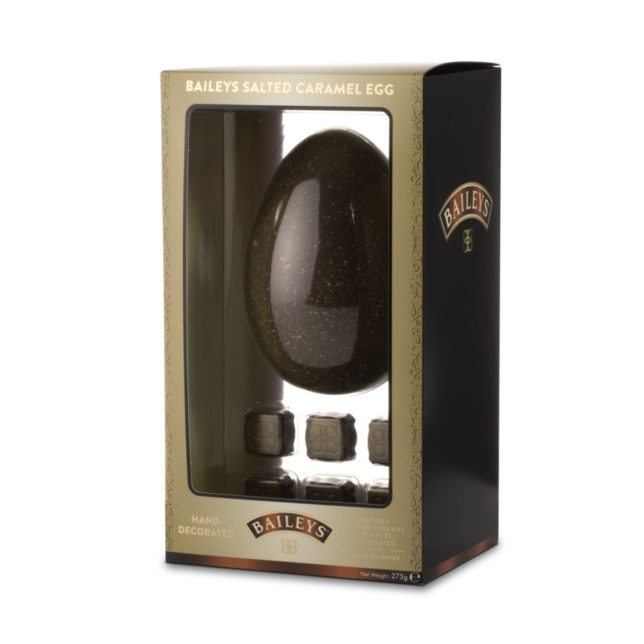 Carluccio's
If you're catering for a crowd be it family or a group of friends over the Easter weekend, we recommend offering your guests Carluccio's Cestino Di Pasqua (£10.95) – an adorable selection of milk chocolate eggs, cereal mini eggs and milk chocolate farm animals with a hazelnut filling all packed in a hand-made basket.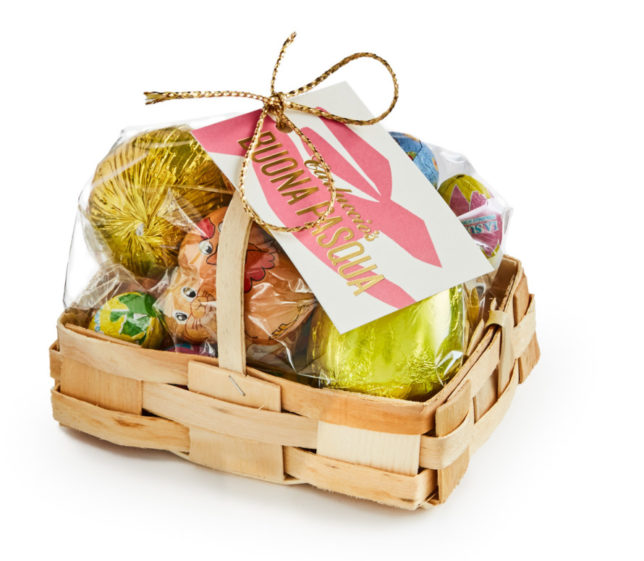 For those looking to tap into Italian traditions who also enjoy Panettone at Christmas, we recommend choosing the very Italian Colomba Cake – shaped somewhat like a dove, this traditional Easter cake from Italy will bring you and your guests closer to La Dolce Vita this Easter. Available in two sizes – £14.95 for 750g and £8.95 for 300g. The entire range of Easter food gifts is available in-store at Carluccio's and online at www.carluccios.com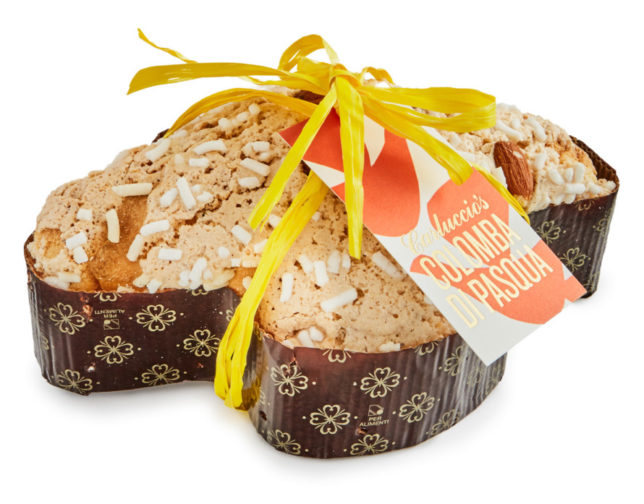 Divine Chocolate
Divine by name. Divine by nature. We highly recommend this Milk Chocolate Easter Egg With Joe & Seph's Salted Caramel Popcorn embedded in the delicious organic milk chocolate shell. This combination makes for an incredibly sweet and satisfying taste with a crunchy texture to each bite. It's is one of our most-loved eggs this Easter and is a particular favourite with our Deputy Editor. The Milk Chocolate Easter Egg With Joe & Seph's Salted Caramel Popcorn is £9.99 from Ocado.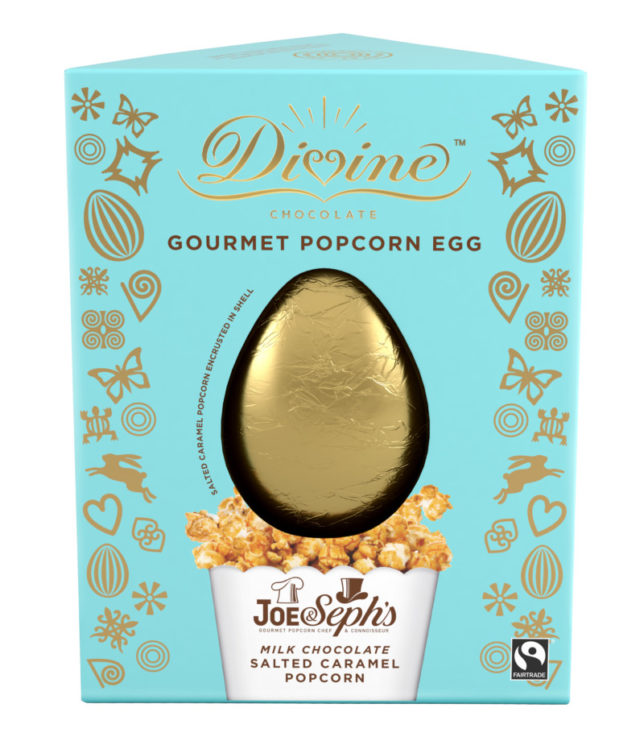 Green & Black's
A firm favourite of the SLOAN! team and another organic chocolate offering for a more guilt-free Easter, we love Green & Black's Organic Butterscotch Milk Chocolate Egg with its thick-shelled egg studded with crunchy butterscotch pieces for an extremely moreish taste.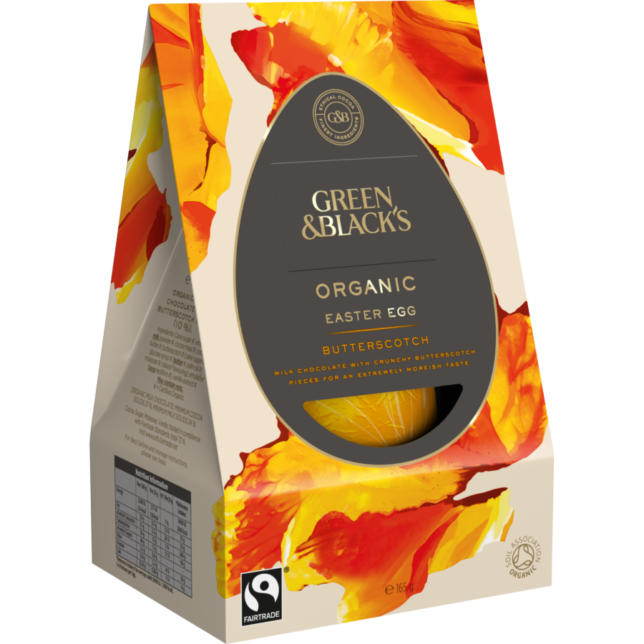 If you enjoy dark chocolate, we also recommend G&B's Organic Dark Chocolate Egg made with the finest Trinitario cocoa beans to produce dark chocolate with 70% cocoa solids for a great depth of flavour with notes of sour cherry and raisins. Both eggs are £6.59 available from www.greenandblacks.co.uk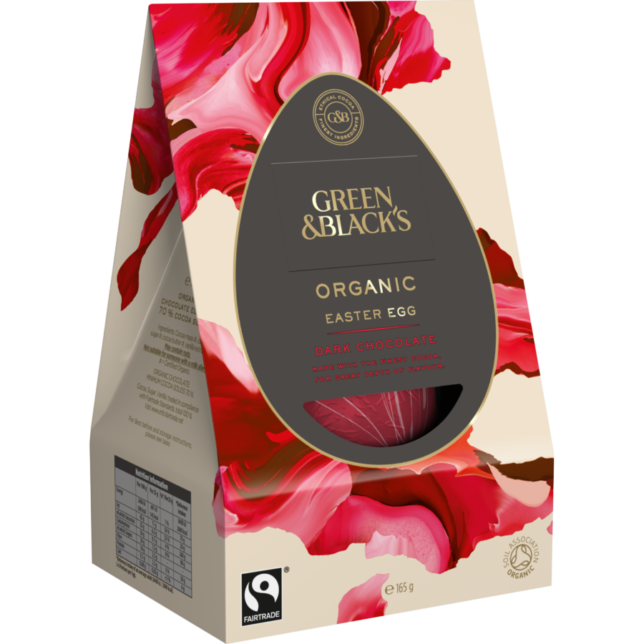 Guylian
Can you resist this Temptations Easter Bunny from Guylian? Filled with a selection of tasty praline chocolates to share with loved ones or enjoy just for you, this little treat is only £4. Guylian's Easter range is available at all major supermarkets, selected independent stores nationwide and online via www.guylian.com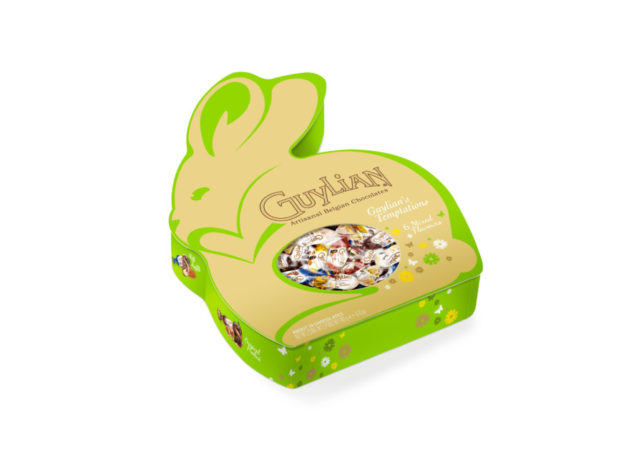 Teapigs
For something quite different to the usual Easter Eggs but keeping on a chocolate theme, why not ring the changes with Teapigs Chocolate Flake Tea – reminiscent of dunking chocolate biscuits into cups of tea with all the taste of chocolate but without the calories. We like this with a splash of milk or even cream to help ring out the chocolatey taste. £3.99 for 15 teabags from www.teapigs.co.uk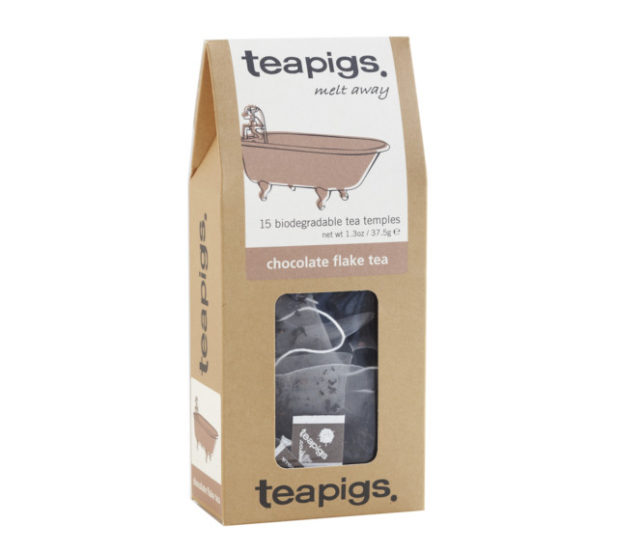 For more food & drink reviews and features, check out the spring issue of SLOAN! out soon.