Located in the heart of London's theatreland, the recently opened FishWorks Covent Garden serves up the freshest of fish and seafood, responsibly sourced from Devon and Cornwall's fish markets and day boats. Add to this a beautiful marble oyster bar, an in-house fishmonger for taking a taste of the coast home and an opulent private dining room, and FishWorks Covent Garden is the perfect spot for business lunches, pre-theatre dining, leisurely dinners and private parties.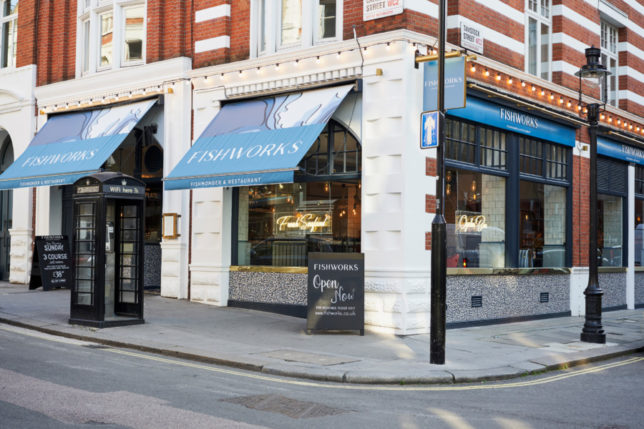 The elegant and contemporary restaurant is flooded with natural light courtesy of the expansive windows that surround the main dining area. The colour palette of soft blues, greys and white is nautically inspired. Traditional white tiling with ad hoc fish motifs is paired with two stand-out feature walls designed with copper 'fish-scales' to bring warmth and contrast to the space. Low hanging rope-effect lighted takes inspiration from the cabins of traditional fishing boats.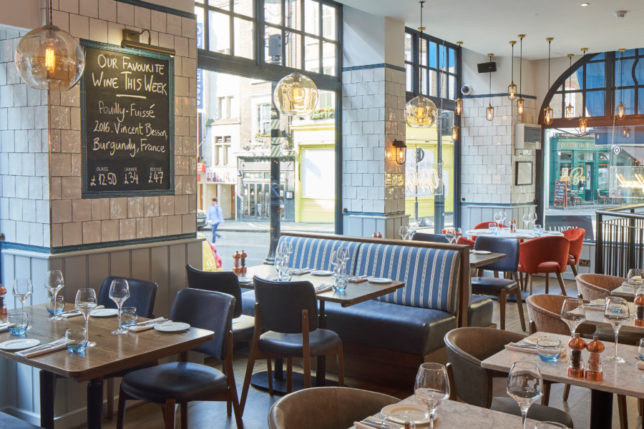 FishWorks in-house fish counter stands at the entrance to the restaurant and boasts the freshest display of the morning's catch, from south coast wet fish through to crustacea and shellfish. Ask the specialist fishmonger for advice and recipes whilst he expertly fillets and prepares your catch to take home. Pair with a choice of specially created homemade sauces to bring your fish dish to life.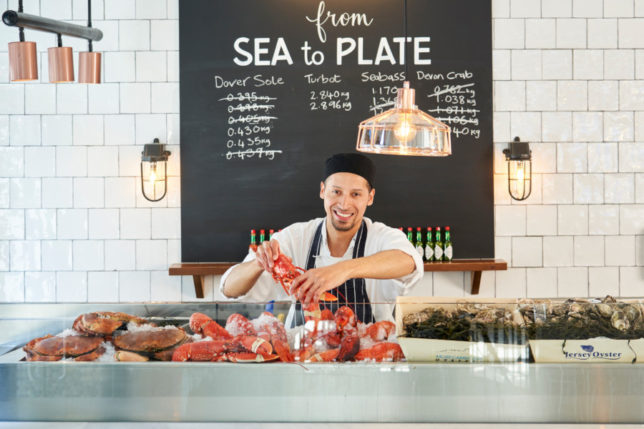 From lunch through to dinner, the á la carte menu will satisfy any pescatarian passion. Lavish lobster dishes, cracking crab and towering fruits de mer platters sit alongside a variety of classic and contemporary fish dishes. On Sundays it's all about free-flowing prosecco – guests can enjoy three courses with bottomless prosecco or wine for only £38.50 per person.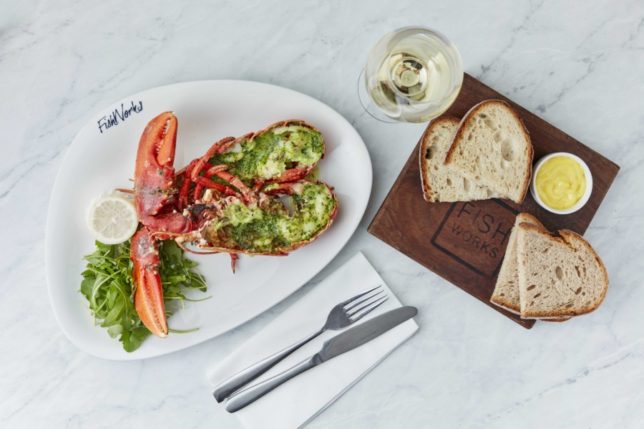 These include a classic fish and chips given a luxe touch with monkfish, and the daily catch from the counter, served whole or filleted at the table. Opt for the seafood bouillabaisse and FishWorks will donate £1 to the Fishermen's Mission charity.  Also on the menu is a divine day boat Dover sole, simply cooked with the respect it deserves.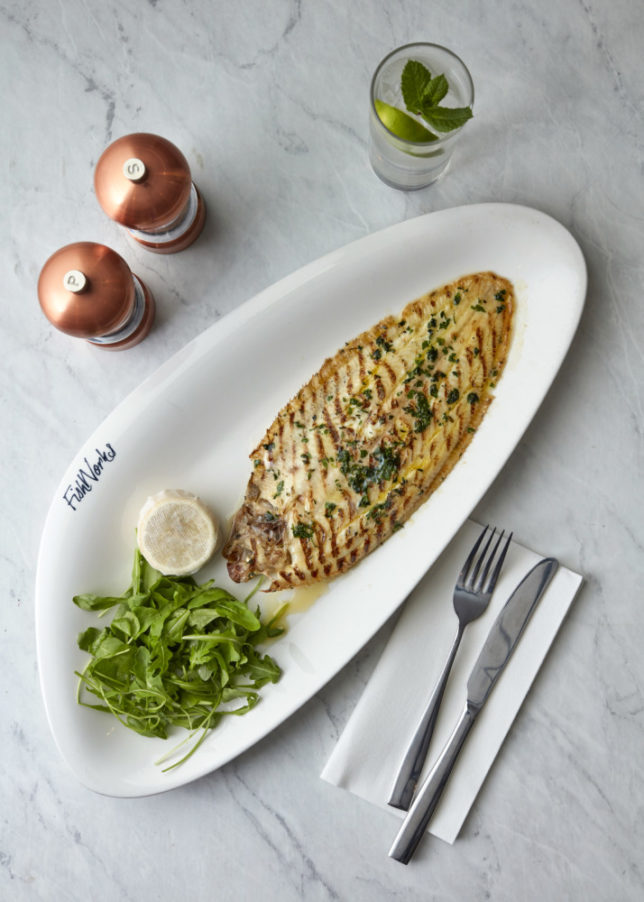 Running along the main dining area you will find the dedicated oyster bar, fully fitted with built-in ice trays and piled high with freshly shucked oysters. Prop yourself up at the bar with a dozen bivalves and a chilled glass of champagne for the perfect light lunch. With its location, in the heart of London's theatre district, FishWorks oyster bar is the perfect spot for a quick bite to eat before taking in a West End show. Alternatively, dine in the restaurant with the theatre menu offering two courses for £16.50 and three for £20.50. And that's not all – pre-theatre guests are invited to return after the show for a digestif, receiving £10 off their bar bill.
Fresh seafood deserves beautifully paired wines, and FishWorks list of small-batch wines and champagnes has been curated by sommelier Tim McLaughlin-Green. The wine list also features a selection of 'maritime' wines, produced within 10 miles of the coast, and exhibiting a slightly salty note that perfectly pairs with seafood. For something a little stronger, the 'spritz collection' features premium spirits and award-winning premium mixers – try the Dark and Stormy Twist, a blend of Havana Club Dark Rum and No 4 Chocolate Tonic. A wide selection of beers and spirits is also available.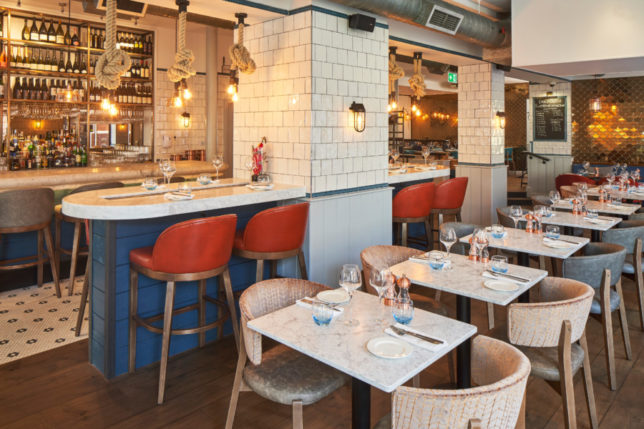 Descend the spiralled staircase down to The Cove, a flexible dining space with opulent yet relaxed interiors. The Cove can accommodate up to 40 seated guests and 60 for a reception with a selection of dining packages starting from £35 per person.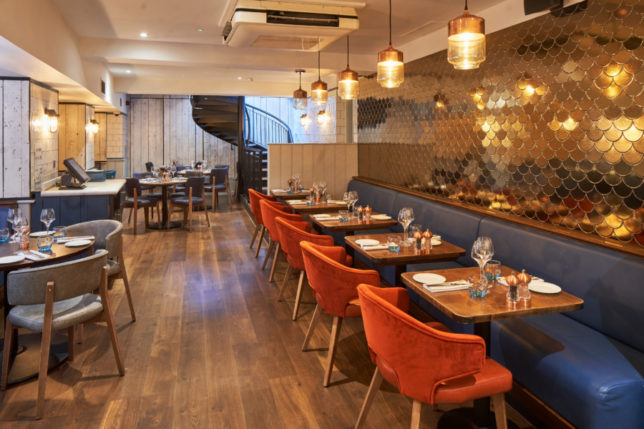 FishWorks' legendary oyster masterclasses allow guests to dive into the origins of oysters before shucking and tasting 12 different oysters, each with its own wine pairing. For lovers of fine wine, the restaurant's regular Sommelier Dinners feature exciting and innovative winemakers from across the globe with guest wines paired with specially developed fish dishes.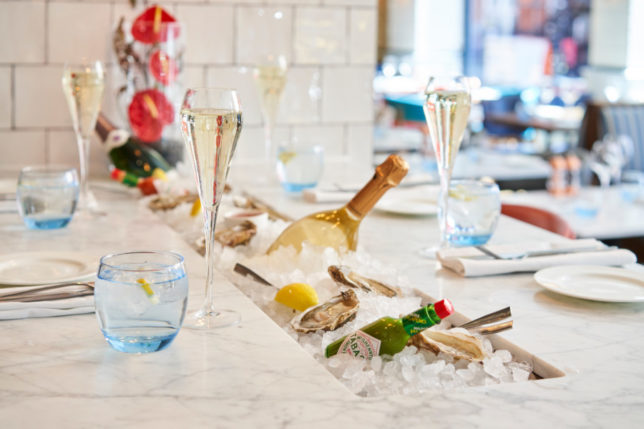 FishWorks has a lovely variety of oysters that are sourced from the best suppliers and brought in fresh daily. We tried three types to get our taste buds tingling. Morecambe Bay oysters are creamy in flavour compared to the sweetness and size of the Carlingford oysters.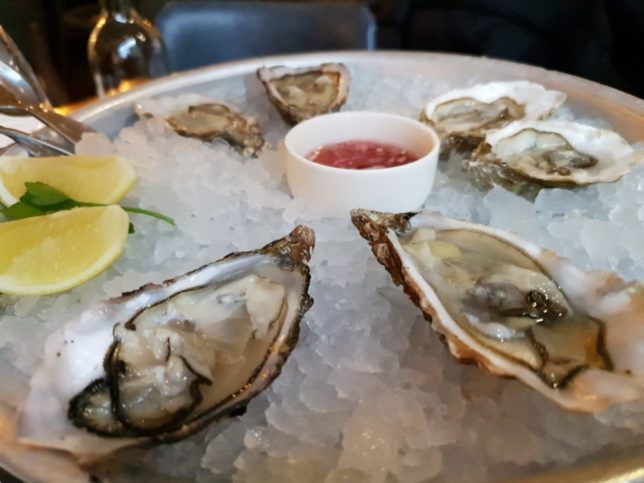 FishWorks offer a fantastic menu and they have a great section to share. We love the idea of connection with dining companions over lunch and dinner and for the perfect way to connect over food, we ordered the Fruits de Mer.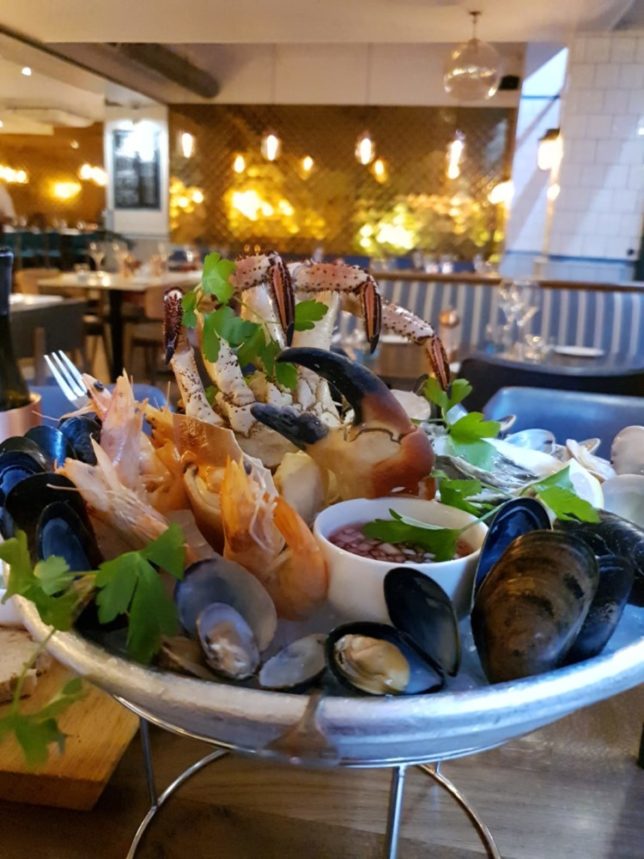 This decadent dish comes bursting with shellfish – mussels, clams, Devon crab, crevettes and oysters are all served on a bed of crushed ice. This is some of the freshest seafood we have tasted recently and all locally sourced.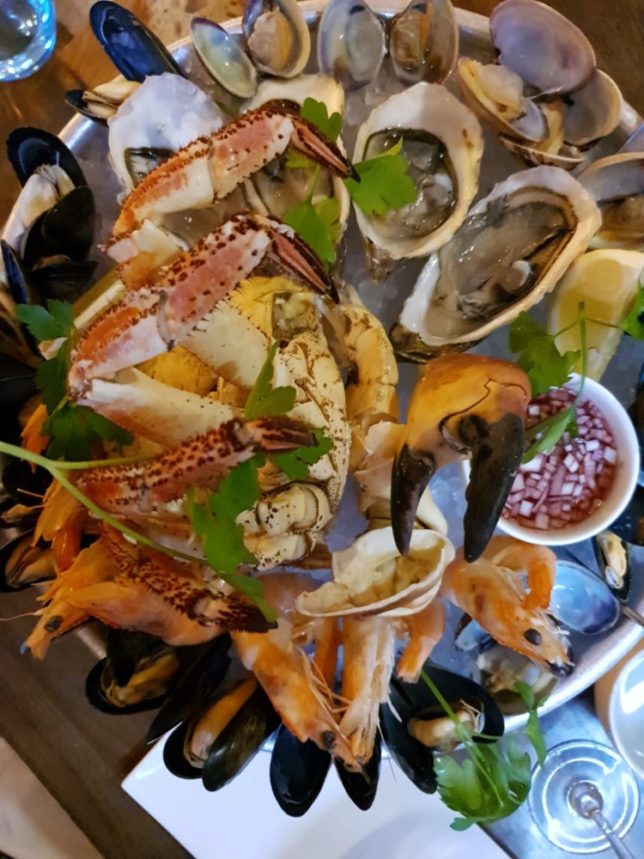 Why not try the daily catch board with a selection of fish all sold by weight. I chose the Day Boat Dover Sole – a very generous portion weighing in at 0.382g.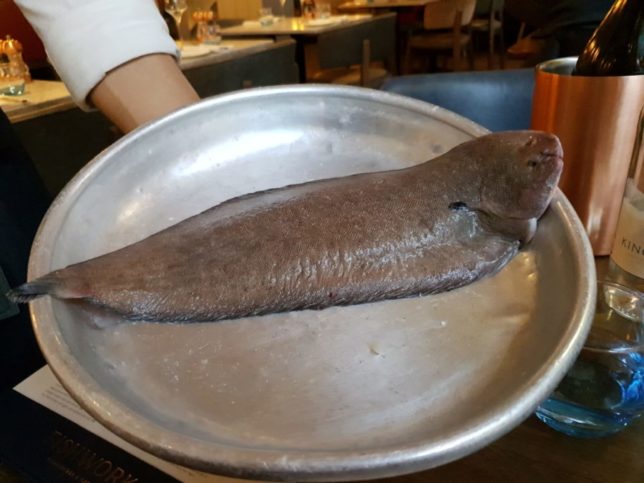 The fish can be served on the bone, simply grilled with lemon and parsley butter or pan-fried à la Meunière. I went for pan-fried then de-boned at the table and I was not disappointed in terms of its quality, flavour and presentation.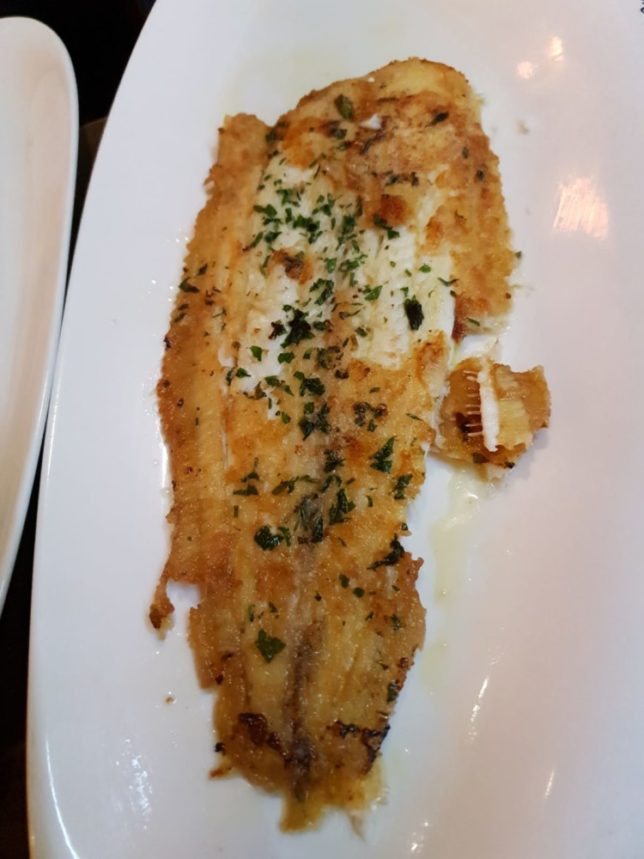 The Dover Sole was the perfect choice for me and was so skilfully filleted that I was pleasantly surprised to not find a single bone. The fish was soft, tender and juicy with the soft crumb added an extra dimension of flavour that gave this simple dish a definite wow factor.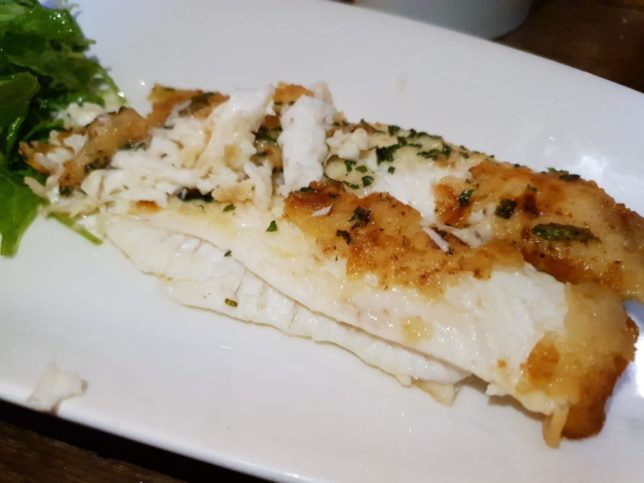 My dining companion went for the Grilled Seafood Platter. This is a great dish to try if you fancy variety and you will not be disappointed with your choice. You can expect a delightful helping of sautéed scallop cooked with white wine and garlic butter topped with breadcrumbs and Pernod, a fillet of sea bass, some sea bream and a couple of chilli ginger prawns to add to the mix.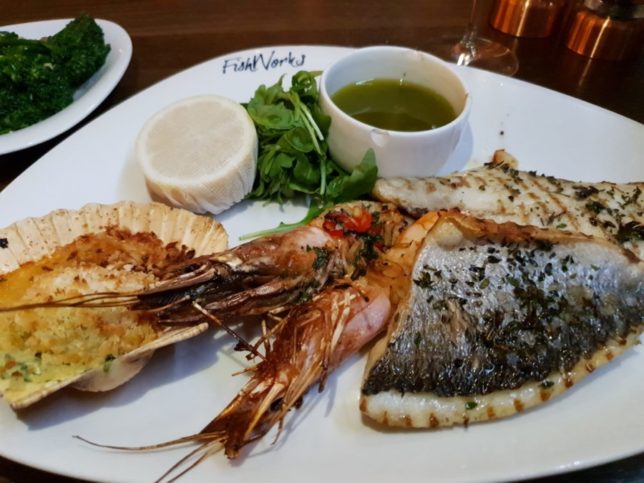 Feeling like our sweet tooth needed satisfying we went for two dishes to share. Our first choice was the Homemade zesty lemon tart served with raspberry sorbet. A perfect combination of citrus flair.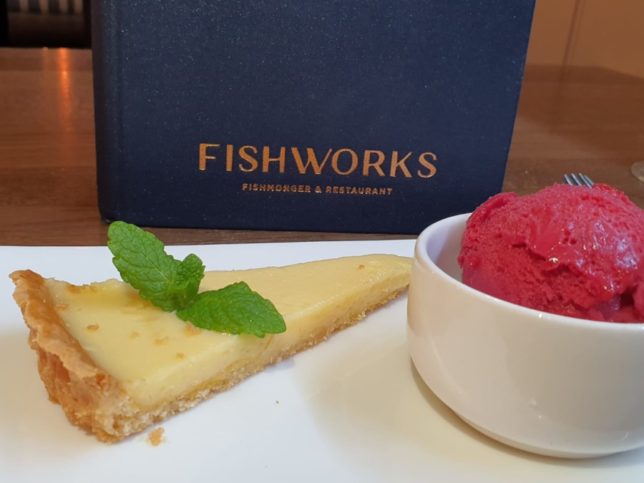 Our second choice was the Sticky chocolate brownie which is served warm with homemade pistachio ice cream. The perfect ending to a great meal.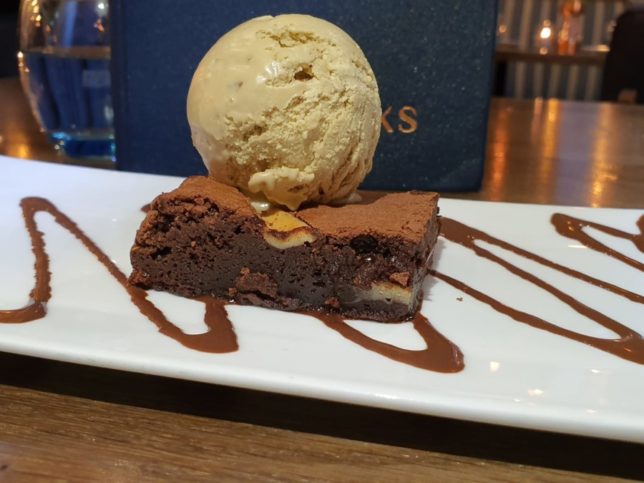 Fun, fresh and fabulous, FishWorks Covent Garden is well worth a visit. For all those who love seafood (and who doesn't?!), the restaurant brings a taste of the sea to your plate right to the heart of London.
FishWorks
2-4 Catherine Street, Covent Garden, London, WC2B 5JY
www.fishworks.co.uk
@FishWorks