With outdoor gatherings allowed to take place this Easter, Dark Horse Wine and award-winning food writer & chef Gizzi Erskine have teamed up to show you how to discover your wilder culinary side with bold, unexpected food and wine pairings.
Traditional Easter menus tend to centre around a leg of lamb served with red wine, but why not get a little adventurous and pair lamb with Rosé. Gizzi has got this and four other fabulous food & wine pairings to share covering everything from burgers & pizza to a show-stopping recipe for Smoked Chilli Con Carne with an Easter twist sure to delight family & friends this Bank Holiday Weekend.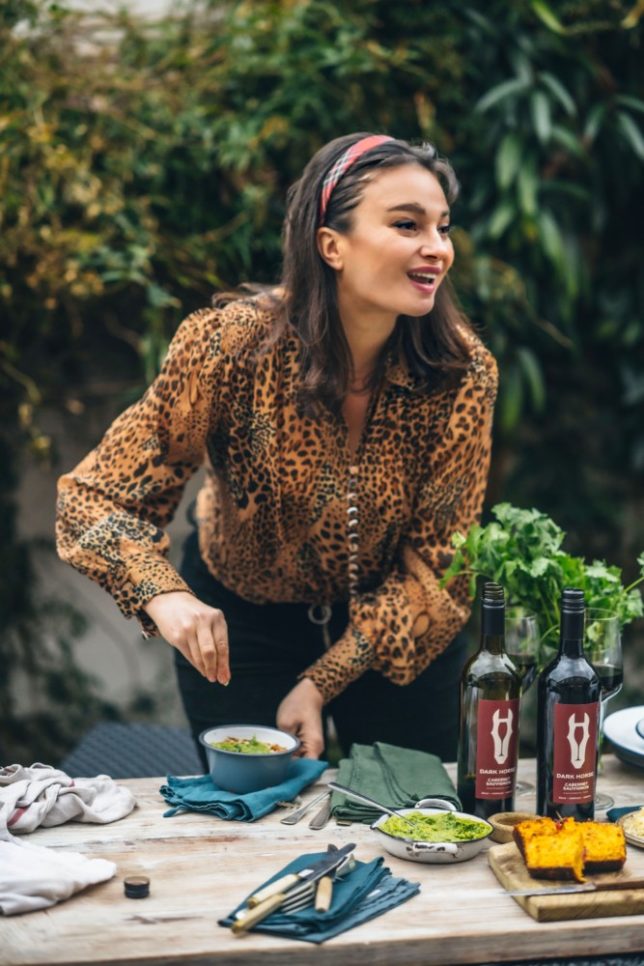 Dark Horse Merlot and Fish
We shouldn't always assume that red wine only works best with red meats. Meaty fish like tuna, monkfish and swordfish work surprisingly well as they are bold enough to withstand the tannins and richness of Dark Horse Merlot, which might surprise some people who think only white wine is the appropriate match for fish. Be adventurous and reach for a red this Easter!
Dark Horse Cabernet Sauvignon and Burgers
Gizzi was 18 years old when she discovered the joys of a really good bottle of red wine with burgers. It makes total sense when you think about it. Let's break this down. A milk bun with both an acidic and creamy cheese, and umami richness of the beef. Looking at these flavour notes you know it's going to work. The bold fruity notes of Dark Horse Cabernet Sauvignon are the ideal candidates.
Dark Horse Cabernet Sauvignon and Pizza
Don't want to spend hours cooking? An American style Pepperoni pizza and tub of ice cream doesn't always have to immediately mean beer or fizzy drinks. The umami of tomatoes goes well with big bold reds such as Dark Horse Cabernet Sauvignon, as does the spiciness of pepperoni and creamy mozzarella. What's more, red wine is a revelation when paired with chocolate ice cream. Perfect for those outdoor get-togethers, especially if the sun is shining!
Dark Horse Rose and Lamb
While it might not be so adventurous, we can't forget a true celebratory classic this Easter! Perfectly pink lamb pairs really well with the fresh red fruit notes of Dark Horse Rosé that cut through the roasted lamb's umami caramels and the sweet iron of the pink meat. So, this Easter, when preparing the classic Easter Sunday lunch, THINK PINK!
Dark Horse Cabernet Sauvignon and Smoked Chocolate Chilli Con Carne
Want something with a kick this Bank Holiday? Dark Horse Cabernet Sauvignon works well with braised meats. When the gelatine breaks down in the meat it creates an umami richness which sits brilliantly against the smooth finish of the Dark Horse Cabernet Sauvignon. Gizzi's Smoked Chocolate Chilli Con Carne showcases this perfectly.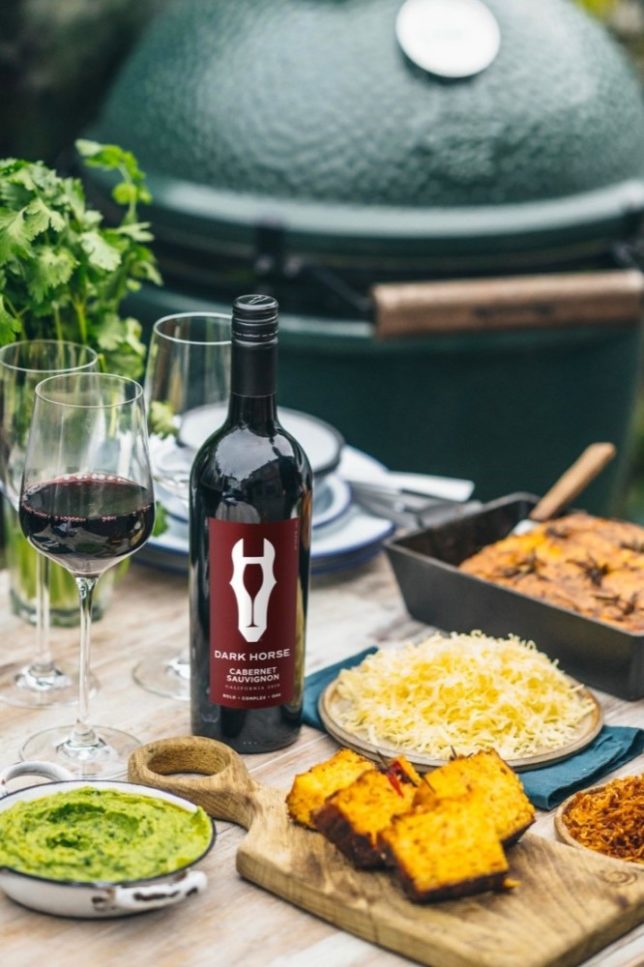 Recipe: Gizzi Erskine's Smoked Chocolate Chilli Con Carne
Gizzi says, "What I didn't get to do because of lockdown was a trip planned to go from New Orleans to New Mexico. Whilst we can't get to Mexico we are very lucky to be able to have access to many Mexican ingredients in the UK, but this also showcases using British ingredients in a Mexican context. For example, using smoked ham hock and beef in the chilli and peas for the guacamole. Drawing from the Californian influence in modern Mexican food and big reds, this dish will transport us to sunnier climes."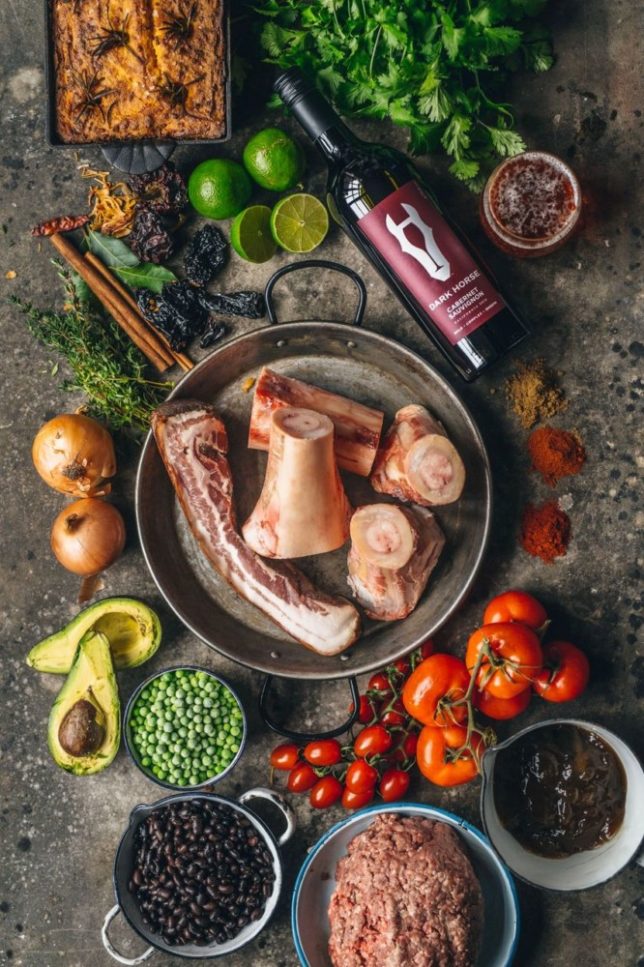 Serves 8
Prep time 15 minutes
Cooking time 3½ hours
INGREDIENTS
800g tomatoes
3 tbsp olive oil
4 medium onions, finely chopped
2 bulbs of garlic, cloves peeled and finely chopped
1kg beef mince
4cm thick slice (approx. 700g) of smoked belly bacon or pancetta, cut into 2-inch pieces
2 tbsp ground coriander
2 tbsp ground cumin
1 tsp chilli powder
1 tsp smoked sweet paprika
5 whole cloves
1 large cinnamon stick
2-3 pieces of mace
2 whole chipotle chillies, soaked
3 bay leaves
a few sprigs of thyme
2 x 400g tin of black beans, drained
200ml red wine
500ml ale
500ml fresh beef stock
50g 90% dark chocolate
2 tbsp brown sugar
1 tsp celery salt
40ml Worcestershire sauce
sea salt flakes
pepper
3 x 10cm pieces of bone marrow
PEA GUACAMOLE:
200g peas, cooked
2 ripe avocados
juice of 2 limes
1 tsp salt
CRISPY SHALLOTS:
4 banana shallots, finely sliced into rings
4 tbsp oil
TO SERVE:
Rice
Coriander leaves
Sour cream
Cheddar cheese, grated
Cornbread
DIRECTIONS:
Heat 3 tbsp of oil in a large heavy bottomed casserole over a medium low heat and add the onions. Allow to slowly soften and caramelise for 25-30 minutes, stirring occasionally. Add the garlic and sweat for the final 2-3 minutes of cooking.
Meanwhile char your tomatoes. Heat a wok or frying pan over a high flame until smoking hot. Add the tomatoes and allow the skin to blister and blacken, (for approx 10 mins).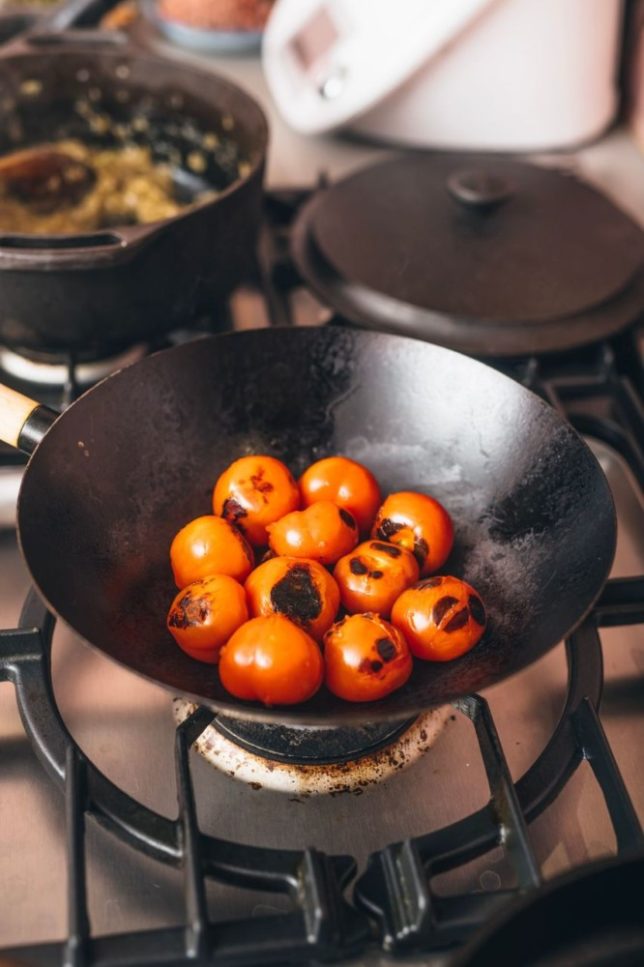 Transfer to a blender and blitz into a smooth puree. Reduce the puree in a saucepan for 5-10 mins over a medium heat.
Next, add all of the spices, bay, thyme and chillies to the onions. Fry off for 1-2 mins, before pouring in the tomatoes, followed by the ale, Dark Horse Cabernet Sauvignon and beef stock.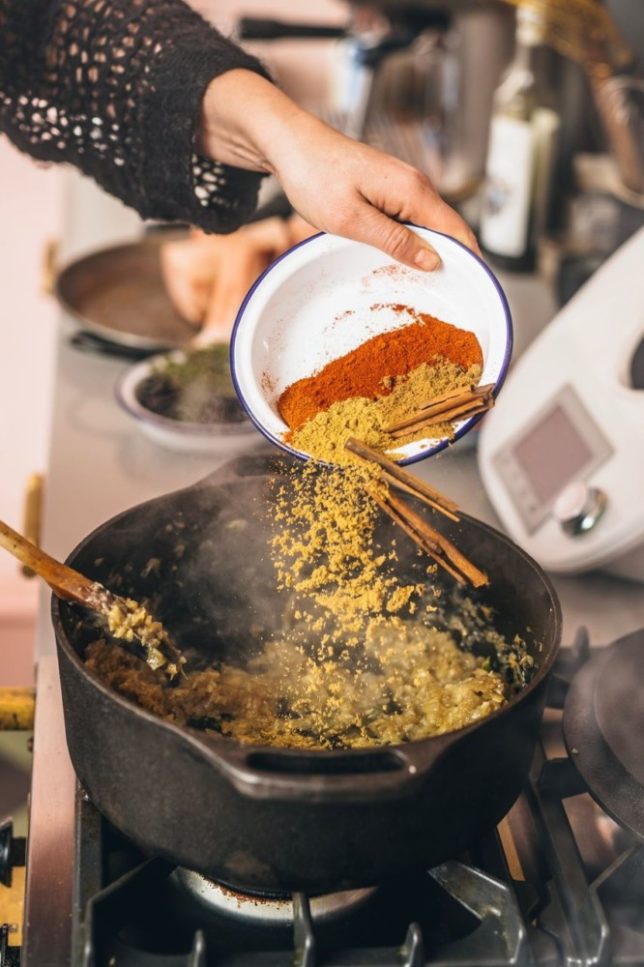 Heat a frying pan over a high heat, and once hot, fry off the pancetta until well caramelised all over. Remove from the pan and set aside.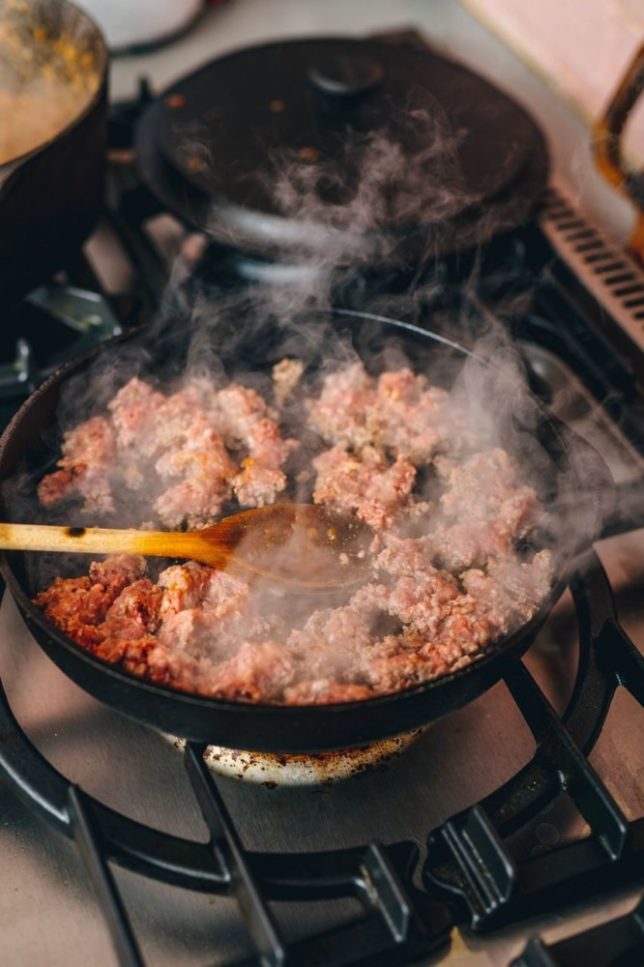 In the same pan, add half of the mince and brown thoroughly, breaking it up with a wooden spoon. Remove from the pan, set aside and repeat with the remaining mince. Transfer all of the meat to the sauce.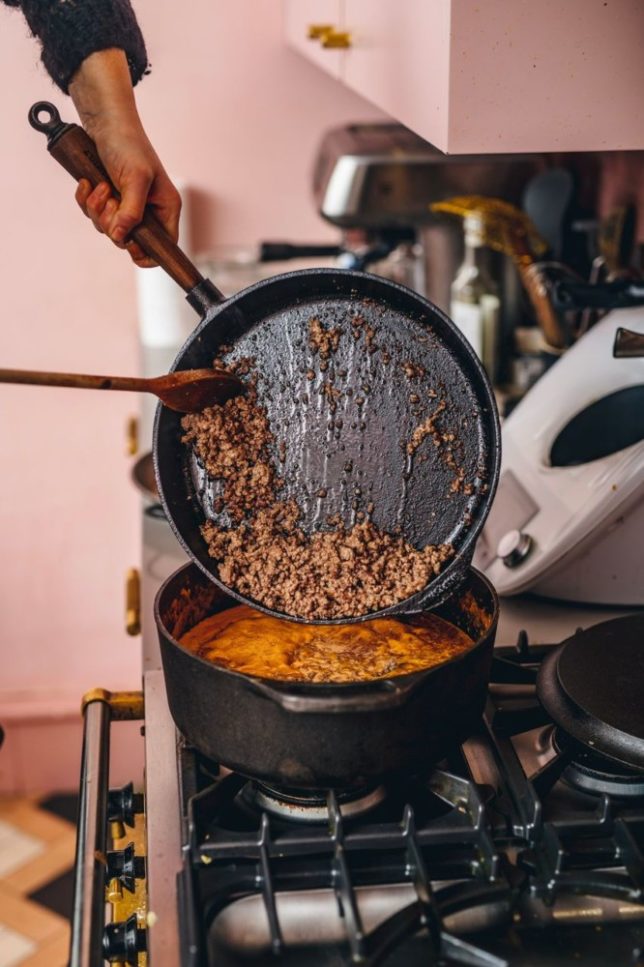 Cover with a lid and simmer over a very low heat for 2 and half hours, stirring occasionally.
Meanwhile preheat the oven to 190C. Roast the bone marrow in roasting tin for 25 minutes.
Half an hour before the end of the cooking time, light your barbecue if using.
At the end of cooking, add the black beans and heat through for a few minutes. Finally stir through the chocolate and Worcestershire sauce. Season well with salt, celery salt and pepper. Now stick the bone marrow pieces into the chilli.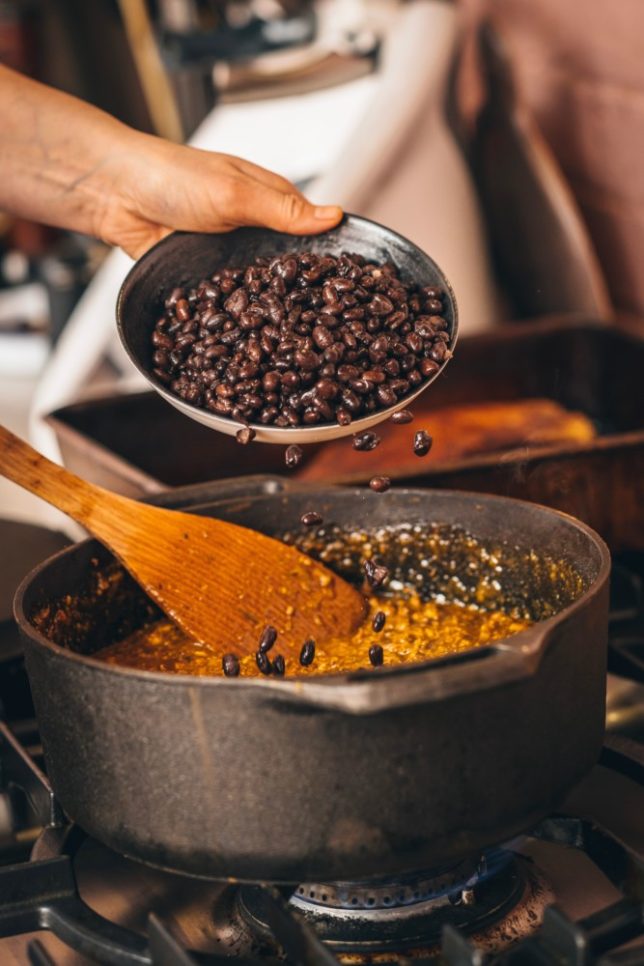 I love to finish off my chilli on a lidded barbecue to impart true smoky flavour. Place onto the grill for ten minutes to allow the bone marrow to melt into the chilli. Alternatively, you can finish it off in the oven.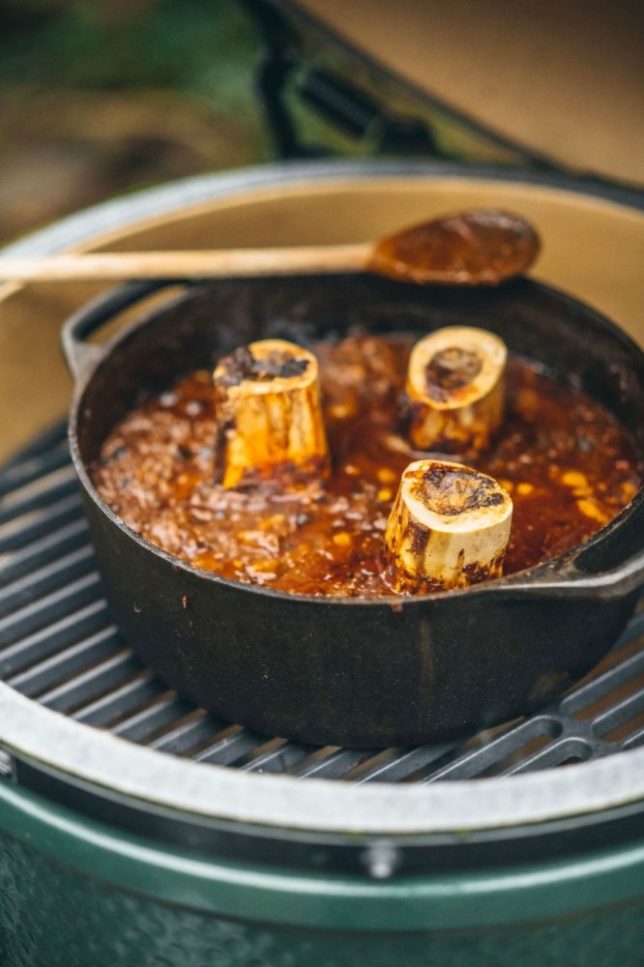 To make the pea guacamole, blitz the avocados and peas in a food processor until smooth but still retaining texture. Season with the salt, lime juice and olive oil.
To make the crispy shallots, heat the oil in a frying pan over a low heat and add the shallots. Fry until golden and crisp. Transfer to kitchen paper to drain any excess oil.
Serve with rice, a dollop of sour cream, pea guacamole, a sprinkling of cheddar cheese, coriander, a slice of cornbread and finally crispy shallots, and a glass of Dark Horse Cabernet Sauvignon!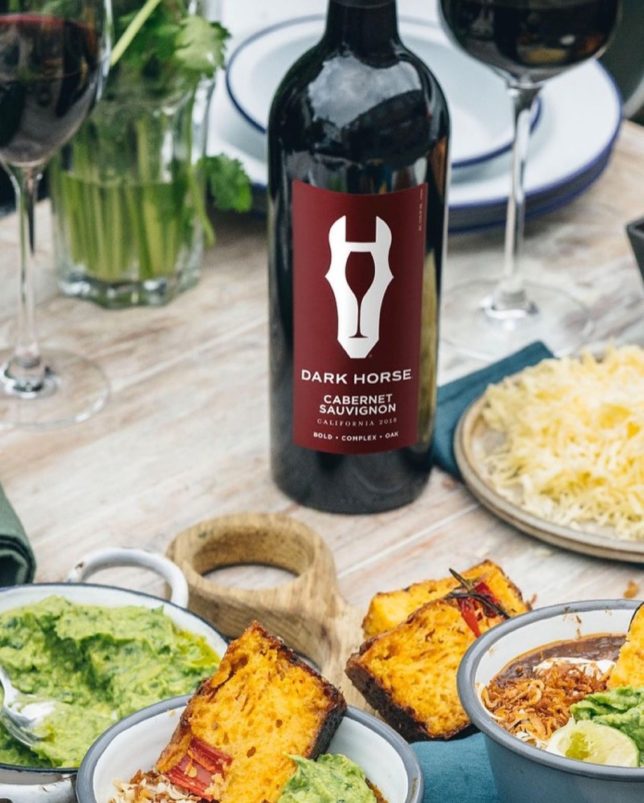 About Gizzi Erskine
Gizzi Erskine is an award-winning food writer, chef and TV host. Having trained at the internationally renowned Leith's School of Food and Wine, she's had a number of sell-out events and pop-up restaurants. As well as authoring numerous bestselling books – including 'Skinny Weeks and Weekend Feasts', 'Season's Eatings' and 'Kitchen Magic' – she has written for many top publications like GQ, Vogue USA, Elle and The Times. She has also helped host multiple hit TV shows such as 'Cook Yourself Thin', 'Iron Chef' and, more recently, 'Ones to Watch' with Idris Elba and Paloma Faith.