The perfect escape to the French art of being fabulous, Les Platanes, the French restaurant by Thierry Laborde and Anton Efimov, is a hidden gem in the heart of Mayfair. Capturing the spirit of warm and convivial French dining, the restaurant is a welcoming, contemporary Bistrot de Luxe with an emphasis on cuisine from the South of France. Located in a nineteenth century townhouse on Bruton Place, a small cobbled street behind Berkeley Square, Les Platanes' guests will find exquisite French cooking in a casual yet refined bistro, perfect for a leisurely lunch or an intimate dinner.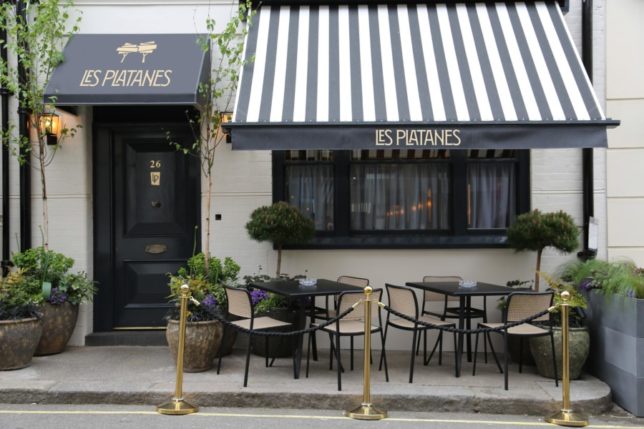 Heading up the kitchen is Thierry Laborde, one of the UK's leading French chefs who has worked in some of London's finest French establishments including Le Gavroche, Restaurant Le Louis XV, L'Oranger, and prominently opening Chabrot Bistrot d'Amis in 2011. Anton Efimov is Les Platanes' operations director having previously worked in establishments including Mari Vanna UK, Raffles Townhouse, Chinawhite on Air Street, and Buta Kitchen LTD Azerbaijan.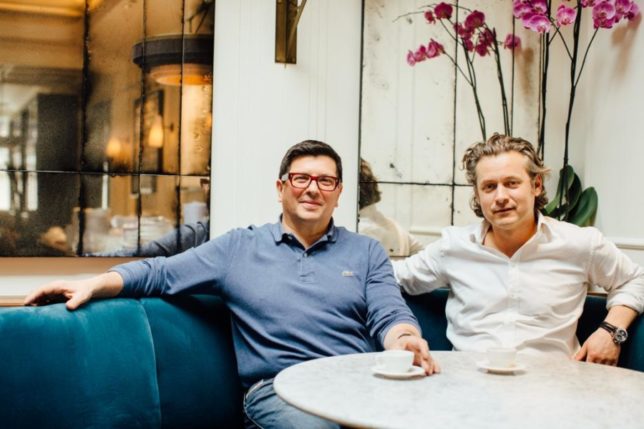 The décor at Les Platanes takes its inspiration from classic French bistros with a subtle and elegant colour scheme featuring cream walls with accents of teal and oak wood flooring, complemented by recreations of great nineteenth and twentieth century artwork. A menu du jour is available during lunchtime, offering two courses for £21 with wine for £25 and three courses for £25 with wine for £29, with water and coffee included.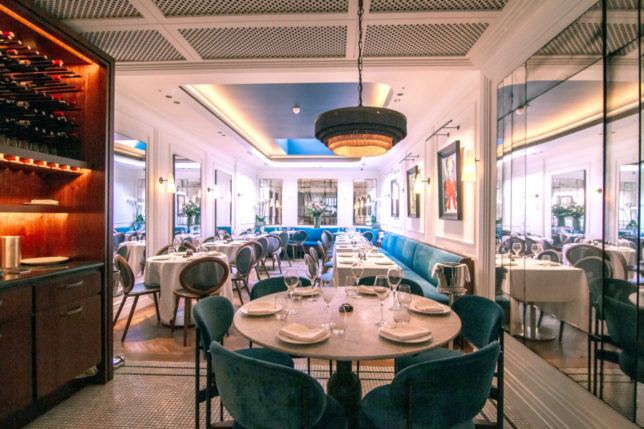 Thierry Laborde is passionate about bringing the best French produce to the UK, with independent suppliers garnered from his many years working with French cuisine. The chicken served at Les Platanes comes from Gascony, sourced from a medieval village where the poultry roam freely on the sun-soaked hills. The family's poultry breeding methods are rooted in tradition but use modern feeding and monitoring techniques to ensure the best quality product. Les Platanes' cheese and butter are sourced from a family run business in a small town south of Loire-Atlantique, which still use artisanal processes of double harvesting while keeping the milk unpasteurised. The cows are raised on the lush green pastures of the Vendée region and their milk is regularly analysed to guarantee the most exceptional result.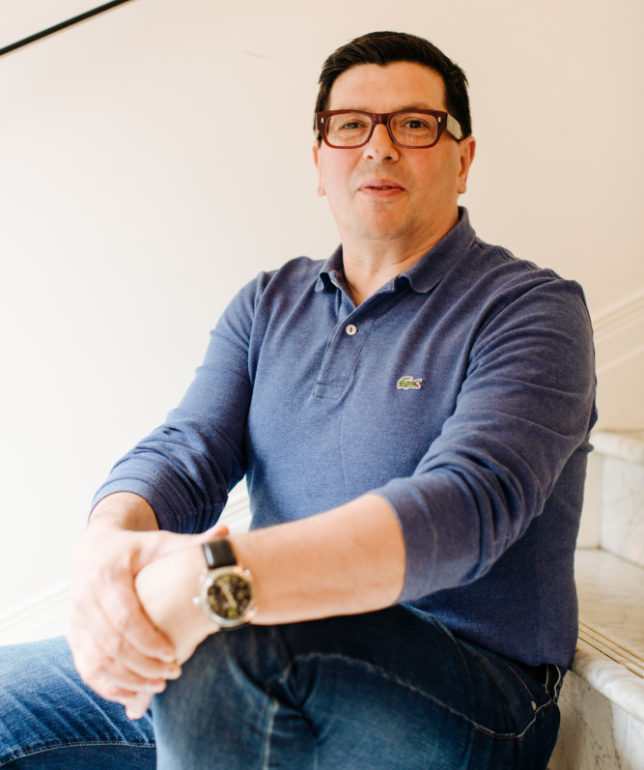 Les Platanes celebrates Southern French cuisine with a menu featuring contemporary reinventions of classic dishes. Inspired by the iconic trees to line the lanes of Provence and nearby Berkeley Square, Les Platanes takes its name from the French for 'plane trees'; famous for their historical ties to both London and the South of France and their comforting, revitalising shade.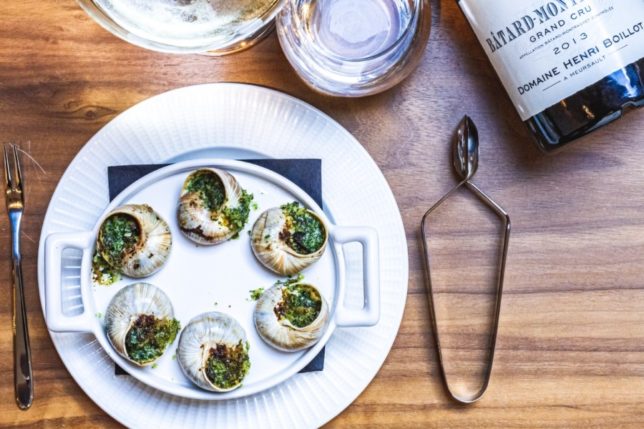 The menu includes starters such as Warm potato salad, topped with a poached duck egg and Ossetra caviar and Warm native lobster salad with fennel and fresh peaches.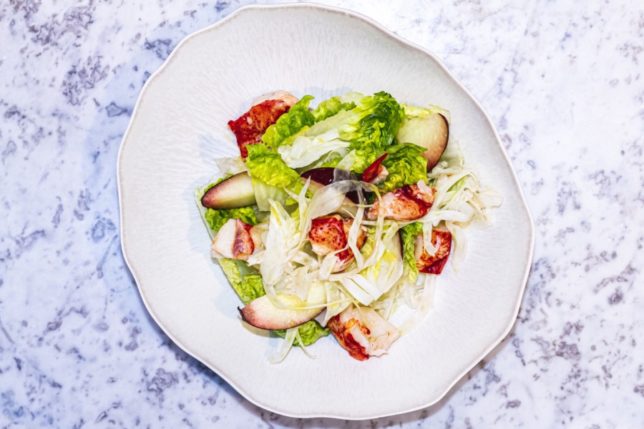 For the carnivores out there who could resist the Bœuf tranchè cru, vinaigrette a la truffe – finely sliced raw beef with a flavourful truffle dressing and a distinguishes dash or herbs is an amazing way to start any meal.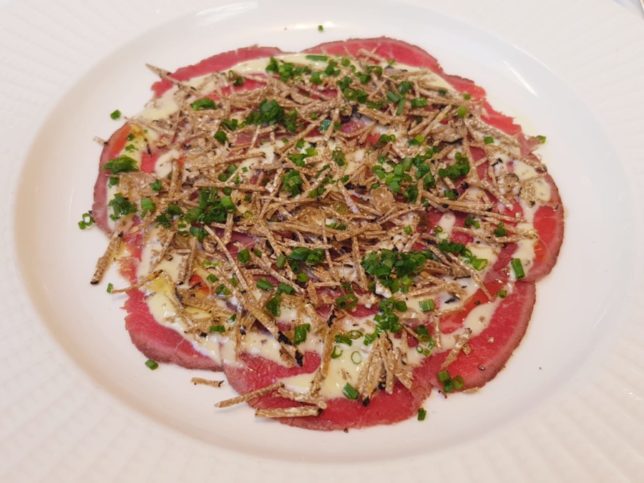 For those who want to up the luxury one more notch, we highly recommend the Terrine de Foie gras des Landes – extremely reasonable in price this creamy homemade terrine could make even the most homesick Frenchman feel like they've returned home to their mother's dining room.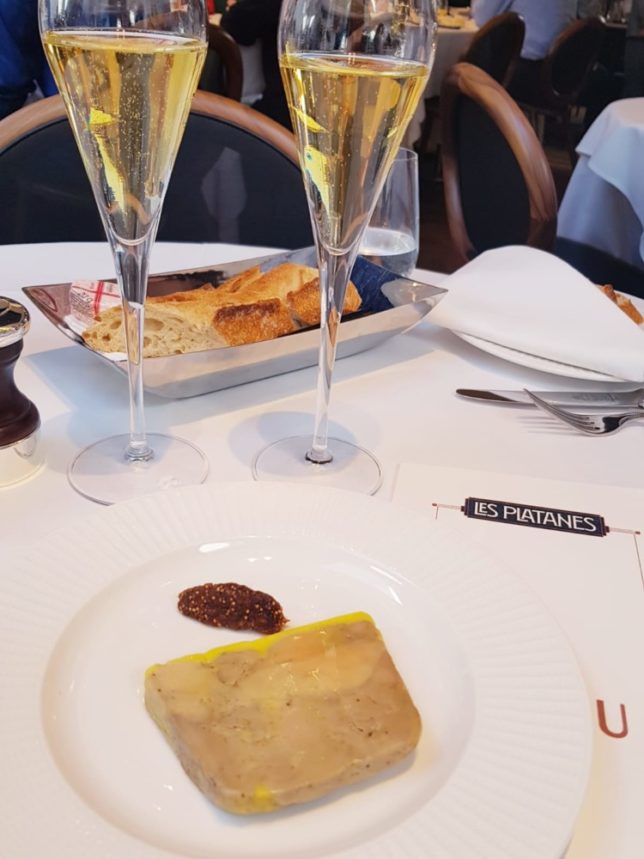 Main dishes include Cornish turbot accompanied by Artichokes à la Barigoule feature alongside Sweetbreads, fresh morels, and green asparagus. Larger sharing dishes such as Roast chicken from Gascony, served with foie-gras and extra fine beans are also available.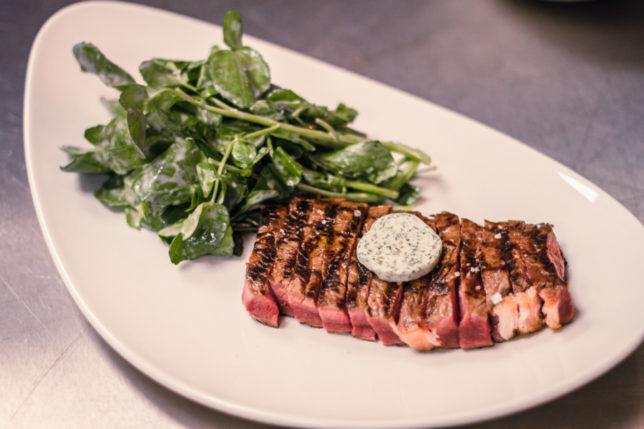 The menu is packed full of choice but we could resist the Special as it is not often that you get to order Grouse let alone at the hands of such a remarkable chef. A well thought-out flavour profile of Grouse, carrots, foie gras with truffle chips. This is perfect as the winter sets in. If a special catches your eye, don't hesitate Les Platanes knows what they are doing.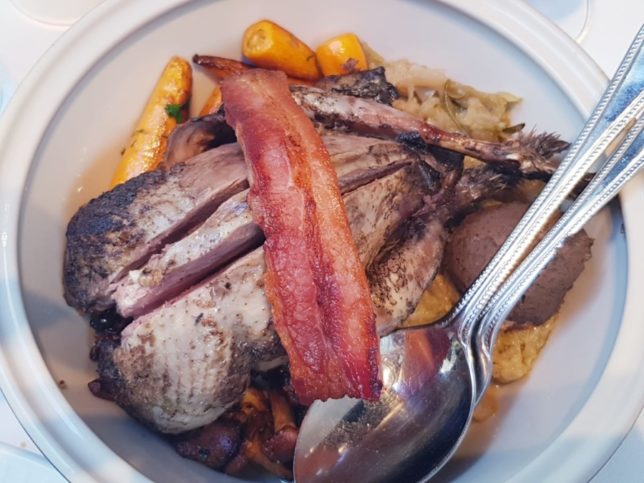 Thankfully you won't have to wait for a Special now it's Game Season. To celebrate the incredible game this time of year, Chef Thierry Laborde has created two special dishes for the restaurant's menu; Scottish roasted grouse with truffled pommes sarladaise and bread sauce, and Red-legged Partridge with truffled pearl barley risotto and buttered cabbage. Both dishes make for the perfect autumnal comfort food, executed with the elegance and attention to detail.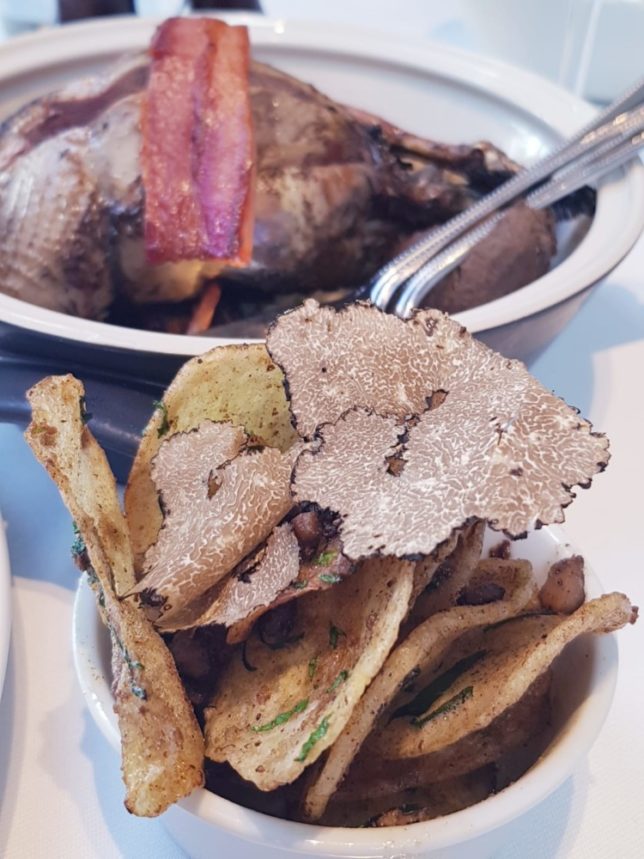 Although there are two lamb dishes on the menu one clearly stood out. The Epaule d'agneau braise aux epices, sarrasin méridional consists of slow cooked shoulder of lamb served with aromatic buckwheat. However such a generous portion is made for sharing and we went for the Côtelettes d'agneau du Quercy, aubergine, pignons de pin. Ordered medium rare, the lamb retained it's flavour showing it is well sourced. The flavours paired well on the plate, and it was almost too good to share.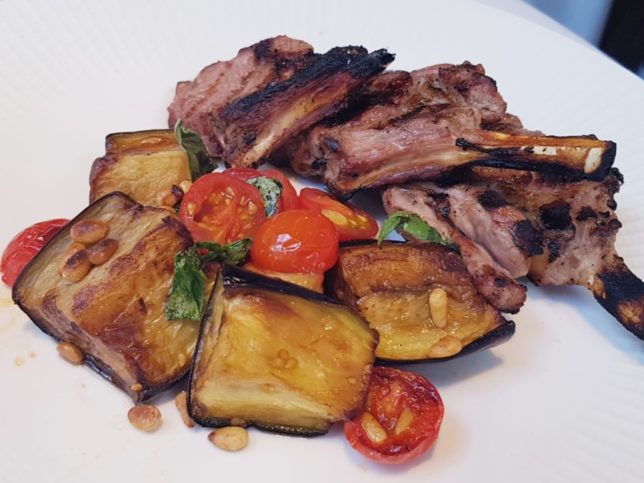 In any good French restaurant, I believe you can tell the quality of the dessert menu by tasting their Paris-Brest. At Les Platanes, the Notre Paris-Brest Maison is delightfully delectable. Worth every calorie, it was a haven of yumminess in every bite.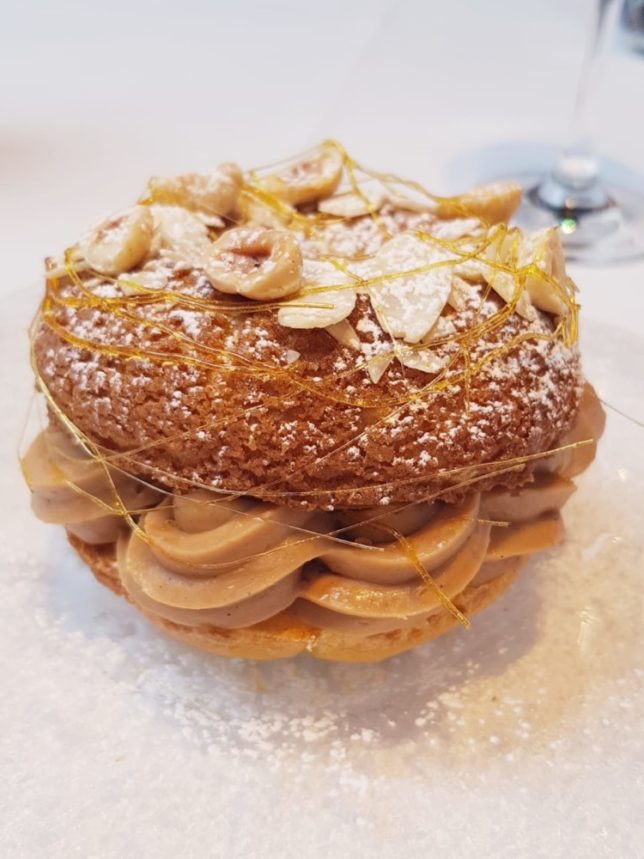 Other sumptuous treats include Croute de Citron cote d'Azur for those who want a tarter finish to their meal. We loved it. Who can resist a palate-cleansing lemon tart.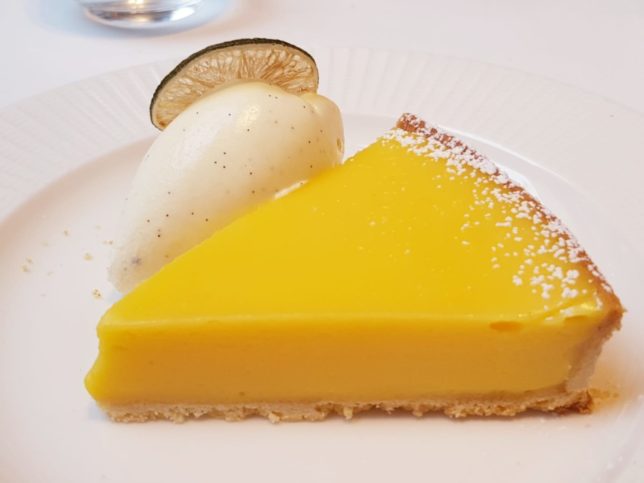 If you want even lighter for dessert with a hint of alcohol, look no further than the Colonel Gascon Bio – a fresh and organic lemon sorbet, lavishly graced with Armagnac and a dash of lime zest. It almost resets the palate wishing you had another stomach to start again.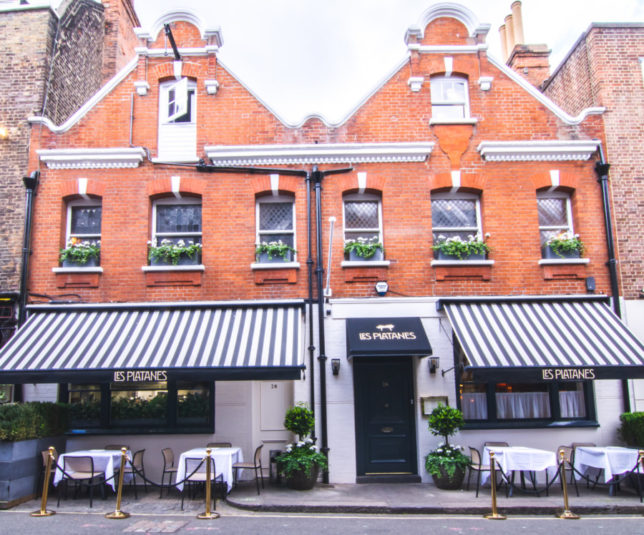 The keenly priced wine list comprises the finest examples from the South of France including a selection of Bordeaux, Provence and Languedoc. The restaurant offer wines by the carafe in addition to a small selection by the glass. The list extends to over 130 bins including some lesser known bottles from small producers as well as favourites from well-known vineyards, some examples of this include 2015 Château Simone Rouge, Provence and 2016 La Syrah, Famille Dardé, Languedoc. Les Platanes also offer a selection of fine wines with rare vintages at accessible prices such as the 1996 Chablis Grand Cru Valmur, Maison Verget and a 1986 Château L'Evangile, Pomerol.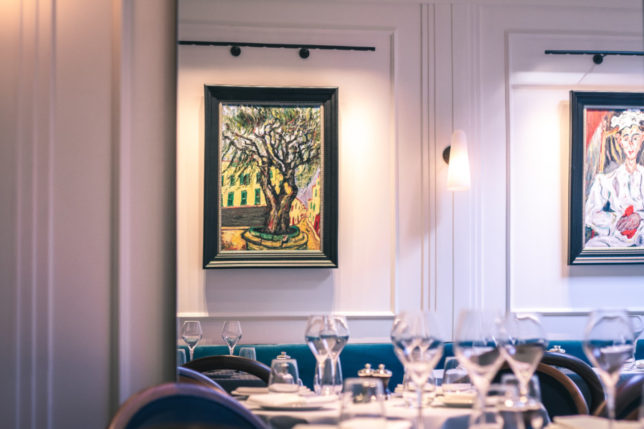 Les Platanes is an absolute star in the Mayfair restaurant scene. Amazing staff, a fabulous team both in and out of the kitchen. Ask to see upstairs, this venue is perfect to hire out for parties and the minimum spends are ridiculously low so get in while you can – I am sure it will book up fast. Whether you are looking to host a Christmas party for 50 or a dinner party for 12 on a special occasion, Les Platanes is one to put on your list!
Les Platanes
26-28 Bruton Place, Mayfair, W1J 6NG
020 7629 5613
www.lesplatanes.co.uk
@lesplatanesuk