With the British summer racing season around the corner, we spoke to esteemed occasion wear Stylist, Sarah Kate Byrne who reveals her top tips for women looking to get race ready on the official opening of her fashion pop-up, Maison de Saison in collaboration with Fitzdares to help women curate the ultimate look.
What trends should we look out for in summer 2019?
Off the back of sending Francesca Cumani out in a headband at Royal Ascot last year, as well as the Duchess of Cambridge adopting the same style weeks later for Price Louis' christening, you can expect headbands to feature heavily. They were all over the SS catwalks too and the trickle-down effect is that every milliner worth their salt is producing a myriad of styles. I love them as they are easy to wear & suit everyone but for the Royal Enclosure you, of course, must ensure the base is 4″ minimum so more of a halo style than a headband.
What colours are in this season?
I think pastels and pop colours will be at the forefront of standout looks this summer across the different meetings. I use block colours a lot as they pop on screen but they also translate into a best dressed worthy look given how eye-catching they can be.
What are the key things to keep in mind when dressing for the weather at summer racing fixtures?
A very timely question as the weather has been so unpredictable of late. I have been at Royal Ascot in 36 degrees and also in 8 degrees & non-stop drizzle! So given the risk of inclement weather, closed toe shoes are always a must for me in case it rains; layers such as complimentary jackets (add a belt so you don't lose your silhouette) & avoid large brims if blustery conditions are predicated or you are having a formal sit down lunch.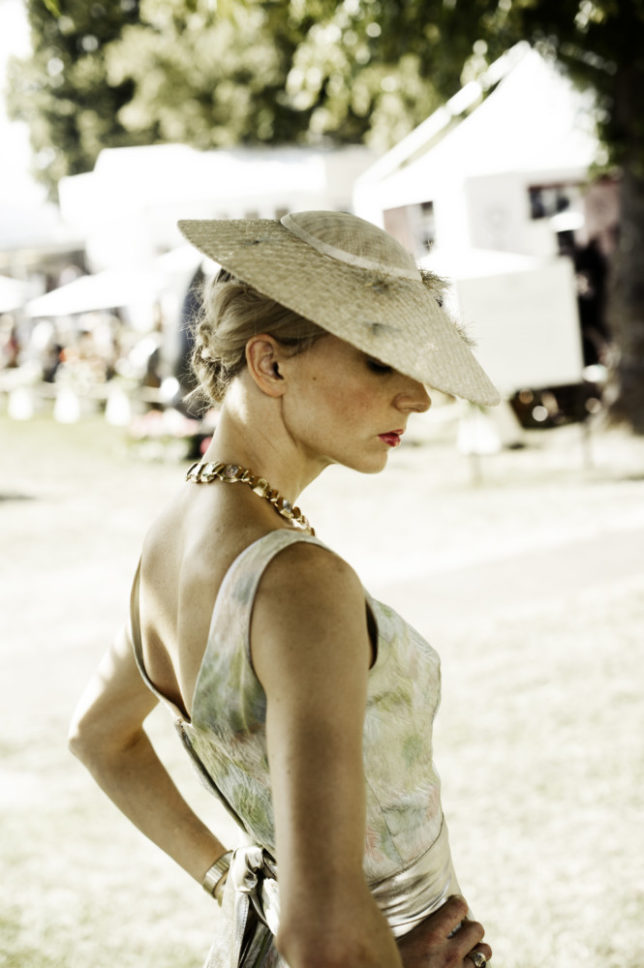 What would you recommend for a best dressed worthy look?
My advice is to aim for individuality & imagination. It's not about the cost of an outfit, it's about how it's all pulled together. A winning look for me will be comfortable & practical as well as suited to the wearer & the weather. Tones rather than exact colour matching wins for me. As does a hat that compliments both the wearers face shape and the hemline of their outfit.
What style of hat should we be wearing this season?
As a stylist I tell my clients to pick a hat that suits them not the outfit. Of course, it should complement the look and on that I use the analogy of a house – the hat is the roof and it needs to fit with the rest of the building! I would never push a trending style as it's a myth that all hat styles suit all faces. I for one opt for bigger brims as I need them for my face shape, but I also tend to wear longer hemlines which can handle a wide brim. For TV clients, wide brims don't work so it's really a case by case basis. My best tip is to ask someone to video you in the hat (preferably paired with the outfit you have in mind) as it gives the best sense of what it actually looks like!
Where would you recommend to shop this season?
I hope the Maison de Saison's pop-up housed in the exquisite Huntsman Club Room on Savile Row will be the answer for all ladies looking for this summer's occasion wear. I have teamed up with Fitzdares, the most world's most exclusive bookmaker and Huntsman who both have a true understanding of the season, fashion, style & etiquette to provide a one-stop shop for all luxury occasion wear and accessories. The pop-up will run from Friday 17th – Friday 23rd May from 9am-5.30pm offering Londoners the chance to drop in for a private stylist appointment or to browse the curated collection of fashion, millinery & accessories.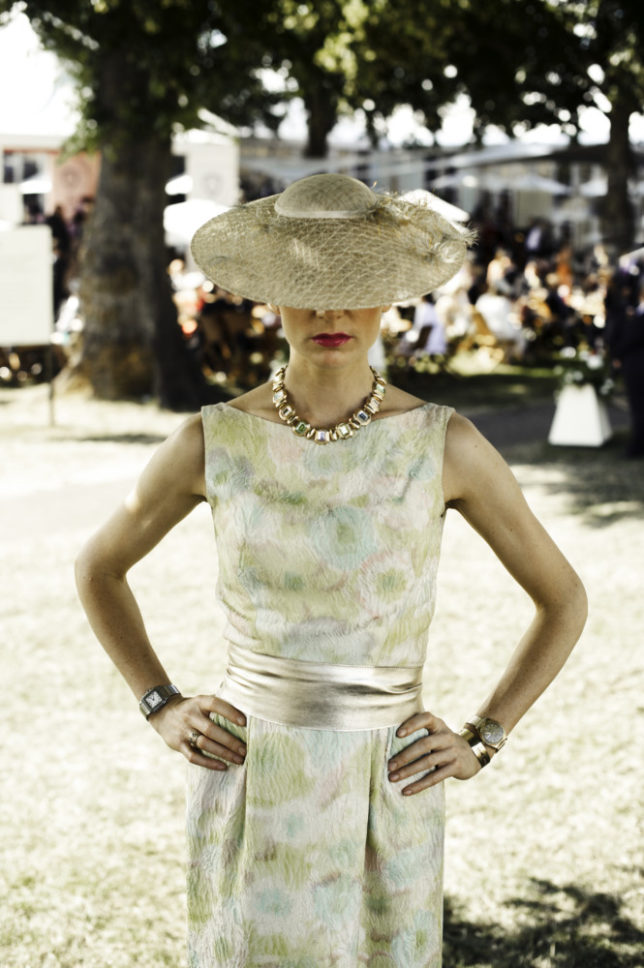 Who are your favourite designers this season?
We have some amazing new brands in the Maison de Saison x Fitzdares pop-up, hand-picked by Lady Alice Manners and myself for their individuality and wearability. Edward Mongzar's marbled silks are to die for and Epok's slinky numbers are so striking in jewel tones. I am a massive fan of vintage, favouring a piece rather than a brand so the exclusive edit of vintage will deliver up unique pieces for every taste!
Do you think it's important to choose the dress or hat first?
Either works but I tend to choose the outfit first. Occasionally if I spy an amazing hat I will set my heart on it and go looking for "the dress" to suit it. I don't think the notion of "exact colour matching" should hold any sway when choosing a hat. Tonal matching is perfect and actually in my opinion looks best so if you can, try on lots of styles. You might then find an off the peg piece or find the perfect piece and go all out and have it tailormade in complimentary colours. We will have over 50 hats available to try and for sale in the popup so do drop in!
What top tips for a day at the races?
My three top tips would be:
Comfortable shoes, preferably a block heel
Try a belt, sometimes all an outfit needs is a belt – ditch the one that comes with the frock and find something more wow!
Avoid a clutch bag as they will prove to be a nightmare when jiggling champagne, race-card, mobile phone!
About the expert
Sarah Kate Byrne is a stylist specialising in occasion wear, especially for the quintessential social events of "the season". One of her high profile clients, Francesca Cumani of ITV Racing is regularly cited as a style icon off the back of the looks Sarah creates for her race days & clients come to her for her expertise and understanding of what works for these key occasions.
Private styling appointments are available via styling@maisondesaison.com