From breakfasts with the very best cherry jam to evening cocktails garnished with luxurious maraschino cherries, SLOAN! celebrates National Cherry Month this February with some sweet suggestions from morning to night.
Tiptree – Morello Cherry Conserve
This delicious rich conserve is absolutely packed with homegrown cherries so much so that it's best described as more fruit than jam. The Morello cherries are grown on the farm at Tiptree, taken across the fields to the factory, stoned and made into a rich tasty conserve with a distinctive aromatic flavour. It is delicious on fresh croissants or as an ingredient in a sauce with duck and in many desserts. Wilkin & Sons first made Morello Cherry Conserve in 1904 though they had been making fine conserves since 1885 from fruit grown on their farm. The conserve is available in 340g jars and there are mini jars to serve with cream teas.
£2.49 for a 340g jar. Available from Partridges, other good grocery stores and online at www.tiptree.com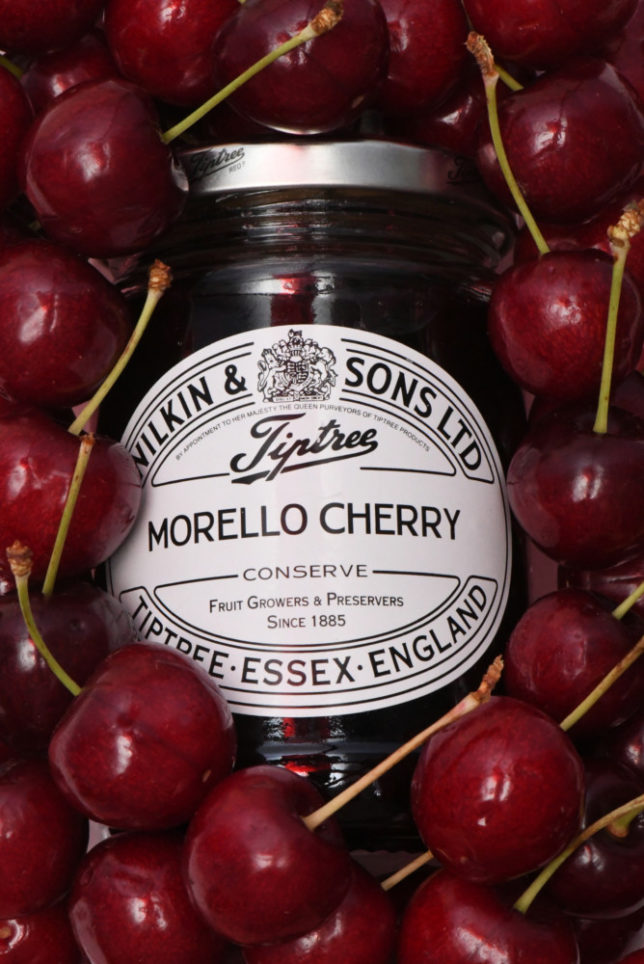 Thursday Cottage – Cherry Curd
Lemon curd is probably the most popular curd in the UK but Thursday Cottage has created a diverse range of award-winning curds that's worth exploring. They are made with fruit concentrate, sugar, fresh pasteurised free-range eggs and pure country butter. The ingredients are slowly and gently mixed in our curd kettle until they are ready to be filled into jars. This delicious Cherry Curd is a vibrant curd bursting with cherry flavour that's delicious on ice cream, pancakes, in cheesecakes or on a warm croissant. Not surprisingly, it was awarded 2 stars in the Great Taste Awards 2019.
£2.95 for a 310g jar. Available from the 7 Wholefoods Market stores in London, Paul Rothe's Deli in London and online at www.thursday-cottage.com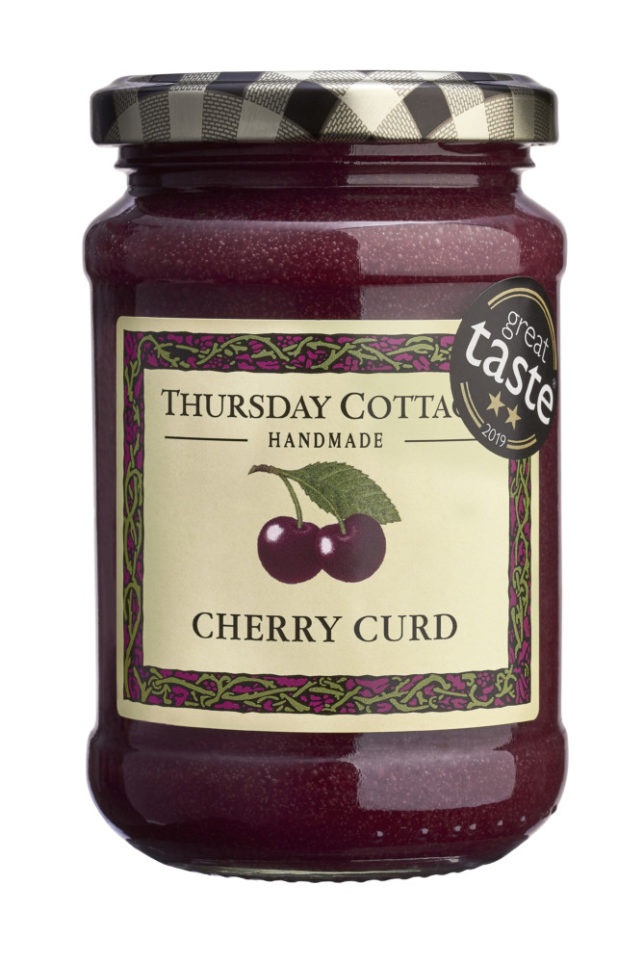 The Cherry Tree – Cherry with Amaretto Extra Jam
Cherry and almond are one of the classic flavour combinations so it's no surprise that The Cherry Tree chose to create this scrummy Cherry with Amaretto Extra Jam which went on to win a 2020 Silver Taste of the West Award. Artisan brand, The Cherry Tree, has been producing the finest Chutneys, Preserves and Marmalades and flavours to excite tastebuds everywhere since 1997. All products are hand cooked in small batches, using only the best ingredients and following traditional recipes. With over 70 years of combined experience, trained by a fourth-generation master preserve maker, they blend traditional methods with contemporary flavours to create a truly unique taste experience.
£4.50 for a 340g jar. Available from www.cherrytreepreserves.co.uk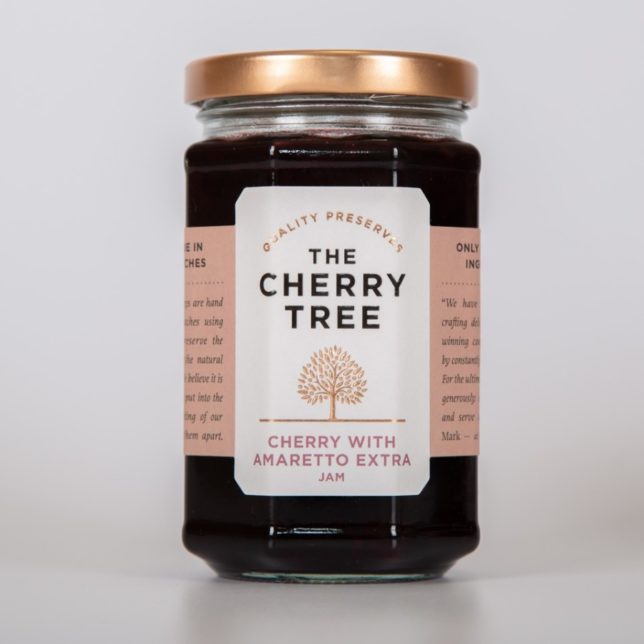 The Protein Ball Co. – Cherry Bakewell Protein Balls
We love protein balls especially the Cherry Bakewell ones from The Protein Ball Co. When asked why we need to eat protein, Dame Kelly Holmes, brand ambassador for The Protein Ball Co. commented, "You need protein as part of a healthy daily diet, so make sure you have protein within each meal and also try and choose snacks that are high in protein. Regardless of whether you exercise or not you still need protein as part of a healthy diet and the more you exercise, the more protein you need."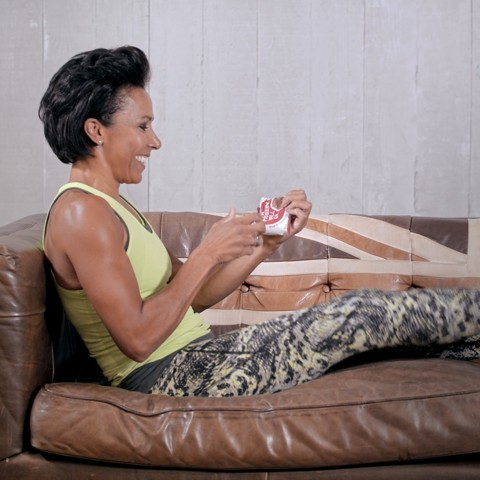 Speaking about how much protein you need to include in your diet, Dame Kelly Holmes said, "There's lots of different factors that determine how much protein you need in your diet, it all depends on body weight, but generally it's between one and 2 grams of protein per kilogram of bodyweight". She went on to say, "If you're trying to consume more protein then you want to choose something that you'll actually enjoy eating. I love protein balls."
Inspired by the traditional Cherry Bakewell tart, the Cherry Bakewell protein balls are made using sour cherries, handfuls of raw pitted dates for sweetness, smooth roasted almond butter and egg white protein to create something truly rich, fruity and wholesome. This delightful twist on the classic gives you 10g of high protein, high fibre, no added sugar and added Vitamin B12, Vitamin C and Vitamin D3.
£1.99 for a 45g bag (6 bitesize balls) available from Tesco, Morrisons, Ocado and Holland & Barratt
Sauce Shop Cherry Bourbon BBQ Sauce
For full-on condiment fanatics, this Cherry Bourbon BBQ sauce from Nottingham-based Sauce Shop is big on flavour with deep cherry fruitiness combined with vinegar tang and undertones of bourbon. This sauce was previously Sauce Shop's most popular limited-edition flavour and it's now a full-time member of their exceptional range. To take your BBQ to the next level, try it glazed on ribs, wings or brisket.
£3.49 for a 255g bottle. Available from www.sauceshop.co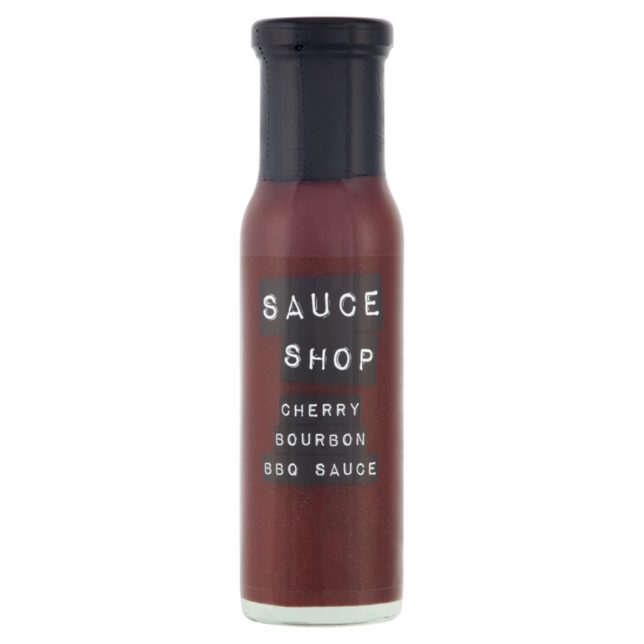 STARLINO Maraschino Cherries
STARLINO Maraschino Cherries are rich and delicious cherries made in Naples, Italy by a fourth-generation family-owned business. They are preserved in Marasca syrup and can be enjoyed in a number of ways whilst you and your family are at home during National Cherry Month. The bartender's choice, STARLINO Maraschino Cherries are used in the best bars around the world as a garnish for the ultimate cocktail experience. They make the perfect finishing touch for cocktails such as the STARLINO Rosé Royale or STARLINO Rosso Negroni.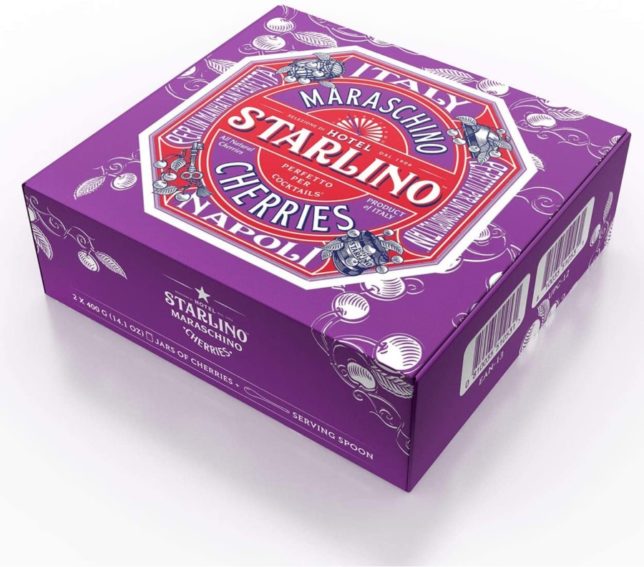 The cherries also make for an indulgent garnish for cakes, pastries and other desserts such as ice cream with the syrup drizzled over. The stunning STARLINO Maraschino Cherry Gift Set makes for the perfect alternative Mother's Day gift.
The Gift Set of two 400g jars with a ceramic serving spoon is £24 from Amazon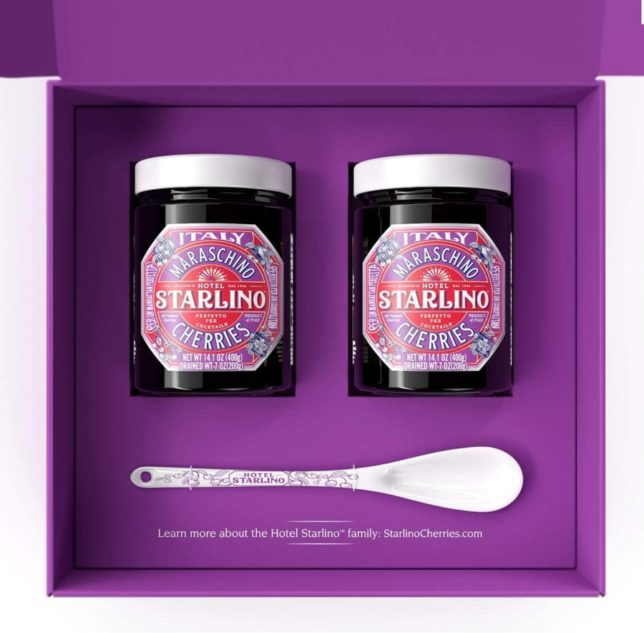 Click here to check out the latest food & drink features in SLOAN! – the lifestyle magazine founded by celebrity life coach, Sloan Sheridan-Williams.