The VIVOBAREFOOT Tracker FG is a barefoot hiking boot made from high-quality leather. It is designed for wild and rough terrains, with our firm ground sole. This minimalist walking boot has a waterproof lining and thermal protection to keep feet a comfortable temperature and ready to explore nature.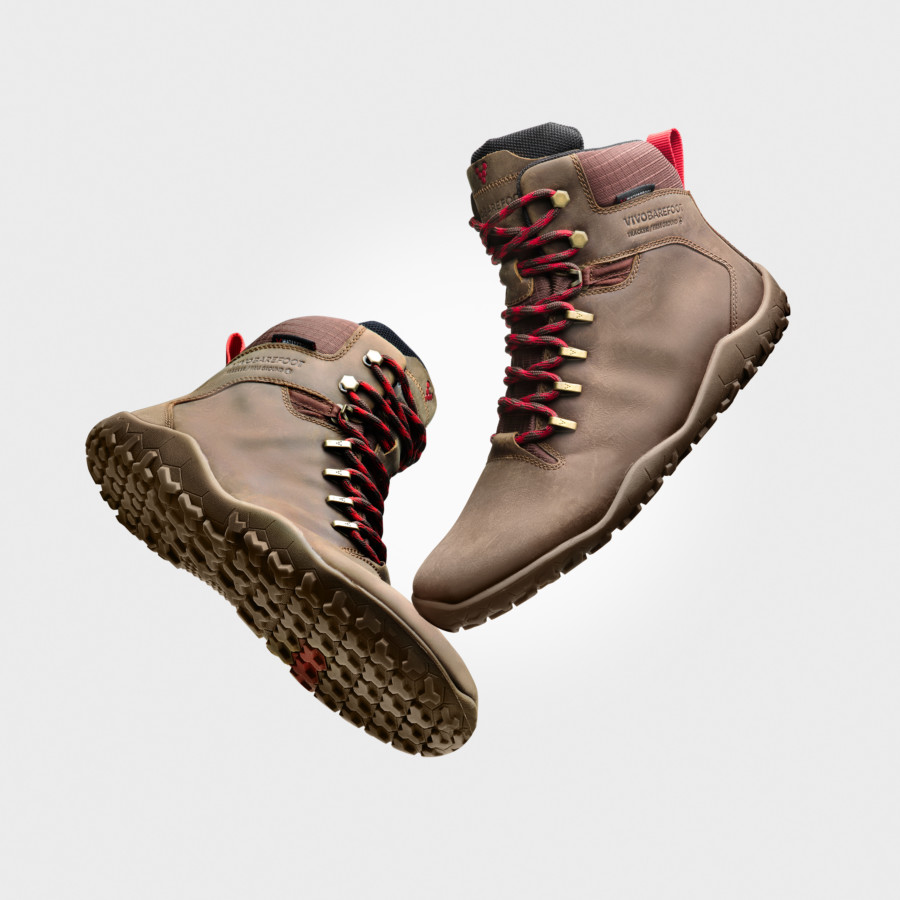 The VIVOBAREFOOT Tracker FG Men's hiking boot is part of the outdoor range and is one of their top of the line items in their active outdoor offerings. It has undergone some visible and functional updates over the years and looking back, you can see the organic evolution of the boots from feedback and an aim to improve.
The FG of these boots stands for 'Firm Ground' which is a nod towards their preferred uses in these boots. However, you could have been forgiven to have thought it stood for full-grain, referring to the leather used for on boots.
The VIVOBAREFOOT off-road range is made with two different outsoles, for terrain specific function. On soft ground, teeth-like studs give off-trail traction, with minimal clogging. On firmer ground, multi-terrain grip allows your feet to move naturally across rocky trails. All the off-road shoes let your feet make sense of the changing terrain underfoot, which can help with balance and foot placement accuracy.
We had the VIVOBAREFOOT Tracker FG Men's in Dark Brown. This brown colour comes from their premium waterproof durable Leather with a special, wet weatherproof treatment. The leather is high-quality Ethiopian leather, from 'non-commercial farmed cattle'.
They are so confident with their boots and shoes, they are providing a 100 DAY TRIAL FOR BAREFOOT BEGINNERS. Stating, "We're confident that after experiencing the joys of natural foot freedom, your feet won't want to go back to 'normal' shoes. So confident, we've introduced a 100 day trial to all orders. If you change your mind within that period, we're happy for you to return your shoes for a full refund with no hassle."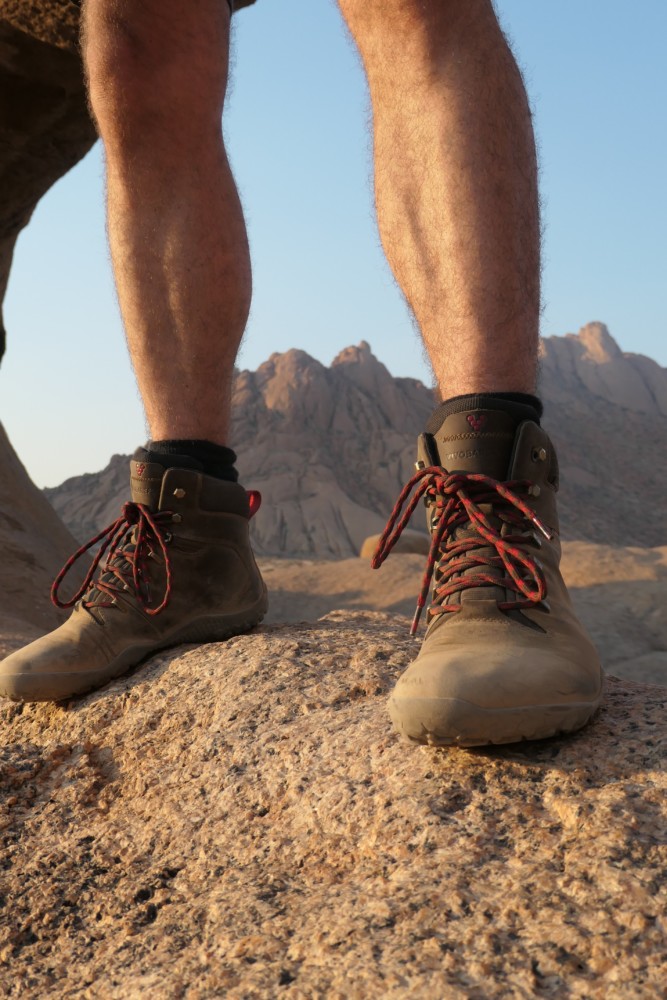 Our Testing Experience
Comfort:
These boots are comfortable, with a comfortable ankle collar, plus generally these a more natural foot shape, including a wide toe box that allows for greater toe comfort, who needs narrow toes! Our reviewer is a very experienced minimalist footwear tester and felt that the boots could even go further, and provide a little more great toe (big toe) space, for wider expansion of the toes during loading of the forefoot and toes. However, it is worth pointing out, that these are likely some of the widest toe spaces found in a modern styled hiking boot, meaning they are certainly on the right path, and putting many shoe shapes to shame.
There is real innate comfort in being able to feel the ground below your feet. Feel the sensations the ground surfaces provide, and what level of footing you have on the ground. This feedback is recognised when you switch from a minimalist boot, back to a more supportive, thicker soles, and heel elevated boot.
Virtually no wear-in time, although we would suggest walking around a few days in them at home, or on the street before taking them away.
They really are a comfort, when taking off restrictive climbing boots, or wellies, these are a treat, and a comfort to wear.
The soft flexible design, allows for rapid putting on and off of the boots, while slipping in and out of tents, or just pulling on your boots to pop to the refreshment area.
With any flexible shoes, and certainly with minimalist shoes, it is well worth thinking about ensuring your feet are ready for long hikes with the need for your muscles to perform the task ahead. The feet will adapt and become strong over time, as you wear these styles of shoes and boots, in manageable chunks, and then become strong enough for long multi-day hikes without the need for heavier and more restrictive shoes.
Stability:
The idea of these boots is not to add stability. The concept of hiking boots is often to provide stability and support of the foot and ankle. VIVOBAREFOOT is following a different chain of thought towards ankle and foot health and function.
A wave of 'barefoot' footwear has developed over the last 15 years, which offers some very intuitive concepts.
They are attempting to provide foot protection from hygiene issues, puncture wounds, scratches, temperature variances, and weather conditions. While fitting into the social norms of footwear.
They veer from the standard footwear, by looking to provide thin, lightweight, flexible footwear, with 0 drop heels, and wide toes box designs.
The aim is to allow the foot to function normally, as designed. Reducing external forces from the footwear, that may lead to shape and function changes of the foot.
Allowing the big toe to splay more freely away from the other toes creating a larger base of support, and distribution.
This allows for a more 'dynamic' foot arch mechanics, with the foots naturally formed arches, able to increase and decrease arch shape and function, as desired or required.
The main thing many notice is just the comfort of having shoes, with a wider forefoot space, and the space in the toe box (the area your toes are) for your toes to spread out, and your big toe to be more aligned and straighter in relation to its joint orientation, independent to the other toes, for self-reliant foot loading and ultimate forces transferred throughout the foot.
The capacity to control the arch yourself, and not use the support a firmer more supportive boot may provide, is generated from the muscles of the foot, and whole lower limb and pelvis. These work together to assist a more loadable arch, and shared whole foot loading.
Similar to that seen in the 'unshod' populations and tribes, and the shapes of the foot seen in most babies and children, as they learn to form their arches, without restrictive interference from their clothes.
To get back to this 'natural' foot shape and use of the muscles, may take some time and may require patience as you develop the neuromuscular control over the whole lower limb, and other tissues adapt to the new forces. This is why we only recommend people wear a completely 'barefoot' shoe for the whole day, or on hiking trips, after some time of developing this strength and control, while sharing your shoes and boot use between more supportive and less supportive footwear, until all the foot is able to handle longer, more forceful periods of time without boot introduced stability.
This all said, there is perhaps a little more stability provided by the Tracker FG hiking boots than some other more day to day shoes VIVOBAREFOOT offer.
This reduced boot stability, allows for greater ankle and foot absorption of forces, when on a descent, down a mountain or hill system. Which can be a grace to the knees. As you don't need to go on many hikes to start hearing people complain of their knees on the descent!
This all means that normal hiking boot concepts such as torsion stability, are less a thing.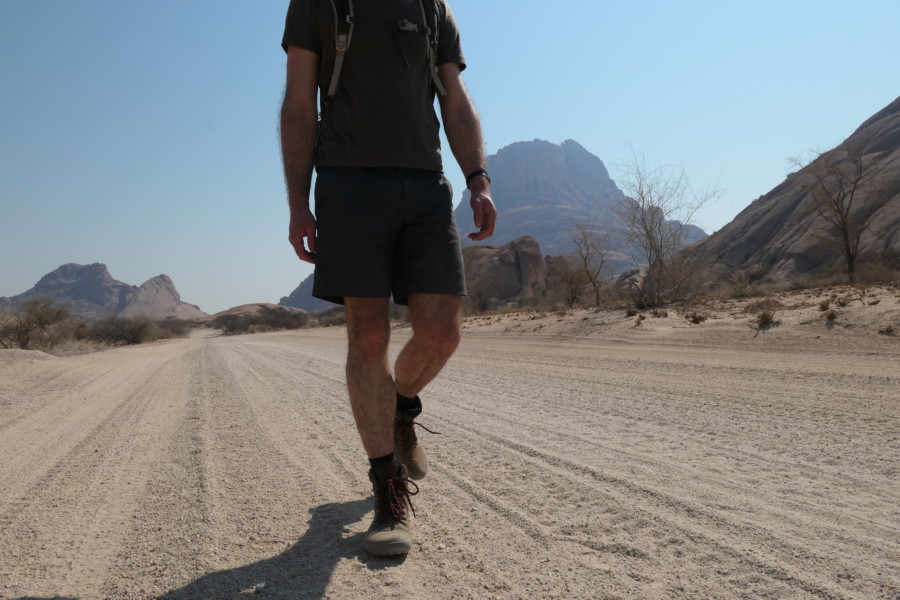 Traction:
These boots have well-positioned lace hooks for lace lock/heel lock. Which in a way increases traction, and force transfer down through the boot, the sole of the boot, and into the ground. Preventing heel lift during walking, or steeper ascent and descents.
The reviewer felt they would slightly lower the tongue lace loop, to allow for easier use of the loop, while still performing lace lock options, such as a 'surgeon's knot', which is a method of tying your laces to prevent heel slip. It just turns out to be very hard to perform this kind of lace system while also using the long loop, on these boots.
The soles of the boots are their own in house composite, and design. They are described as 'Firm Ground Sticky Rubber Outsole, high abrasion, rubber outsole with low profile, multi directional lugs, for great traction and durability on moderately wet ground and dry, rocky surfaces'. For adventures such as outdoor, and off-road use.
The soles allow for flexible use, adapting to the ground, while providing the more robust feel, and defence against rocks, than their other offerings at this time. This is a nice balance, of feel to protection, allowing for long-distance walking, over variable terrains. Allowing your feet to adapt to the situation.
The soles are able to grip well on smooth rocks, and not really any time footing felt diminished when on dry rock surfaces.
When lightly raining on smooth concrete or rocks, there is a slight reduction in the grip of the sole contact.
One thing this boot is not that good at is an adaptation. It is not designed to be able to link with crampons, snow boots, or other forms of winter assistance, to increase traction. Perhaps a VIVOBAREFOOT offering for deep winter snow use will emerge. If so we would enjoy that review.
The best thing about walking, is you get to use your feet! They offer some of the best traction, ground reaction and adaptation, surface orientation alterations and well-timed effective arch locking for perfect toe off mechanics. This is the secret weapon of the minimalism market… the foot within the shoe. With this amazingly reactive foot and a good malleable shoe, it is hard to go wrong.
The shoes contour and allow flex in the sand, to assist placement and push off without a rigid sinking feeling as felt in an immobile shoe. In dry rocky walks, the boot and foot it covers, are able to take shape to the rocks and ground surface, increasing contact points, friction and therefore traction.
In large smooth rock environments, the shoe is contouring with the foot, to allow for healthy ankle plantarflexion (pointing down of the foot) and dorsiflexion (pointing up of the foot), which is often restricted and altered with ankle-high boots. This mobility allowed for increased surface contact time, and a larger base of contact for a better base of support.
The lug pattern works nicely with muddy silt or muddy walks when traversing muddy footpaths, and slippery dusty trails, of dried caked mud. Bushwalking is a simple task for these boots, and the puncture-resistant soles and leather uppers ensured no acacia thorns could perform sneaky attacks of our reviewer's beloved paws.
For pragmatics it is also worth noting that the traction is not excessive or clumsy, meaning that you can easily enjoy driving a larger vehicle without loss of feel for the clutch.
Weight:
At 329g for a pair of these boots, these boots are one of the lightest boots on the market that are designed for hiking. They are a kilo lighter than many hiking boots on the market, yet often able to do the exact same job.
This means they are great for fast and light adventures, as well as light minimalist travel.
If you are looking for a lightweight sock-like boot, this is all you need. Like most of us, we usually end up reaching for the lighter pair, unless we have very specific needs from the heavier pair.
Water Resistance:
These boots have fully Waterproof Leather, a premium durable leather with a special, wet weather proof treatment. Exactly what this treatment is unknown. The leather is high-quality Ethiopian leather, from 'non-commercial farmed cattle'.
The boots are lined with a heat seam-sealed lining, known as 'Hydroguard', this is a waterproof and windproof, and/or hydrophobic inner bootie construction with non – absorbent materials, to keep the water out whatever the weather.
The Waterproof, heat-sealed seams and/or hydrophobic inner bootie, will work well at keeping out water, however, it also holds most of the moisture generated during a day hiking, so ensure you have spare socks to change into while the others dry off.
They are winter-proof, weatherproof uppers, sealed seams, and thermal insulation include thermal insole. Keeping you warm, dry, an moving naturally. Including an extra warm weatherproof upper, sealed seams. This means they will keep you warm in most hiking adventures up to the snow line.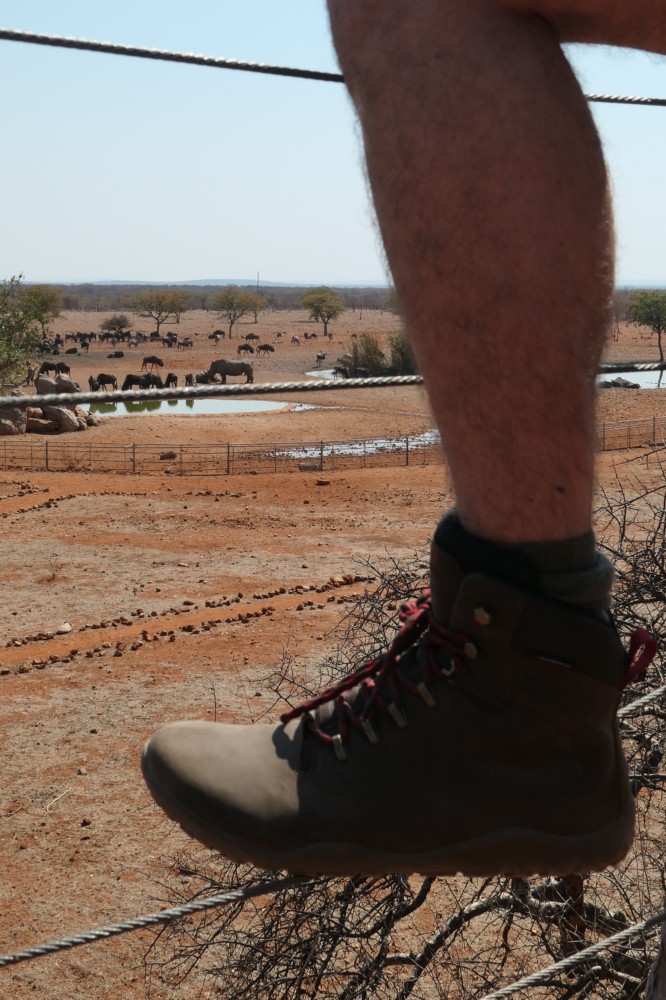 Durability:
The style slightly loses its shine with use, as the boots seem to look older than they are after a heavy walking trip. The Leather scuffs very easily and the shoe begins to look worn.
The reviewer noted a slight twist or torsion, in the left boot, with a minor size difference over the right. This was not noticeable when walking or active, however slightly noted when first put on or walking in.
With limited moving parts and limited metal hinges or eyelets, reducing points of potential problems. There are few parts to go wrong. The metal eyelets, which are of an alloy to help match the color scheme of the boots, and keeping the boot incredibly lightweight, lack the strength of some other metal alloys seen on boots. One of the lacing hooks got caught on the first day of use, and misshaped, without the complete return later when forced back into place. This did not stop the boots performing well and comfortably.
The inner 'thermal' insole, will begin to break down sooner than you thought it would, and you will need to replace these on an annual basis if you have heavy use of the boots. Luckily the inner sole is easily removable and interchangeable, with new thermal soles, or an alternative insole, such as a 'cork' insole, or a 'performance' insole
The lugs and tread of the sole of the boots had altered durability to the expected, the reviewers noted signs of some of the lugs beginning to wear and perish after a few days rocky mountain hiking and walking. We haven't seen this in other VIVOBAREFOOT models such as the black soled firm ground sticky rubber outsoles seen on other models, perhaps it is the composite used to achieve the well-fitting style and colour of the lighter sole matching the brown leather.
Style:
We had the VIVOBAREFOOT Tracker FG Men's in Dark Brown, with premium durable leather with a special, wet weather proof treatment. The leather is high-quality Ethiopian leather, from 'non-commercial farmed cattle'.  This large sectioned leather look, without too many different leather pieces per boot, works a treat for the boot style.
In fact, these are perhaps one of the most stylish hiking boots on the market, not just for the minimalist market.
The low profile sole, and 0-degree heel drop, means that the boot looks slick and casual enough that you don't feel like you are wearing a big boot, causing you to look like you are always going hiking, even when popping into town, or doing some intermittent travel. Making them a good option for those who like to travel, but do not like to take too many pairs of boots.
The laces themselves are great. A classic design, with a nice pattern, easy lacing, and comfortable fast use.
The Dark brown leather added a rustic look to your styling and begins to scuff and patina as if they were a well worn and long term owned and loved pair of boots, within the first days of harder use.
Features:
For outdoor, and off-road use, these lightweight, reasonably packable hiking boots, come with a winter-proof, weatherproof, extra warm weatherproof uppers, waterproof heat-sealed seams and/or hydrophobic inner bootie (Hydroguard R, 360 degree waterproof breathable membrane), construction with non – absorbent materials, to keep the water out whatever the weather, and thermal insulation, includes thermal insole. Keeping you warm, dry, and moving naturally.
Including a 3.5mm thermal insole powered by combining Outlast TM thermal regulator, reflective foil and insulating foam, giving you 3x the thermal protection as a normal insole (300 percent more thermal protection with only 3mm).
A Pro 5, patented, ultra-thin, puncture-resistant layer. 5 x more puncture resistant than a standard sole of the same thickness. Firm Ground Sticky Rubber Outsole, high abrasion, rubber outsole with low profile, multi directional lugs, for great traction and durability on moderately wet ground and dry, rocky surfaces.
Totally waterproof, totally windproof, environmentally friendly.
VIVOBAREFOOT is on a mission to change the footwear industry based on one simple insight—shoes should let your feet do their natural thing. By 2020, the company aims to use 90% sustainable materials across its entire range. The shoes feature a patented, ultra-thin, puncture-resistant sole in every shoe that protects the foot while allowing maximum sensory feedback. Designed using ancient wisdom with modern technology VIVOBAREFOOT is a complete shoe collection for outdoor, active and everyday wear, as well as a line for kids. Created by two cousins from a long line of cobblers, Galahad and Asher Clark are on a quest to make the perfect shoe—perfect for feet.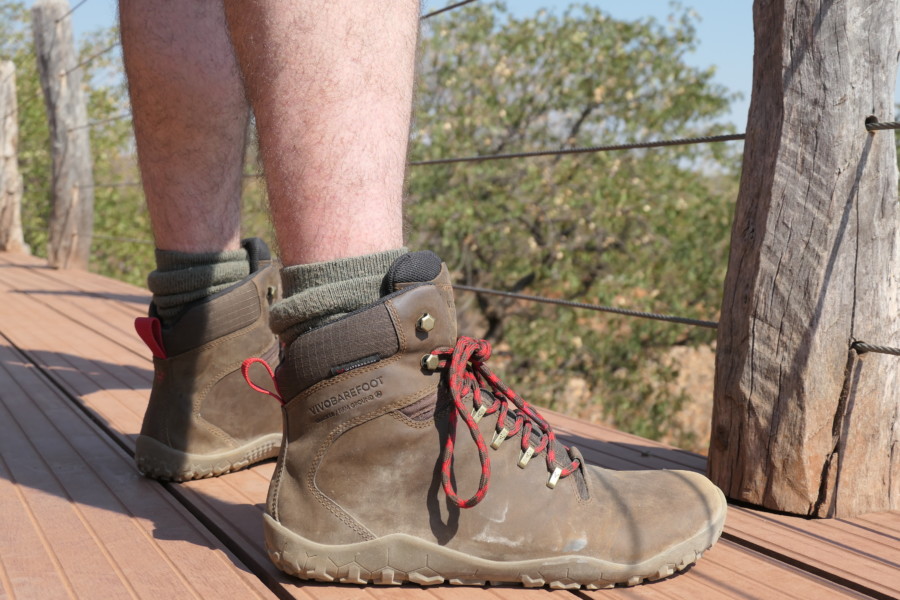 Features, Components, and Benefits
Well-positioned lace hooks for lace lock/heel lock
Leather-look
Winterproof
Premium Action Leather – water-resistant treatment
Waterproof Construction – with a sealed inner membrane
Firm Ground Sole – 3mm lugs for multi-terrain traction
Mountain Lace – for non-slip adherence
Removable Thermal Insole – provides up to 300% more thermal protection
Flexible sole in all vectors
Moves and adapts to the ground below
Windproof
Pro 5, patented, ultra-thin, puncture-resistant layer
Firm Ground Sticky Rubber Outsole
0 Degree Heel Drop
Wide Toe Box
Weight: 329g
The Tracker FG by VIVOBAREFOOT is a very high ranking hiking boot in the minimalist shoe market. The styling makes it worthy of a competitive spot on most hiking boot ranges, and the lightweight and flexible design make them an ideal boot for travel hiking and multi-environment use.
The VIVOBAREFOOT Tracker FG Hiking boot is £190 available from www.vivobarefoot.com