Hailed as the Ultimate Homecare System, the Kobold VK200 & SP600 Hard Floor Set from Vorwerk combines the latest innovative cleaning technology with an easy-to-use cleaning attachment to effectively and efficiently tackle hard floors in your home. The Kobold SP600 is a world first that simultaneously mops and vacuums hard floors at the same time, cutting in half the time you spend cleaning hard floors such as parquet, laminate, tiles and stone.
Many people enjoy the look and feel of hard floors in the home so you will love the fact that the labour-saving Kobold SP600 from Vorwerk mops the floors and vacuums dust and crumbs simultaneously in a groundbreaking innovation combining cutting edge technology and stunning design that's easy to use with automatic cloth moistening and LED display. For particularly thorough cleaning, the Kobold SP600 has its own motor which drives the cloth holder and cleaning cloth making the whole cleaning process almost effortless.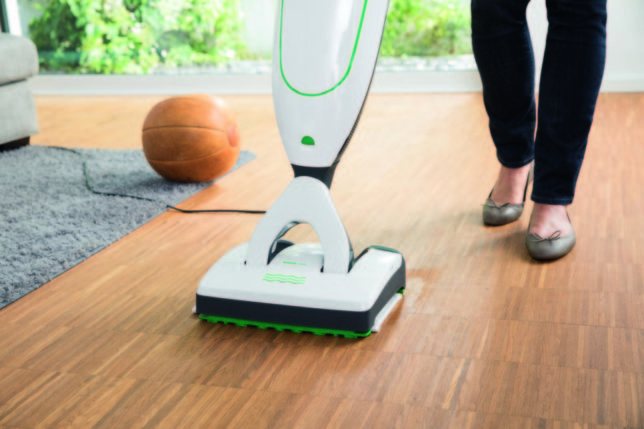 In the box of your Kobold VK200 & SP600 Hard Floor set, you will find:
1 Kobold VK200 Upright Vacuum Cleaner
1 Kobold SP600 DuoClean
1 Koboclean Universal 500ml
3 Kobold MF600 Universal Cloths
6 Kobold FP200 Premium Filter Bags
6 Dovina Fragrance Chips
1 User Manual
1 Electric Cable
5 year warranty
The Kobold SP600 is effective on all the hard-floors from laminate to parquet, giving flawless results in one simple and swift step. You can forget about using a mop and bucket every again and there is no messing with wet cloths or excess water as the Kobold SP600 can clean an entire floor measuring 60m2 with just one 260ml tank. The low consumption with the control of water release at the click of a button means that you use 50 times less water and washing product than with a classic mop and bucket so you are not only saving a considerable amount of time and effort but also saving money and the environment in a single step.
We found that the Kobold SP600 is particularly effective for cleaning all types of hard floors and it's also possible to buff your floors with a dry cloth when using the Kobold SP600 for an impeccably polished look. Check out this cleaning challenge video from Vorwerk which demonstrates just how effectively the Kobold SP600 can cut your cleaning time by half.
We were already impressed by the world first cleaning power of the Kobold SP600 so it was no surprise that the Kobold VK200 Upright Vacuum Cleaner also impressed us in its own right. Compact, highly manoeuvrable and extremely powerful, this is the answer you've been looking for to make life a little easier and a lot cleaner. So what else about the Kobold VK200 upright vacuum cleaner makes it stand out from the crowd?
Thanks to its innovative technology, high quality and timeless design in addition to the fact that there is an expert cleaning attachment for every surface, the Kobold VK200 adds flexibility and adaptability to your housework routine meaning you can clean like a pro in any situation at any time. In this age of environmentally conscious consumerism, you will be pleased to know that the Kobold VK200 is extremely energy-efficient and has an A-rated energy label.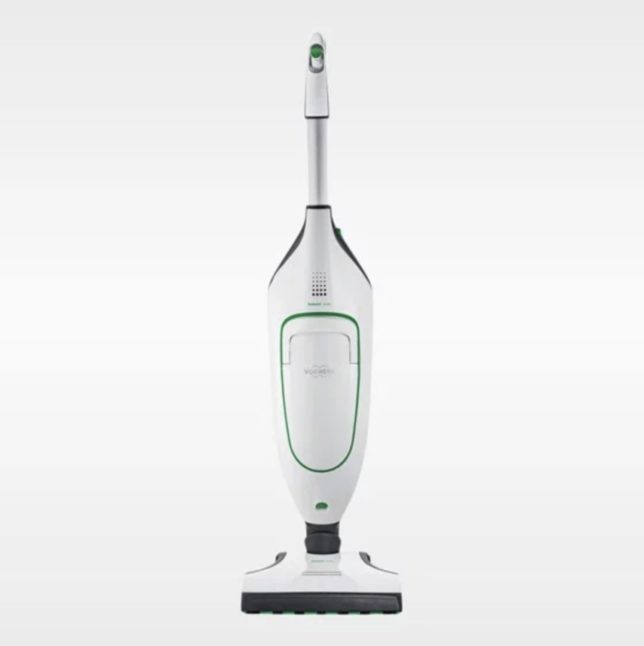 The Kobold VK200 is an extremely manoeuvrable upright vacuum cleaner with an excellent ergonomic design and easily adjustable telescopic handle. This together with its lightweight construction and Swivel/Pivot joint allows for a back-friendly posture. The convenient location of the main power switch on the handle grip also means that control is never out of reach.
Another of the many user-friendly features of the Kobold VK200 is the LED filter bag level display. Easy to read, reliable and simply designed, replacing filter bags is only necessary when the LED display lights up completely orange. We also loved how easy it was to change filter bags – as simple as opening the flap and inserting the new filter bag. Once the device is switched on, the Kobold FP200 3-in-1 Premium Filter bag unfolds itself automatically. Another winning feature for us is that the Kobold FP200 improves air quality for people with allergies. An impressive 99% of allergy-inducing particles are captured so your house is not only clean but the air is too.
Whether you need to deep clean your carpets, breathe life back into your hard floors, or simply want one vacuum cleaner that can do it all, the Kobold VK200 will deliver exceptional cleaning every time.
The Kobold VK200 & SP600 Hard Floor set is £849 available from kobold.vorwerk.co.uk/hard-floor-set