By Anabel Kingsley, Philip Kingsley Brand President and Consultant Trichologist.
During the summer, our hair has three main elements to contend with: the sun, sea and chlorinated water. Alone, each of these can be damaging, but when you combine them, which is often the case, hair can be left incredibly dry, brittle, dull and riddled with split ends.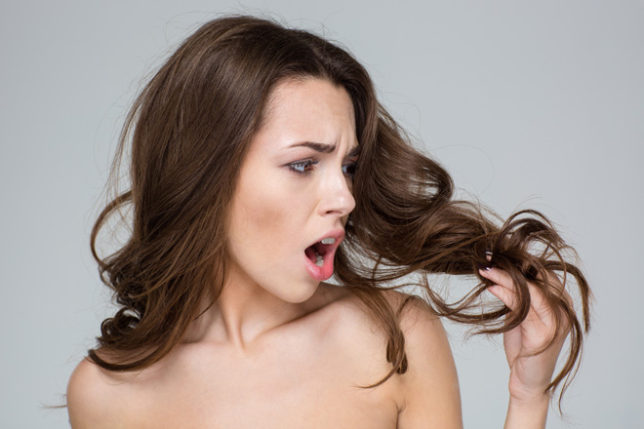 How the sun can damage your hair
Sun exposure can definitely damage strands. UV rays act on hair much like bleach. This is because they oxidise hair pigment cells (melanin), which is why your hair becomes lighter in the sun. The damage doesn't stop at colour change though. The sun's rays can also degrade the actual protein structure of your hair and weaken its disulphide bonds (the strong bonds that hold your strands together). This can make hair brittle, easily broken, dry and overly porous. While sun-damaged hair is not ideal, do not worry. As your hair grows, the damage will grow out as well. You can also take steps to strengthen and re-hydrate your strands with pre-shampoo conditioning treatments and daily moisturizing styling creams or sprays.
UV rays can also burn your scalp, just like they can the skin on any part of your body – especially along your parting, or in areas where the hair is thin. The amount of damage depends upon how long you spend in the sun, and the intensity of the UV rays. Look for similar 'warning signs' that you would take note of on your face. For instance, redness, itching, flaking, pimples, excessive oiliness and general irritation.
How humidity affects your hair
While hot weather does not have a permanent or damaging impact on the health of strands, it is often accompanied by humidity – and this can certainly mess with your style! You will probably find your hair is harder to manage and frizzes easily when you are in warmer climes. This is because moisture in the atmosphere (i.e. humidity) is generally greater – and the greater the water content of the air, the more likely it is that it will enter your hair shaft, dampening strands and causing them to kink and frizz as they re-dry. If you sweat more in hot weather, which pretty much all of us do, it can weigh down your roots and make them look greasy and limp.
Effects of chlorine on your hair
Saltwater is osmotic, meaning it draws water molecules out of your hair shaft. When your hair is dry, it breaks easily and can be difficult to style. Chlorinated water is similarly drying. Due to pool water's copper content, it may also turn blond hair green! During the summer, our hair has three main elements to contend with: the sun, sea and chlorinated water. Alone, each of these can be damaging, but when you combine them, which is often the case, hair can be left incredibly dry, brittle, dull and riddled with split ends. To help avoid damage when on holiday, use a water-resistant moisturizing protective cream. We make one called Swimcap Cream that guards hair from UV rays, salt and chlorinated water damage, all whilst giving your hair a hydrating treatment. It was originally formulated for the US Olympic Synchronized Swim Team.
What to do when you return from holiday
To re-hydrate and revive parched locks when you return from holiday, use a weekly pre-shampoo conditioning treatment (such as our Elasticizer). Apply to damp hair, and leave the treatment on for at least an hour before shampooing out to maximize its benefit. You can even sleep with it in or apply it before you exercise, which I often do. A post-holiday trim is a good idea. It will remove split ends, and the most damaged parts of your hair, and give you a healthier base to work with.
Women should be focusing more on the scalp after weeks of sun, sea and sand. Hair grows its best from a healthy scalp. However, due to UV ray exposure it is often slightly red, flaky and itchy after a week or more in the sun. To remove flakes and soothe irritation as quickly as possible, use a soothing scalp mask once to twice a week.
In terms of diet and supplements, both can most definitely help bolster your hair health. The most important thing to understand when it comes to diet and dietary supplements is that your hair's nutritional requirements are unique and incredibly high. Firstly, hair is non-essential tissue so it is given last dibs on whatever you eat. Secondly, hair cells are the second fastest-growing cells the body produces which means strands need a consistent supply of energy in order to grow. Due to your hair's unique nutritional demands, it can be difficult to give it all the nutrients it needs through diet alone. Supplements can therefore be incredibly handy as they provide an extra boost of readily available vitamins and minerals.
This article was originally published on page 30 in the 26th Edition of SLOAN!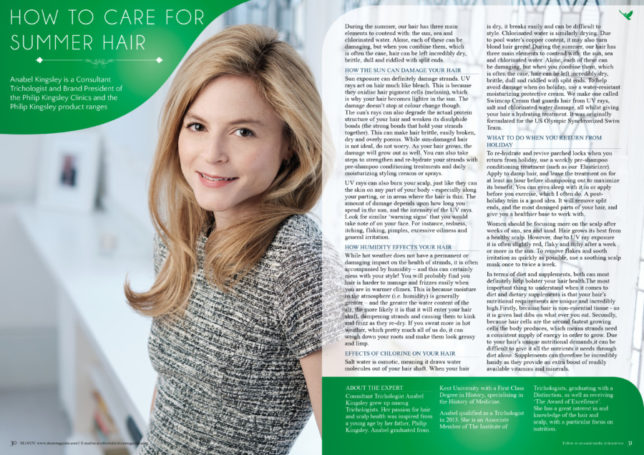 About the expert
Anabel Kingsley is a Consultant Trichologist, as well as Brand President of the Philip Kingsley Clinics and the Philip Kingsley product ranges. Anabel grew up among Trichologists. Her passion for hair and scalp health was inspired from a young age by her father, Philip Kingsley.
Anabel has written thousands of articles about hair and scalp health for international magazines, newspapers and websites, ranging from Harpers Bazaar to Huffington Post. She has presented for Philip Kingsley on-air at QVC, and has spoken at industry events for Cult Beauty and SheerLuxe. She has also lent her expertise to the leading cancer charity Look Good Feel better, contributing to their Guide to Managing Hair Loss during and after cancer treatment.
Anabel graduated from Kent University with a First Class Degree in History, specialising in the History of Medicine. She started her career at Philip Kingsley in 2006, managing the Philip Kingsley Trichological Centre in New York. In 2009 she returned to London to become part of the Philip Kingsley Marketing and New Product Development Team.
Anabel qualified as a Trichologist in 2013. She is an Associate Member of The Institute of Trichologists, graduating with a Distinction, as well as receiving 'The Award of Excellence'. She has a great interest in and knowledge of the hair and scalp, with a particular focus on nutrition.