It's safe to say that after being stuck in our homes for more than a year, home-dates require a little extra effort to shine. Now that it's cooling down, there's no better time to up your at-home-dating-game and turn a night of Netflix and chill into something a little more thrill.
If you're not sure you have what it takes to be the next at-home-Casanova – don't worry. SLOAN! is here to help. We've tracked down experts from Untitled Drinks and their amazing bars in London (Untitled Bar and Bar Termini) for their top at-home-date-experience tips to help you nail your at-home date night.
First impressions first – start with the lighting
Just because you're having your date at home, doesn't mean it has to be 'homey'. You can create a sexy bar-like ambiance just by thinking about the lighting.
Ferdinand Guizetti, manager of Untitled Bar, says, 'Our moon garden is one of the most romantic places to grab a drink. The close seating, the undulating wave patterns and the lighting that glows from below creates a beautiful ambiance.'
Design a similar sensation at home by turning off the harsh overhead lights and creating pools of low light. Large candles clustered on low tables, globe lights strung around the base of the room, or even some warmer, low voltage bulbs will do the trick.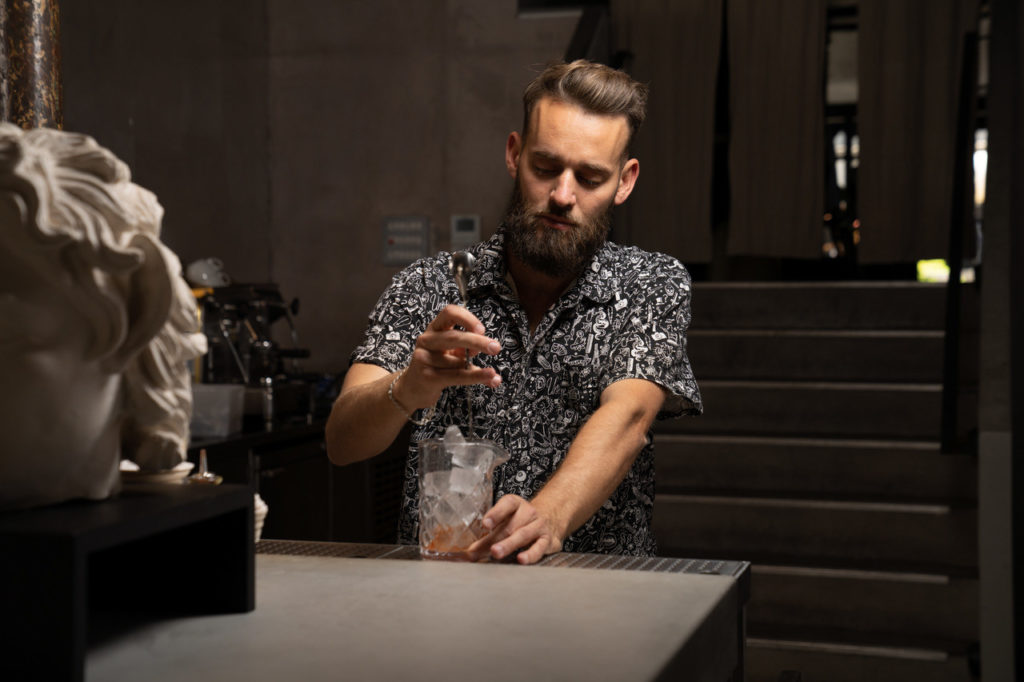 Serve some bougie drinks to set the mood
Once you've set the scene, begin to set the mood. Nothing says romance like a perfectly mixed cocktail. Forget the decked-out home bar with countless half-finished bottles, shakers and improvised recipes – instead, keep it simple and classy with premium, bar-quality bottled cocktails from Untitled Drinks.
Dimitar, from the development team at Untitled Drinks says, 'We worked hard to ensure Untitled Drinks deliver the perfect classic and experimental drinks into the home. There's no mixing, no recipes and no measuring – just chill, pour and serve!'
With modern takes on retro cocktails, such as Old Fashioneds, Manhattans, Martinis and a wide range of flavours in the Negroni range (we love citrus notes of the Bergamot), there'll be something to woo the savviest cocktail drinker. Cheers to that.
Food matters
If you're looking to impress, we recommend avoiding food delivery and preparing something simple, but delicious such as platters or tasting plates.
Michele, from Soho's famous Bar Termini recommends keeping it simple, 'At Bart Termini we serve small plates with delicious, simple products. Allowing simple ingredients to shine is not only elegant, but it comes without the need for extended stints in the kitchen. Charming cocktails paired with delicious bites – could there be anything more romantic?'
Consider your accoutrements
An at-home date night is sometimes a risk of being… well… at home. Make an effort to change up the vibe of your place before the event even if (and especially if) you live with your romantic partner.
We often make jokes about getting the 'fancy cutlery out' – but using higher quality items for dates will enhance the experience and make it more special. For example, using special glassware for your drinks will not only look better, but can enhance the whole experience. Untitled Drinks' bespoke cocktail glassware is designed using gastrophysics and takes a good negroni to the best god-damn negroni you've ever had!
Chill… and keep your sense of humour
At home dates can often not go as planned. When working on the romance at at home, think on your feet and keep a sense of humour about the whole experience.
Take inspiration from Marilyn Monroe's hot water bottle shaker in Some Like it Hot. Use what you've got, keep it interesting and improvise where needed.