Priding itself on bringing genuine Italian dining experiences to families across the UK, Bella Italia is launching its biggest ever new menu this May with 30 brand new dishes and 40 improved dishes. The new menu strives to cater for all dietary requirements, with over 20 options each for vegans, vegetarians, gluten free and dairy free.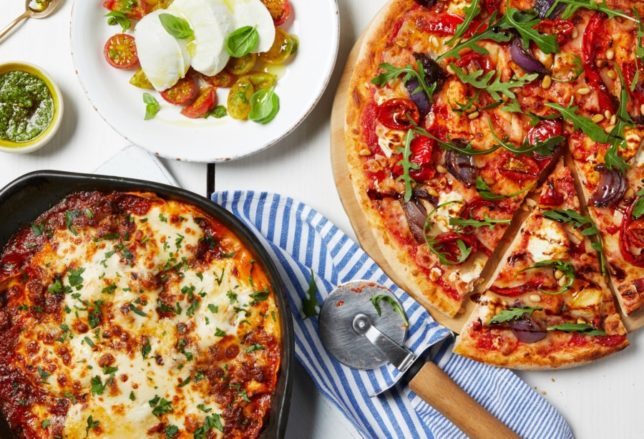 We were recommended the N'duja Flatbread to start and this is a bread not to be missed. A flatbread with flavour and spice and (to quote a very famous song) all things nice, this is a perfect way to start your meal.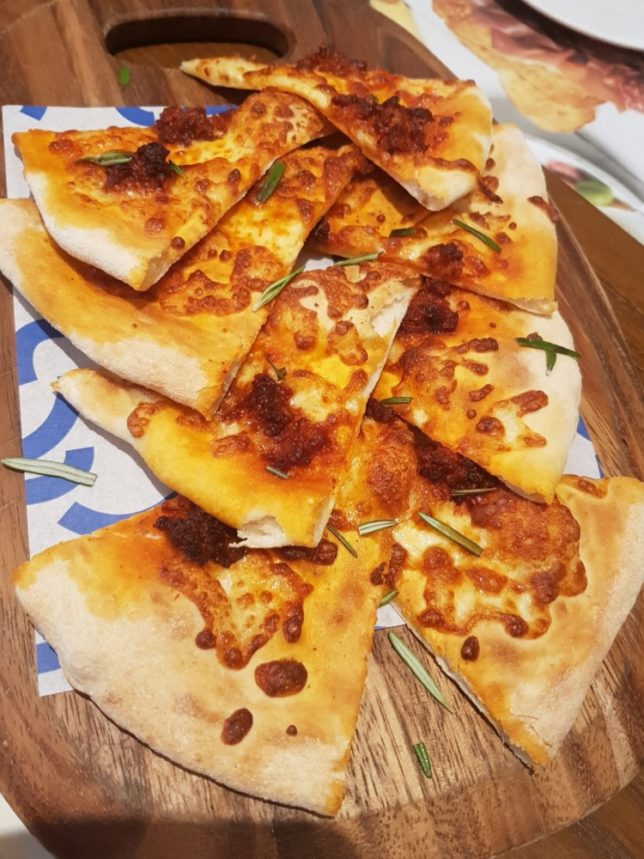 To complement the flatbreads we sampled a selection of cocktails. A pink drink is not my first choice however trying the Strawberry Colada really made me reconsider whether I should be always upgrading my Pina Coladas with a touch of strawberry puree. For those who want less of a sweet cocktail, the Passion Fruit Mojito has a little bit of a tart tang to tantalise the taste buds.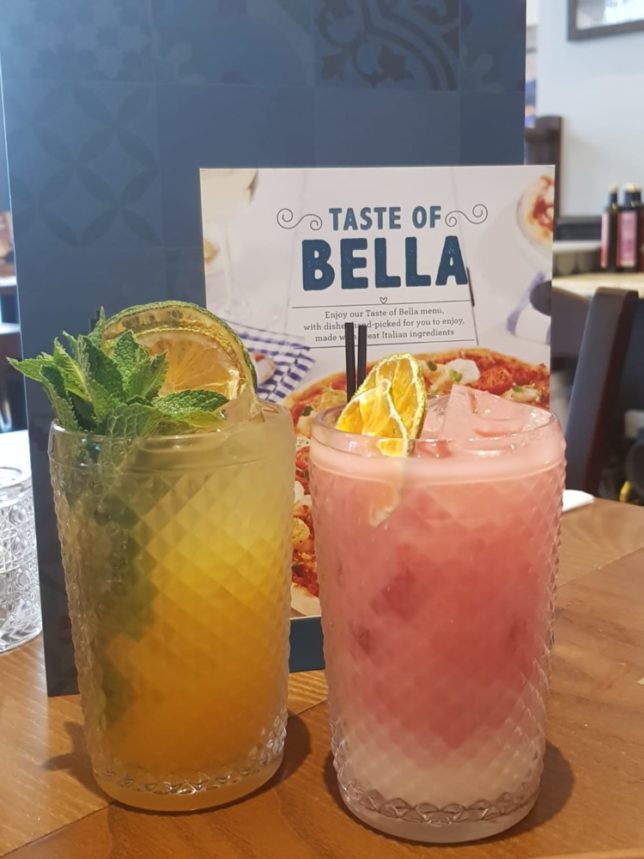 To kick off your Italian feast, the new menu has brand new sharing starters including the Antipasti Board with Salami, Parma ham, large Sicilian olives, Bufala Mozzarella and toasted ciabatta or Mini Ciabatta Bites, perfect for dipping in your choice of either garlic and rosemary or basil pesto sauce.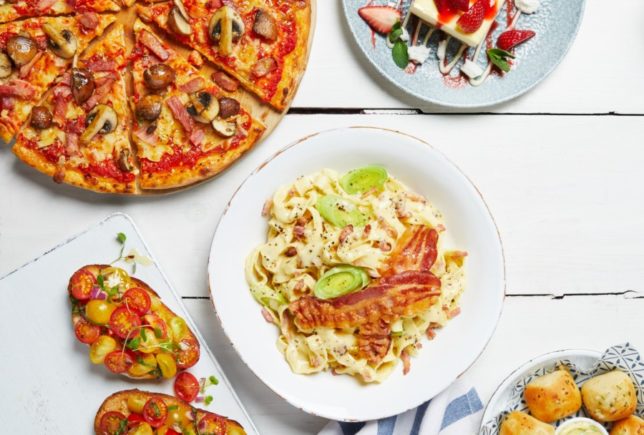 There were so many new dishes to try but while you wait for mains, why not enjoy the satisfying flatbread with starters like the Pea and Mint Arancini and the Fritto Misto. The Fritto Misto was delightful – the squid was perfectly cooked for the rather heavy batter, the cod goujons were tasty especially the fatter plumper ones and the prawns where scrumptious… the only problem being there was only two.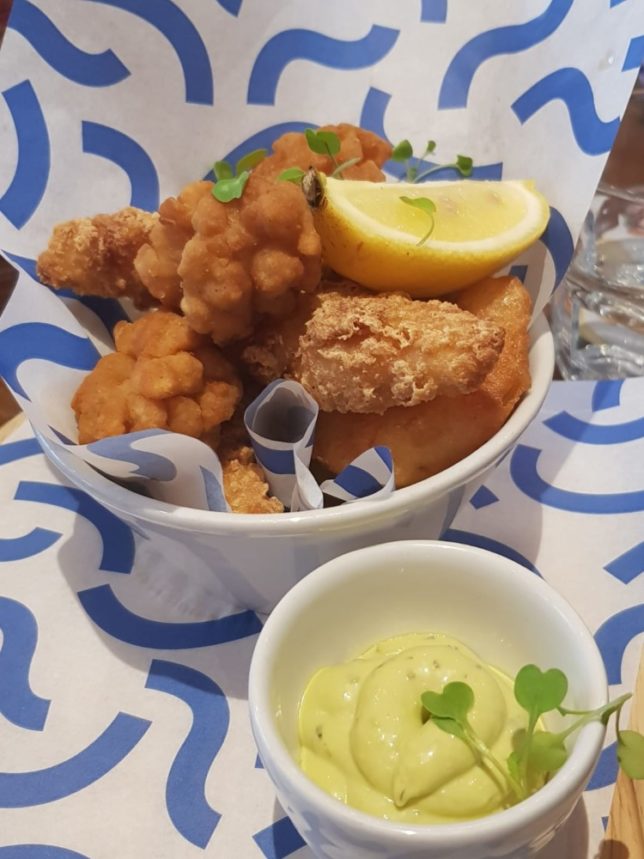 The Pea and Mint Arancini was a very generous portion and definitely one to share with an interesting combination which is proving very popular in just the very first few days of the new menu…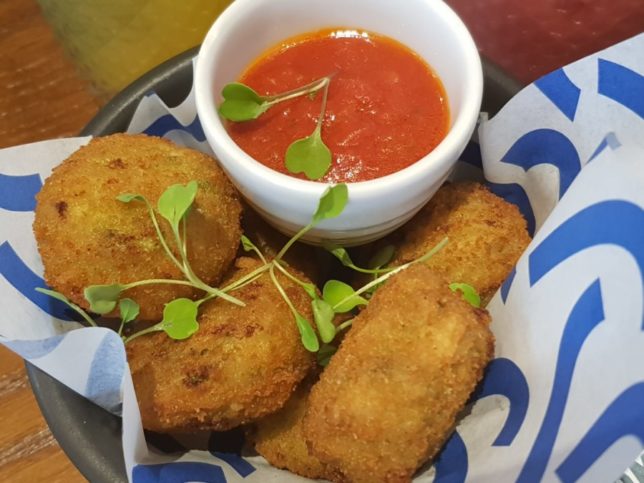 Choose from a delicious range of main dishes, including Tagliatelle Capra with pomodoro and pepperonata sauce and Cacio E Pepe, a dish dating back to the Roman age featuring Gramigna pasta with chicken and pancetta in a pecorino cheese sauce.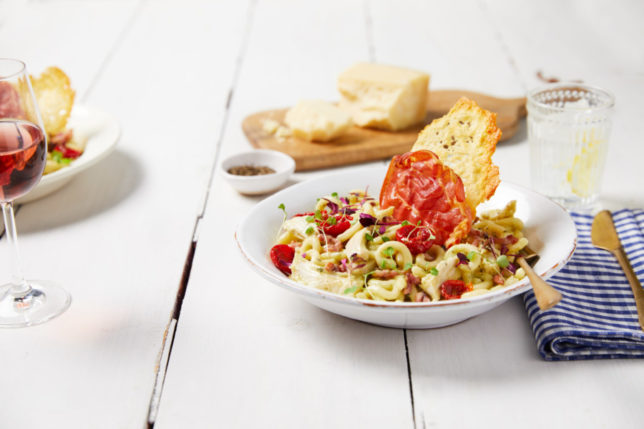 The Risotto Pescatore is not new on the menu however could not be missed and is one that should stay on the menu for a long time to come. I also recommend looking at the other two risottos because they cook the rice to perfection, not too al dente and not too creamy. In particular this seafood risotto had a lovely lobster bisque creamy feel rather than a cheesy one and for those who love their seafood this is definitely a dish to order.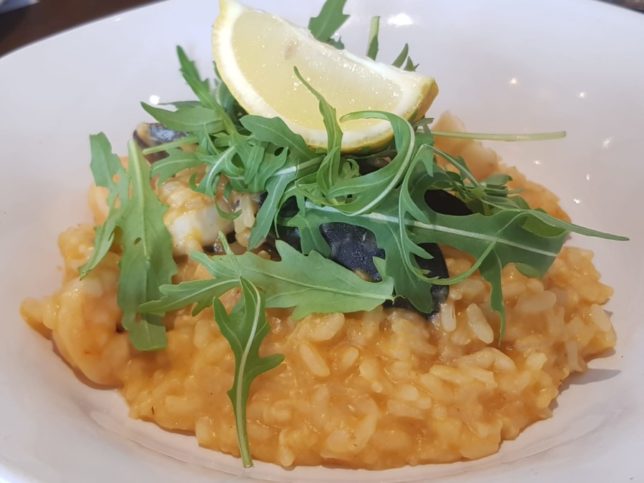 The Gamberoni Pizza was a recommendation and a brilliant one at that. However having tried the seafood risotto my only constructive criticism would be that the mussels and the calamari was so delightful in the seafood risotto that it would have been preferable to have a little bit more variety with a mixed seafood pizza rather than just prawns however the mozzarella, the cherry tomatoes and the grilled lemon, all added to an exquisite flavour for a pizza with a twist.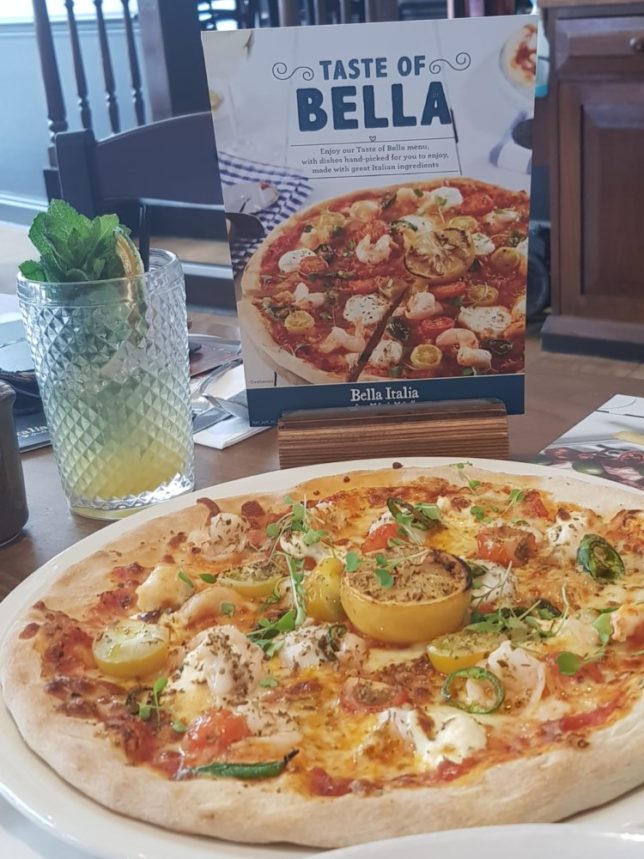 Those looking for something a little lighter can enjoy Bella Italia's light and fresh dishes, including Gamberoni Spirali, a dish under 300 calories with spiralised carrot, golden beetroot and courgette with king prawns in a spicy garlic and tomato sauce, Pollo Sapori Pizza, a half-moon pizza with roast chicken, garlic mushrooms, black olives, and three new salads, Giardiniera, di Verona and Parma Bufala – all under 600 calories.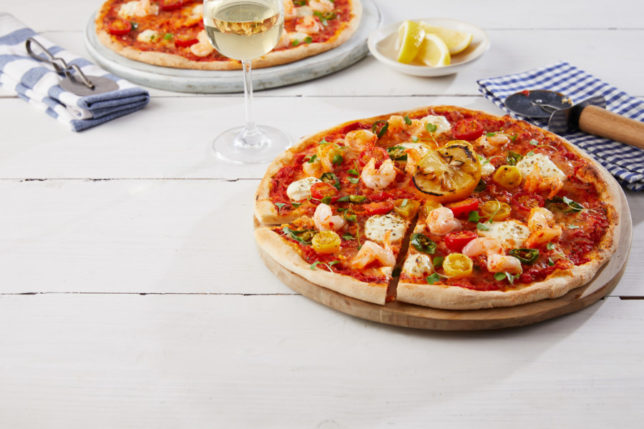 Bella Italia has also expanded its vegan menu, with new options including Pollo Pesto with gramigna pasta, onion, red peppers and pachino tomatoes in a basil pesto sauce and Pizza Vesuvio with roast peppers, onion, fresh green chilli. This is in addition to other options for dietary requirements such as gluten-free pasta or pizza and vegan cheese.
The dessert menu has so many things to catch your eye I really wanted to try the Mini Doughnuts however I was drawn towards the Strawberry Cheesecake and I'm pleased that I ordered it. As you can see it matches the luscious picture on the menu and tastes divine.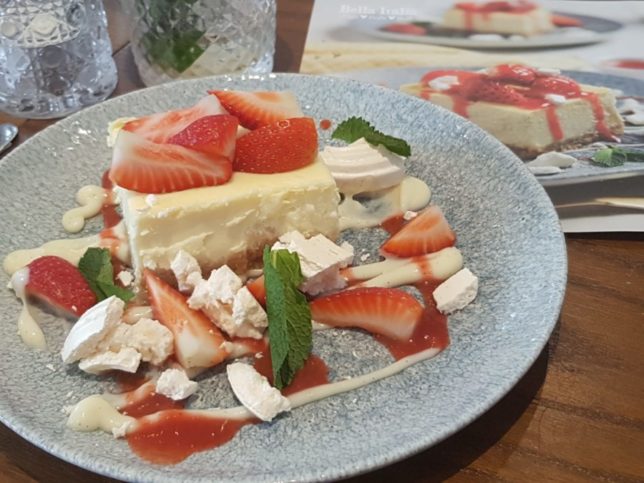 For those with a sweet tooth, brand-new desserts on the menu include vegan Coconut Panna Cotta topped with mango, passion fruit and strawberry salsa in addition to Mini Doughnuts dusted with cinnamon sugar, served with dark chocolate sauce for dipping. The menu also boasts classic Italian desserts like Tiramisu.
For those who are happy to have a heavier dessert, we recommend the Cookie Dough Al Forno with a melting middle, topped with vanilla gelato and caramel sauce. This has to be one of my favourite indulgent desserts at Bella Italia. When it comes to chain restaurants, Bella Italia is producing desserts that are not only comforting but also moreish… that is if you have any room left at the end of your Italian feast!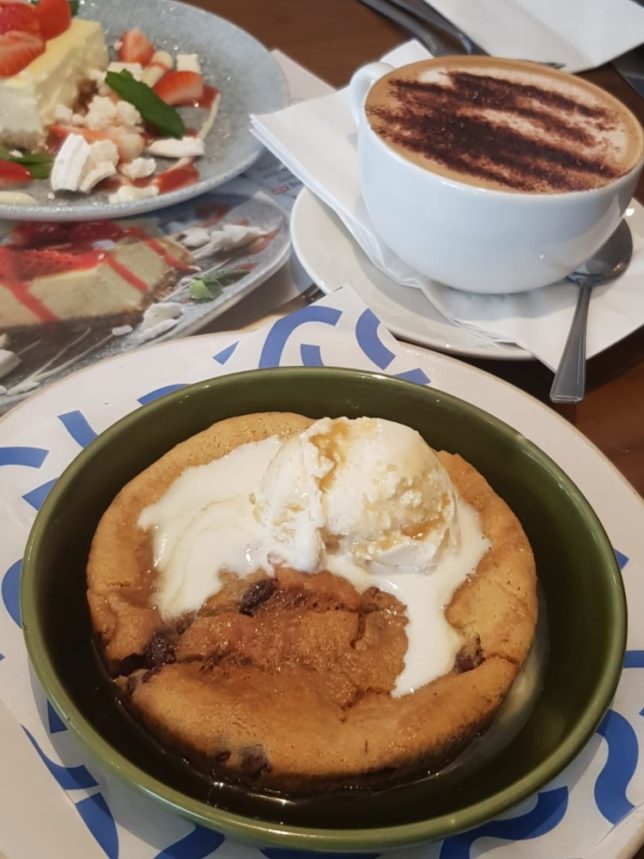 Speaking about the new menu, Executive Chef Vittorio Lettieri says, "The Italians get it right when it comes to spending quality time as a family and the best moments in life are those spent with loved ones, sharing food, friendship and laughter. So, at Bella Italia we've developed a delicious menu that offers something for everyone. Whether it's a mid-week family dinner, a quick stop for a delicious dessert or even just a cocktail with friends, you can rest assured that you'll find the perfect option for everyone whilst enjoying genuine Italian hospitality!"
We had a delightful afternoon at Bella Italia enjoying fantastic food and delicious cocktails with a perfect ambience for friends & family, business colleagues or even a date zero.
Bella Italia
www.bellaitalia.co.uk/new-menu
@BellaItalia_UK