Award-winning hair stylist Sam Burnett, Owner and Creative Director of HARE & BONE Salons in Fitzrovia and Esher, offers an expert guide to choosing the best hairstyle for your face shape.
Before we can identify the best hairstyle for your face shape we need to determine what face shape you have. There are many variations and combinations of face shapes so to simplify things I have selected the six key ones – Oval, Round, Square, Long, Heart and Diamond. These will be a good starting point for choosing the best style for you. Here are a few pointers to help you understand your own face shape and some tips on the best styles to compliment it.
Diamond
A Diamond face shape's most prominent feature are the cheekbones, the face narrows towards the jawline and chin. A blunt chin-length bob will add width to the lower half of the face and balance it out, whilst layers that tuck behind your ears will frame your jawline and highlight those to-die-for cheekbones.
Heart
A Heart face shape has a longer and wider forehead with a more prominent jawline and chin. A shoulder length bob, aka "The Lob" that is fuller on the ends will fill out the area around the chin drawing the eye here and adding texture.
Long
A Long face shape has a defined jawline, narrower face and lower sitting forehead. Structured lines will break up the elongated shape so think side partings or straight, fuller fringes sitting just above the eyebrow to add more angles.
Oval
An Oval face shape is widest at the cheekbone and narrower through the forehead and jaw. The Oval shape can pretty much embrace any style and can be accentuated with a long, curved fringe so I tend to focus on pointing out the client's best features whether those are lips, cheeks or eyes.
Round
A Round face shape can be identified by its soft balanced features and shorter face length. Longer styles worn with a centre parting will create the illusion of a narrower face whilst deep side partings will help elongate it.
Square
A Square face shape is angular where the chin and forehead lengths are almost in equal measure. Loose styling is usually best, try a centre parting and flat waves to narrow the face shape at its widest part and create length but avoid jaw length haircuts.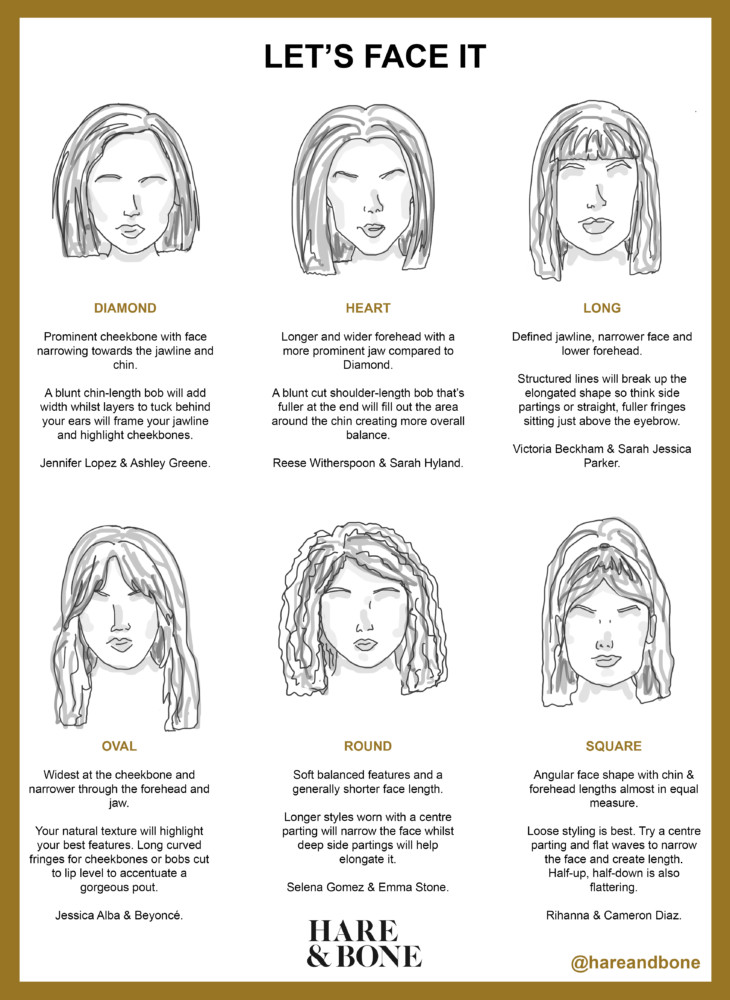 So now we have determined your face shape and established some basic rules for suitability we need to dig a bit deeper to understand what hairstyle will celebrate your individuality and most importantly make you feel amazing.
During a consultation at HARE & BONE, I ask open-ended questions that encourage as much information as possible, then make suggestions so I can pick up what the client is leaning towards the most and help me understand them and build a picture.
The factors that need to be considered are face shape & bone structure, favourite features, hair texture and natural fall including the parting, the best length for suitability and condition, graduation or layers if any, fringe or no fringe and finally lifestyle, blow dry or air dry?
This information will give us the tools to design a bespoke hairstyle that not only technically suits your face shape but also expresses who you are whilst being easy to manage.
Everyone is unique and their hair should be too. It's our crowning glory after all!
About the expert
Sam Burnett, Owner and Creative Director of HARE & BONE Salons in Fitzrovia and Esher is an award-winning hair stylist whose creativity and innovative designs have inspired international campaigns and brands globally.
Sam began his hairdressing career in a royal-warranted Mayfair salon, where he trained and developed his skills in finishing techniques. In 1999, Sam joined an emerging salon group where he studied technical cutting and colouring in depth. Sam quickly proved himself to be an inspiring member of the Artistic Team and travelled the world as an Artistic Director, working on campaigns, product development and educational media for a variety of global brands, at international shows and for brand imagery design.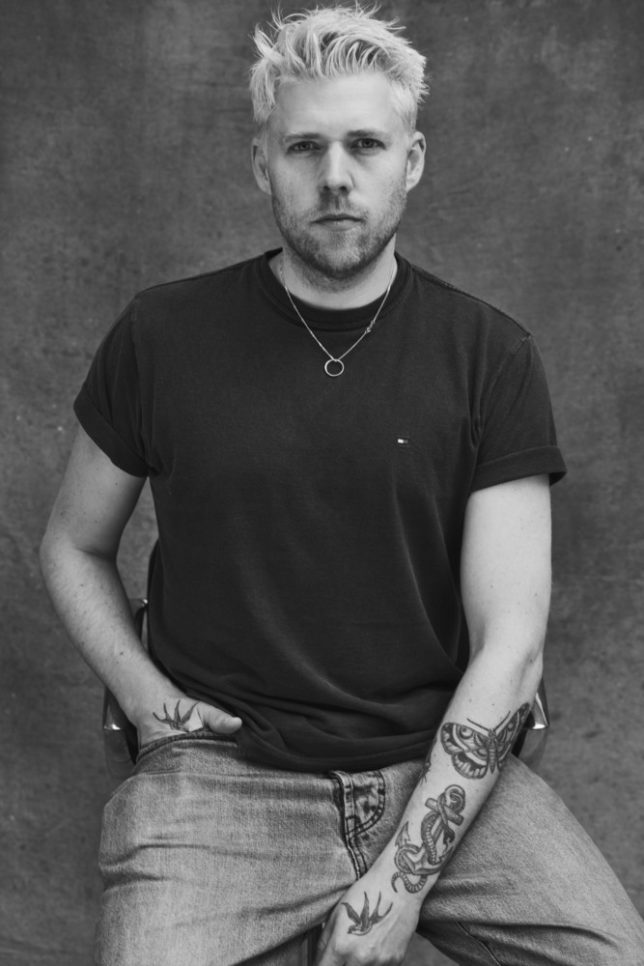 At just 23 years old, Sam won the prestigious Newcomer of the Year award at the British Hairdressing Awards and was honoured as a member of the 2004 Fellowship F.A.M.E team.
From 2010, Sam has also worked as a freelance session stylist, with his editorial work featuring in publications that include ES Magazine, Elle, In Style, Indie, Wonderland, Dazed, Beat, Nylon, Hope St, DIY, Vision China, Vogue Ukraine, Emirates Woman, ELLE Vietnam, HUF, Sid, Fault, Rough, Notion, Vice, Glassbook and Id-Online.
Sam's clients have included: Make Up For Ever, Google, Samsung, Max Factor, L'Oreal, Goldwell, Atlantic Records, Tom Ford, PPQ, Pam Hogg, Yohji Yamamoto, Issey Miyake, Qasimi Homme, Belle Sauvage, Kristian Aadnevik, Kansai Yamamoto and Horace. He has also styled a growing celebrity list that includes: Dua Lipa, Erin O'Conner, Alice Dellal, Jessie J, Daisy Lowe, Emma Willis, Jaimie Alexander, Charli XCX, Rizzle Kicks, Jaimie Winstone, Laura Whitmore and Caroline Flack, to name a few.
Sam is heavily affiliated with renowned global hair brands Goldwell, KMS and BaByliss Pro. His work as an editorial, creative and educational influencer works to shape the future of these forward-thinking brands.