By Dr Bob Khanna, the world-renowned facial aesthetics expert.
Aside from running my DrBK clinics in Reading (Queens Road) and London (Harley Street), where I treat thousands of patients with a variety of advanced treatments for teeth, face and the body, a large part of my role is consistently researching and evaluating the latest technologies. I've been very fortunate to be invited to lecture at the most senior international conferences and teach clinicians from around the world for over two decades, so being able to continually deliver the latest, most effective treatment and use the most innovative devices, to keep up with patients' requirements is incredibly important.
Some of our most popular treatments at the practice involve non-surgical body contouring procedures. I have certainly seen this trend continue in recent years. In order to reduce the down-time and risks associated with surgical procedures, patients are constantly looking for non-invasive treatments.
I've been involved in body contouring for many years, being at the cutting edge of this technology. Body contouring isn't anything new but what's exciting is that technologies have greatly improved, and I'm delighted to have been a part of this process. Due to my global reputation for clinical excellence, new technologies are put in front of me by the industry on a regular basis and I'm therefore given the task of evaluating procedures and equipment to ensure they are not only fit for purpose but deliver optimal outcomes for patients.
What is body contouring?
Whether targeting small or large imperfections, body shaping is often associated with the idea of surgery. However, now there are revolutionary treatments on the market which offer phenomenal non-surgical solutions.
Body contouring (or body sculpting) is aimed at helping to eliminate fat, improve muscle tone, shape areas of the body, improve the contour of the skin (e.g. cellulite) and tighten skin. Nonsurgical lipolysis (ie. fat reduction) commonly employs the use of cold, heat or laser-based devices. Body contouring is very useful in addressing specific areas of the body where weight loss isn't very effective. Popular target areas of the body include the inner and outer thighs, arms, back, belly, flanks, and buttocks.
Why is body contouring popular?
Social media has a big influence on everyone, and not just young people anymore. It has a huge impact on the way we view ourselves. A lot of my patients are in their 40s or 50s and are also influenced by what they see on social media. This, in combination with enhanced digital editing in media, means we're in a surreal pseudo world where there is even more pressure to improve one's appearance. In general, as a population, we're a lot more body conscious than we ever were before and this is translated into people coming into my clinics for treatments. Let's face it, most people want to feel comfortable with the way they look and it's not just for that summer vacation! Since I myself have been keen to maintain an athletic physique for most of life, I fully understand the challenges that are involved in doing so. Hence I practice what I preach!
What are the latest innovations in body contouring?
My team and I are really excited to be one of the first UK clinics to offer the next generation of body contouring with two brand new machines – B-Force and TShape2. The synergy between B-Force and T-Shape 2 treatments is very clear ie. a non-surgical solution for reducing localised fat, improving skin contour and toning muscles. Therefore, I always recommend to my patients that, ideally, they have both treatments in tandem.
TShape2 is currently the most advanced body contouring system in the world. It is capable of performing body shaping treatments using a simultaneous combination of low-power laser, multipolar radiofrequency, endodermic massage with vacuum suction, and microvibration. This combination of technologies targets the skin and fat, helping smooth irregularities on the skin, reduce excess fat and increase lymphatic drainage.
B-Force is another recent breakthrough in body contouring via technology designed to strengthen and tone muscles and eliminate excess fat cells. The treatment stimulates muscle contractions on a level that was not achievable before with other devices using high-intensity electromagnetic field technology.
What can BForce and TShape2 offer that previous body contouring treatments can't?
There are currently several body contouring treatments available on the market. For example, EMSculpt, another popular device, typically creates 20,000 contractions per treatment session, whereas BForce will create an average of 36,000 stronger (over-maximal) contractions of the muscle fibres. This heightened stress forces the muscles to become stronger and more toned.
How does fat freezing fit into this?
Cool Sculpting(R) is a market leader in fat freezing technology that we offer at Dr BK clinic. The fact remains that not everyone is comfortable with having fat freezing and on its own it is limited to what can be achieved in terms of body contouring. This type of fat freezing treatment can indeed be used in combination with B-Force and T-Shape 2 for patients for even better results, particularly if larger areas of fat need to be eliminated.
Is body contouring suitable for everyone?
In short, yes. Different patients have different needs of course and the treatment we recommend will be therefore vary depending on individual requirements and goals. If you're trying to lose weight, body contouring systems need to be used in conjunction with a good nutritional diet, regular exercise and a healthier lifestyle in general. Many patients will use body contouring treatment as a catalyst or kick-start for losing weight, and after having treatment will use this as encouragement to maintain a healthy lifestyle. What's great about body contouring treatments, like BForce and TShape2, is that the results will last if you're able to maintain a good diet and exercise and you will therefore be less reliant on for further treatment.
We recommend a minimum of six sessions of each machine, usually a session per week, but this could be up to twelve for optimal results. There is no downtime aside from the treatment areas feeling a little tender, and you'll start to see results immediately.
Before starting a course of body contouring treatment, patients must come in for a consultation and assessment so I can recommend the most appropriate treatment. A full assessment is conducted and the appropriate package recommended for optimal results for the full body or isolated areas.
Treatments range from £250 to £500 per session depending on the areas being treated.
For more information, please visit www.drbk.co.uk or call 0118 9606 930.
About the expert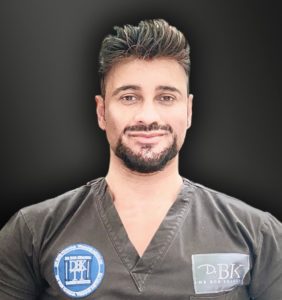 Dr Bob Khanna is a world renowned facial aesthetics expert. His global reputation as a leading clincian and lecturer stretches back over 25 years in aesthetics. As a leading clinician, Dr Khanna is involved in a variety of advanced treatments from aesthetic dentistry, bone regeneration procedures and implants to full smile makeovers, full face aesthetics using botox, dermal fillers, PRP, thread lifting and body contouring.
Dr Khanna also runs the Dr Bob Khanna Training Institute, which attracts top clinicians from around the world who are eager to learn his progressive, innovative concepts and techniques. Many of his patients are clinicians themselves, thus earning him the reputation for being the 'Doctor's Choice' for their own treatment.
Dr Khanna is also a visiting Professor of facial aesthetics at the University of Seville, Spain.