Chelsea Truck Company has added a touch of luxury to the Land Rover Defender 110 Chelsea Wide Track. The classic styling of the Land Rover Defender model is emphasised with an Aintree Green exterior, side vents with a stainless-steel mesh, a new bumper replacement complete with integrated Tron ring lights, fog lights and shadow chrome headlamps to grace the road ahead.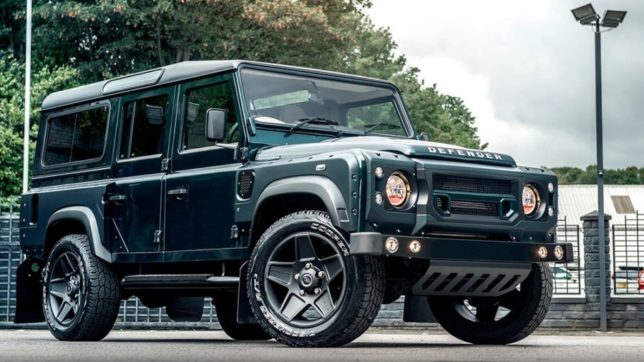 A new set of extended front and rear wide wing wheel arches with exposed bolt apertures, a stainless-steel hood and Chelsea Truck Company spare wheel cover maintain the off-road purpose.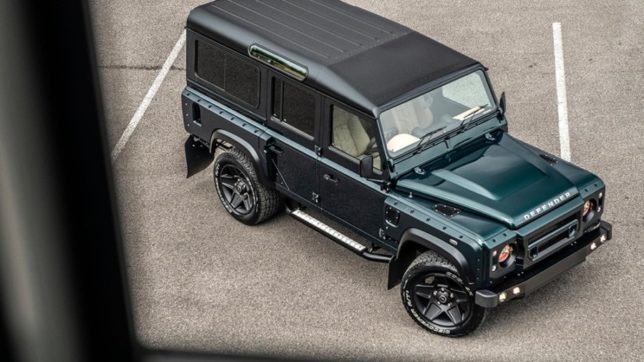 A new X-Lander front grille was colour matched to the sump guard and lends a toughened look. The tough, rugged look of the Land Rover Defender 110 Pick Up Chelsea Wide Track is apparent below the waistline.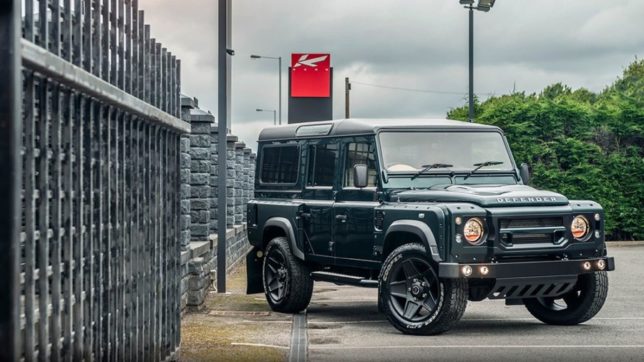 A new set of 9″ x 20″ Mondial wheels in Volcanic Black with 275 x 55 x 20″ tyres, painted brake callipers (available in a choice of colours), whilst toughened mud flaps are positioned behind the wheels and a twin cross hair exhaust system including exhaust shields in stainless steel, completes the transformation.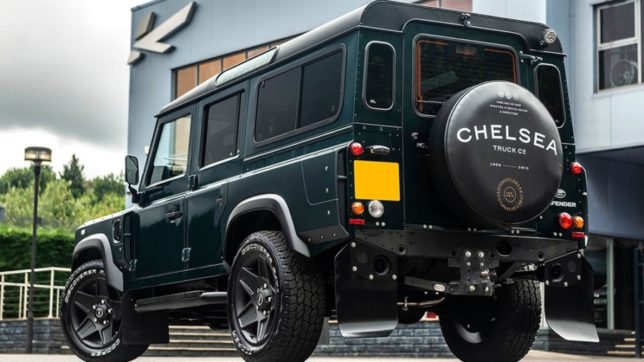 Inside, the Land Rover Defender gets a more luxurious touch. Standard seats have been replaced with front GTB and middle seats along with a two-seater rear bench seat all re-upholstered in 3D Herringbone style leather.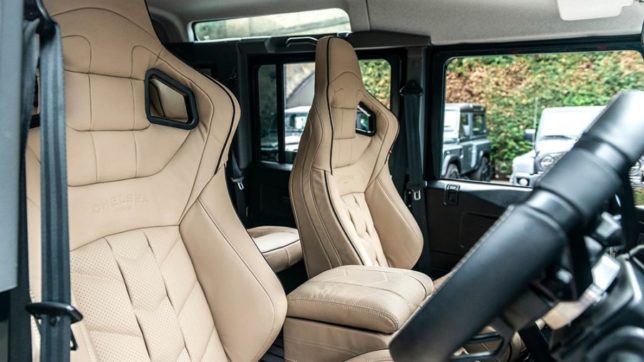 A full leather instrument binnacle makes for that extra touch of comfort, while hard-wearing floor mats handle any kind of mess from off-roading.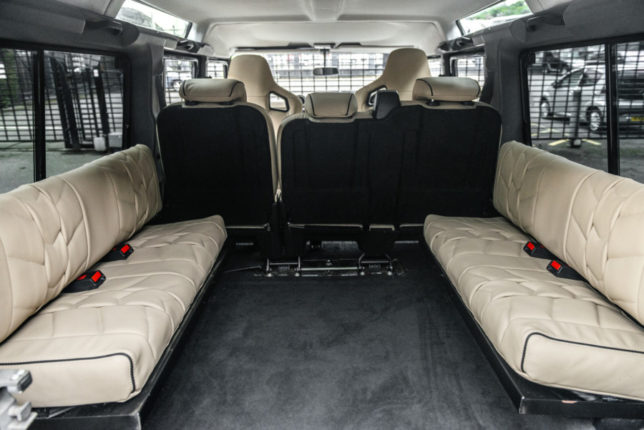 A new Kahn billet and leather steering wheel, boot sill plate, passenger dashboard top and grab handle, vented foot pedals in machined aluminium, centre glove box and Churchill time clock fascia all lend to a more engaging driving experience.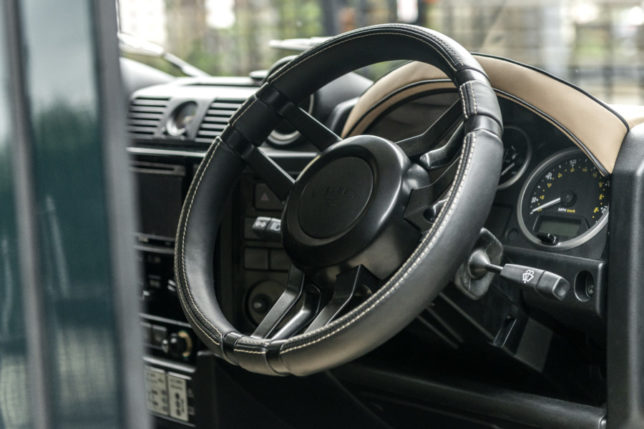 The Land Rover Defender 2.2 TDCI 110 Double Cab Pickup Chelsea Wide Track is currently available for £68,999. For enquires, please visit www.kahnautomobiles.com/vehicles-for-sale/land-rover-defender-110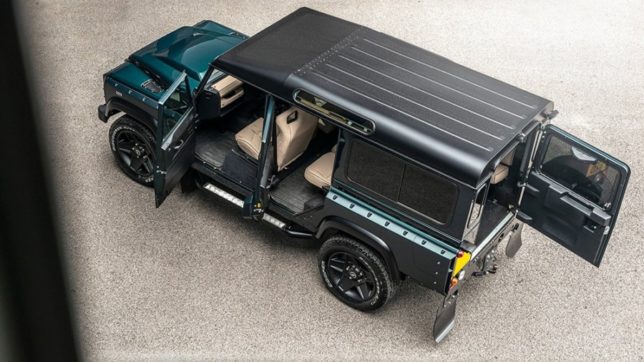 Chelsea Truck Co. Specifications
Exterior
Satin Black Roof
Front & Rear Wide Wings with Integrated Vents & Bolt Apertures
X-Lander Front Grille Inc. Headlight Surrounds
Front Bumper Replacement inc. Bumper Lights – Made In Stainless Steel (2 x Tron Ring lights & 2 x Fog lights)
Front Bumper Sump Guard – Stainless Steel
Side Vents with Mesh – Stainless Steel
Bonnet Vents with Mesh – Stainless Steel
Legacy Headlights with Parking Bulb
Tubular Side Steps
Rear Mud Flaps in Toughened Rubber
Twin Crosshair Exhaust System inc. Exhaust Shields in Stainless Steel – 100mm Tailpipes
Chelsea Truck Company Black Spare Wheel Cover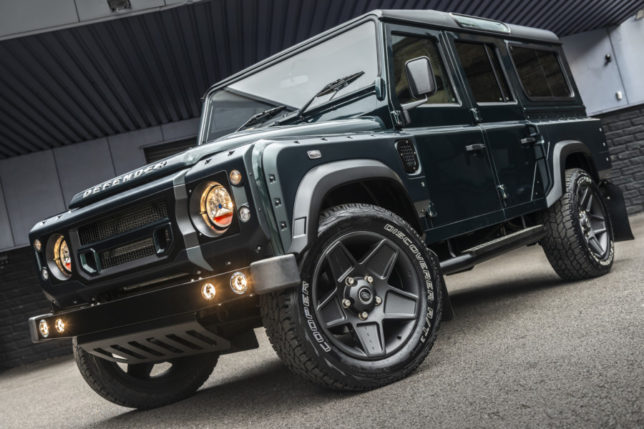 Interior
Front GTB & Middle Seats Re-upholstered in 3D Herringbone style leather
2 seater rear bench seat x2 in 3D Herringbone style
Instrument Binnacle Re-upholstered in Quilted & Perforated Leather
Vented Foot Pedals in Machined Aluminium
Double 3 Spoke Steering Wheel – Satin Black & Black Leather
Hard Wearing Rubber Floor Mats
Heated Front Seats
Rear Boot Mat in Heavy Duty Rubber
Interior Chelsea Truck Company Name Plate
Interior Investing in British Industry Badge
Centre Glove Box in Quilted & Perforated Leather
Boot Sill Plate with Chelsea Truck Co. Logo
Passenger Dashboard Top & Grab Handle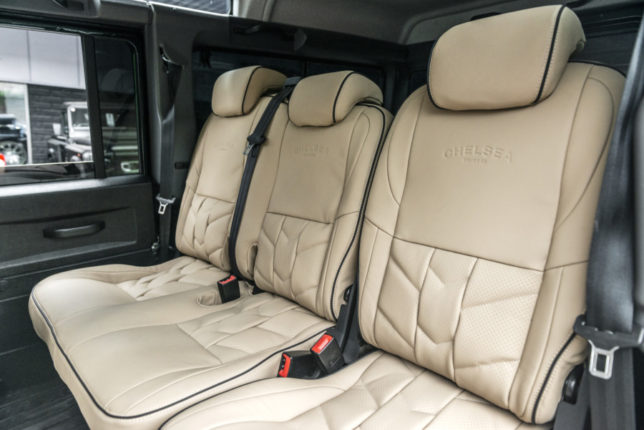 KAHN® is the original British automotive fashion house. With over 20 years of experience in the industry, each vehicle is tailored to precise specifications and designed to maximise comfort and quality.
The in-house creative team of product designers, 3D modellers, graphic artists, coachbuilders, re-upholsterers and material engineers spend thousands of hours and millions of pounds developing and refining each product until they meet the exacting standards of craftsmanship expected by KAHN® and their customers.
KAHN® redefine the spirit and aesthetic of each vehicle, always placing sophistication before ostentation, and originality before convention.
Find out more at kahndesign.com