Internationally renowned jeweller, Eddie LeVian's family has been a world leader in precious gemstones since 1746 when Persian ruler Nadir Shah famously asked the dynasty to guard the legendary Koh-I-Noor diamond.
Today, the family-run business has a huge international celebrity following and is the go-to jewellery designer of choice when it comes to precious gemstones in fancy colours. Le Vian produces 40,000 pieces of jewellery across the globe each year.
Best known for their enviable range of timeless statement designs, featuring every single fancy colour precious gemstones you could ever wish for, Eddie LeVian gives SLOAN! the inside track on what to look for when choosing jewellery featuring colour-popping precious gems. Whether you're starting your collection or adding to it for a special occasion, whatever colour stone you're seeking, read on to find out what to look for and trends for 2020.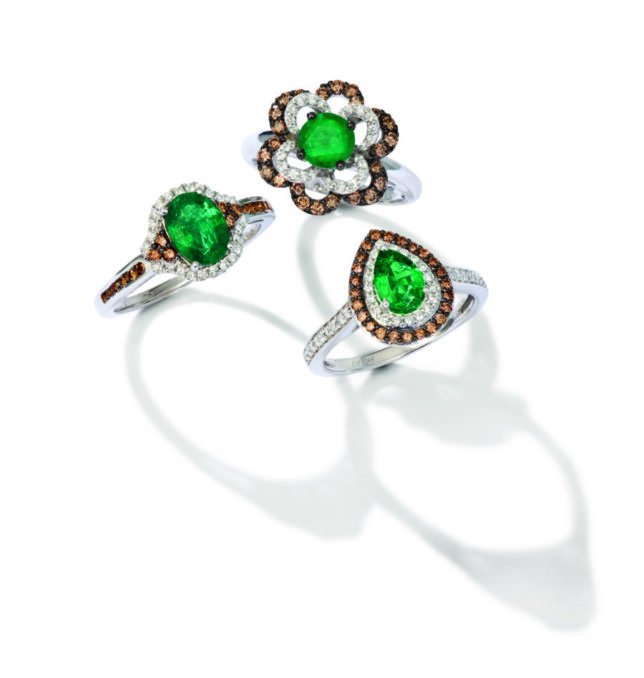 Wear The Rainbow
99% of Le Vian's stunning designs feature fancy colour precious gemstones and/or fancy colour diamonds. Our gemologists continually scour the most noteworthy mines around the world to source the highest quality ethically sourced gems possible. Our jewels are available in practically every colour you could imagine. Our world-famous Chocolate Diamonds are constantly sought after due to their innate beauty and wearability, and even more so now that their supply is near exhausted.
Trends for 2020
2020 brings ever more popular combinations in jewellery trends. Think colour combinations like ombré inspired designs with big and bold rings, and pendants in unusual elongated, concave shapes, and layers of black, chocolate and nude diamonds for an ultra-chic look. Our Diamonds of the Year for 2020 are the stunning combination of Chocolate and Nude.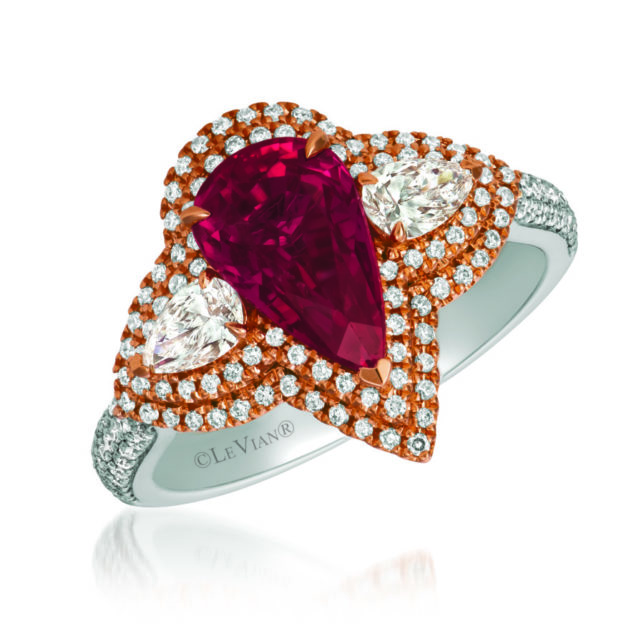 What are Chocolate Diamonds?
More unusual than standard diamonds, and increasingly rare due to their ever-dwindling finite supply, only 5% of the very best brown diamonds in a select range of colour, cut, and inclusions are rare enough to enter into the category of Chocolate Diamonds.
Pear-Shaped is the 2020 Cut of the Year
In 2020 jewellery buyers will also be thinking about the all-important cut of the stone. We've seen a move towards pear-shaped gems, in diamonds of course, but also in our precious gems, and even pear-shaped settings and designs. Strategically placed gems will also reveal the wings of a butterfly or the petals of a clover.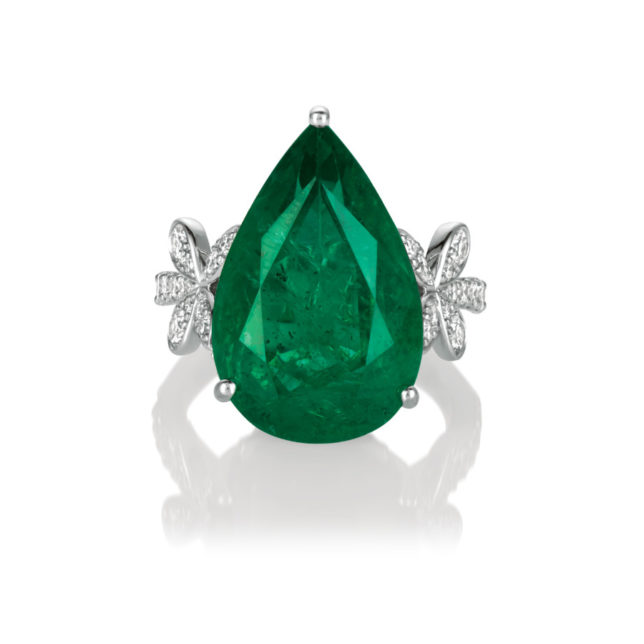 Halo is the Theme of 2020
Halos are set to take our jewellery cabinets by storm too, which is why we've nominated the classic halo design as our Theme of 2020: We'll be launching several Heavenly Halo™ collections that accentuate the centre stone as the centre of attention, using unusual halo designs.
The 4C's Still Count
It's important to remember that every gemstone can be assessed using the same set of characteristics usually reserved for diamonds; meaning colour, clarity, cut and carat. The colour of a gemstone is considered to be the most defining characteristic.
Coloured gems are thought of as a good investment, as prices often increase due to demand, but our suggestion is that you buy what you love, and chose pieces you will wear year-in, year-out.
2020 Gem of the Year: Costa Smeralda Emeralds
Prized by great civilisations throughout history, going back as far as the Aztecs and Ancient Egyptians, for centuries emeralds were thought of as a promise of good luck, and as having healing properties. Today emeralds are more popular than ever, symbolising prosperity, rebirth and serenity for many of our clients; but many just want to wear an eye-catching gem. We predict a peak in demand in emeralds in 2020, with our Costa Smeralda Emeralds featuring in show-stopping pieces.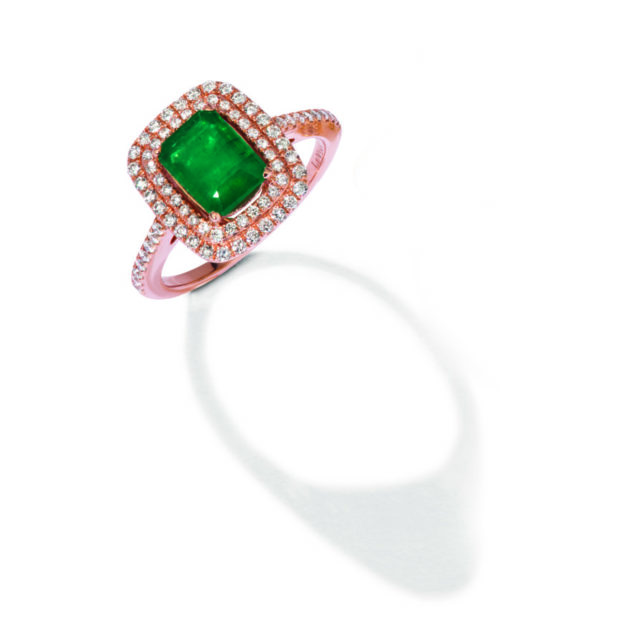 What to Look for in Emeralds
Emeralds get their green hue from small amounts of chromium and sometimes vanadium within the gemstone. Hue, saturation and tone are what you'll hear about; emeralds appear in hues ranging from yellow-green to blue-green, with the primary hue necessarily being green. Only gems that are medium to dark in tone are considered emeralds.
Coming in at close second in assessing emeralds is clarity. If no visible inclusions are apparent, the gem is considered flawless. These are extremely rare, and as such, almost all emeralds are "oiled", or treated to enhance their apparent clarity.
Green is Le Vian's 2020 Spring Colour Trend
The range of green stones is so broad, that we've forecast it as 2020's spring trend. Nature's green gems are just as plentiful as the greens of spring – their arrival signals the start of beautiful colours.
You might come across gems like Mint Julep Quartz™, an ideal gem for large stone designs, Pistachio Diopside® believed to reinvigorate the body and soothe the soul, it's found only in the ice-cold reaches of Siberia.
We think it's one of the most captivating green gems in the universe. It has a very high refractive index and a brilliantly deep forest green colour, making diopsides a timeless favourite.
Forest Green Tsavorite™ is a deep green garnet of exquisite colour and depth, formed in metamorphic rock near the Tsavo National Park and the Tsavo River.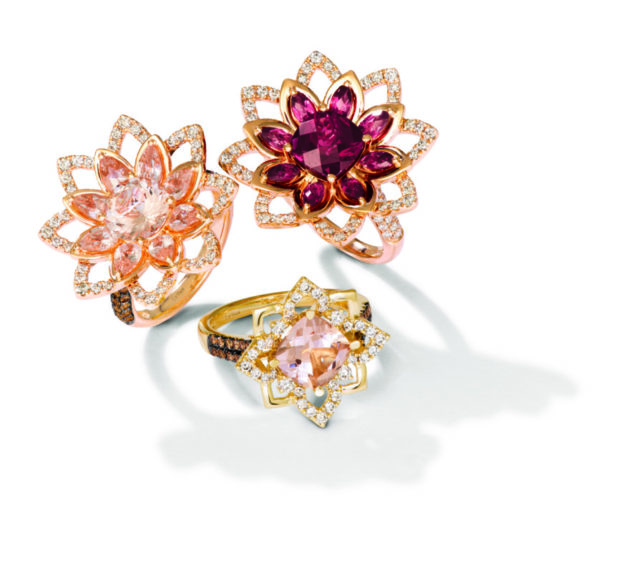 Red Alert For Rubies
The ruby has the distinction of being the most valued gemstone throughout most of recorded history. Regarded the stone of love, nobility, passion and power, their popularity has been constant through most of recorded history. Ancient Sanskrit referred to the ruby as the "king of precious stones" whilst the bible found only wise and virtuous women more precious than rubies and the Persian sage al-Biruni wrote about rubies the first place in colour, beauty and rank" among all gems. The name Ruby comes from the Latin word ruber for its hue.
Rubies achieve their red colour from high levels of chromium. If you're buying rubies, the ideal colour is a vibrant, medium-dark red to slightly purplish red with a medium to medium-dark tone and either strong or vivid saturation. Like emeralds, rubies are graded and viewed by eye; a high clarity ruby would be considered "eye clean."
Our responsibly sourced rubies are from Mozambique and embody a sense of passion due to their brilliant red hue and high transparency. The Mozambique ruby is more valuable than the rubies found in other African mines.
Rivals to Rubies
If you're looking for other red stones, red spinels and red rhodolites and rubellities are amongst our favourite alternatives.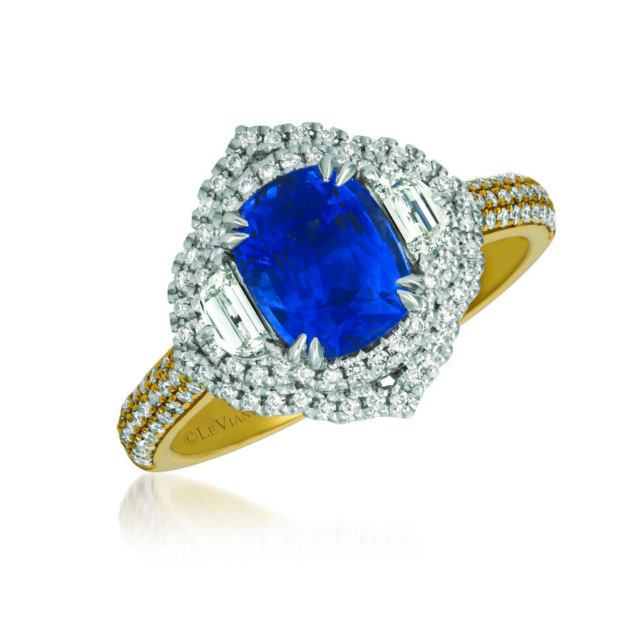 Blue Tanzanite
Few people realise that tanzanite, discovered in Tanzania in 1967, is even more rare than sapphire, and often more striking a gem when set on its own or surrounded by other gems. What makes tanzanite so popular is its vivid colour, high clarity and tri-chronic qualities, meaning it shows different colours when viewed in different directions.
Le Vian has collected more than half of the world's production of tanzanite for decades, and we've sourced gem-quality tanzanite that strikes the perfect balance between blueberry, lilac and orchid tones, featuring in stunning pieces in our collections.
Ethical Sourcing
My final tip is something I'm really passionate about. Like most consumers, the ability to trace the ethics and good business practice of every stage of everything we buy, right back to source is really important, and precious gems are no different. The route to market can be complex, but we're proud to be members of The Responsible Jewellery Council, the industry body setting standards for ethical business and standards throughout the entire jewellery supply chain. This means our collectors can be sure they are buying an ethically sourced product.
About Le Vian
Le Vian is a New York-headquartered, family-owned jewellery company. With a history rooted in the royalty of 18th century Persia, today Le Vian is a firm favourite with Hollywood royalty including Jennifer Lopez, Rihanna and Lady Gaga.
The LeVian family's ancestors guarded the legendary Koh-I-Noor diamond currently found in the British Crown Jewels.
Le Vian produces 40,000 pieces of jewellery annually. 1000 pieces form the collections, which are produced in larger numbers, the rest are one-off pieces sold at 4000 pop-up shows around the world annually.
Le Vian jewellery is available throughout the world. Find Le Vian in 185 Ernest Jones stores in the UK, in the USA at leading stores including Macy's, Jared and Kay and on Starboard Cruise Services.