Here's our pick of the best Easter Eggs and other Easter goodies under £10 as reviewed by the discerning  SLOAN! Review Panel.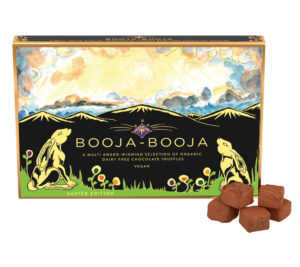 Booja Booja
The Booja Booja Easter Edition Award-Winning Selection is a multi award-winning selection of vegan dark chocolate truffles that is sure to delight even the most discerning of chocolate fans. Handmade with the finest organic ingredients.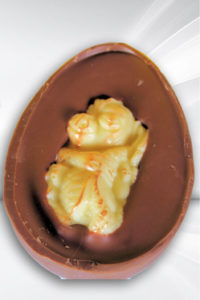 Wickedly Welsh Chocolate
Bryn the Dragon Easter Egg is home to a beautiful baby dragon handcrafted out of white chocolate with a dusting of light golden shimmer. Half of the egg is solid and homes Bryn, while the other is hollow and ready to be cracked.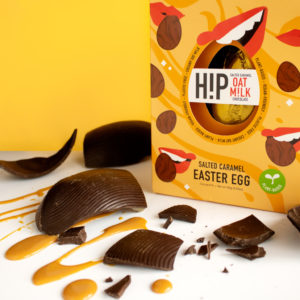 H!P
Made with sustainably sourced single origin Columbian cocoa, creamy oat milk and British sea salt and caramel, this H!P Vegan Salted Caramel Oat Milk Egg delivers the ultimate plant-powered, dairy free chocolate fix. It has approximately 30% less sugar than your average high street dairy milk chocolate egg and more cocoa too (41%), so you can kick back and enjoy (almost) guilt-free.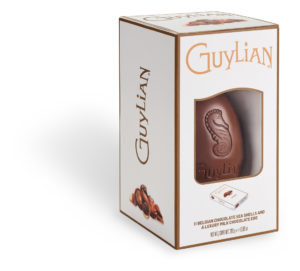 Guylian
Give the gift of Guylian this Easter with Egg-ceptional chocolates certain to be loved by everybody. Guylian's scrumptious 285g Easter Egg features no foil, no plastic clam, and 100% recyclable card packaging, making it both eco-friendly and delicious!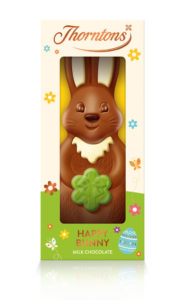 Thorntons
Make someone's Easter with this adorable Happy Bunny (170g) from Thorntons. Made with delicious milk chocolate with a white and green chocolate decoration, it's the perfect gift.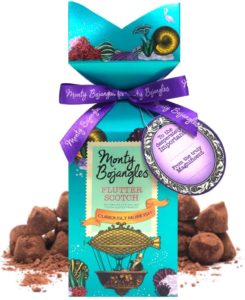 Monty Bojangles
Monty Bojangles Flutter Scotch Cocoa Dusted Chocolate Truffles Gift Box is filled with delicately soft luxury chocolate truffles that are an indulgently scrummy experience of delicious mouth-watering flavour.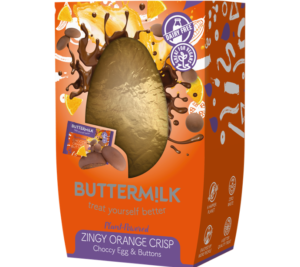 Buttermilk
Buttermilk Vegan Zingy Orange Crisp Easter Egg & Buttons is a generously thick zingy orange dairy-free choccy Easter egg with crunchy zingy orange flakes accompanied by a bag of zingy orange buttons. Made in Cornwall.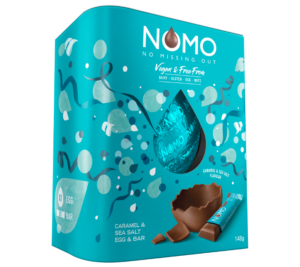 NOMO
NOMO Vegan Salted Caramel Easter Egg & Bar has an incredibly creamy chocolatey taste with a sweet caramel and sea salt flavour. Free from dairy, gluten, and egg so everyone can enjoy. Also available in Caramel and Fruit & Crunch.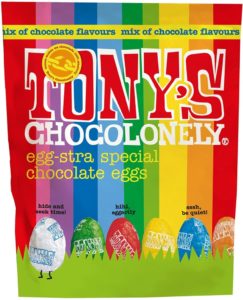 Tony's Chocoloney
Tony's Chocoloney Egg-stra Special Chocolate Eggs is a pouch generously filled with 20 eggs in their best-selling flavours. These mini chocolate eggs are made from Fairtrade chocolate and are the perfect way to celebrate Easter by sharing some delicious chocolate with family and friends.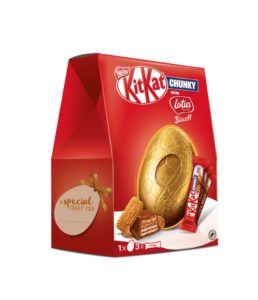 KitKat
KitKat has teamed up with the nation's favourite caramelised biscuit brand to launch an irresistible new Easter Egg: the brand new KitKat® Chunky Lotus Biscoff Easter Egg. This delicious egg offers chocolate lovers their first chance to try the hotly anticipated KitKat Chunky Lotus Biscoff Bar– which is brand new to the UK. The newest Chunky flavour features KitKat's trademark crispy wafer topped with a delicious Lotus Biscoff filling, all covered with smooth milk chocolate.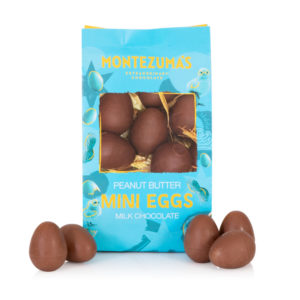 Montezuma's
Montezuma's chocolate is carefully handcrafted in its Chichester-based factory and comes in 100% recyclable, biodegradable or compostable packaging. Known for creating unique flavour combinations, this year's Easter range has something for everyone - we love the Peanut Butter & Milk Chocolate Mini Eggs.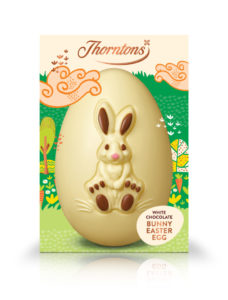 Thorntons
Made from luscious white chocolate (151g), this White Chocolate Bunny Easter Egg (151g) is decorated with an adorable bunny rabbit making it the ideal Easter Egg for your kiddos this Easter.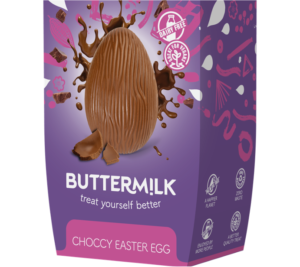 Buttermilk
This Buttermilk Plant-Powered Vegan Dairy Free Choccy Egg is generously thick and creamy. Made in Cornwall, it tastes delicious and is the perfect easter egg alternative for those who have to avoid dairy.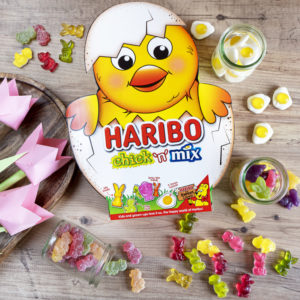 HARIBO
Join the countdown to Easter with HARIBO. HARIBO Chick 'n' Mix (£2 at Home Bargains) is a cute gift box filled with TangfastChicks, Starmix's favourite Fried Egg, Jelly Bunnies and Spring Time Friends. It's the perfect alternative to the traditional chocolate Easter Egg. HARIBO Eggs Galore (£1 at Home Bargains) is a multipack of 10 mini bags is fun, themed and delicious! Featuring a multicoloured mix of Easter Egg shaped jelly pieces, alongside everyone's favourite Fried Egg, it's the perfect sweet for Easter hunting. HARIBO Jelly Bunnies (£1 at B&M) features jelly bunny shaped pieces, with the popular texture found in Jelly Babies, they're super tasty, perfect for sharing and super cute too.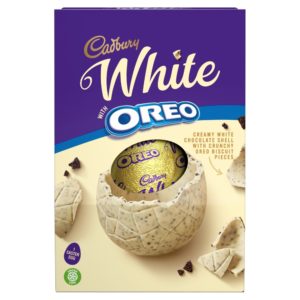 Cadbury
This Easter, give your family a unique surprise with this large Cadbury White With Oreo Easter Egg. The 220g chocolate box includes a giant hollow milk chocolate eggshell made from smooth and sweet white chocolate and pieces of Oreo biscuit, that melts as soon as you take a bite. Perfect as an Easter gift.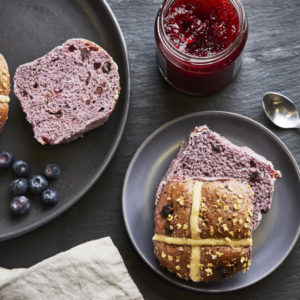 Tesco
If you're looking for a break from Easter Eggs and sweets, why not try this take on the traditional Hot Cross Bun. Tesco Finest Blueberry Hot Cross Buns are packed with currants and blueberries and topped with rolled oat flakes. Made from a delicately sweetened dough, batch baking the buns together keeps each one lovely and soft.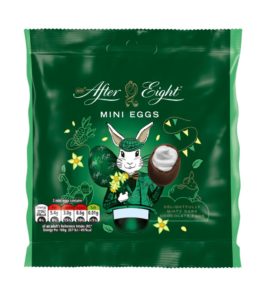 After Eight®
If you're looking for something delightfully minty this Easter, After Eight has launched its first ever Dark Mint Chocolate Mini Eggs Sharing Bag, so you can enjoy your favourite classic with a twist. Elevate your Easter treats with these limited-edition minty Easter Eggs from the iconic British brand; the first dark mint mini egg available in the UK. The individually wrapped eggs have a dark chocolate shell and peppermint flavoured fondant centre, perfect for those looking for a sophisticated treat this Easter.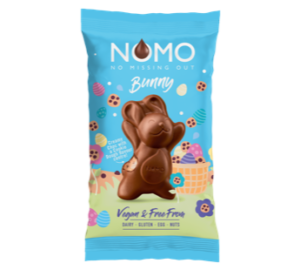 NOMO
Celebrate Easter with NOMO Vegan Cookie Dough Bunny. This vegan bunny is a creamy chocolate alternative with a delicious cookie dough flavoured centre.