Whether you're looking for classic or contemporary Easter chocolates, Italy's beloved Colomba di Pasqua or something a little bit different, here are 20 ideas under £20 that offer something for everyone from your little darlings and family members to friends and that special someone as reviewed by the discerning SLOAN! Review Panel.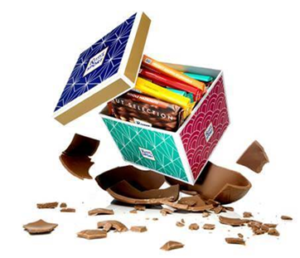 Ritter Sport
Ritter Sport, the famously square chocolate brand, has come out with their version of the Easter egg. The Squegg is a delightful gift box that holds an assortment of Ritter Sport's delicious individually wrapped square chocolates. This makes a wonderful alternative to the traditional Easter egg and is perfect to share with loved ones this Easter.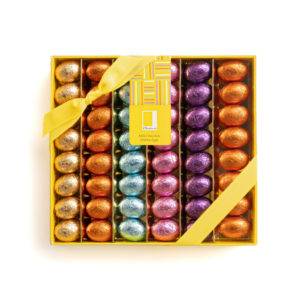 Farhi
This attractive luxury gift box contains a colourful assortment of milk chocolate praline mini eggs. Each one of the milk chocolate pralines is wrapped in luxurious foiling and filled with creamy, crispy, hazelnut praline. Presented in a stylish gift box, this is a truly scrumptious gift for hazelnut lovers.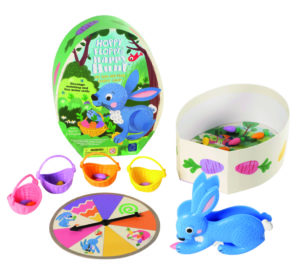 Learning Resources
Our favourite alternative to chocolate for preschoolers, Hoppy Floppy's Happy Hunt Game™ is the adorable bunny-themed fine motor game from Learning Resources that teaches strategic thinking, matching, colour recognition, and more. The rabbit-themed plastic squeezer helps build a young child's hand strength and pre-handwriting skills. Because there's no reading needed, this is an ideal beginner boardgame for young children aged 3+.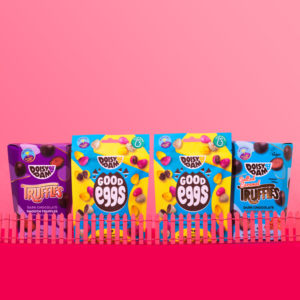 Doisy & Dam
This Easter Bundle from Doisy & Dam contains two 75g bags of their Good Eggs made of rich and moreish 58% Fairtrade cocoa without dairy or palm oil plus one box of classic Dark Chocolate Truffles and one box of indulgent Salted Caramel Truffles. The Easter Bundle will be available exclusively on the Doisy & Dam website.
Läderach
This special Rocher Easter bunny from Läderach combines their smooth dark chocolate exclusively made in Switzerland with roasted slivered almonds. Spoil your family, friends and acquaintances at Easter with this fresh chocolate Easter bunny.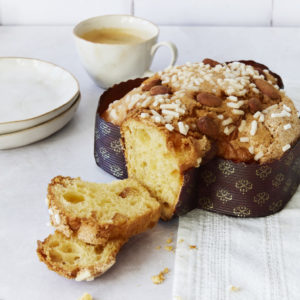 Seggiano
This Colomba Di Pasqua is a light aromatic cake flavoured with candied orange peel and vanilla pods traditionally shared by Italians with family on Easter Sunday to signify hope and renewal. Made by craft baker Beniamino Bazzoli - the highly esteemed confectioner from the Lombardy region of Italy who produces Seggiano's Christmas panettone range.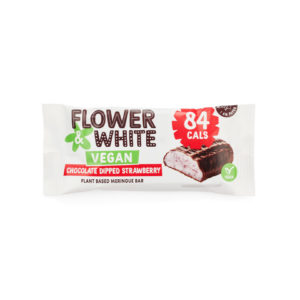 Flower & White
For those looking for 'better-for-you' confectionery this Easter, we recommend Flower & White's moreish range of low-calorie melting meringue and Fairtrade chocolate-based bars. Double M*lk Chocolate and Chocolate Dipped Strawberry are the two latest vegan bars featuring 100% dairy-free creamy M*LK chocolate and a melt-in-the-mouth chickpea-based meringue middle. £14.49 for a pack of 10 bars.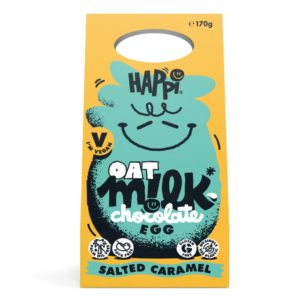 HAPPi
HAPPi Salted Caramel Free From Easter Egg is made using oat milk, making this great tasting egg dairy free. Suitable for both Vegan and Vegetarian diets, each egg is also free from Soya and Gluten.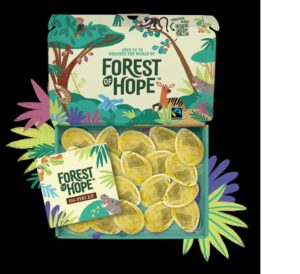 Forest Of Hope
Forest Of Hope Egg Hunt Kit contains 20 delicious milk chocolate surprise eggs with an Easter egg hunt activity kit included, making it an egg-cellent activity for the kids this Easter.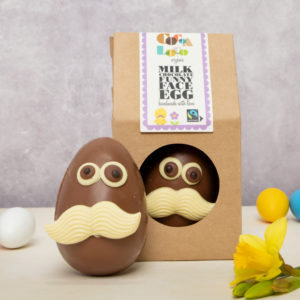 Cocoa Loco
With an elaborate white chocolate moustache, this Funny Face milk chocolate egg is filled with jumbo milk chocolate buttons and will not fail to wow his audience! Cocoa Loco's artisan chocolate egg is handmade using the finest single origin beans in the Dominican Republic. It is vegetarian, Fairtrade certified, palm oil free and organic too! What's not to love?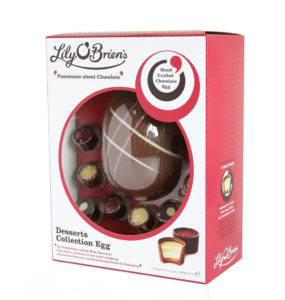 Lily O'Brien's
Make this Easter extra special with the Desserts Collection Chocolate Easter Egg. Featuring an exquisitely hand-crafted milk chocolate egg, along with nine chocolates from the award-winning Desserts Collection.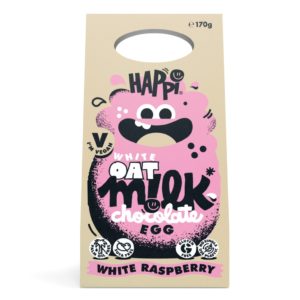 HAPPi
Oat M!lk chocolate brand, HAPPi, has added a fourth Easter Egg to its range with its new White Raspberry Easter Egg. Plant based, ethically sourced and fully sustainable, the range also includes Orange, Plain M!lk and Salted Caramel. The Easter Egg range is RRP £11.99 from Selfridges, Amazon and www.happifreefrom.com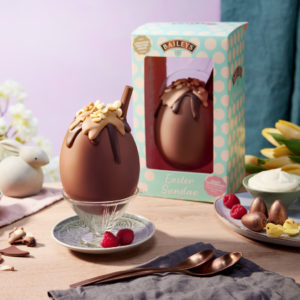 Baileys®
Looking for something to hit the sweet spot this Easter? We couldn't be more excited to introduce Baileys® lovers to the brand new Baileys® Easter Sundae Egg. Delivering the ultimate chocolate fix, you won't be able to top it! A hand-decorated Belgian chocolate egg with a hint of Baileys Original Irish Cream flavour, dripping with fudge flavoured chocolate, topped with chocolate buttons and salted caramel crispies… once you finish it, you'll be left wanting more!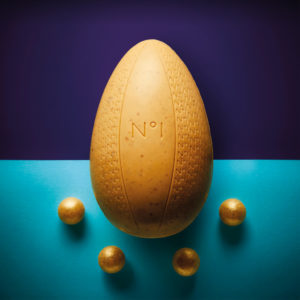 Waitrose & Partners
Waitrose No.1 Hidden Truffles Blonde Chocolate Easter Egg is a luxuriously indulgent Easter egg made of creamy caramelised white chocolate with feuilletine and fleur de sel, with a secret box of four salted caramel truffles decorated in edible lustre hidden underneath for an added Easter surprise!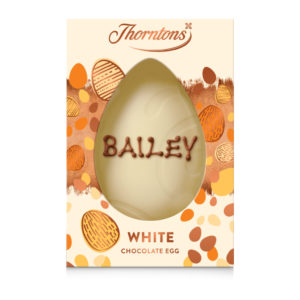 Thorntons
For a delicious Easter gift for white chocolate fans, look no further than Thorntons' Medium White Chocolate Easter Egg (265g). This Easter egg can also be personalised with a special message for your loved ones.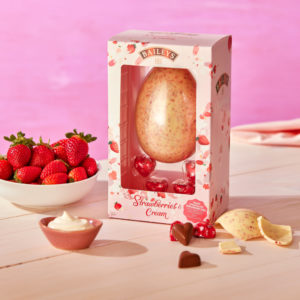 Baileys®
Baileys® Strawberries & Cream Egg delivers a creamy white chocolate shell intertwined with a fruity explosion of dried strawberry pieces, creating a beautifully sweet sensation. The irresistible egg also comes with four luscious milk chocolate hearts, filled with a decadent creamy truffle filling that perfectly blends with the fresh, sumptuous taste of strawberries.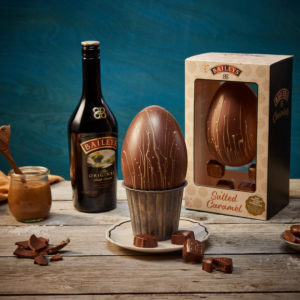 Baileys®
Baileys® Salted Caramel Egg has a smooth milk chocolate shell mixed with crunchy salted caramel pieces. As well as the Easter egg, you get four additional scrumptious shimmer chocolates encased in crisp milk chocolate and filled with an oozing Baileys Original Irish Cream and salted caramel combined centre.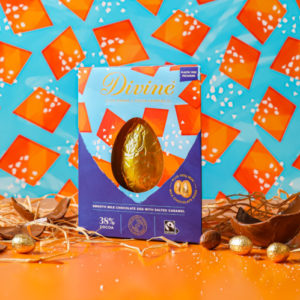 Divine
Divine Salted Caramel Easter egg is made from smooth milk chocolate with a dash of sea salt which perfectly balances the sweet crunch of the added butterscotch toffee. Comes with delicious minis too! Divine have also removed the plastic tamper seal on all their egg boxes, making them 100% plastic free as well as being utterly delicious. And if that wasn't enough - like all of Divine's range, they are also palm oil free.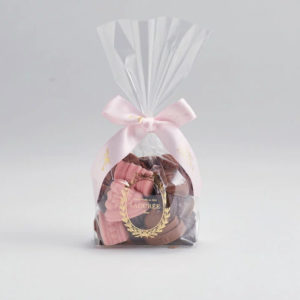 Ladurée
For a small token of your affection to loved ones who live outside London, we recommend a bag of chocolate figurines from Ladurée which will add the perfect little luxury touch to their Easter celebrations. The figurines come in dark chocolate, milk chocolate and pink coloured white chocolate representing the iconic pastries of Maison Ladurée.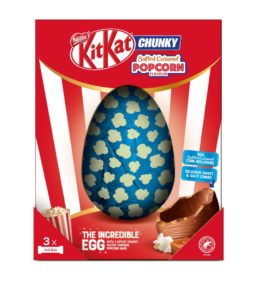 KitKat®
KitKat® has launched a new salted caramel infused chocolate egg with real salted and roasted corn pieces. The KitKat® Chunky Salted Caramel Popcorn Incredible Chocolate Easter Egg has crunchy corn pieces throughout the chocolate, making for a deliciously moreish sweet and salty treat that's perfect for sharing. with popcorn-loving family and friends.