Farzi Café London, a contemporary pan-Indian restaurant and bar with a global twist opened in Haymarket in January 2019 to much fanfare and critical acclaim, further cementing its global reputation as the most cutting-edge Indian restaurant. Farzi Café London brings experimental Indian cuisine to the city using the finest quality ingredients to create a dining experience like no other. Farzi Cafe London has retained its position in the 2020 Michelin guide for the second year in a row. The first Farzi Café opened in 2014 in Gurgaon, NCR India and is the creation of the aptly named Massive Restaurants.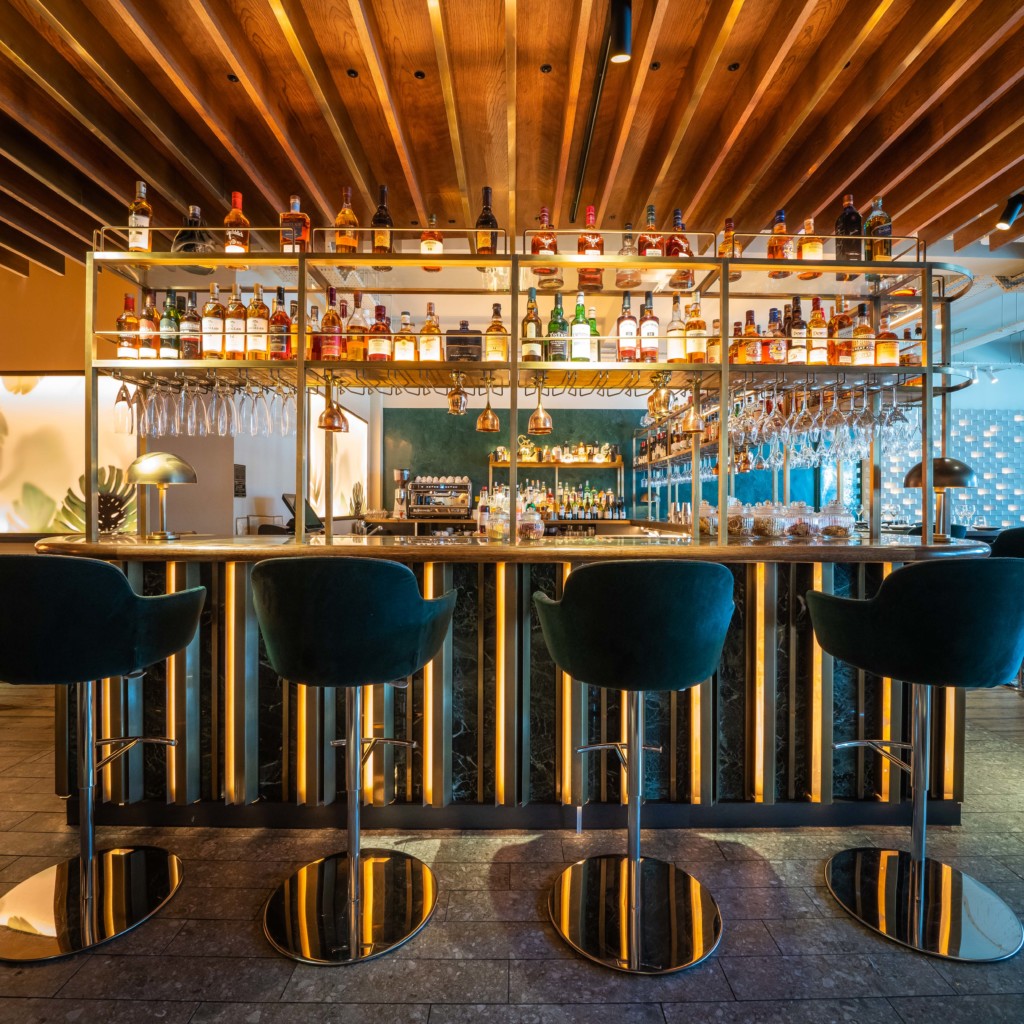 Farzi Café have launched their new Zodiac Cocktail menu, ideal for groups of friends and family to come together to try their personalised cocktail. Known for reinventing Indian cuisine, Farzi Café have carefully hand-crafted 12 cocktails based on the Zodiac signs. Diners can expect to be greeted by the aromas of Indian infusions, and scents, as mixologists fill the room with their experimental inventions. The zodiac cocktail menu has been curated by multi award-winning Head Mixologist Din Jusufi, using the influence of India's rich Ayurvedic past, the astrology-inspired cocktails are experiential in their creation and reflect the attributes, and characteristics of each of the 12-star signs.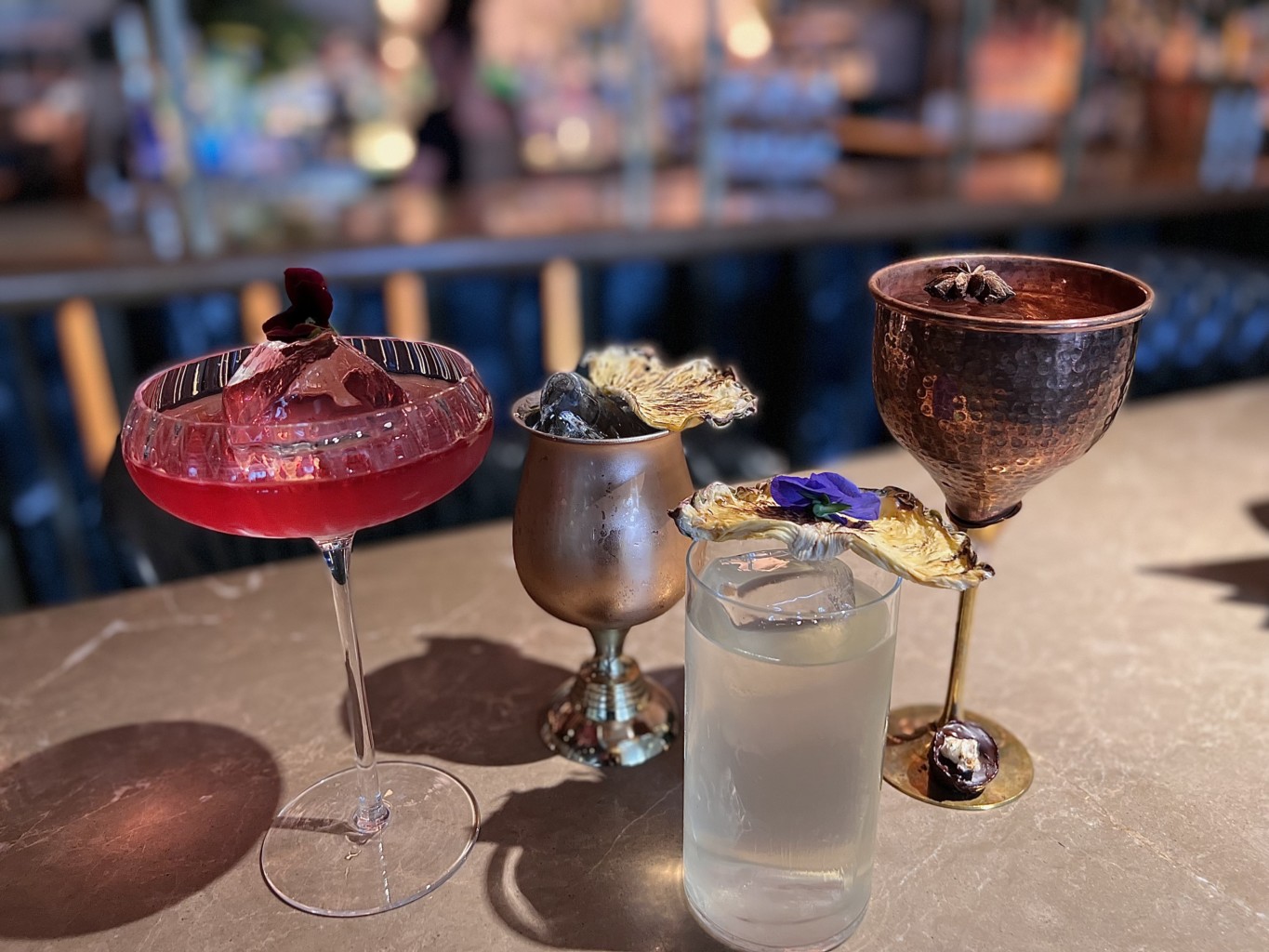 We were delighted to try some of the Astrology cocktails on our recent visit to Farzi Café. Scorpion's Chalice (Scorpio – below left) is not a sting in the tail but a wonderful combination of pitta spiced popcorn, champagne, Ghee wash Pierre Ferrand Cognac, almond, and Oudh. Some Scorpions are clearly meant to be enjoyed. Mesh (Aries – below right) is made from coconut water, pink pepper gin, Falernum, pineapple blossom, coconut kombucha, rose, and saffron. In Ayurveda saffron is valued for its ability to soothe Aries domination over the dosha of pitta. Made using our in-house pineapple blossom with a heady hit of coconut and spices. Mesh has added probiotic complexities from fermented kombucha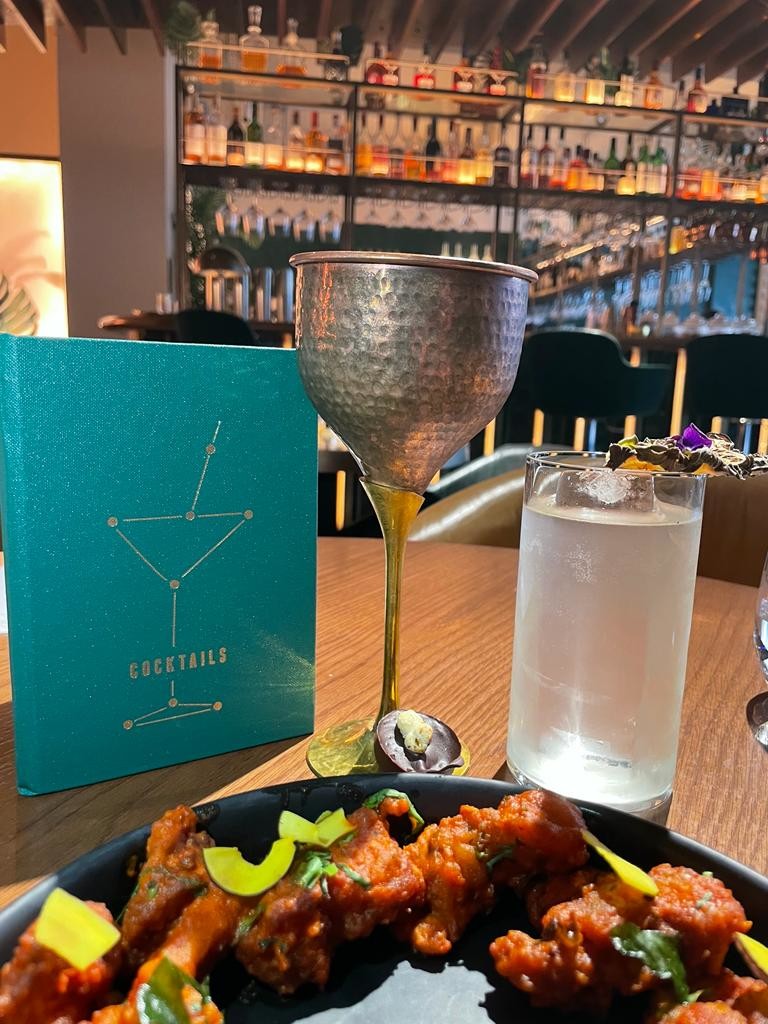 The Grapes of Meena (Pisces – below left) is a floral combination of vodka, aromatic wine, grape, and rose. Swimming through rose-coloured waters, the large ice cube is somewhat of an iceberg that sunk the Titanic but the sweet flavours are well worth drinking delicately around it. Tula Tula (Libra – below right) is made from Plantation pineapple rum, Glenfiddich IPA, Gentiane liqueur, Riesling Cordial dry vermouth. The subtle smokiness of scotch whisky aged in IPA casks and pineapple, known its Vata pacifying abilities, come together with a hint of bitterness, a delicate crisp and a Riesling finish.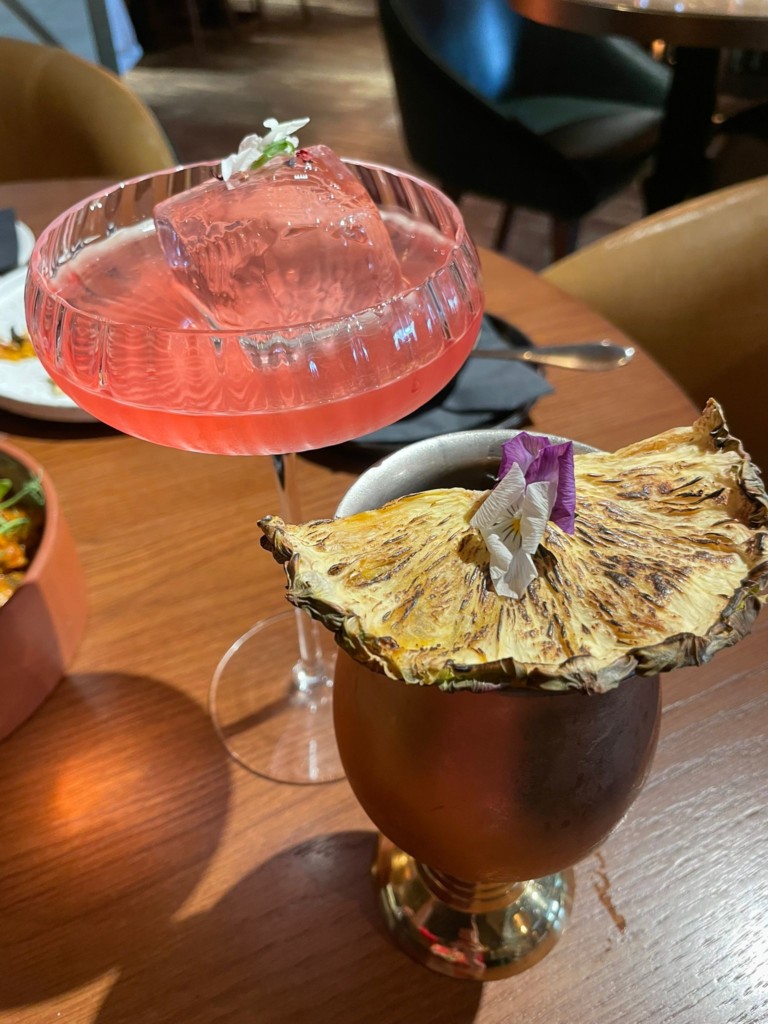 A slightly different set up for a menu where the small plates are equivalent to starters but also far more of a sharing concept. By far our favourite was the Guntur Chicken which is a delightful combination of mustard & yogurt glaze, coconut. The spices infuse the meat, which holds the flavours well.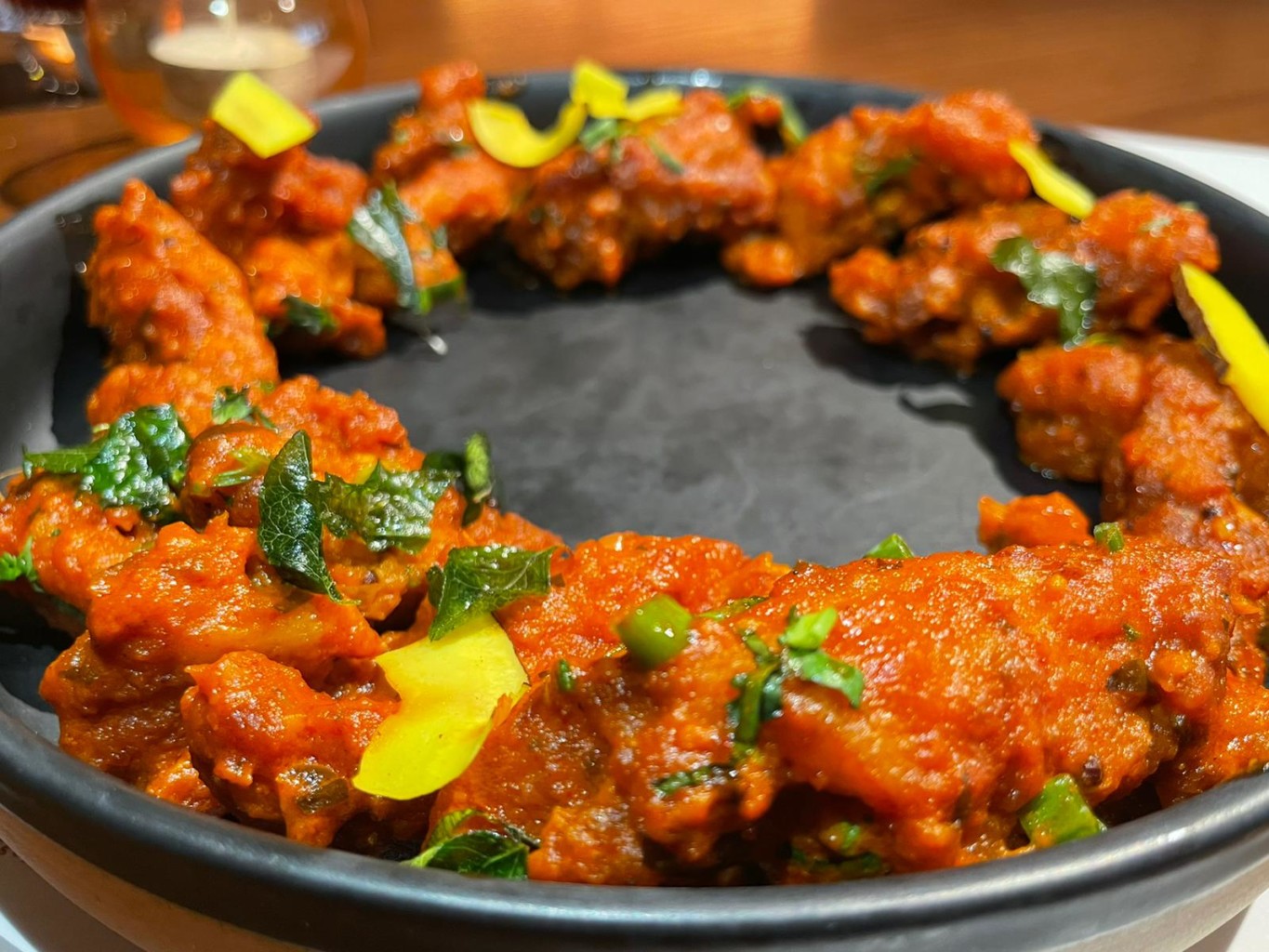 If you want a more succulent chicken we suggest the Zaffrani Murg Tikka which is a smoked cashew & saffron cream chicken tikka, masala cock scratchings and a coriander pesto.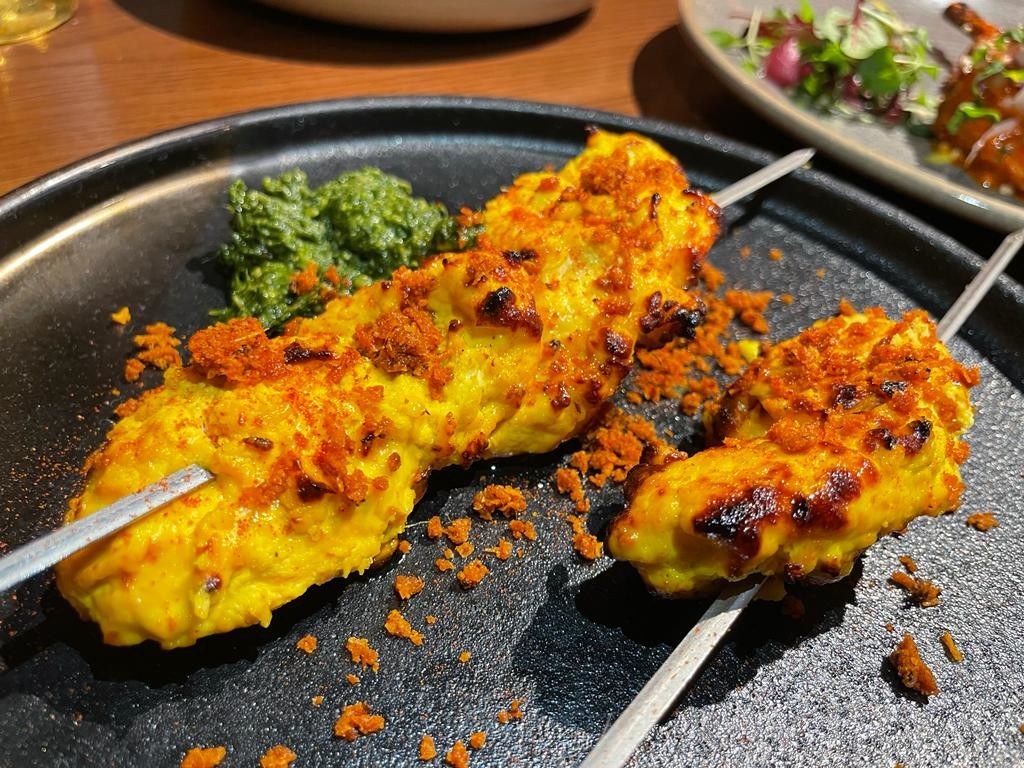 Lamb lovers should look no further than Laal-Mirch Tandoori Chops which are chilli yogurt marinated lamb chops served with a pickled onion salad. Chef suggests serve medium or medium well, but those who love modern European would be just as happy ordering medium rare.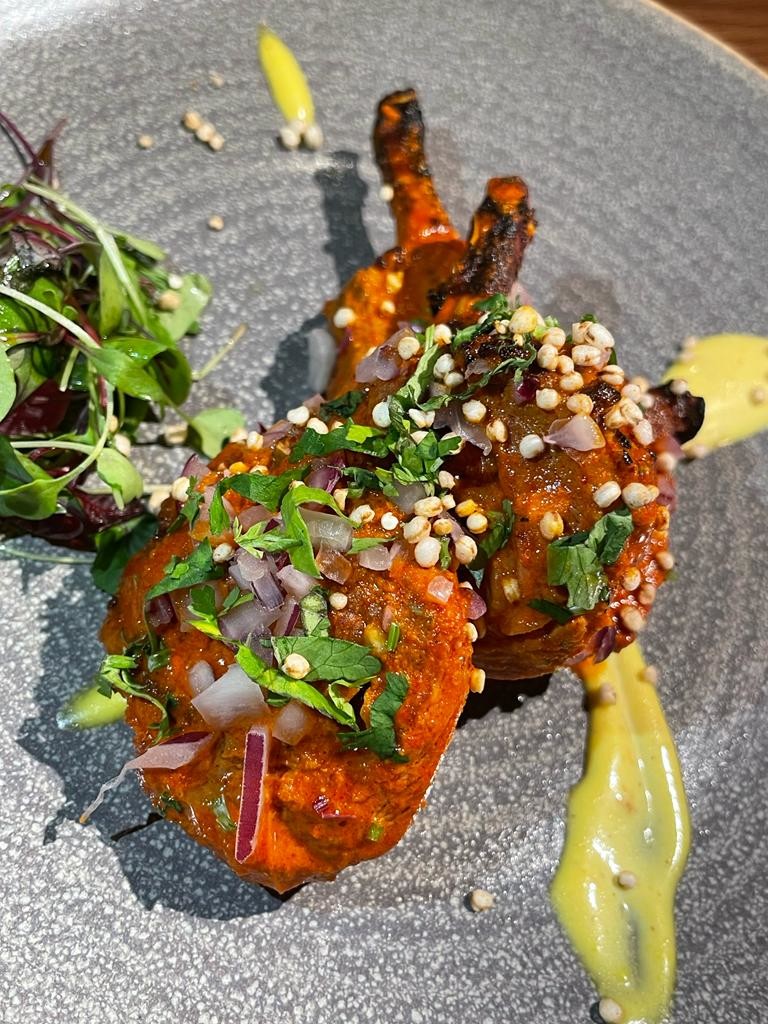 Seafood lovers are catered for well in the starters but sadly not so much in the mains section, so if you love a touch of the sea make sure to order the Manglorian Rava Fried Prawns in a tempered coconut served with a smoked tomato chutney and radish pickle.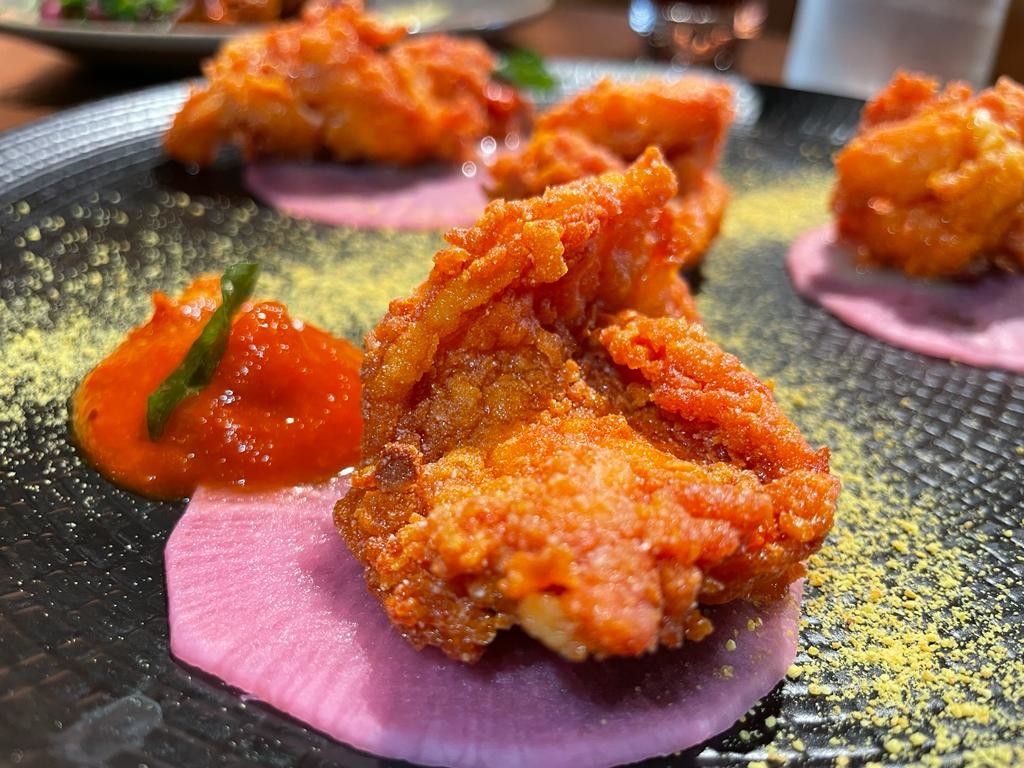 For main we suggest a biryani is a main meal in its own right and definitely not a side dish. The Koli Varuval which is a delightful combination of cumin & dry coriander scented chicken, curry leaf & cashew tempered is not for the faint hearted. If you want something milder then opt for the Chicken Tolla Madala instead.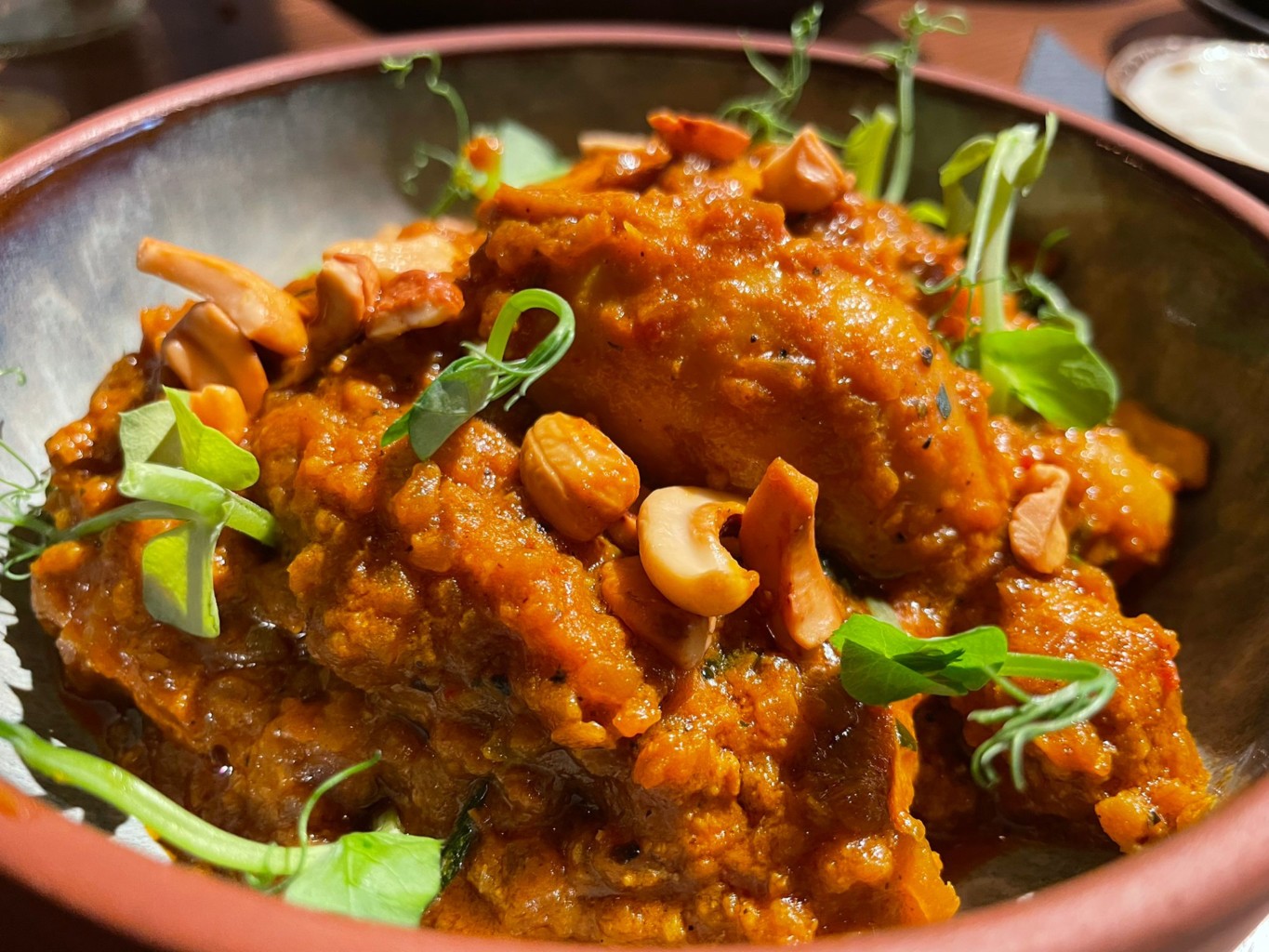 Those who want to venture out of their comfort zone heat wise, the Lamb Shank Vindaloo is the one to order. A Goan richad & toddy vinegar spicy gravy, brined lamb shank, pickled kohlrabi, the chilli is just the right amount of heat to bring all the joys of the shank out.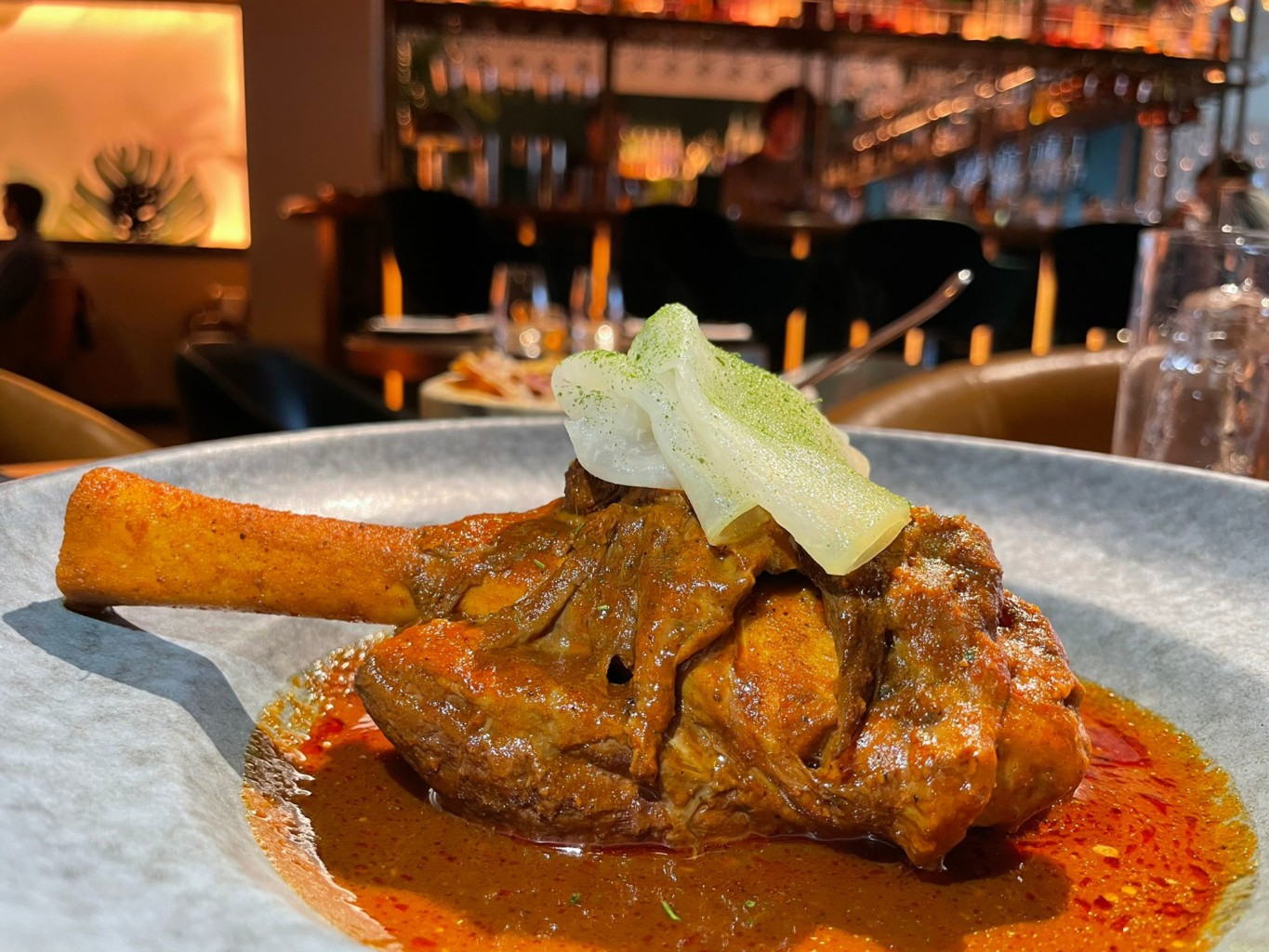 As mentioned above the generous portions of meat make this dish a main meal in itself, or good to share amongst 3. The Ghost Parda Biryani saffron yogurt braised lamb boti, mint & rose pulav just has to be tried.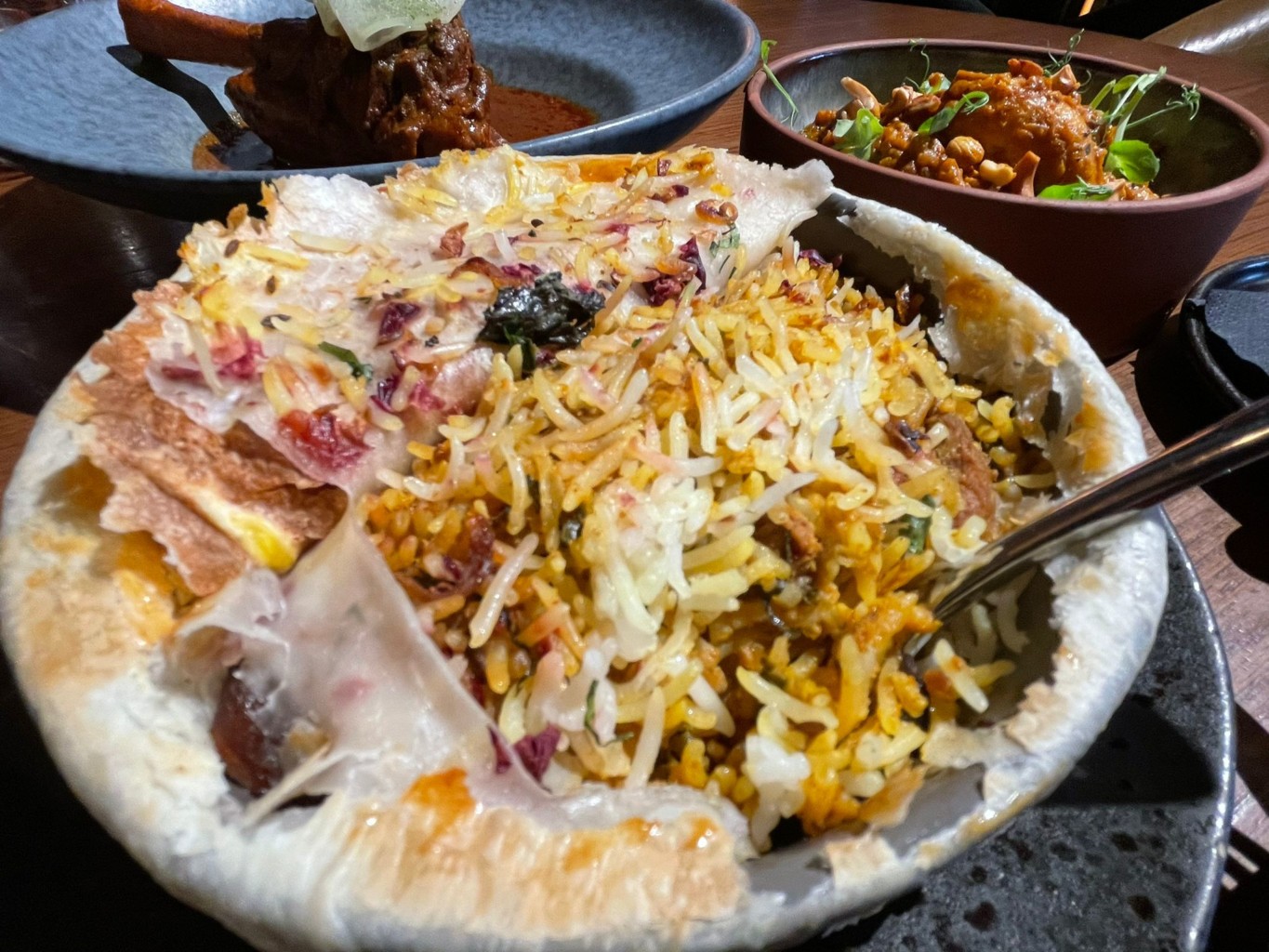 Those more traditional can opt for a bread basket and the Garlic naan definitely gets our vote.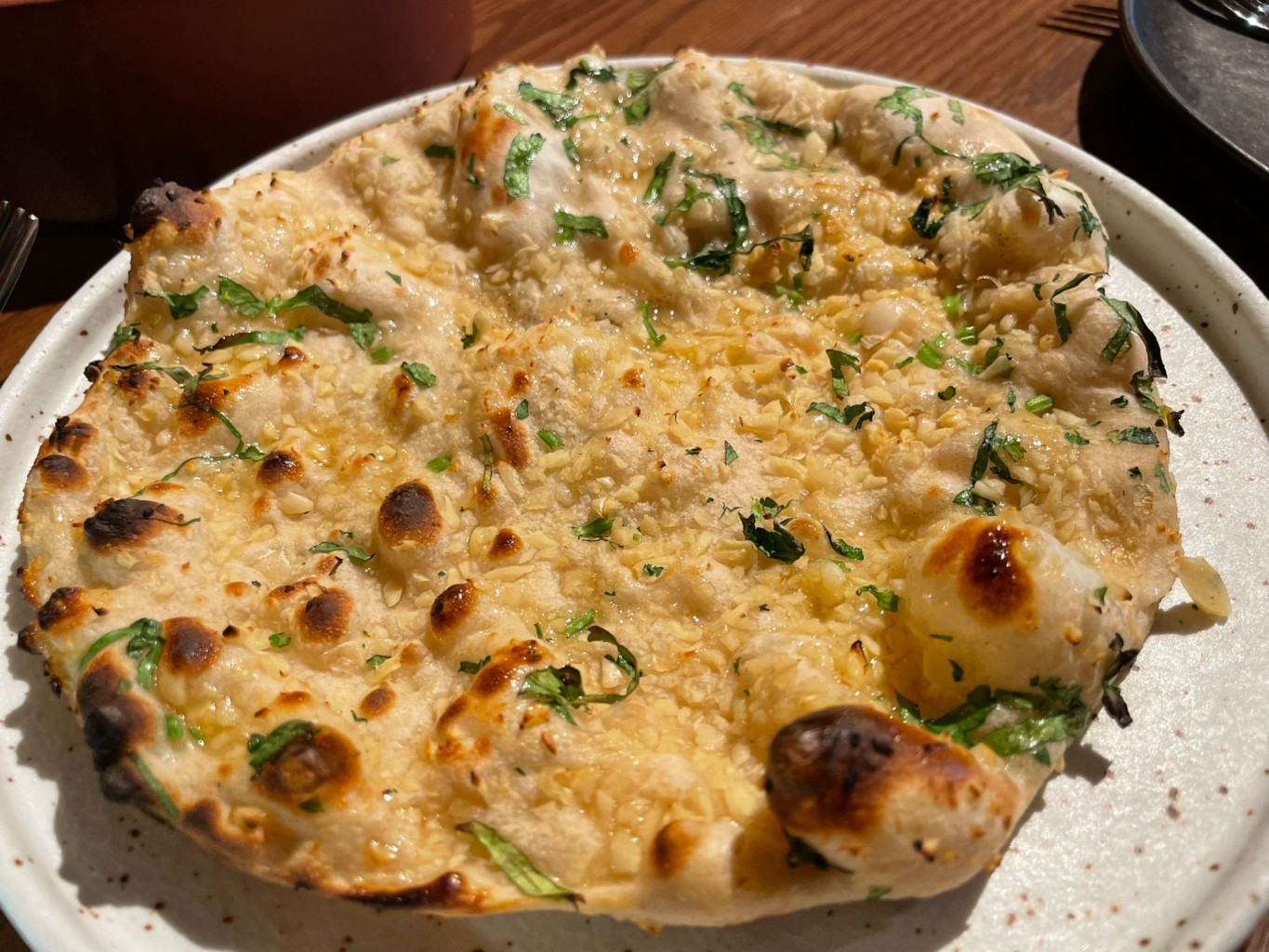 Dessert menu is small but very appealing.
Farzi Café will now not only be known as the most cutting-edge Indian restaurant in London but has become a unique cocktail destination for cocktail lovers far and wide, especially for those with an interest in astrology. The dimmed candlelit atmosphere will transport guests to feel as though they are sitting underneath the star constellations.
Farzi Café
8 Haymarket, London SW1Y 4BP
020 3981 0090
www.farzilondon.com