Ginza St. James's is an authentic Japanese restaurant right in the heart of London offering an exclusive fine dining experience just minutes away from Green Park, Mayfair and Saint James's.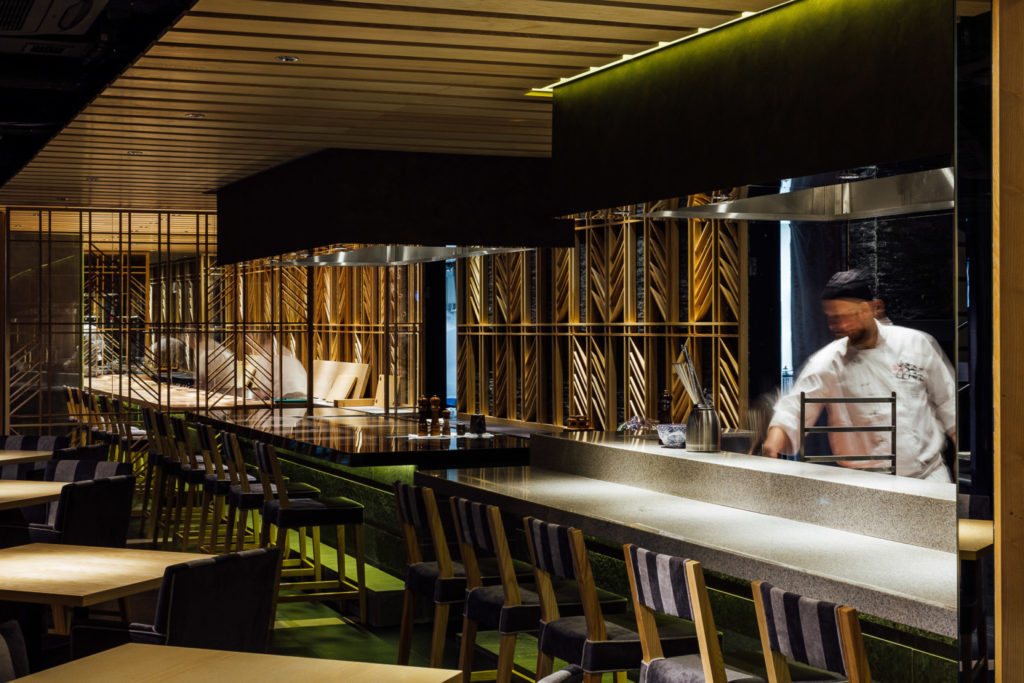 The restaurant offers the ultimate multi-sensorial culinary journey where you can rediscover the true taste of Japan. They use the finest ingredients to bring together a menu that celebrates traditional Japanese cooking styles prepared by their talented chefs.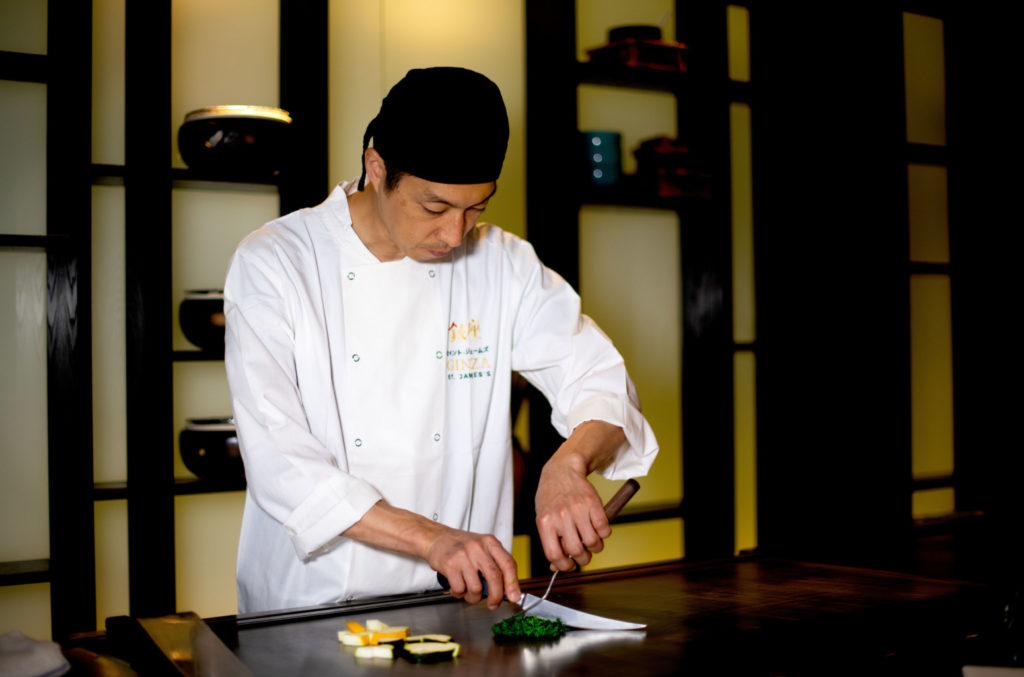 Ginza St. James's offers guests a relaxed atmosphere within elegant stylish surroundings whilst taking them on a culinary journey through Japan. The attention to detail reconnects to the search for balance and harmony, distinctive of Japanese cuisine.
Your experience at Ginza St. James's will be nothing short of 5 star. Guests can enjoy their favourite cocktail in the Oyster Bar as they arrive before being escorted downstairs into the main restaurant.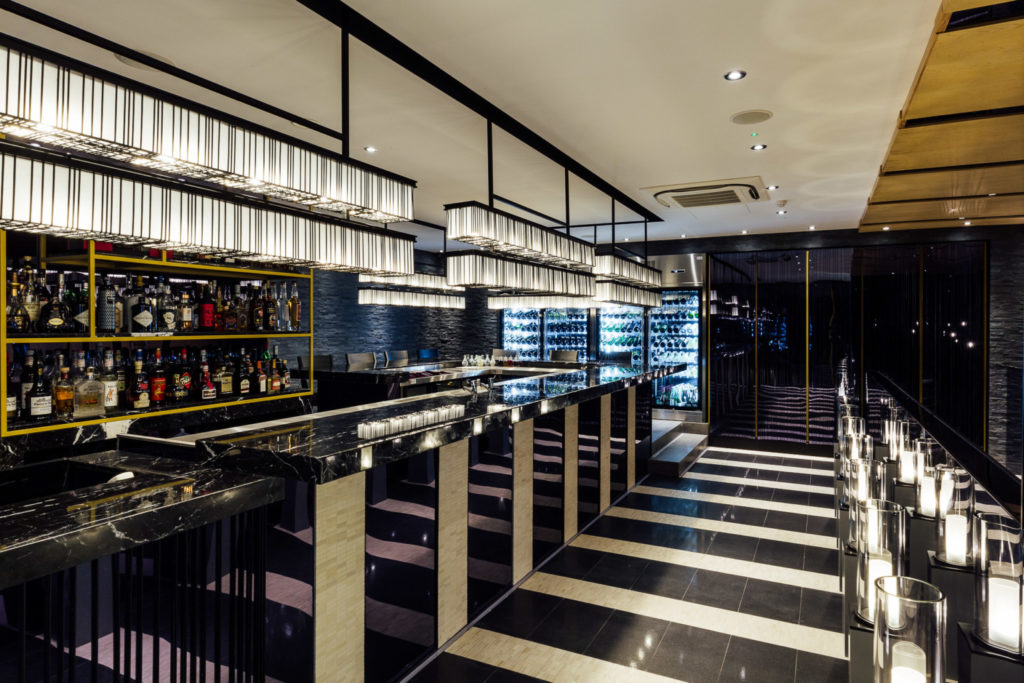 Upon arrival, we enjoyed a Rum Manhattan – made with Santa Teresa 1796 Rum, Cocchi Vermouth Di Torino, Bitter Truth Chocolate Bitters & Bourbon Cherries…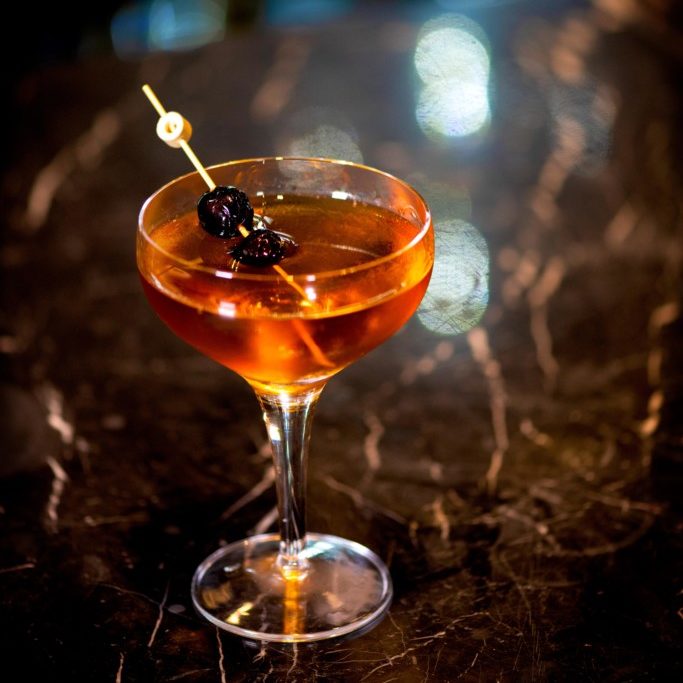 … and an expertly prepared Old Fashioned made with Hakushu Single Malt Suntory Whisky, Bittered Sling Malagasy Chocolate Bitters and Tonka Bean syrup.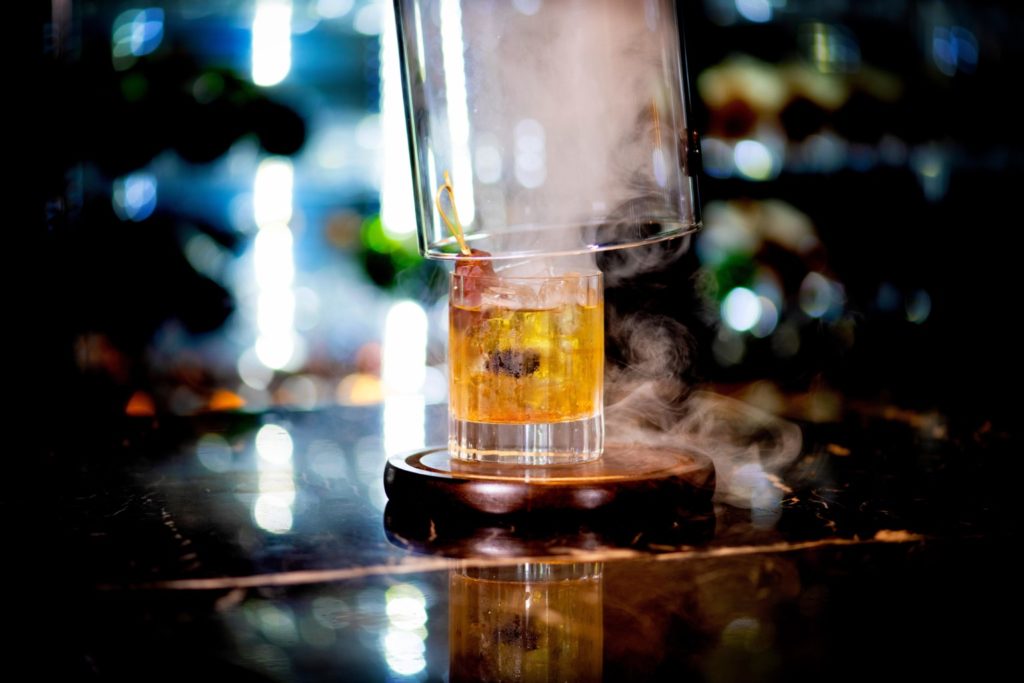 The elegant dining room oozes sophistication with subtle Japanese hints and precision cut wooden beams emphasising luxury in an intimate setting.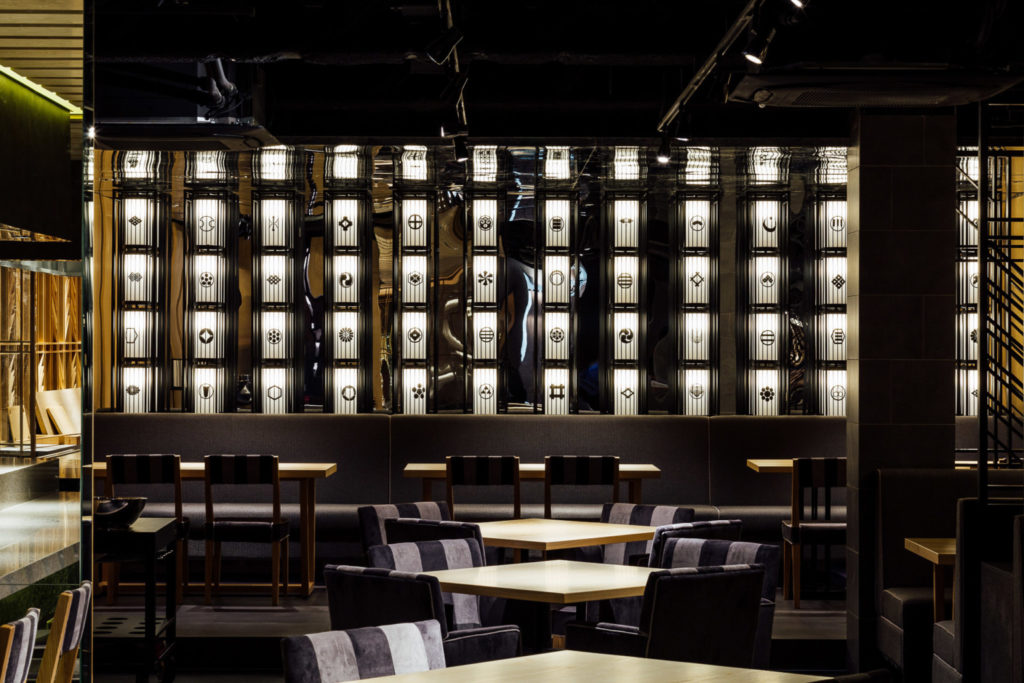 With a sumptuous choice of Japanese delicacies to choose from, the A La Carte Menu features dishes such as A4 grade Kobe Gyu and cherry wood smoked Salmon Teriyaki.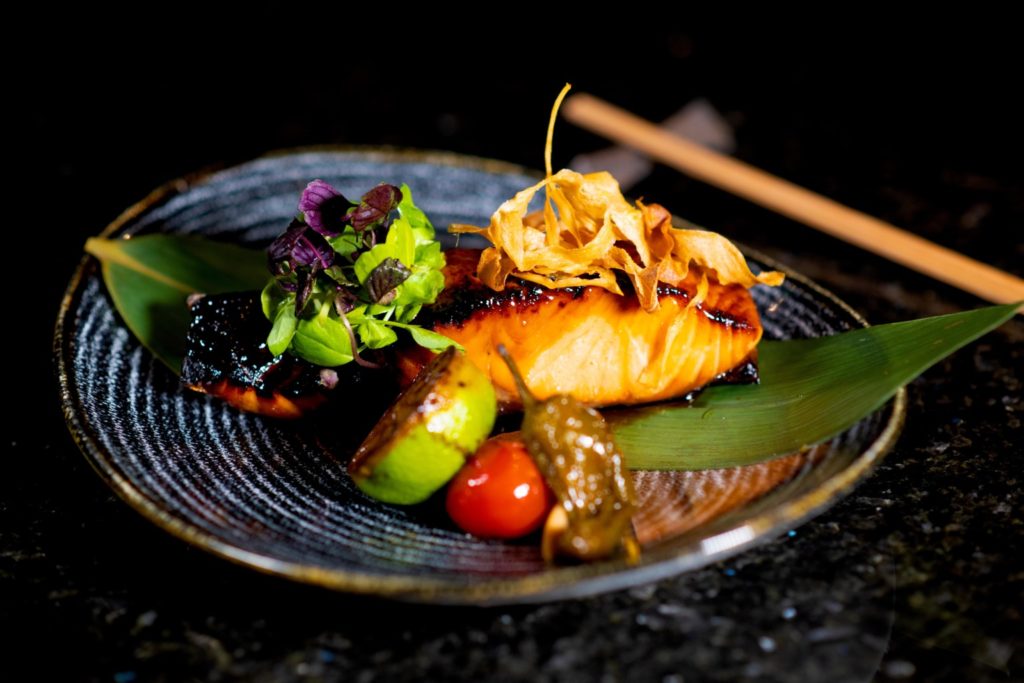 Alongside the stunning cuisine, Ginza St. James's boasts one of the most extensive Sake lists in London.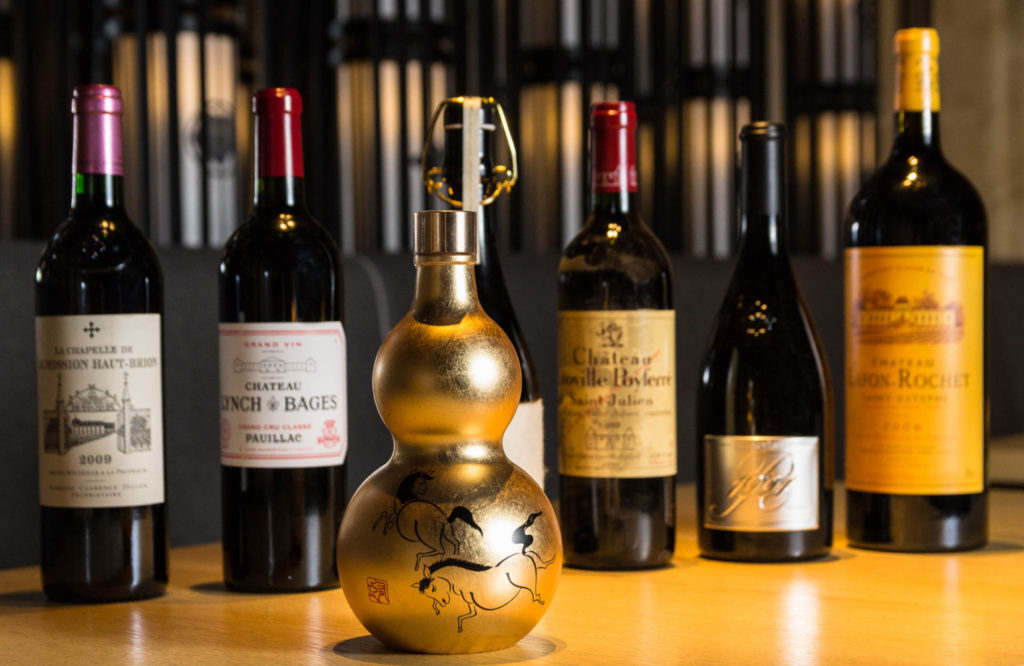 Torn between the Black Kanpachi Carpaccio and Seared Wagyu Sashimi on the Cold Starters menu, we were drawn to the truffle/yuzu combination of the fish over the Wagyu which is presented as lightly seared slices of Wagyu beef, Ponzu citrus and miso sauce. Diners next to us ordered this dish and it looked amazing, so will definitely be trying this on our return.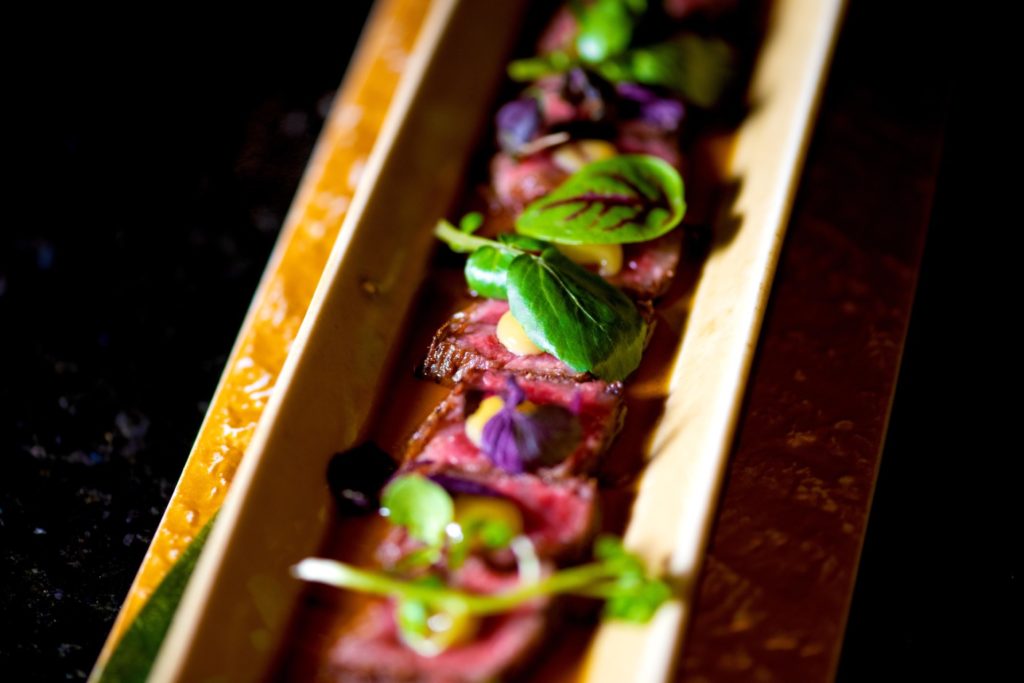 The Black Kanpachi Carpaccio is such a delicate dish. Thin slices of fresh white fish, dressed in yuzu juice and light soy sauce. For those who have tried yuzu and truffle before you know it's already a winning combination, however, Ginza takes it to the next level. The satsuma and lemon flavours perfectly balance what can often be described as a sharp or sour taste from the yuzu. No harshness here, just pure delight to the palate.
The dish is topped with pomegranates and edible flowers, so transports you to a garden of tranquillity with each bite. Come in for a closer look.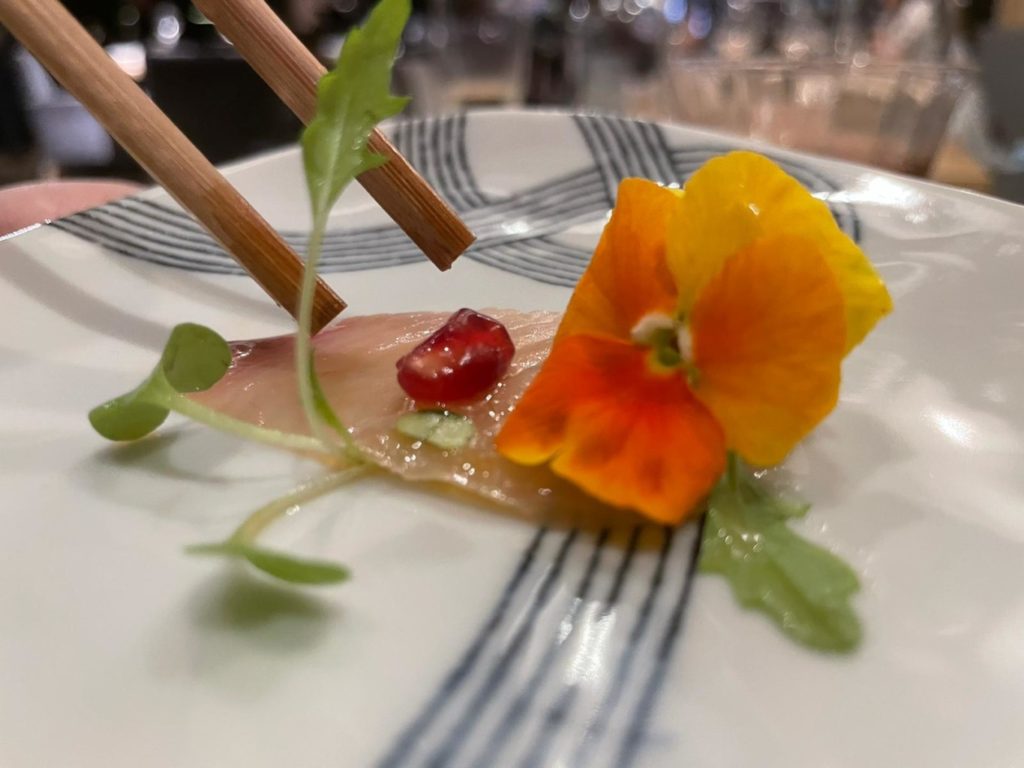 From the Warm Starters menu, Nasu Dengaku arrives within the aubergine skin which is cut in a way to form a bowl. The flesh of the aubergine is steamed then grilled producing a soft and succulent taste which is heightened with a moreish sweet dengaku miso sauce. A great dish that's perfect to share served with sesame seeds and Japanese pickles.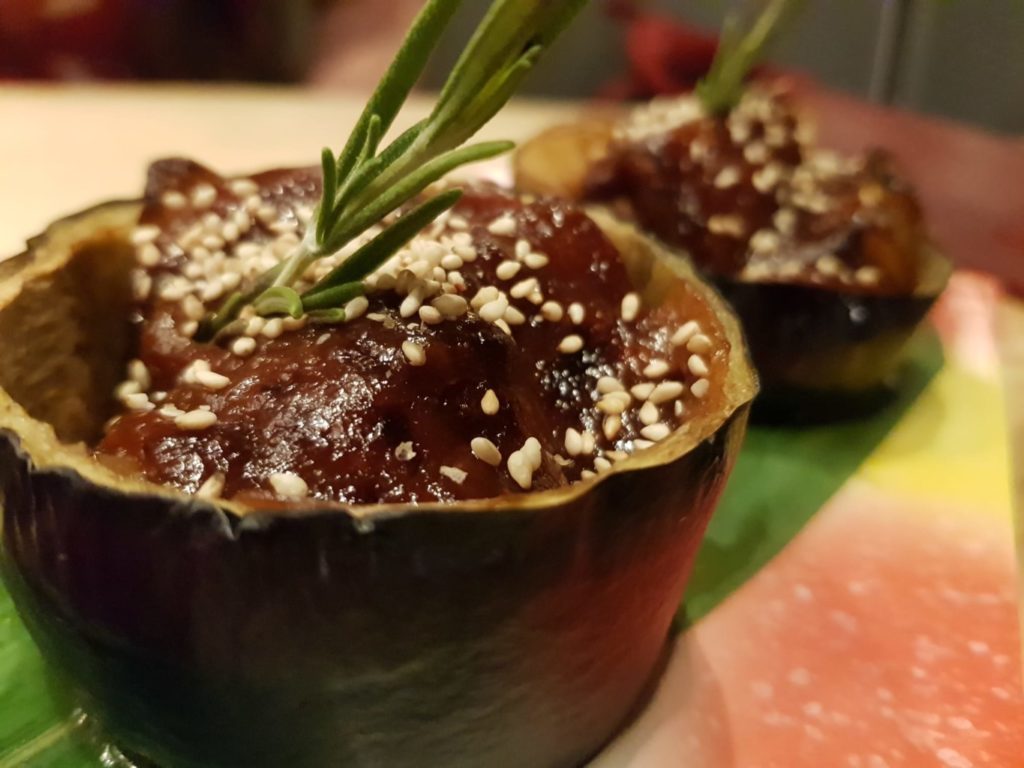 Those who love tempura, need to be directed not only to the delicious Ebi Tempura on the Warm Starters menu…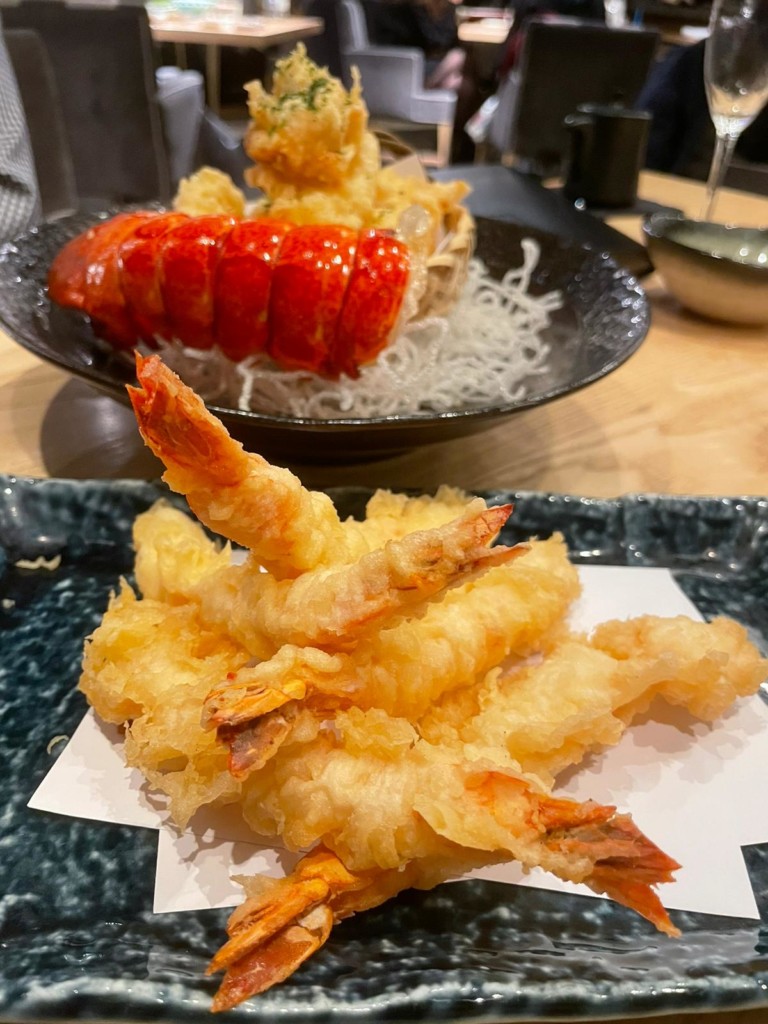 … but also to the exceptional Lobster Tempura which takes the dish to another level. Beautifully presented, this is light and flavourful served with a spicy dip that doesn't overpower the dish. Great texture and flavour here.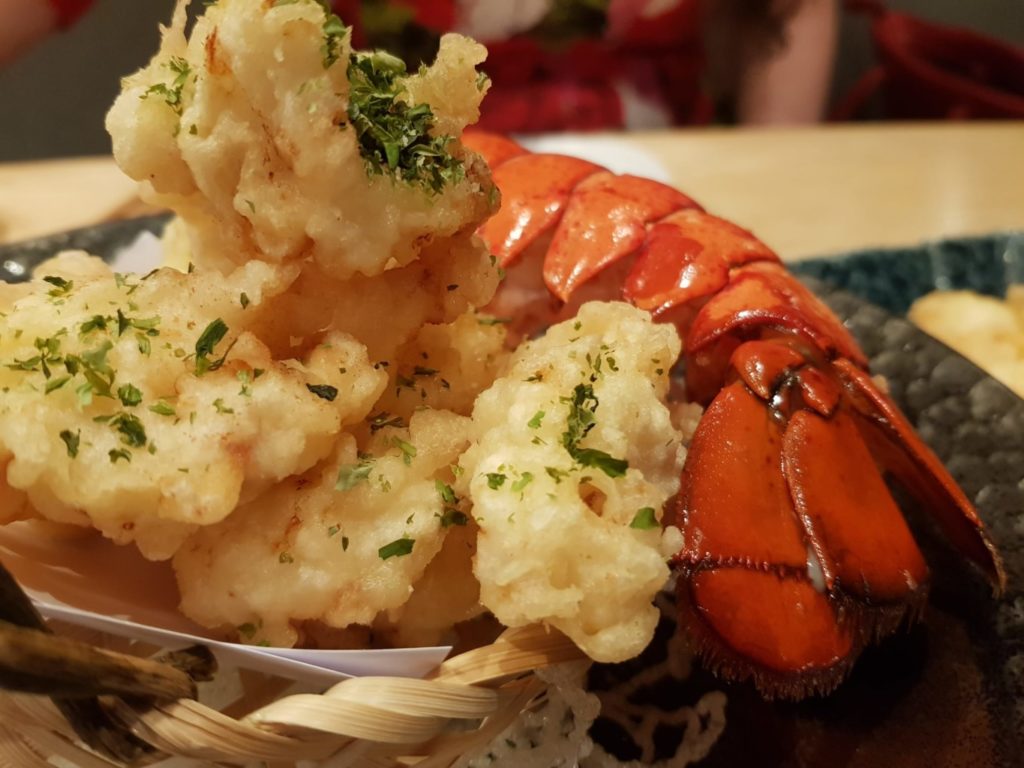 The sushi menu is short but delightful. We chose the Matsu Sashimi Platter which came as a collection of salmon roe, scallops, salmon, marbled tuna, tuna, yellowtail and white fish. 21 pieces of freshness. My favourite was the scallop, but those who love marbled tuna will definitely appreciate the quality of this catch.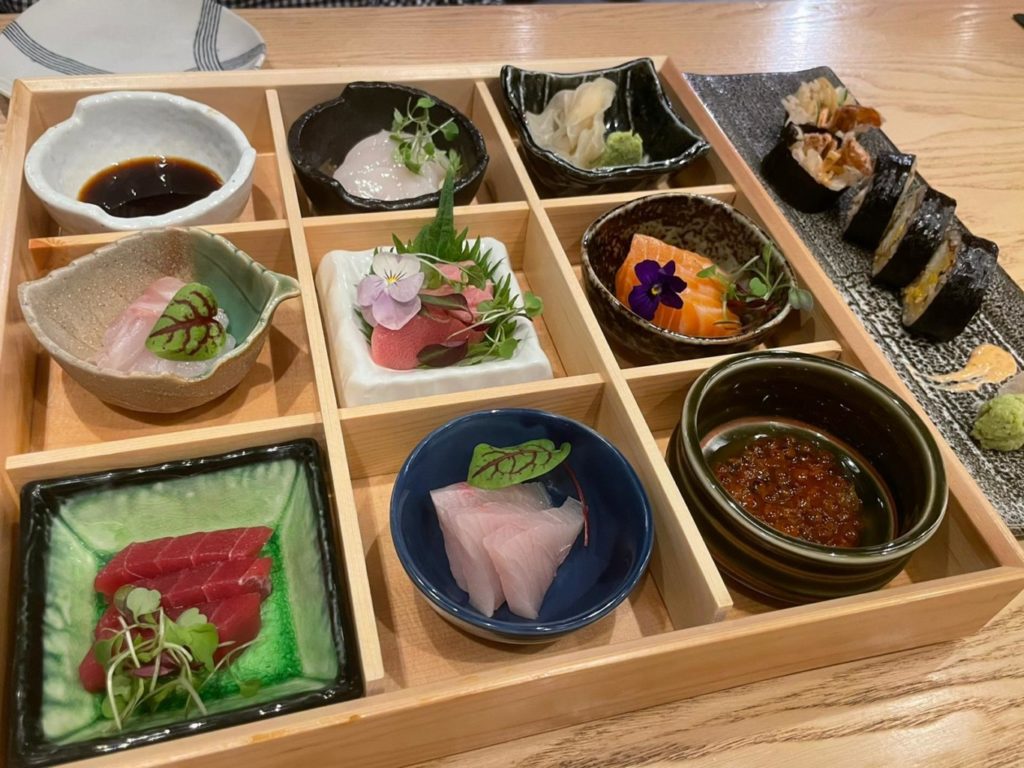 Our neighbours ordered the Sushi Platter and were making very appreciative remarks about their choice.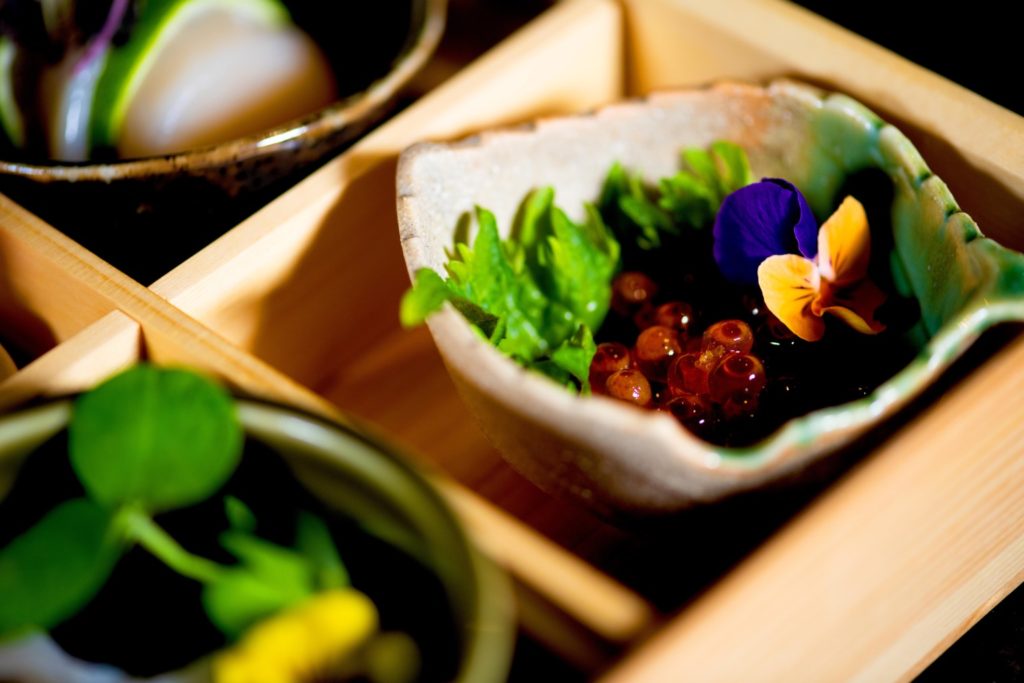 Other dishes on the Sushi Menu include Eel & Cucumber Roll which combines eel and cucumber with kinomi miso and sesame seeds.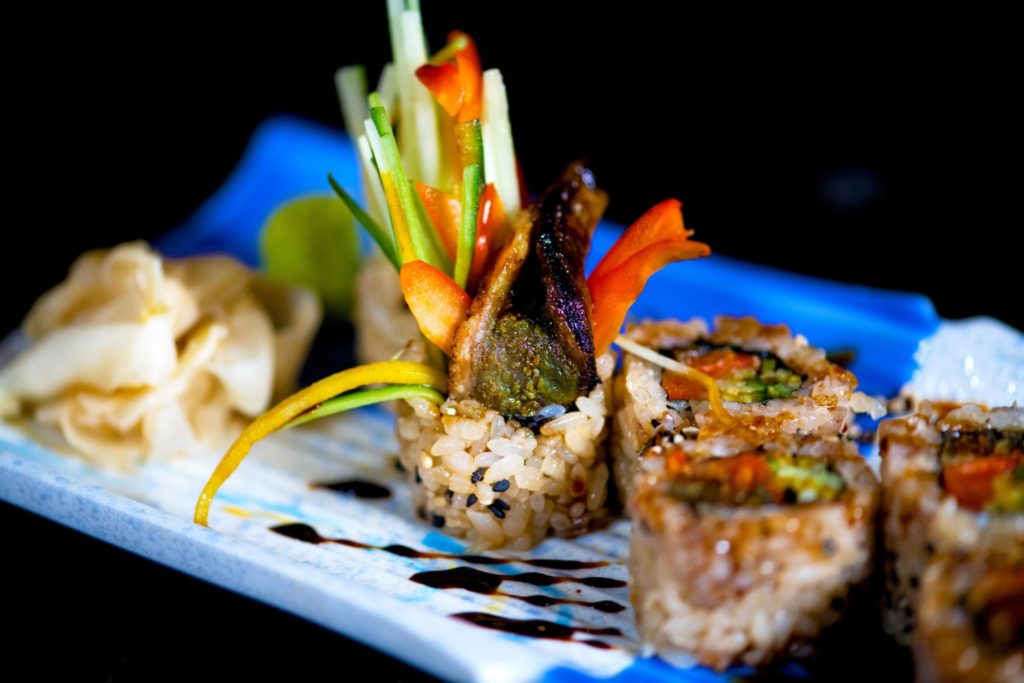 Also featured is a classic Salmon Avocado Roll pairing the salmon and avocado with a spicy mayonnaise.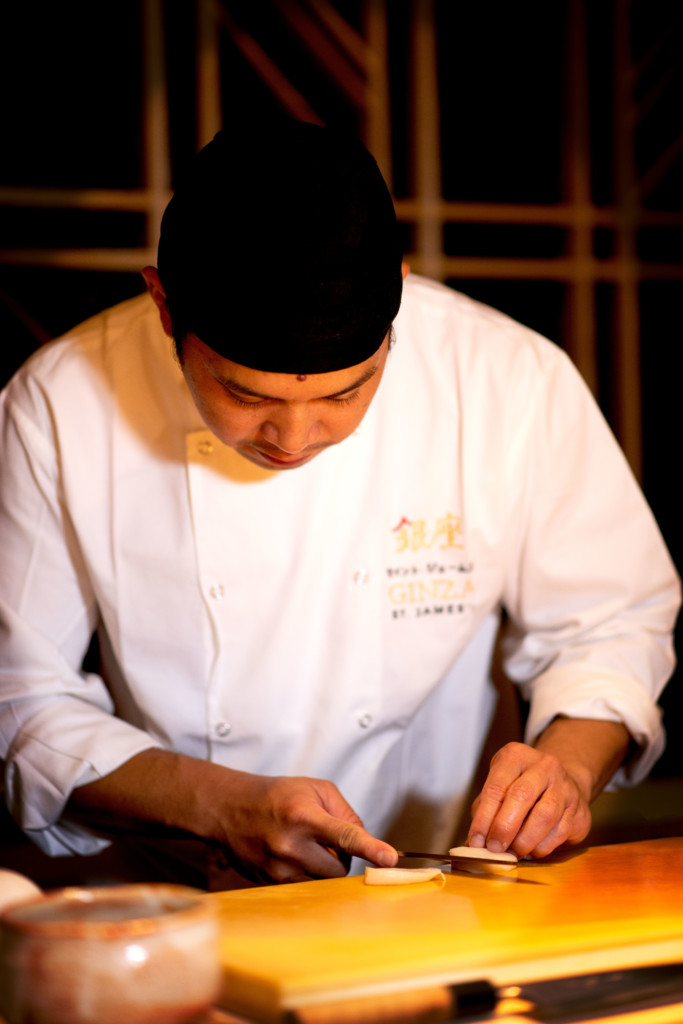 Another sushi dish is the Spider Roll – soft-shell crab with cucumber. For us, this was a generously sized crab inside the roll but was slightly overpowered for us by the cucumber. Some however would love the crunch and flavour combo.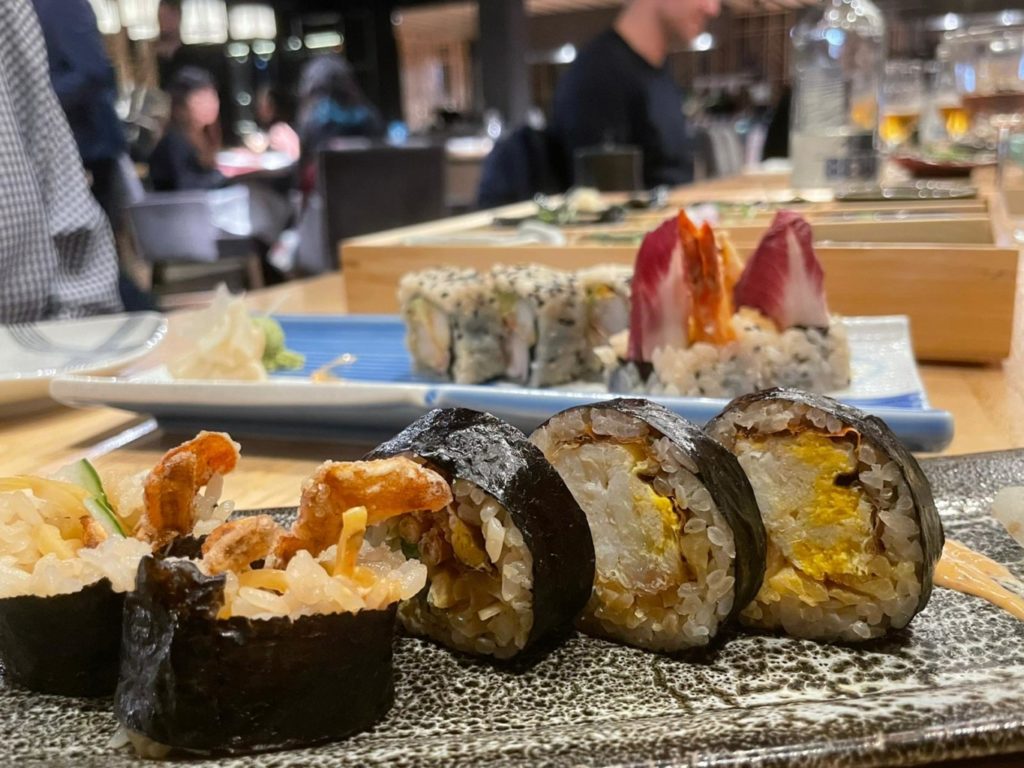 For me, I prefer my Spider Roll with tobiko so would head towards the Spicy Prawn Roll if I were to order another round. Tempura prawn, avocado, spicy mayonnaise in the perfect proportions. A safe choice for tempura prawn fans.
For those wanting to try something from the Teppan Yaki menu, the stand out dish for us was the Foie Gras. A beautiful fusion of French foie gras served with kinomi miso sauce. Finished with cooked figs and parsnips crisps.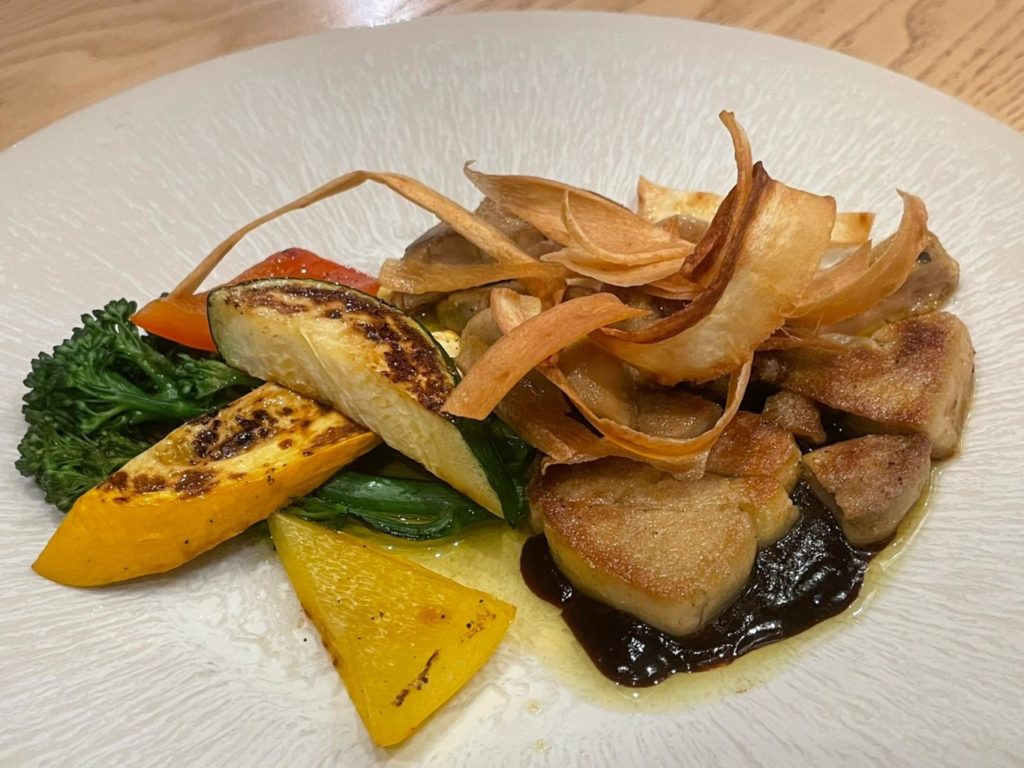 This Foie Gras really stole the show over the African King Prawns which are yet another good choice from the Teppan Yaki menu. The delicious prawns were a decent size, sautéed with soy sauce and butter. Compared to the tempura prawns these prawns were slightly firmer in texture, but with the perfect amount for a grilled dish. A nice light dish.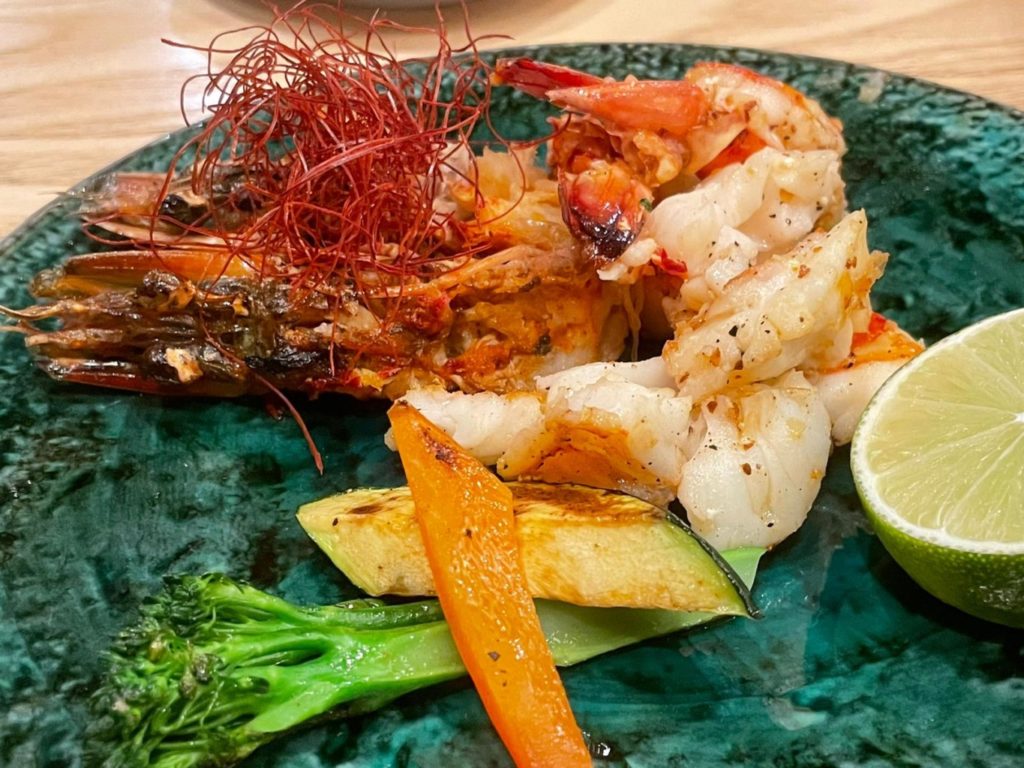 For those who want a little more of a carnivorous direction, we did have the Kobe Gyu suggested to us. As you can see in the image below, it is very inviting so we can see why it was recommended.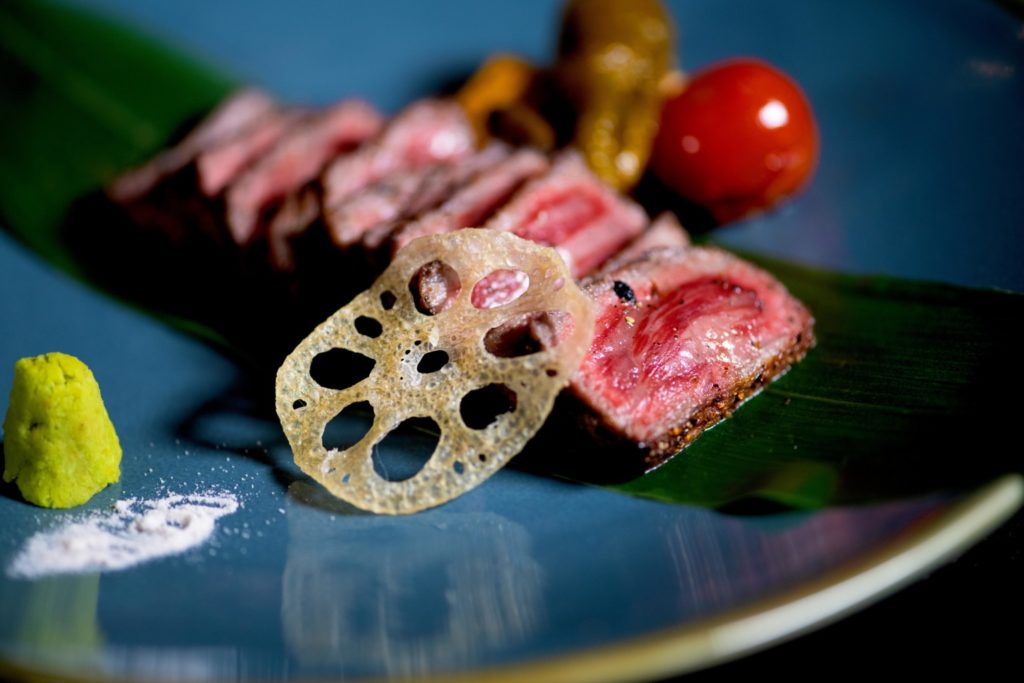 The "Prince of the menu" is the Black Cod Saikyo Yaki from the Robata grill menu. You can see why everyone raves about it. If you know, you know. If you don't know put down whatever you are eating and get to Ginza to try it. It is absolutely superb. The work behind the dish which has to be marinated in saikyo miso for 48 hours ensures the diner has every taste bud satisfied. The thick flakes of flesh hold form but melt in the mouth. This dish is a must-try for any seafood lover.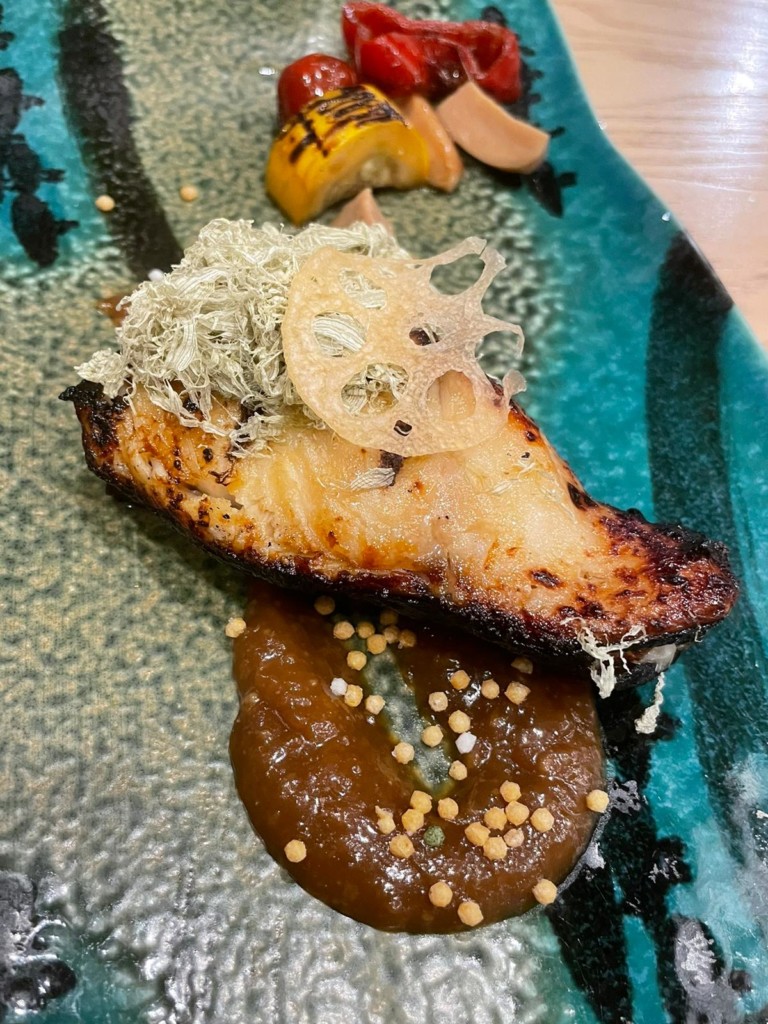 We did also try the Yuzu Baby Chicken from the Robata grill. We loved the Yuzu mayonnaise, but our hearts still remain with the Black Cod.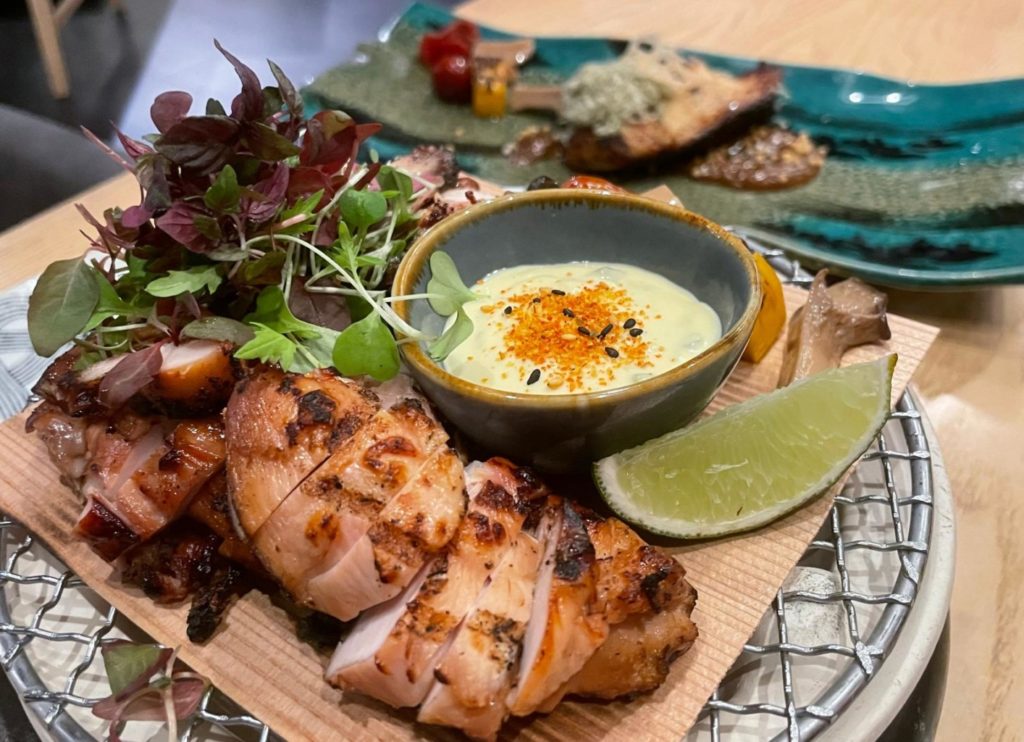 Ginza St James's offers a number of unique dining experiences, perfect for a special family occasion or work outing. From 2 Teppan-yaki counters featuring Kagoshima Wagyu Beef and other delicacies, Ginza's expert chefs will cook right in front of guests creating the ultimate theatre of food.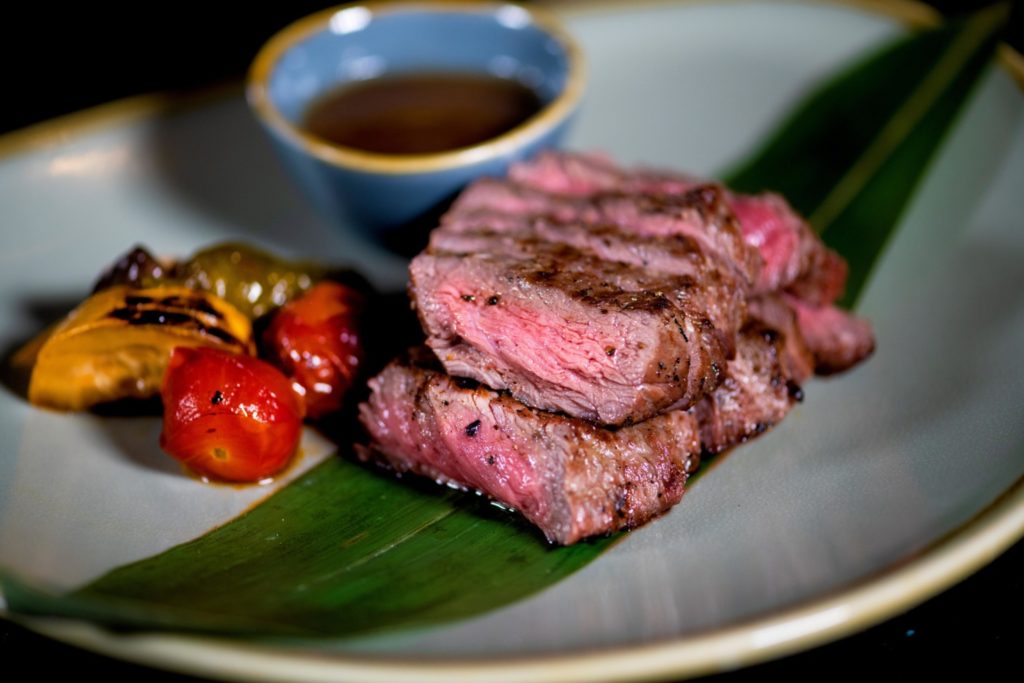 For serious fans of sushi, Ginza has a private area for guests to enjoy where they can experience "Omakase" – roughly translated as "I will let you decide". The highly experienced chef is well versed in this style and will prepare a tailored menu for each guest making this a meal they will never forget.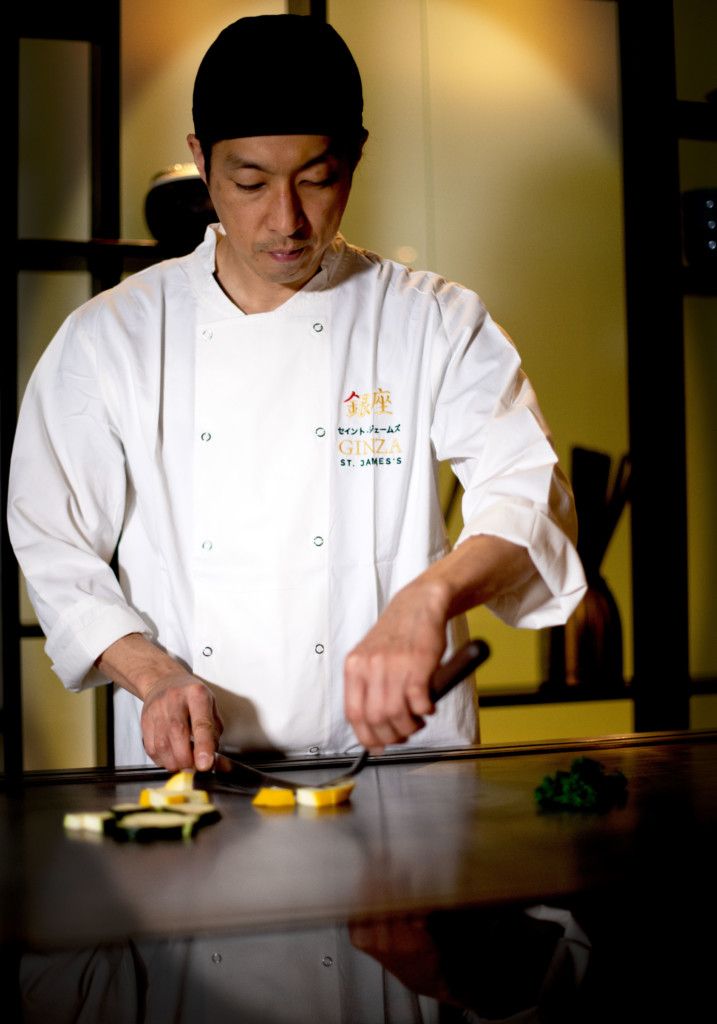 From family celebrations to corporate dinners, Ginza St. James's offers flexible spaces that can adapt to any requirement. The small private room offers seated lunch and dinner for up to 6 guests whereas the large private room offers seated lunch and dinner up to 12 guests with standing receptions up to 15 guests. Flower arrangements, birthday cakes, place cards and AV equipment is also available upon request.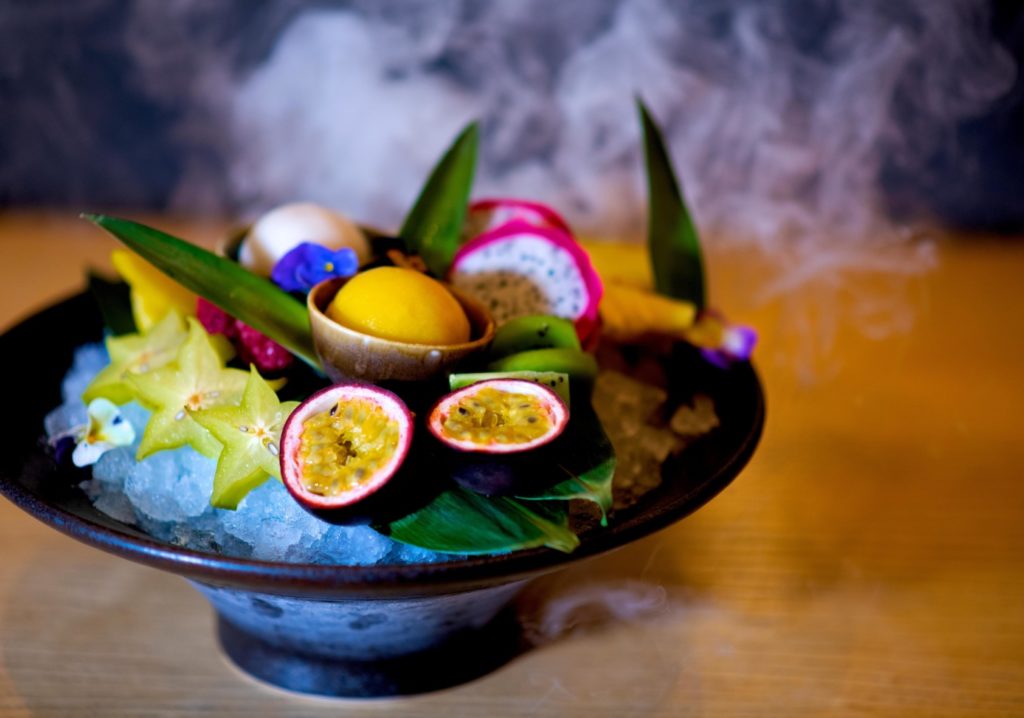 Whether you're looking for a grand sit-down dinner, a glamorous drinks reception or a distinguish party, the dedicated events team at Ginza ensure that every intricacy of your event runs perfectly from the initial development through to the day itself.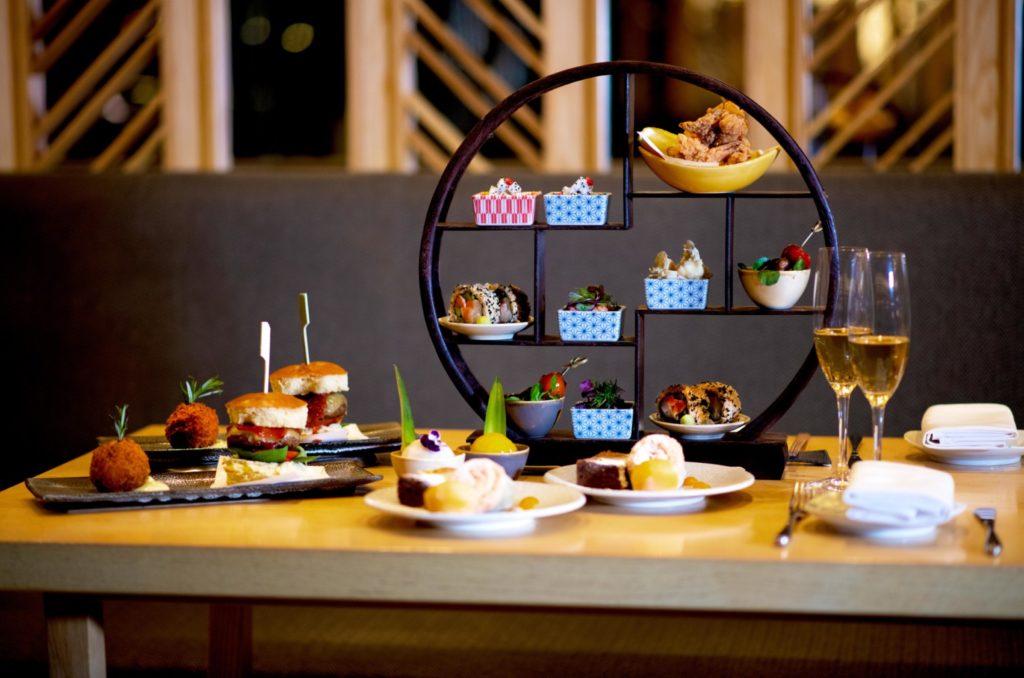 Exclusive use of the full restaurant allows for 120 seated guests for breakfast lunch or dinner. In restaurant section 1, 50 guests can be seated or 70 guests can be accommodated for a standing reception. In restaurant section 2, a standing reception for 50 guests or 40 seated guests can be accommodated.
Ginza St. James's is open from 12pm to 3pm and 5pm to 10.30pm Tuesday to Friday and 12pm to 4pm and 5pm to 10.30pm on Saturday. The restaurant is closed on Sundays and Mondays.
Ginza St. James's
15 Bury Street
London
SW1Y 6AL
0207 839 1101
www.ginza-stjames.com