Most of us have been thrilled to relax in the sunshine over recent weeks, with unexpectedly lovely weather gracing our long-awaited get-togethers. What's better? This sunshine is set to stay! That's right, if recent weather reports are anything to go by, we're set to enjoy a mini heatwave, meaning your upcoming garden celebrations won't be quite as chilly as they have been. No longer will we be sat shivering in our coats, cups of tea or hot chocolate in hand. Instead, we'll be embracing everything springtime-inspired! However, with warmer weather comes a number of things you need to think about… for example, you must stay hydrated. Meanwhile, according to experts, there are specific foods you should both avoid and incorporate more heavily into your diet…
What foods should you be eating? What delicious meals celebrate these ingredients and, more importantly for those of us who aren't culinary masters, which takeaways are best suited to our heatwave-specific dietary needs? Thankfully, Charlie Menegatos, Founder of London restaurant chain Going Greek, is on hand to answer all of these questions, ensuring you enjoy a nutritiously rich, sun-suited diet this spring. With Charlie's insights, your spring breakfasts, lunches and dinners will be sorted!
Berries
On warmer days there's no better way to start your day than with fresh berries! Not only do they taste delicious, strawberries, raspberries, cranberries, blueberries and blackberries are all alkaline fruits; they're thought to generate cold energy in the body, keeping you cooler for longer. Plus, they're incredibly refreshing, have cardioprotective properties and are generally very versatile, meaning you can use them in lots of different ways.
For breakfast, a simple combination of Greek yoghurt and berries is wonderful. Although, you can enjoy berries for a delicious spring dessert too! For example, meringues, Greek yoghurt and berries make for a lovely, unique pavlova; or, you can add berries and lemon to rice pudding to enjoy a fruity-twist on the Greek 'Rizogalo' rice pudding classic. Thank me later!
Coconut milk and coconut water
There's a reason most of us drink fresh coconut water on holiday; it's amazingly hydrating! Consider making some fun coconut water ice-lollies or use coconut milk in that summery, berry-filled rice pudding!
Celery
Celery is a hot day essential for one simple reason: it's 95% water! That means it's a perfectly hydrating, light and refreshing ingredient. Think about having some on-hand for your favourite dips; tzatziki for example is a delicious option. Plus, chickpeas are protein-rich making hummus and celery a winning summertime combination if you find that your appetite lessens in the heat, leaving you unable to finish bigger meals.
Sweet and spicy peppers
Peppers are a great summer choice; not only are there spicy and sweet varieties, making them a perfect addition to a wide range of meals, they're 92% water and incredibly hydrating. Plus, peppers are packed with vitamins (one red bell pepper contains 253% of your recommended vitamin C intake, alongside an added dose of vitamin A). Basically, they're delicious and healthy – perfect.
If you're looking to cook something pepper-filled at home, Shakshouka is a simple and tasty dinner; it's essentially peppers and onions cooked-off in a pan, seasoned with paprika, cumin and other spices, baked with eggs in the oven – it really is a wonderful, vibrant dish. Alternatively, if you're opting for an easy takeaway instead (who can blame you? Spend more time relaxing in the sun!) then peppers are delicious additions to Greek gyro (which can also be vegan); alongside aubergines, courgettes, mushrooms, onions, parsley, tomatoes and paprika in a pita wrap, this light bight is perfect for a hot afternoon.
Cucumbers
Cucumbers are as water-filled as lettuce; they also contain silica which enhances elasticity in joints, skin and fingernails. They're cooling, tasty and fresh – ideal for a hot day! Meanwhile, it's worth noting that cucumbers retain more water when they're raw, so consider having them diced in a refreshing tzatziki side dish. Alternatively, if you're wanting a warm meal, Greek cuisine is filled with an abundance of delicious options! For example, Cypriot kebabs are filled with cucumbers and dressed with olive oil and lemon for a zesty taste.
The simplest way to enjoy cucumbers? A salad! Greek salad for example, with zingy feta cheese, is a fan-favourite for a reason.
Tomatoes
Tomatoes are delicious, no matter how you have them; pureed, whole, raw… they're delicious and perfect for a spring day. Whether you choose to have them chopped in a salad, as part of a cold tuna pasta bake or in a spicy salsa, they're easy to prepare and carry a strong flavour. A simple tomato and mozzarella linguine is delicious and light, whilst tomato and goats cheese tarts are a great picnic accompaniment.
If you fancy a takeaway, consider a chicken or halloumi souvlaki; marinated in herbs, lemon juice and olive oil, the fundamental ingredient in this dish is always flavoursome!
Grains
Grains are a great heatwave choice; when they cook, they soak up water which your body absorbs whilst it's digesting your meal. At Going Greek, we serve bulgur wheat for example which is a delicious, healthy alternative to rice that'll keep you in tip-top shape while the weather's hot.
Honey
Last but not least, honey! You may have to be careful where you eat it (you don't want to attract wasps…) but there are lots of reasons to eat honey every day. For example, honey has no cholesterol at all, is a fantastic antioxidant, improves memory, promotes a strong heart, cleanses your digestive tract and more. It really is something we all ought to be prioritising! Thankfully, there's one indulgent answer that celebrates honey and all of its added benefits… baklava! Yes, you now have even more of a reason to order dessert.
About the expert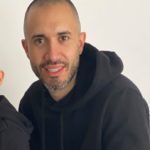 Charlie Menegatos is the Founder of London restaurant chain Going Greek; he and his team are whole-heartedly committed to creating exceptional dishes, all of which are inspired by a cuisine that derives from a wonderfully hot country. As such, Charlie is perfectly positioned to advise on the healthy ingredients that anyone in hot weather should be embracing; now, he's outlining these ingredients alongside an array home-cooked delights and mouth-watering takeaway meals that celebrate their benefits. For more information about Going Greek visit www.goinggreek.co.uk