London has more than its fair share of Indian street food haunts, but nothing quite like Hankies. Having launched in January 2018, this brilliant new concept combines the fuss-free, fresh, light and aromatic small plates and incredible value for money that are synonymous with this type of cuisine, but does so in the stunning surroundings of the luxury Montcalm Hotel in Marble Arch.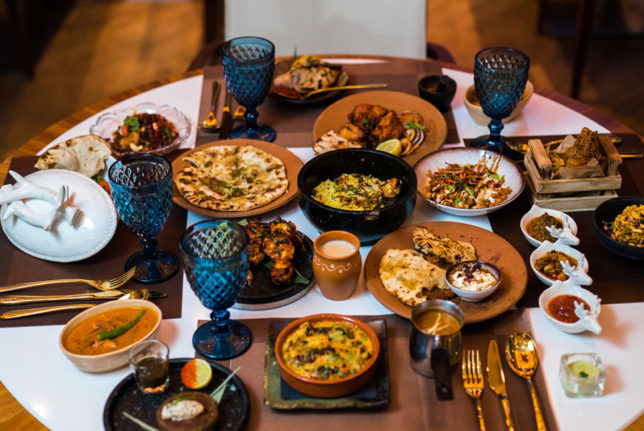 The restaurant is filled with gorgeous artefacts, glassware and china sourced from Indian markets and antique stores by chef and Hankies founder Anirudh Arora.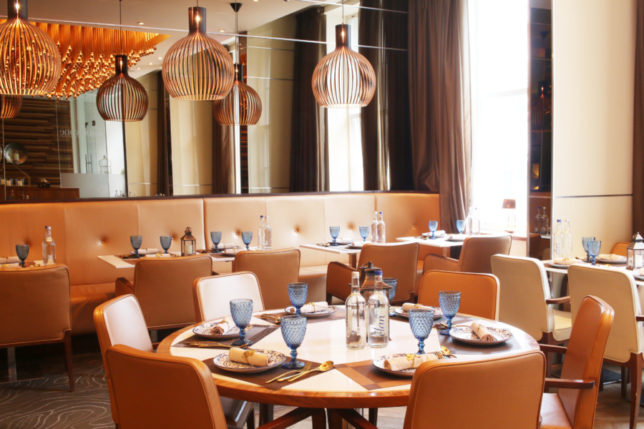 Honing his skills in some of the best restaurants in India and London, Anirudh launched Hankies Marble Arch with a personal mission in mind: making authentic and delicious Delhi street food accessible and enjoyable in a beautiful and curated London setting.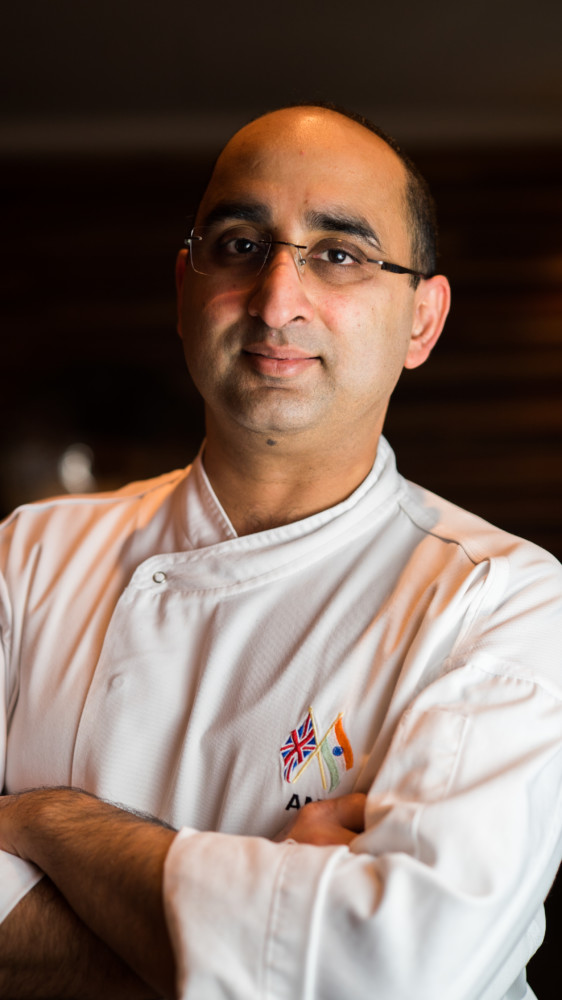 Anirudh's menu showcases relaxed north Indian cooking at its finest and with dishes priced very reasonably to  encourage diners to indulge and share dishes with the table to spark conversation and add joy to eating.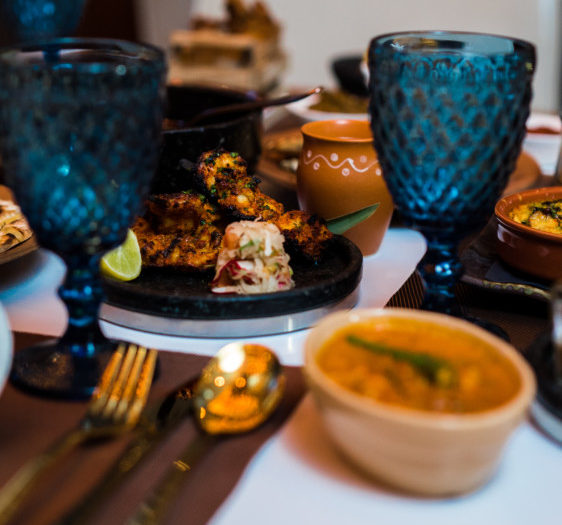 At the heart of Hankies is the roomali roti, a classic Indian roti (thin wheat-based flatbread) which is hand spun by Ani until thin enough to see through and then cooked on a burning hot roomali tawa positioned at the front of the restaurant.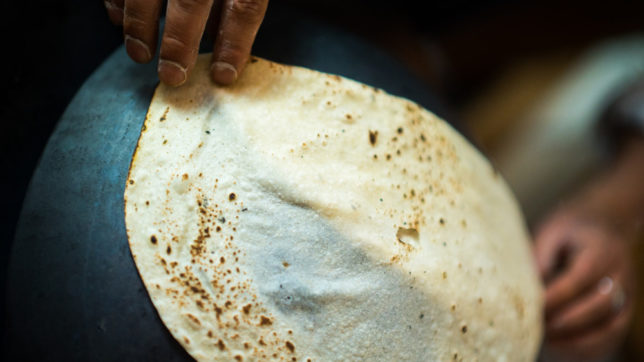 The ultimate food theatre, these are then folded into 'hankies', which in turn accompany – or enclose – all the dishes on the menu, starters and mains alike. Also worth a mention is the special Tomato Roomali which enclose a tasty filling of spiced feta with roasted tomato drizzled with homemade garlic herb oil. The perfect choice to whet the appetite.
If you looking for an accompaniment to soak up the dishes delicious Indian sauces, try the naan breads baked fresh in the tandoor oven including Hankies' Truffle Naan which is puffy and airy stuffed with vintage cheddar, cumin and shaved truffle – not only delicious, but boasting a truly remarkable price of only £6.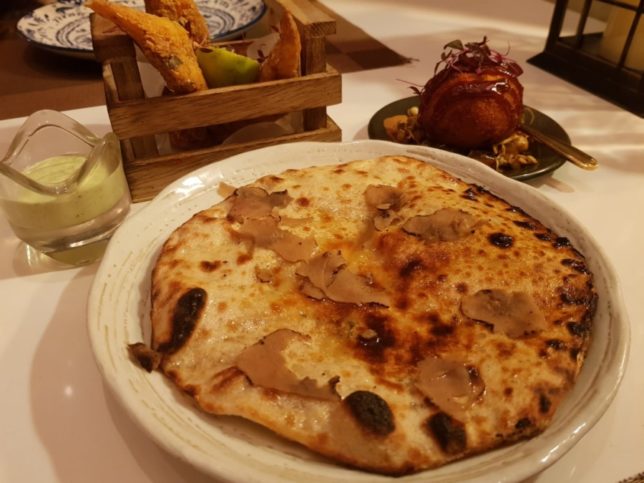 We highly recommend the Crispy 'Gold' Cod flavoured with golden turmeric and fragrant Amritsari spices served with a sour mango dip.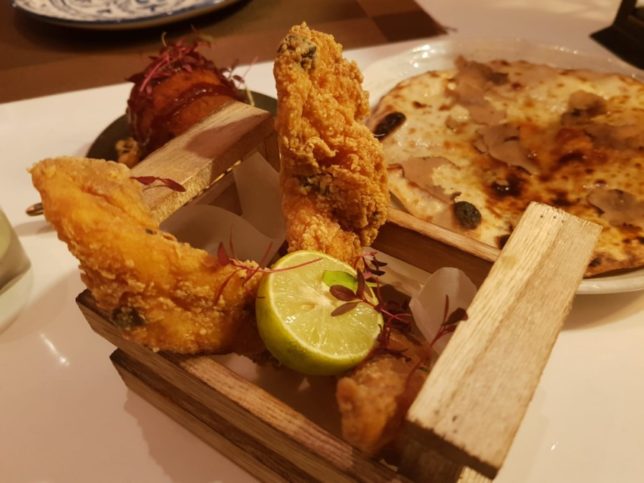 Earlier this month, Hankies have launched their Autumnal menu, including Bone in Tomahawk steak with Himalayan spice rub and garlic chutney in addition to Roasted Purple Cauliflower with minted chutney potatoes,  carrot & curry leaf raita. Alongside these dishes are joined by Pheasant Gol Mirch served with cherry peppers, mustard oil, cracked peppercorns and spicy peppers. A flavourful dish although some may find the pheasant a tad dry.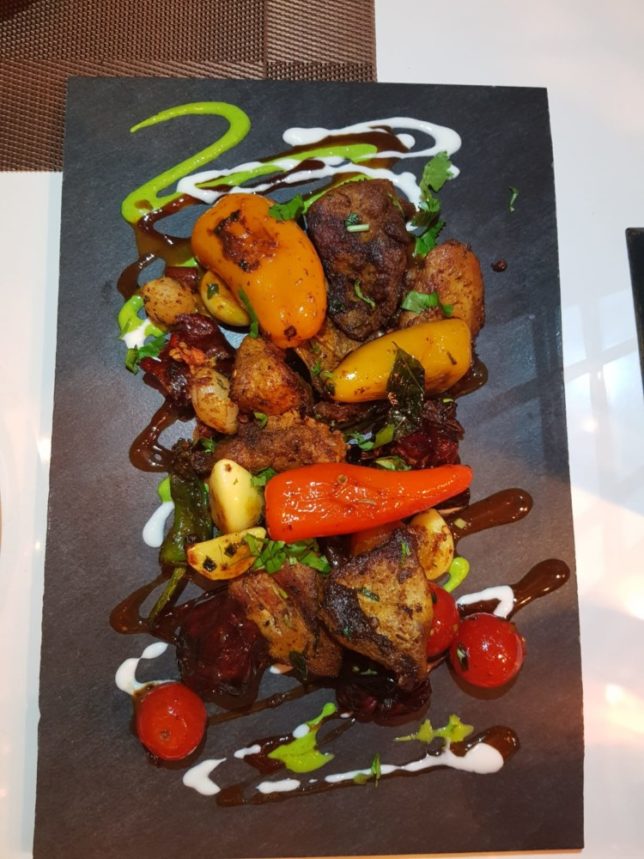 Hankies very own Crispy Soft Shell Crab with stir fried masala crab meat, potatoes and spicy peppers is a must try combining subtle spices with the fresh taste of the ocean. The whole crab is a crispy treat and is complemented well with the mix crab in the curry base.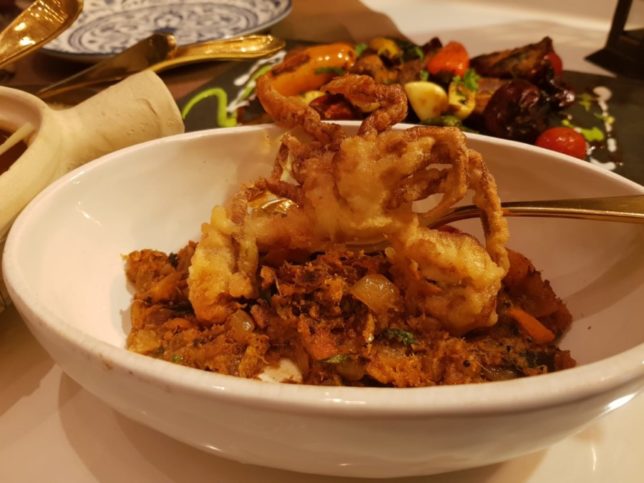 The Sweet Potato Bomb has been well thought out and combines sprouts, spicy chickpeas, jaggery and chilli jam with a melt in the mouth centre surprise making it a must for sweet potato and cheese lovers.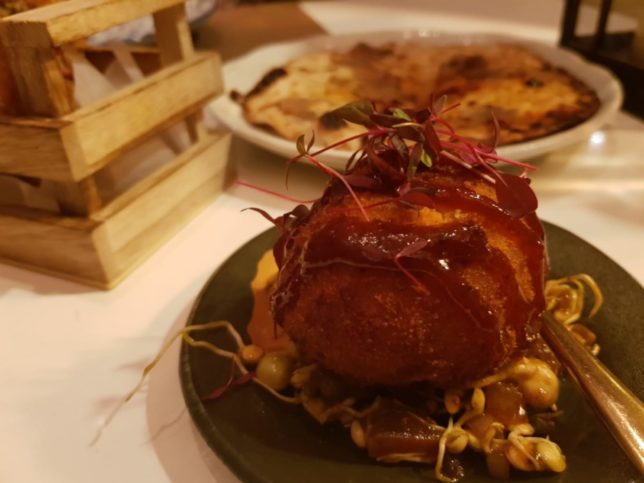 The Bellpepper Lamb consists of slow braised lamb with baby peppers, ginger and tomatoes. A meaty dish, the lamb flavours popped out and combined well with the spices of the dish. The colourful baby peppers added nice texture to complement the dish.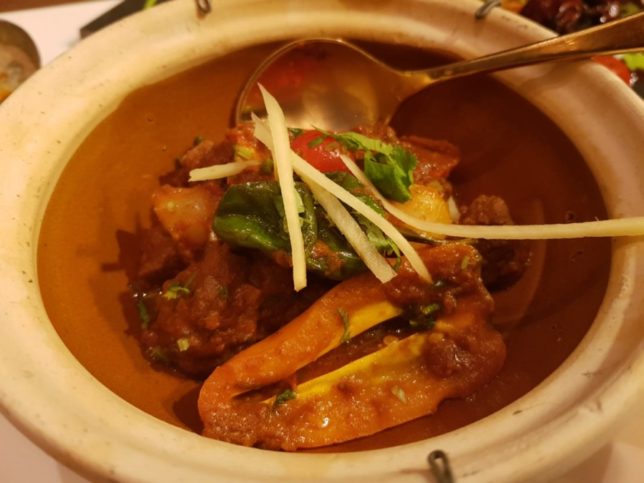 The Venison Chapli is a new dish for autumn. It is a mix of Muntjac deer, ground spices and fresh chillies with pickled onions on the side. The meat is cooked well done but despite this the spices make it moreish.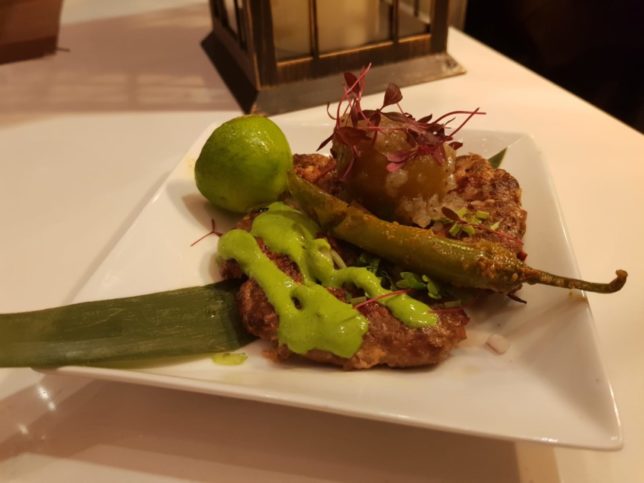 A top dish for vegetable lovers is the Khumb Kofta made with wild mushrooms in a creamy cashew kofta sauce with baby morels. The dish was creamy with earthy flavours. This well-rounded dish is a must for mushroom fans.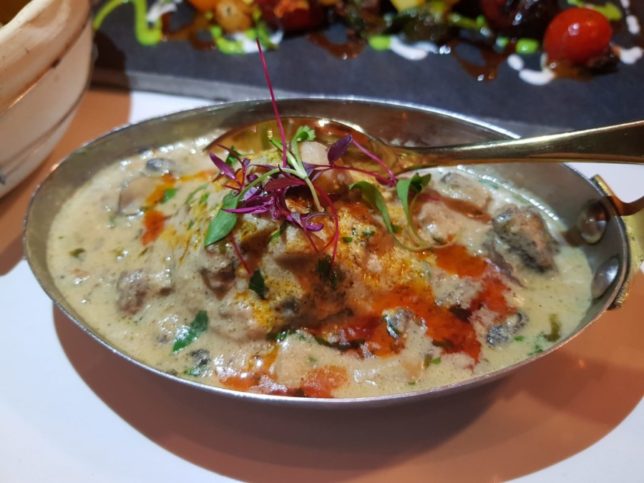 All the dishes combine really well with one of Hankies' expertly mixed cocktails or a refreshing beer. We had a Dilli Drum – a blend of cognac, apple, lime and Angostura bitters topped with homemade Velvet Falernum and a non alcoholic drink – Raspberry Kiss which was a mix of muddled raspberry, cranberry juice, gomme syrup topped with ginger ale for a festive fruity hit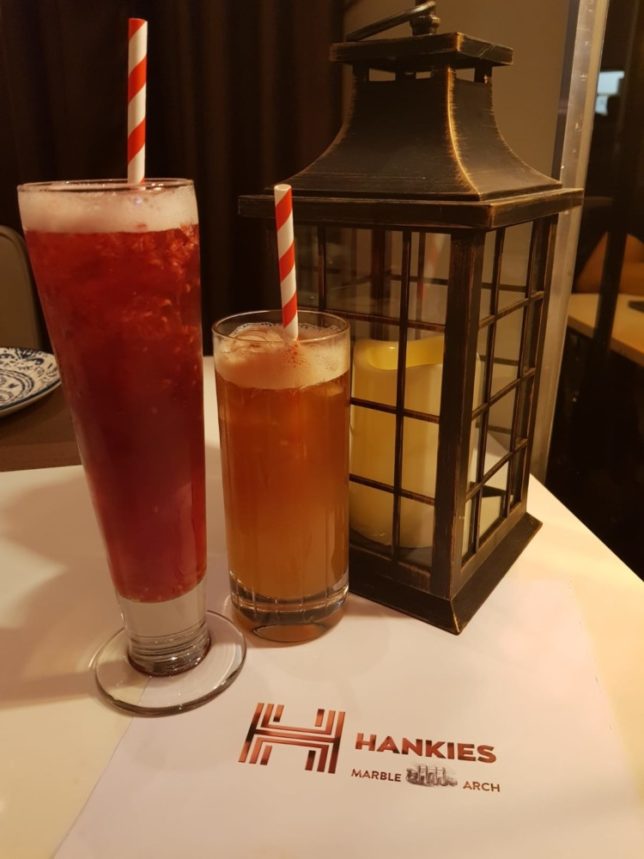 The tempting dessert menu contains a variety of exotic sweet treats from Masala Chocolate Fondant to Khulukand Kheer but we couldn't help but sample Hankies homemade 'Kulfi' ice creams include Mango and Saffron, Fennel 'n' Paan and a superb Pistachio.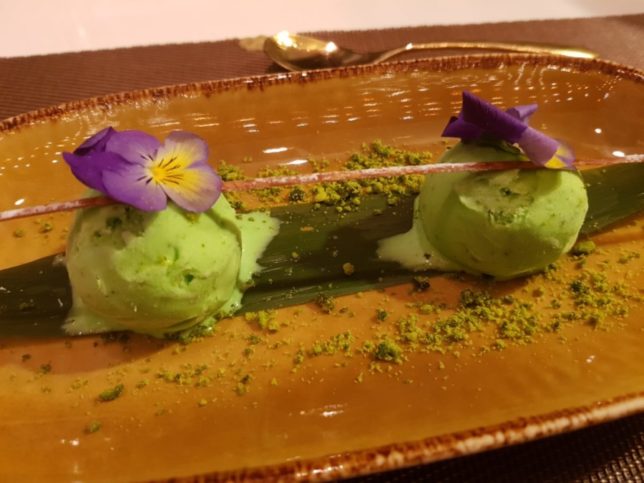 Anirudh Arora and his passionate knowledgeable team deliver Indian street food as you've never experienced it before and the chef has certainly achieved his aim of making authentic and delicious Delhi street food accessible and enjoyable in the beautifully curated setting of Hankies Marble Arch – well worth a visit!
Diwali at Hankies Café
Also known as the festival of lights, and one of the most significant festivals in Indian culture, Diwali falls this year on Wednesday 7th November. Diwali food is all about sharing with loved ones, something which is at the heart of unique Delhi street food concept Hankies Cafe. Chef Owner Anirudh Arora is offering diners a sumptuous multi-course feasting menu bursting with flavour and colour like this dish of bhindi bhel – crispy rice puffs with okra, sweet chutney, onions & fresh coriander with a delicious sweet and sour "kick".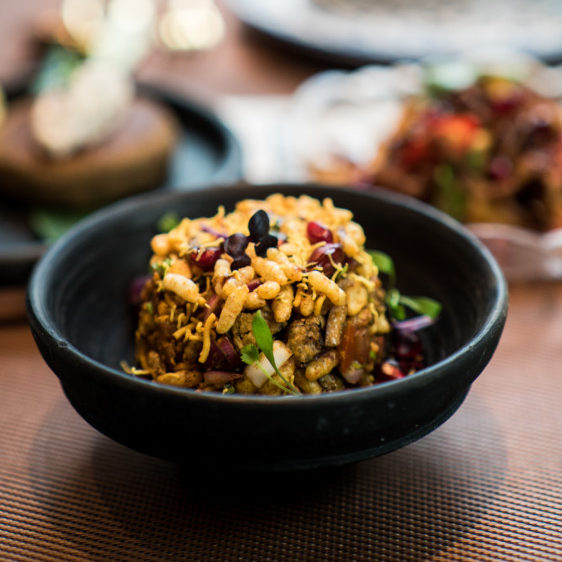 At an incredible £20 per head, Hankies Café's Diwali Feast will be available from 3rd to 9th November at lunch and dinner. Hankies Café is located at 67 Shaftesbury Avenue, London W1D 6EX
Hankies Marble Arch
61 Upper Berkeley Street, London W1H 7PP
0208 958 3222
hankies.restaurant
I: @hankiesmarblearch