By Cate Murden – founder of leading wellbeing and performance company, PUSH.
Multiple national lockdowns have ensured that 2021 is going to look a lot different to anything previously planned and the wise will realise that different tools and frameworks are needed to not only get through the year but to manage and excel at it. Whether working from home, furloughed, home-schooling or isolating, there are steps you can take to make the most of any situation.
Having launched the must-have e-book for anyone wanting to get out of their own way, here are the hacks that you need to know in order to survive lockdown and make this year, your best.
Taken from 2021 High Potential Hacks, the "bloody simple" life skills are set out in an easily digestible toolkit, allowing you to dip in and out, learning positive daily behaviours from some of the highest performing people.
Featuring sections including 'fight fear and flee your comfort zone' and 'developing self-belief to manage unwanted noise', the hacks are perfect for anyone at any stage of life.
But what should we specifically be adhering to during lockdown, to make sure we survive and even, thrive?
Everything will be alright in the end
Don't just focus on the negatives of the past year and the trouble lockdown has brought to your door. Instead think of how it has changed your perspective and helped you to pursue a different routine or path. One when door closes, another opens – the door you pick is up to you.
Give less of a f*ck
Let's be honest, everything we knew about ourselves and the world around us has changed and there is likely no going back. Do you need to wear make-up every day or upload an edited pic of your post-run selfie on Instagram? Probably not, because guess what, everyone is busy worrying about themselves and what they are doing right now to care about how you look working from your dining room table. Yes, we are all programmed to acknowledge to some degree what others think of us, but its realising when not to care and instead using that energy to focus on something positive.
Approach life with curiosity
We are all stuck indoors, so you are probably thinking, how can this be helpful right now? Our daily schedule has changed, and for many, we have more time on our hands, so the question is, what do you do with it? Learn something new, read a book about a subject you know nothing about, virtually network with people in your industry or with your same hobbies, turn a boring situation (ie – lockdown) into something positive. Taking a small step out of your comfort zone now could lead to wonderful things!
Understand your brain/body connection
At the moment it is easy to sit watching Netflix eating everything in sight, but how is that making you feel? Anxious? Frustrated? Not to mention, bloated… Instead, how about using lockdown as a time to discover meditation and mindfulness; even ten minutes a day can help you control your emotions and be more present.
Set boundaries
Again, perhaps a strange one when we are literally inside the boundaries of our home. But how much time are you spending on your phone, or in front of the TV? How many times have you agreed to do that piece of work by tomorrow morning, knowing full well it means working way past midnight? Setting positive boundaries and being unafraid to say no, as well as switching off – from work, your phone, the computer – is the path to better wellbeing, even once lockdown has finished.
Give your routine a shake-up
We are the product of our daily behaviours, which isn't always good… Use lockdown to look at the habits you want to change, those you want to encourage and ways to remove or energise these. Examine how things are affecting you and look for healthy replacements – running instead of binge-watching tv? Reading in bed instead of replying to emails? Try to avoid triggers, but accept we are all human and you will sometimes give into temptation. Our routines have already been irreparably changed, so take control of that change.
Navigate this uncertain time with resilience
The most important thing any of us can do right now is accept that times are hard, and our feelings of loneliness, stress and sadness are valid. Remember though, you have lived through all your worst days so far and come out the other side. Be kind to yourself, know this will pass and accept that sometimes you will need to ask for help. Celebrating each and every day you get through, will give you the strength to keep on going.
Control the controllable and let the rest go
You can't control lockdown. Or the pandemic. Or that your job has you furloughed. But remember, you are free to choose your attitude towards the situation. Write down the things you can't control and accept that. Note the things you can and see how small changes to those will make a difference. Meditation and mindfulness are the perfect activities to help you let go and make sense of the world we are currently living in, and both are in your realm to choose!
In the end, 2020, multiple lockdowns and the ongoing pandemic has brought with it many, many challenges, hard times, heartbreak, sickness and worse, but it has also allowed us to stop and take stock, discovering who we really are. It isn't what happens to you that counts, but how you deal with it, so try not to panic about what you can't control and just appreciate who you are and what you have. Prioritise yourself and strive to make your world shine every single day – you are brilliant and unique, and the world needs more of you.
About the expert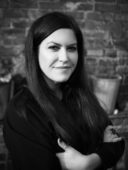 Cate Murden is the founder of PUSH – a leading wellbeing and performance company formed in 2014 which supports fast-growing companies unlock their human potential and achieve peak performance. Specialising in corporate wellness, mental health, leadership and professional development, PUSH work with clients to create bold solutions to human problems; developing innovative thinking and positive change from within organisations. They have supported leading global brands including TikTok, Facebook, Google, ITV, Twitter, Spotify and Universal towards achieving 'work-life brilliance.' For more information visit www.pushmindbody.com