By Josh Wildeman, Marketing Manager of luxury self-catering company Perfect Stays.
Right now a lot of holidays have been put on hold due to the global pandemic and following the third national lockdown, it's hard to not feel disappointed.
But there are plenty of things you can do at home to capture those holiday vibes and make the weeks ahead that bit more enjoyable.
Here are ten tips and tricks that can help transform your home into a luxury escape and best of all, they're budget-friendly.
Throw a film festival
Seeing as we're a while off going to any type of festival, get a taste of your own and throw yourself a film festival. Pick a theme, from beach movies to French thrillers and get ready for a laid-back weekend of nothing but movies.
Create a themed cocktail or menu for each film and see if you can borrow or purchase a mini projector from a friend to get the full experience.
Home camping
If you have a garden, pitch a tent and turn it into your own personal campsite. Create a back-garden camp by pitching a tent, setting up some camp chairs around a fire or an outdoor log burner and make some s'mores and hot chocolate.
You could even string some simple lights around your garden to add a little magic to your campsite.
Best of all, you have easy access to the toilet, the shower is nice and warm and there are no worries of unwanted creepy crawlies.
Even if you don't have access to a garden, living room camping brings the same experience and you're warm and cosy inside.
Cocktail creations
Nothing says 'holiday mode' like a well-mixed cocktail by the pool. Now, while many of us may not have the luxury of a pool, you can still enjoy a cocktail in the garden, living room, or almost anywhere really.
Build your own personal cocktail menu, gather some ingredients and indulge in a spritz or two that reminds you of holidays past and future.
If alcohol isn't to your taste (or you just want to avoid the hangover), create some virgin twists to any classic cocktail and don't forget to pull out the fancy glassware.
Try new foods
Recreate a classic dish from your favourite holiday destination and bring the flavours of your dream getaway to your kitchen.
Or if you would prefer to take a break from cooking, order a lavish Mediterranean meal, or Spanish feast from your local take-aways (as even during a lockdown you can still order take-aways).
But don't just stop at your evening meal, do this all day from your morning brunch to your after-dinner coffee. You will feel like you've spent the whole day anywhere but home.
Update your bed linen
It may seem slightly trivial but something that is always such a treat about staying somewhere new is the bed linen.
You cannot beat crisp, fresh sheets, so why not treat yourself and pretend you've woken up in a luxury resort.
Best of all, spring sales mean you might get yourself a bargain.
Spa day
Creating a spa-like space at home is easier than you may think. Although you may not be able to book an at-home masseuse, load up on as many sheet masks as possible, light your favourite scented candles, scatter some rose petals, run a hot bubble bath and voila! You're indulging in a holiday-like extravagance.
If you want to really push the boat out, rent a hot tub for the weekend.
Completely disconnect
If one of your favourite parts of being on holiday is being unreachable, recreate it at home. Place your phone, tablet and computers in a drawer – padlocked if necessary – and spend the weekend like you're on a desert island.
Avoid news updates, texts and the temptation to check your work emails.
It may seem weird, but you will survive and hopefully feel refreshed afterwards.
Activity days
You may be confined to your home for the foreseeable future, but that doesn't mean you can't get creative with your entertainment.
Try making a scavenger hunt for your family or housemates to pass the time. Print out clues, create a map and let your imagination do the rest. As we edge closer to Easter, this could be the perfect activity to distract your little ones and keep them off the chocolate for a few hours!
It's the little things
Although it might not feel like it, there are still great things going on in the world that are worth celebrating. You might not be able to go on holiday or to a fancy restaurant to mark occasions, but you can make your own fun at home with the help of the global calendar.
Do some research and find the annual events that appeal to you and your household – the Six Nations, International Women's Day and St Patrick's Day are a few to enjoy in the next few weeks.
Throw a themed evening, make a great playlist and have some drinks. You'll never guess you've been stuck indoors!
Fake it 'til you make it
For some of us, holidays are all about how they make us feel, but for others looks are everything. We tend to come back from holidays looking tanned and well-rested, and this is something we miss in the cold of lockdown 3.0.
Practice self-care where you can and fake that holiday glow. Fake tan can be a great confidence boost in the winter months, or wear your best holiday-inspired clothing at the first sign of sun and pretend away – until then, an 'apres-ski' inspired look will have to do!
Just because we're stuck indoors doesn't mean we have to look like it!
About the expert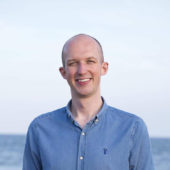 Josh Wildeman is the Marketing Manager of Perfect Stays. Perfect Stays specialise in spectacular holiday homes in beautiful locations across Cornwall, Devon and Somerset. Founded in 2011, it continues to offer a tailored approach and include a concierge service, to create unforgettable experiences for its guests. For more information, please visit www.perfectstays.co.uk