Hilton London Bankside is a design-led hotel and a Hilton flagship, pioneering the future of the brand and of travel. It is situated in the vibrant cultural hub of London's Bankside, moments from iconic London attractions, including the Tate Modern, The Shard, Shakespeare's Globe theatre, and that foodie favourite, Borough Market. This prime location offers guests an incredible base from which to explore the capital.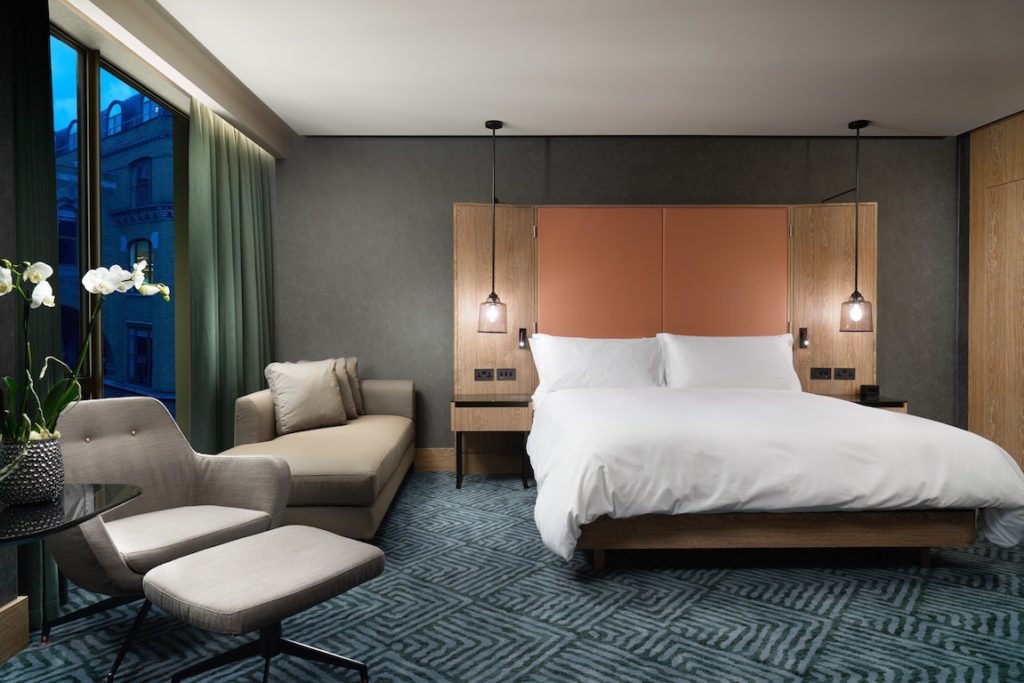 The hotel's unique design references the rich history of its neighbourhood. It has a modern industrial aesthetic that nods back to the history of the area in 1800, when the site was home to the famous Stevenson & Howell Fragrance Factory.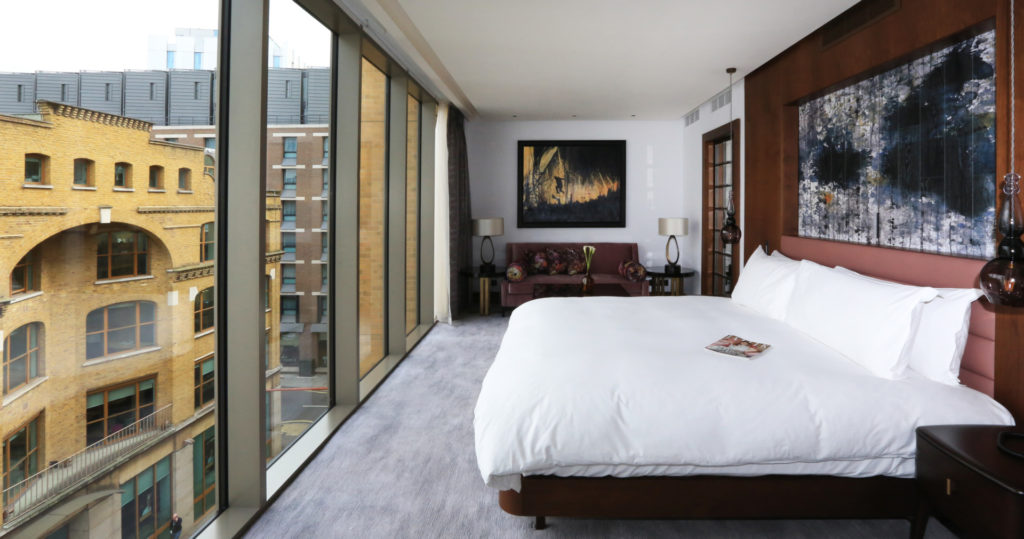 The hotel has 292 modern guest rooms, including 25 bespoke Suites and one beautiful Penthouse Apartment, which has its own private terrace and views of London. There are 11 flexible meeting rooms, Bankside's largest Ballroom and leisure facilities, including a fitness studio and heated indoor swimming pool that allows children to swim accompanied by an adult.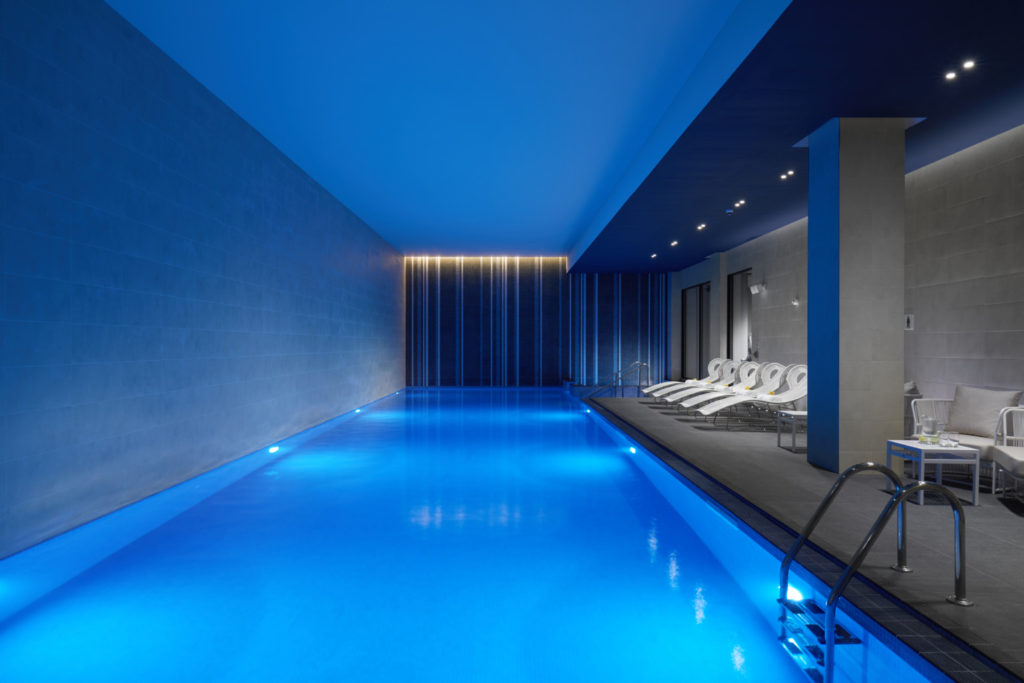 The hotel also houses OXBO Bankside, a 168-cover restaurant serving breakfast, brunch, lunch and dinner, and The Distillery Bankside, which offers a wide range of drinks including over 100 gins.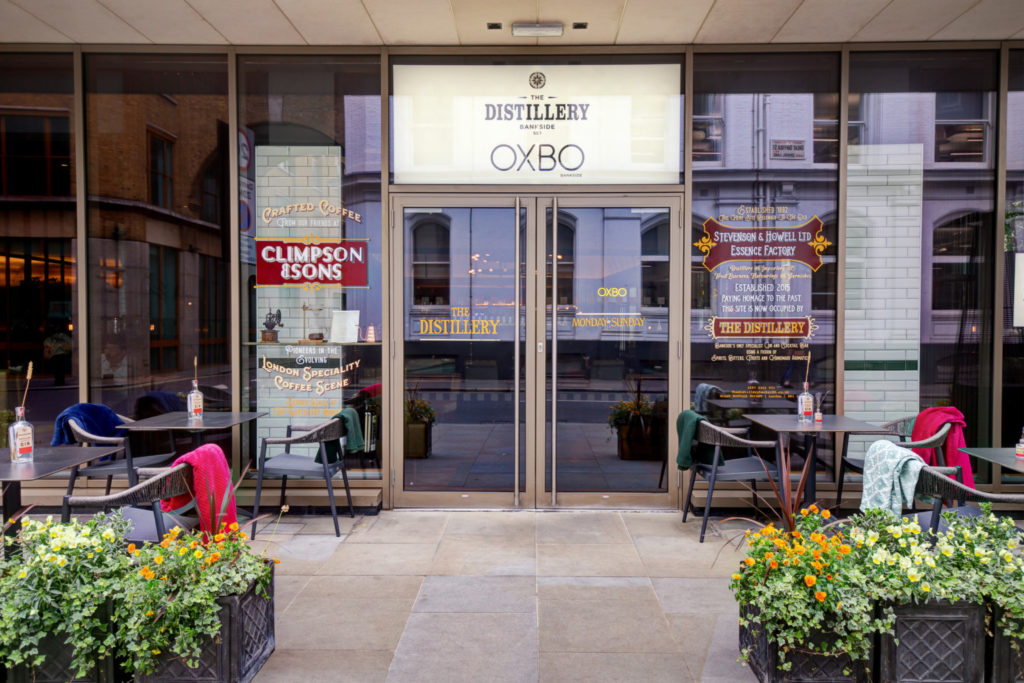 Hilton London Bankside is the perfect choice for hosting private events. It has 11 unique spaces, including The Agora, an award-winning multi-sensory meeting room designed to inspire creativity and enhance human interactions. The hotel also offers spa experiences.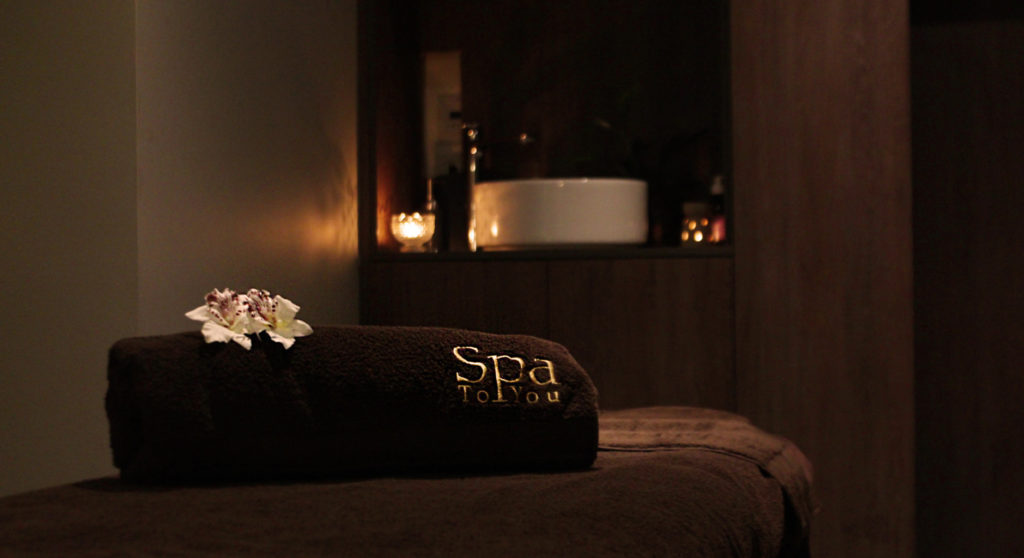 There are five different room options: Guest Room, Deluxe Guest Room, Executive Rooms and Suites, as well as a Penthouse Apartment. Guests staying in the Suites or Executive Rooms have complimentary breakfast and access to the exclusive Executive Lounge, which has a dedicated arrivals area and pre-check-in shower facilities.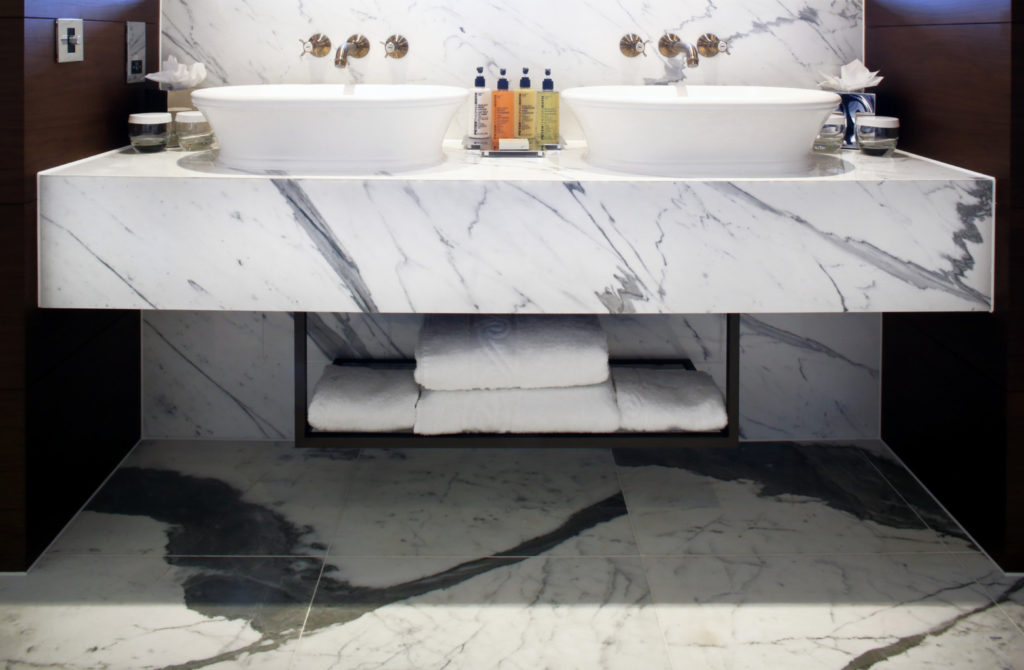 Hilton London Bankside offers a wealth of features and benefits for families staying at the hotel.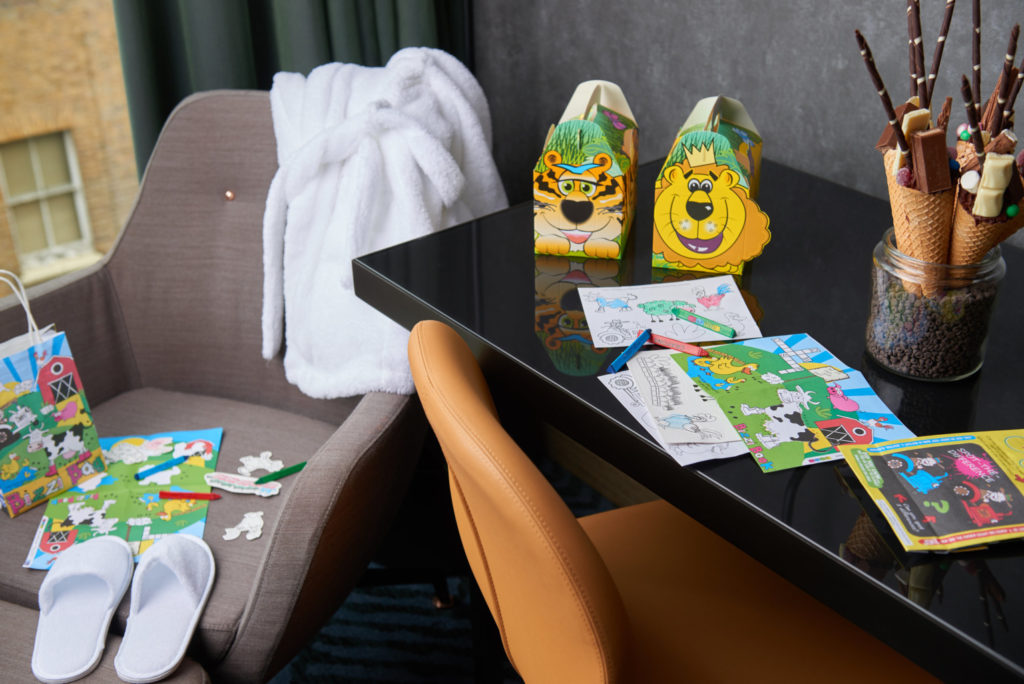 Bathtime fun is guaranteed for all thanks to the JOHNSON'S Baby toiletries and bath toys galore.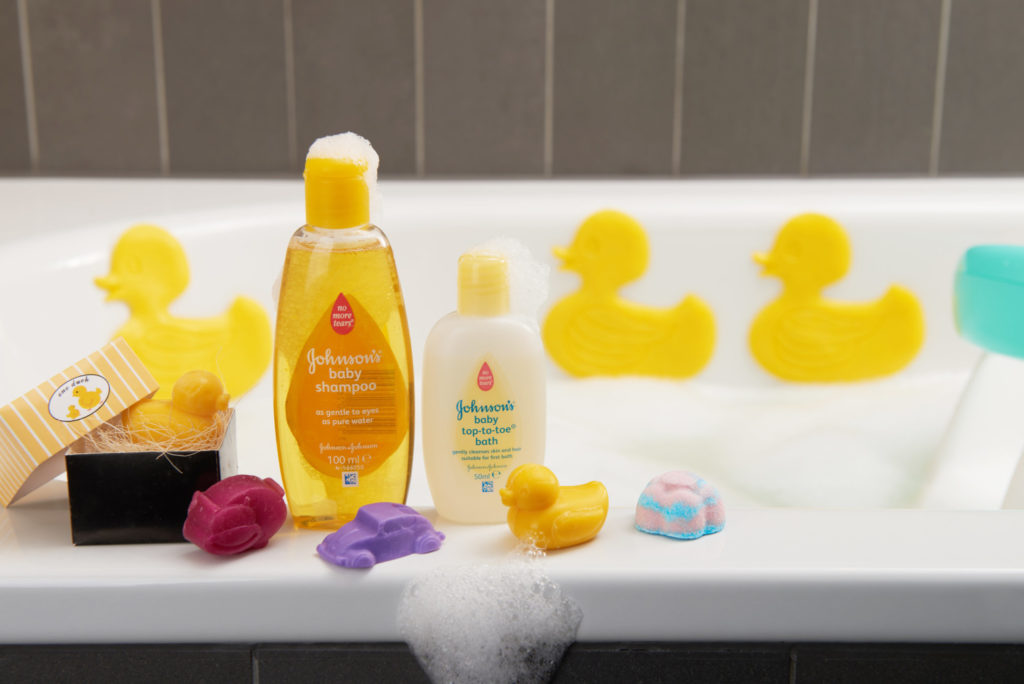 In addition, there is the luxurious fluffy kid-sized bathrobe and even a little teddy that's yours to keep to remind your little one of the fabulous family-friendly stay.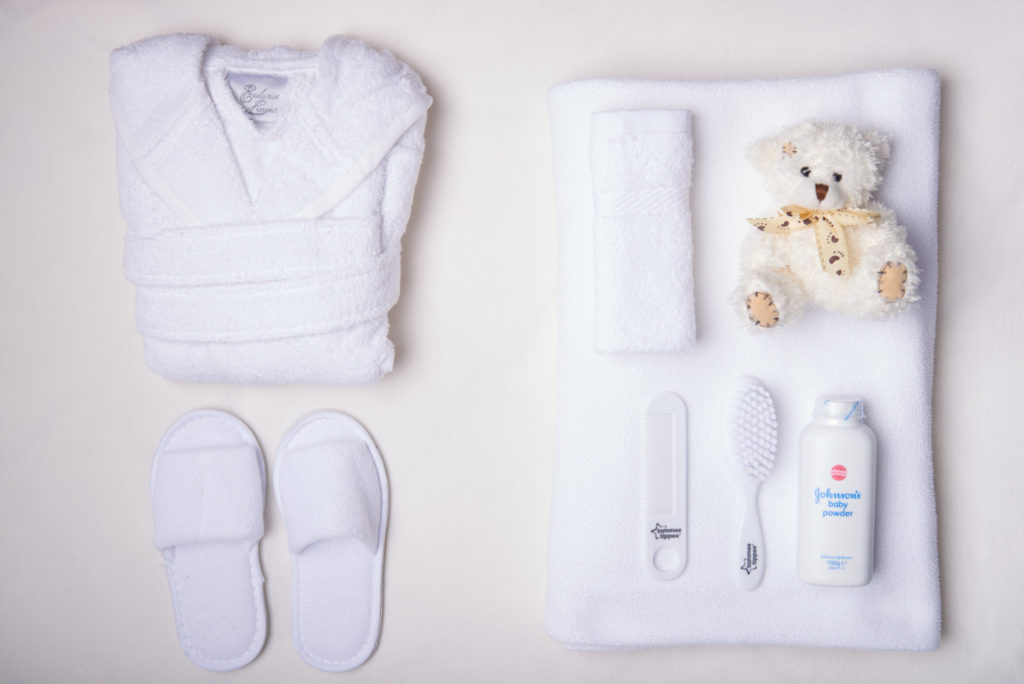 What a child-friendly hotel! Hilton London Bankside goes above and beyond to make a child feel at home. Mini Sloan was so happy with this glorious cot that awaited him.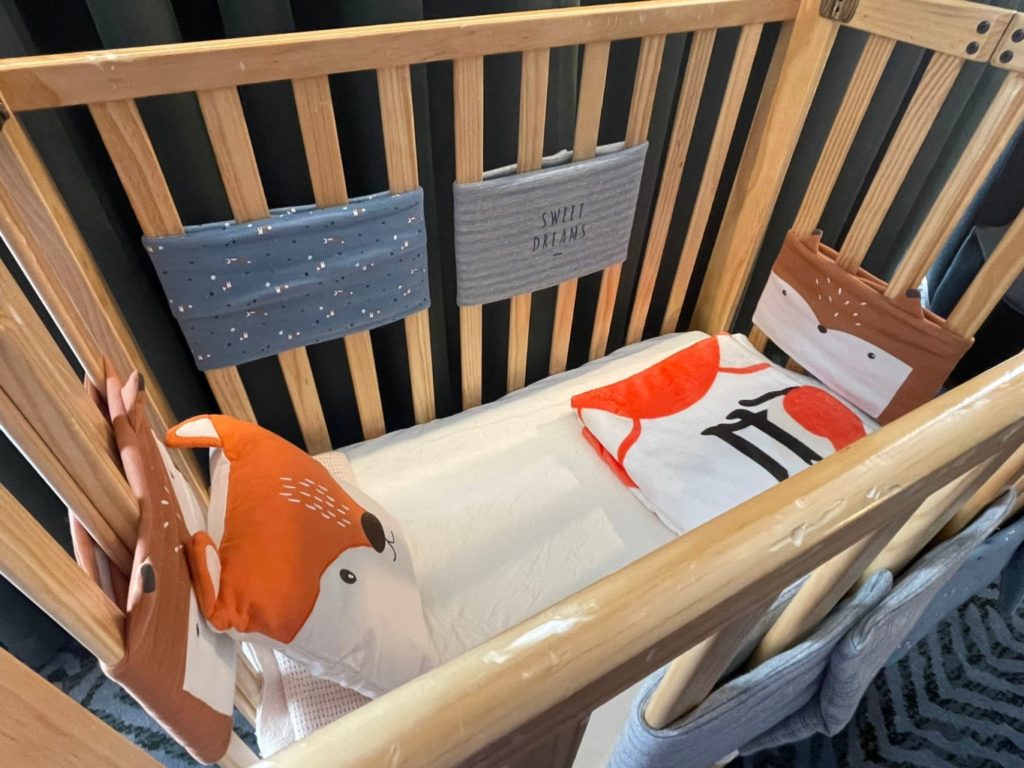 Clearly a lot of thought and preparation goes into any child's stay inclusive of a toddler-friendly seat and little steps.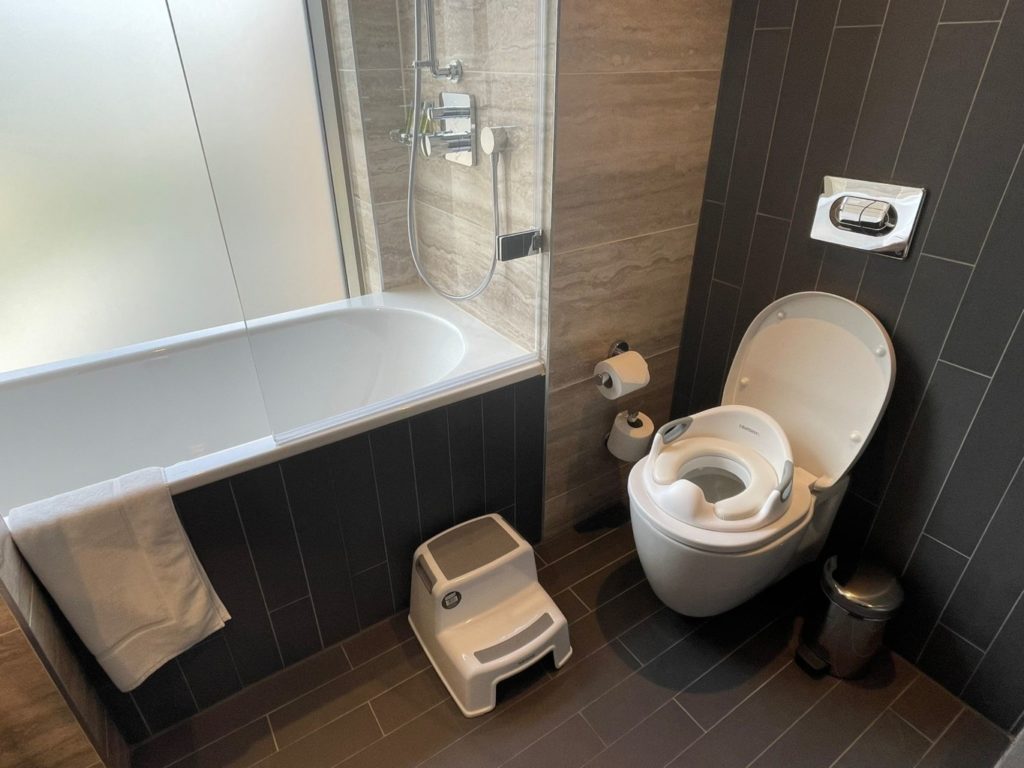 Going above and beyond, a selection of toys was supplied along with a really sweet picture book that was a joy to read to Mini Sloan.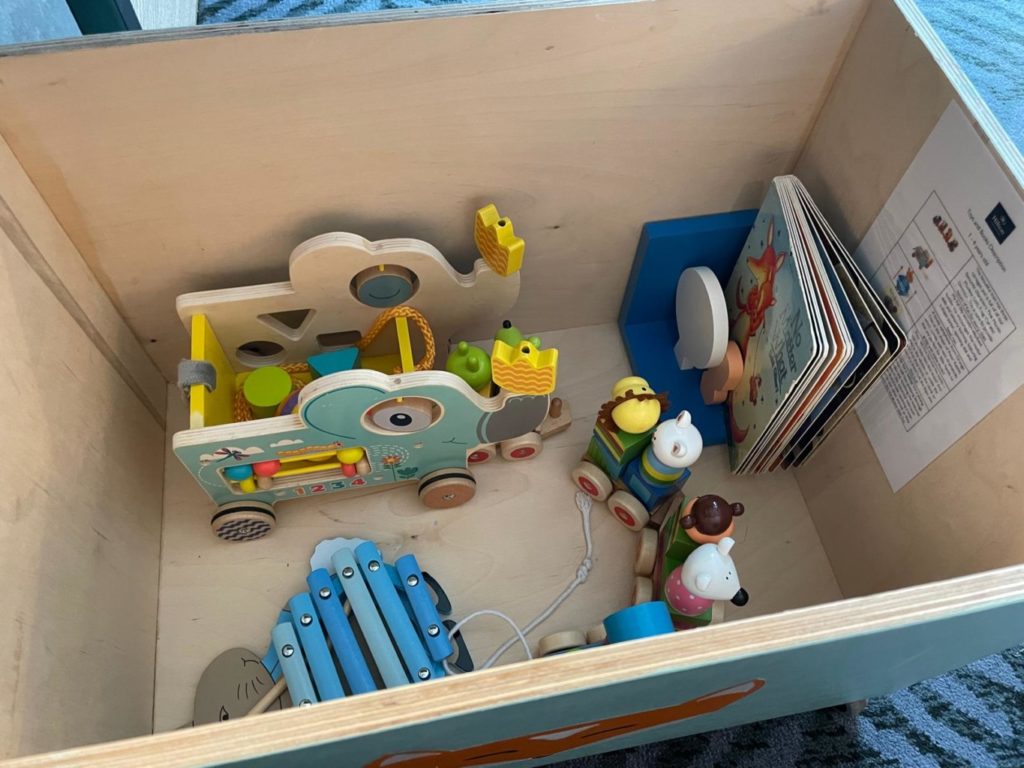 It didn't take him long to explore the toy box.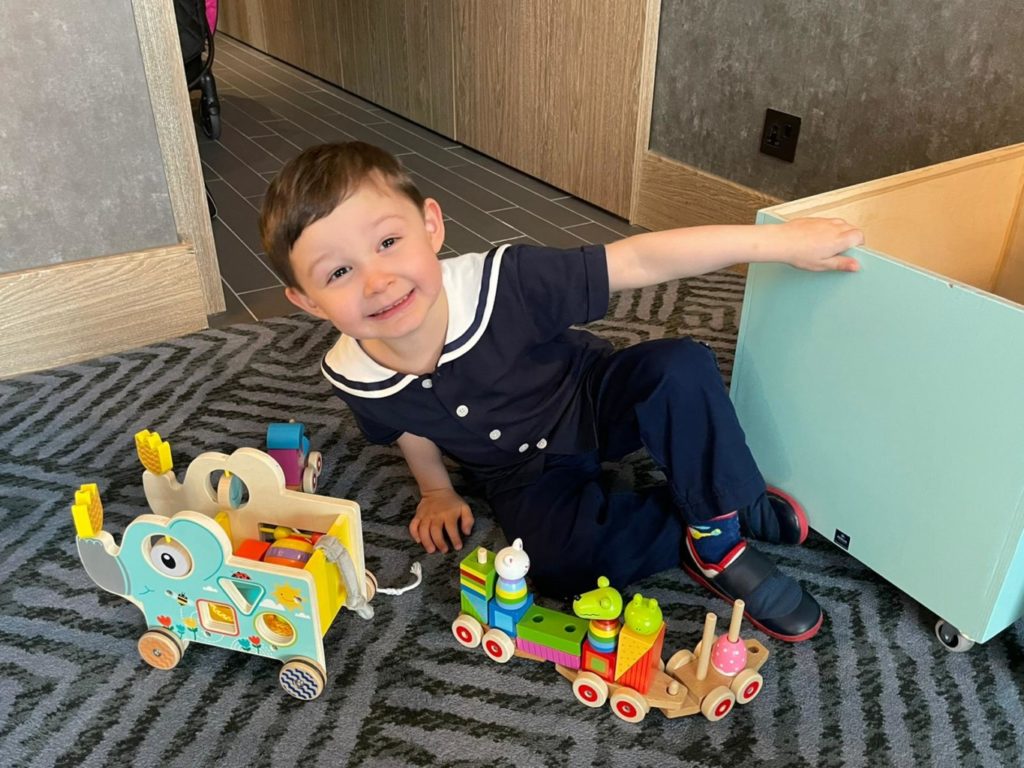 Then it was time to test out the musical instruments supplied after which there was plenty of creative play thanks to the crayons and colouring book.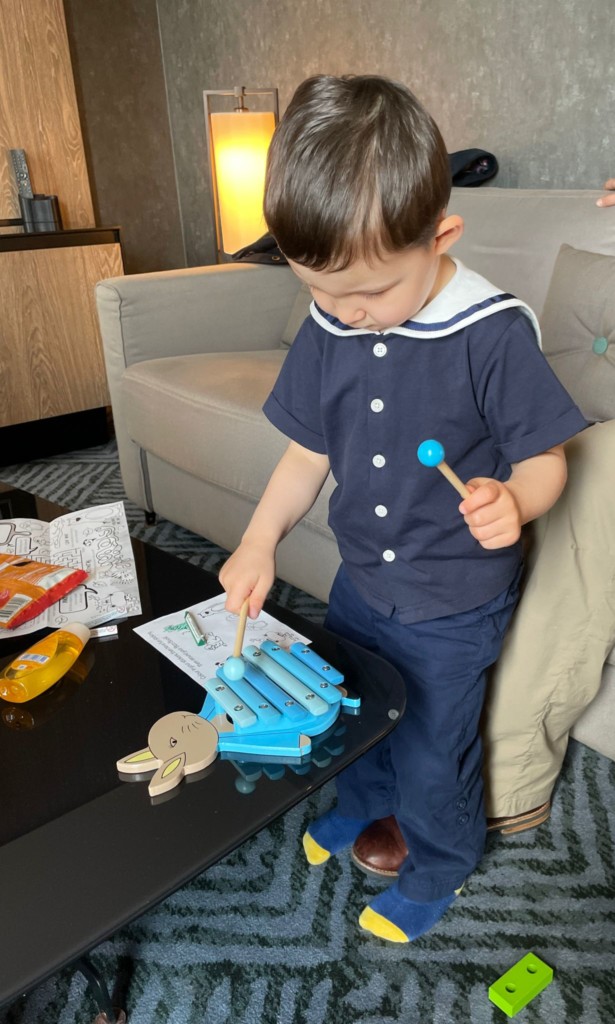 A hard decision followed – should one jump on the bed or read a book? Luckily a compromise was found!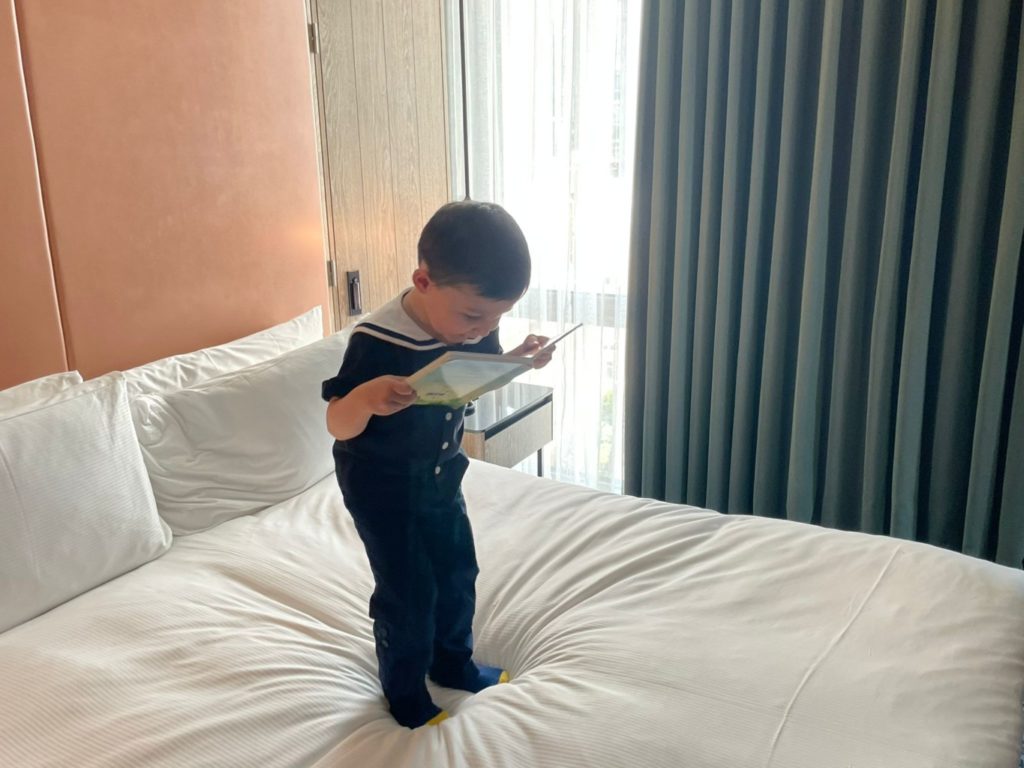 Our room was perfect for those who love views of the city skyline and you could even spy a train or two which fascinates little ones. No compromise on sound though. A peaceful night was had by all.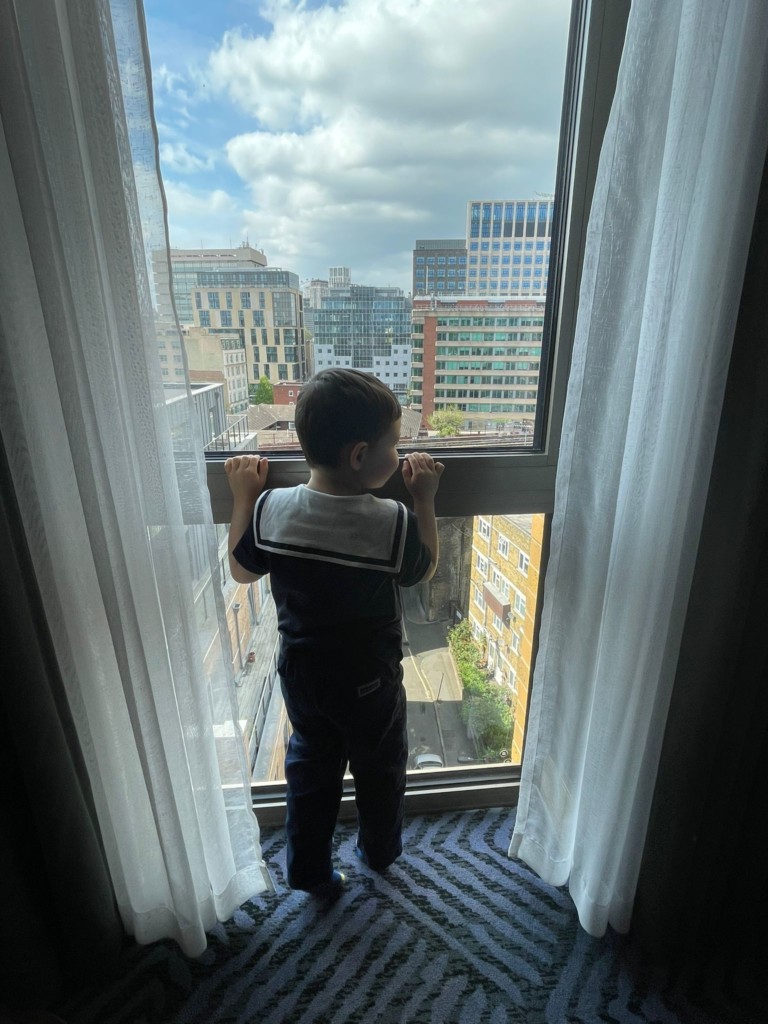 Downstairs, The Distillery Bankside is a destination bar, serving delicious nibbles, sharing platters and a unique drinks menu in a vibrant and sophisticated setting throughout the day. The Distillery Bankside is located on the site of Stevenson & Howell's Fragrance Factory, which distilled essential oils and manufactured essences, flavourings and garnishes during the 1800s. The bar pays homage to its heritage by serving signature cocktails using homemade syrups, aromatics, infusions and bitters, all handcrafted by the bar's expert bartenders.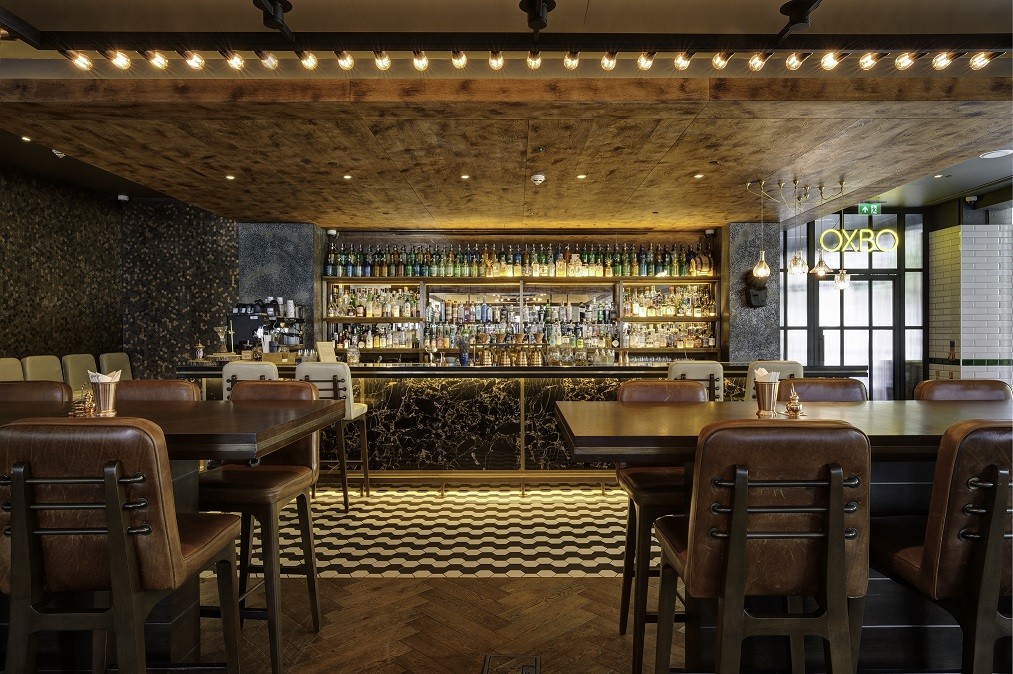 The bar dedicates an entire section of the menu to gin from across the globe. It features over 100 different varieties, encompassing fine old classics, vintage favourites, its own brand and new gins from artisan distilleries springing up all over London, including Monkey 47, Langton's Number 1 and Dodd's Gin. Signature cocktail highlights include the o D.Fashioned (Bulleit Rye Whiskey, Campari, Frangelico & Banana), Bankside Colada (Pineapple Gin, Falernum, Apple, Cinnamon, Bitters, Lemon & Coconut Cream) and Alexander Royale (Remy Martin VSPO, White Chocolate, Pistachio, Oat, Cream Bitters & Golden Glitter).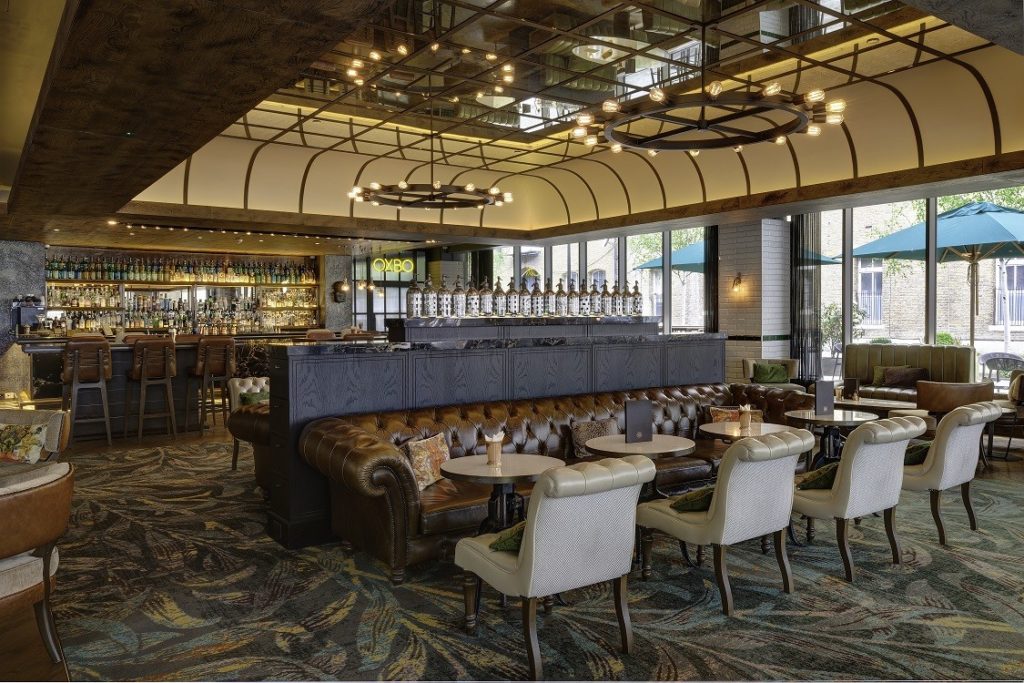 Located between the Southbank & Borough Market, OXBO Bankside serves a menu of individual and sharing dishes. The cuisine pays homage to the restaurant's multicultural neighbourhood, with French, Eastern and British gastronomy inspiring the offering. Executive Head Chef Ollie Couillard leads the kitchen. He uses fresh and seasonal ingredients to create global favourites, from Bankside Gin Cured Salmon to Roast Duck Breast. The restaurant features an all-day A La Carte Menu, as well as a vegan menu and a weekend brunch offering.
Spacious and modern, the restaurant has an open kitchen, which brings an element of theatre to the dining experience, making it the perfect setting for romantic date nights, dining with friends and celebratory catch-ups. The hotel's fox theme is continued with mini cuddly fox toys that apparently have lots to say to their mini friends.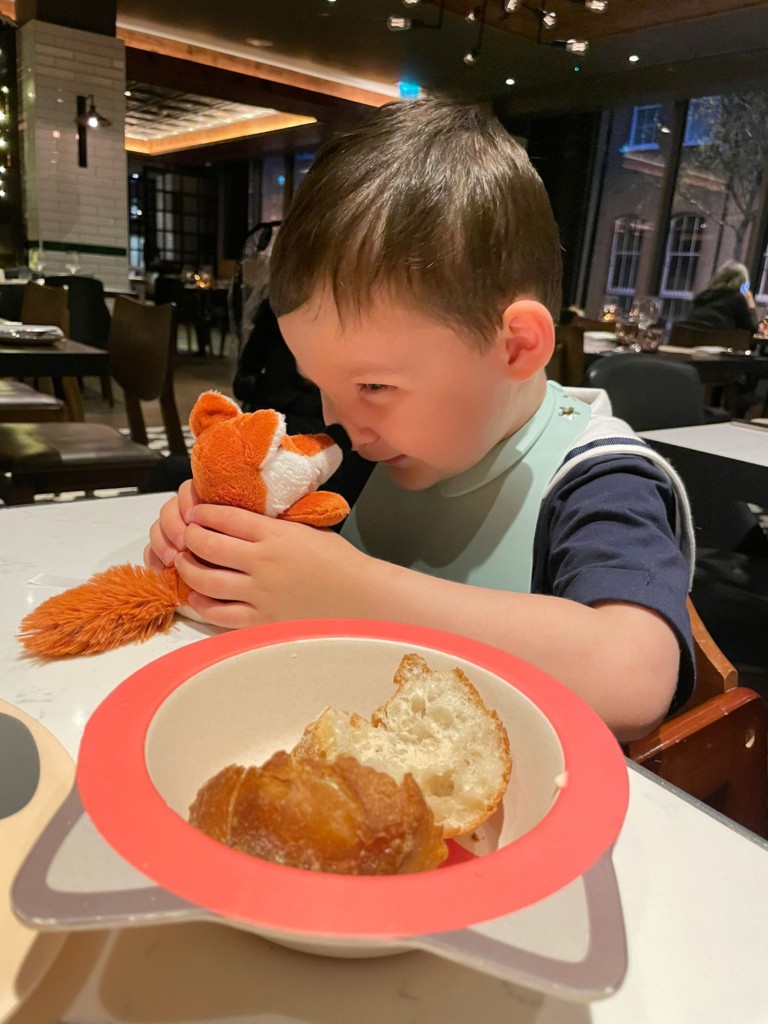 If your child likes foxes they will be extremely happy that they get their own kid-friendly plate, spoon and bowl all designed in the fox theme.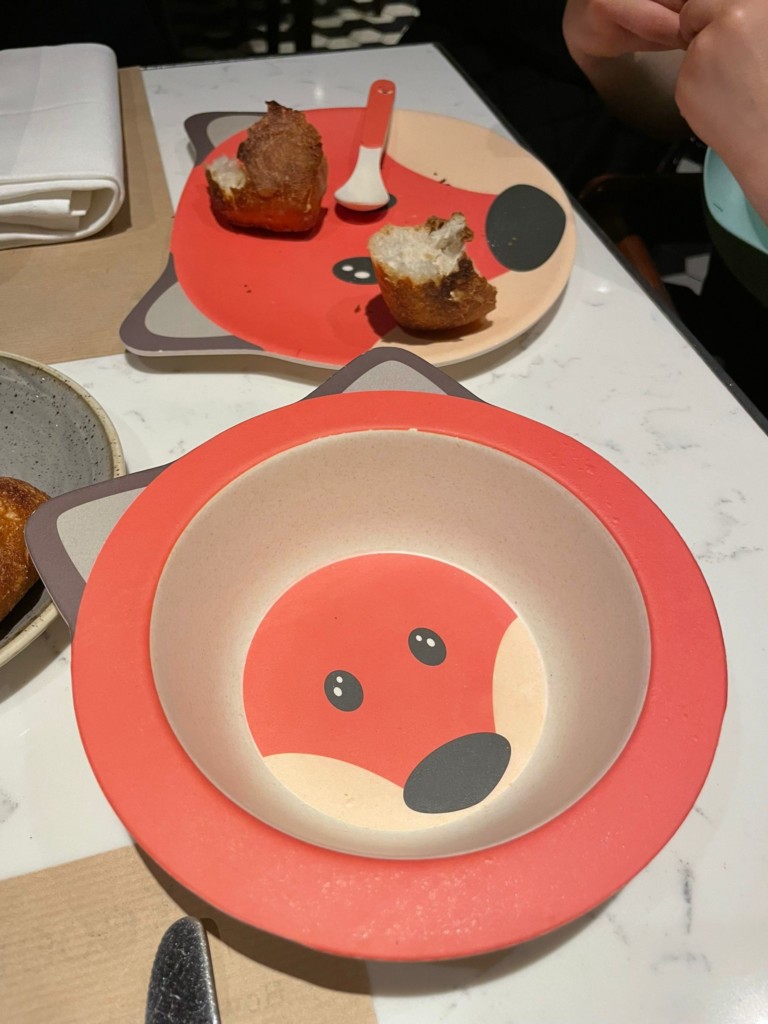 Adults won't be disappointed either as Ollie Couillard is the Executive Head Chef at Hilton Bankside. He has 25 years of extensive experience in the hospitality industry, including at Michelin Star restaurants La Trompette and The Square in Mayfair and luxury hotels, The Dorchester and The Grosvenor House. During his career, Couillard has opened five highly successful restaurants, creating the concepts and menus for each one. He has also accumulated many awards during his time as Head Chef at La Trompette, including AA Guide Restaurant of the Year 2002-2003 and Best New Restaurant in the Good Food Guide and Time Out 2002.
Something from the varied selection of cocktails is worth a try by the grown-ups.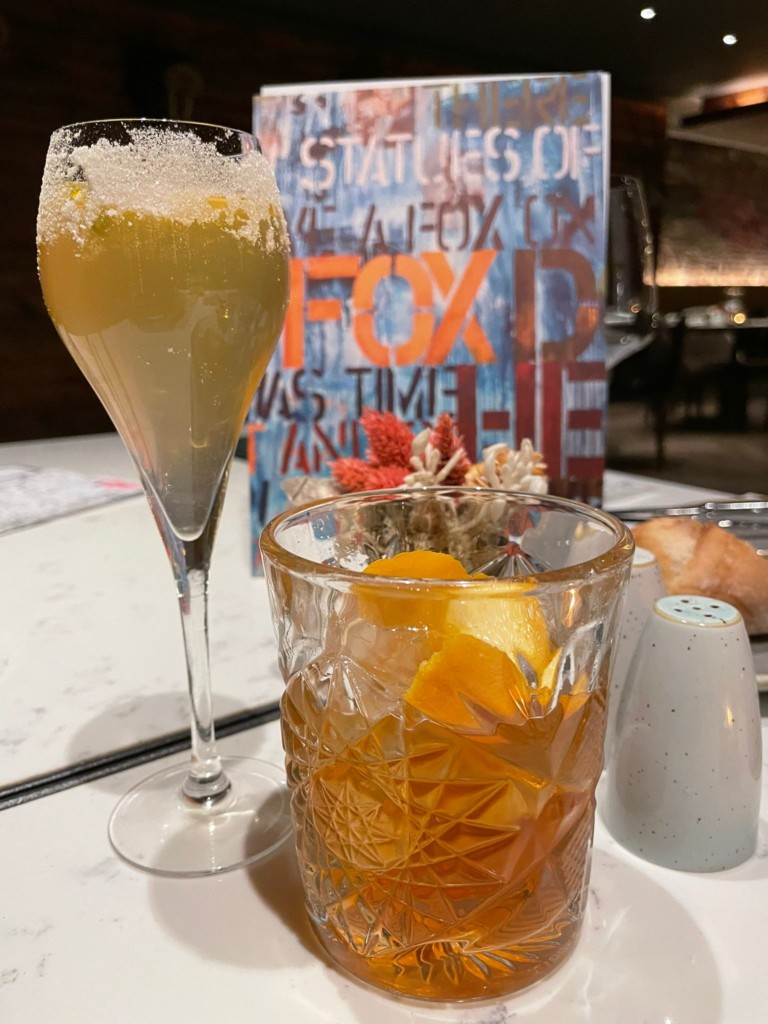 There is a touch of elegance with this foie gras and oyster mushroom ballotine.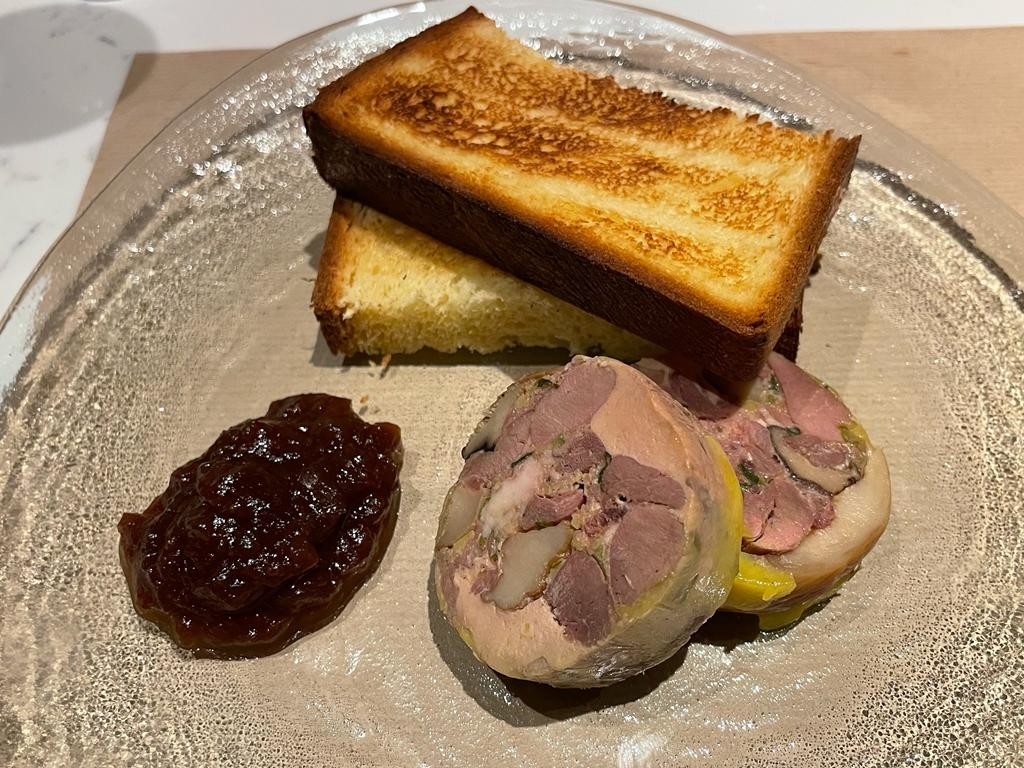 The colours of the asparagus pop not only on the plate but are matched by a flavourful pop on the palate too.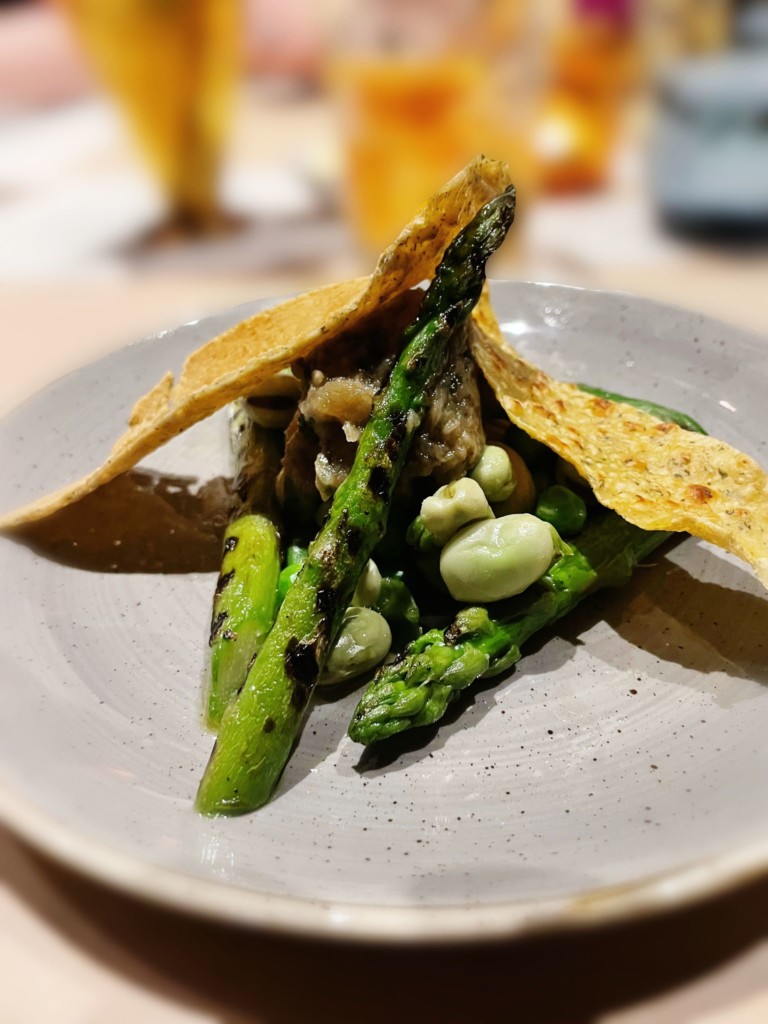 A classic steak with peppercorn sauce is a perfect choice.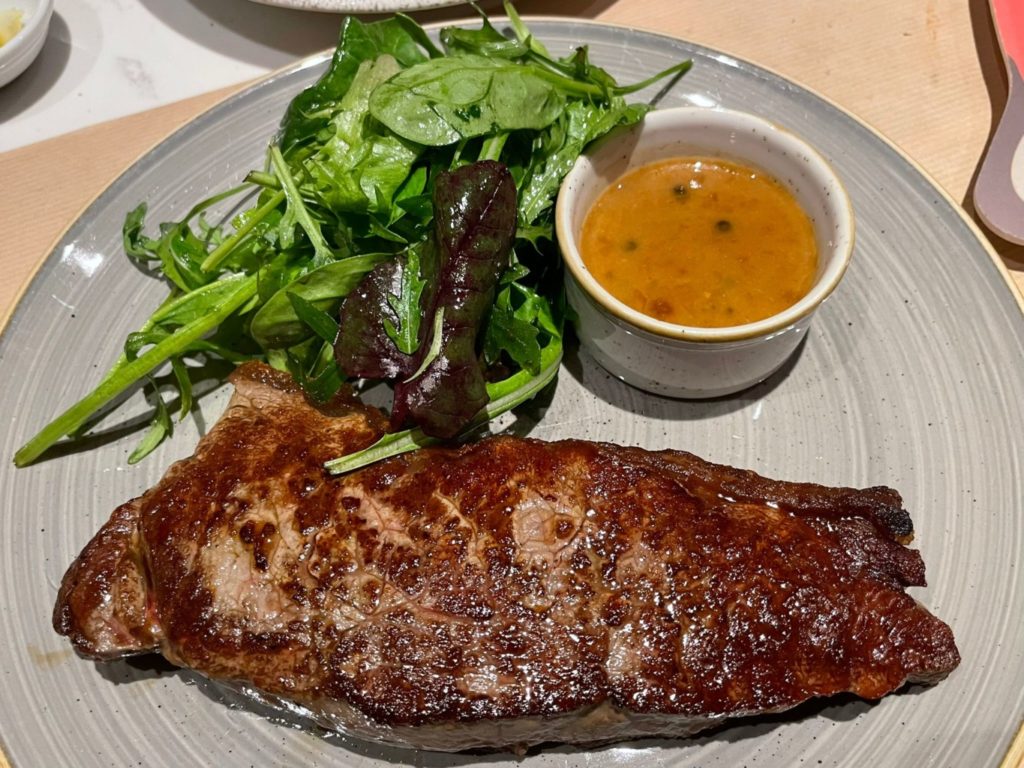 Although the lamb couscous takes first place in complexity and comfort. A winning combination.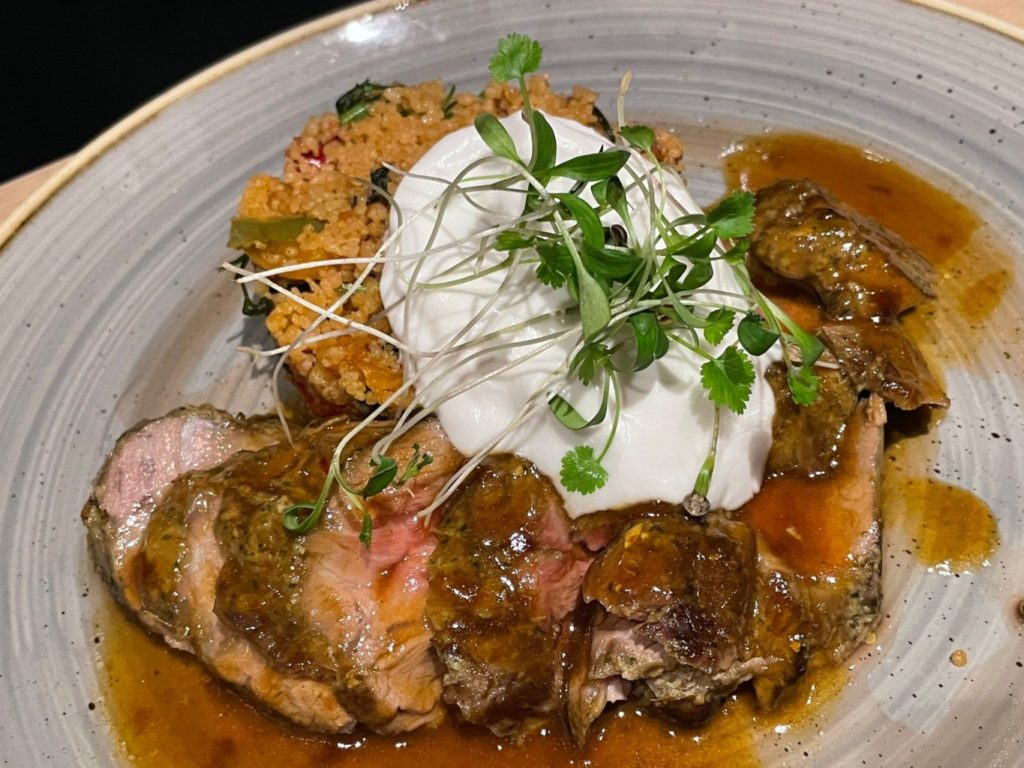 Foxy fries are a guilty pleasure, I couldn't sit down for dinner and not order them as they are absolutely scrumptious.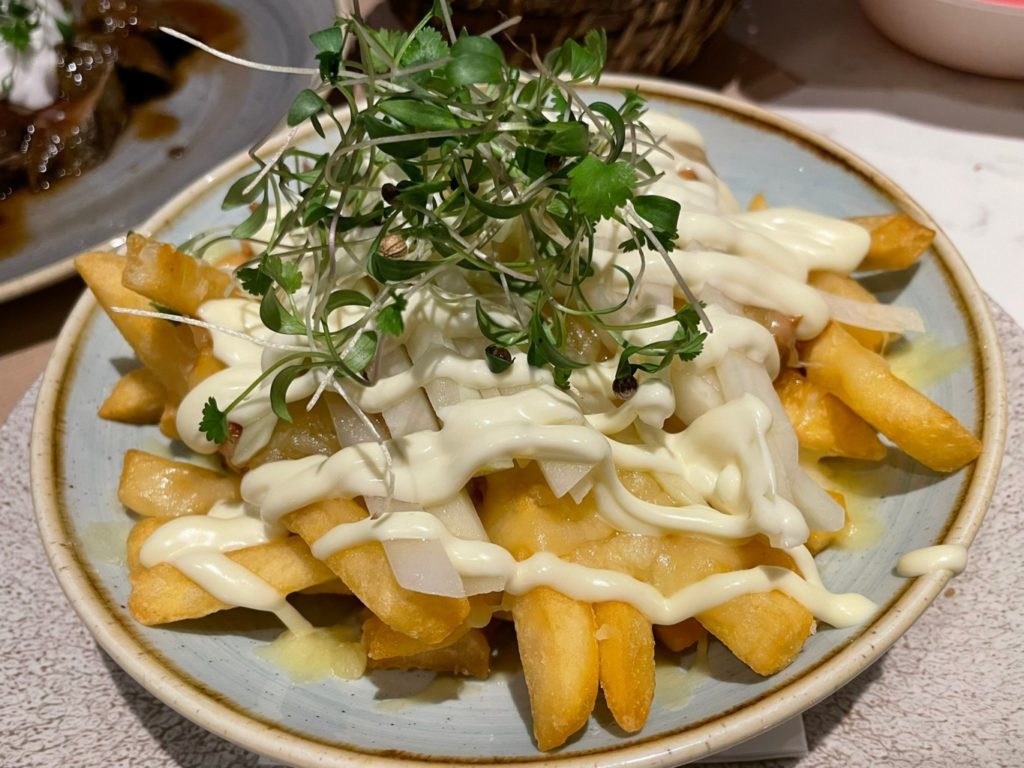 The only problem being is that they don't allow you room for dessert because although bought to share, they are too good to share for most!
The OXBO Bankside's bottomless brunch menu features four courses and unlimited prosecco for £49.00 per person for a maximum of two hours (or £35.00 per person without prosecco). The brunch starts with a buffet style selection of dishes from Chef's Traders Tables, followed by a visit to the open kitchen, where guests can watch the chefs whip up their favourite breakfast item, a main course served as sharing plates directly to the table and a decadent sweet treat to end the feast. 'Prosecco Fridays' allows diners to experience unlimited Prosecco alongside a three-course set meal every Thursday and Friday from 12.00pm – 10.30pm at £35.00 per person for 90 minutes.
Recently launched, is OXBO Bankside's new vegan menu which has had a great reception in the plant-based community. It features a number of innovative dishes, from Avocado & Tofu Poke Bowl to a plant-based lightly spiced lentil dhal.
Hilton London Bankside
2-8 Great Suffolk Street, London SE1 0UG
+44 (0)20 3667 5600
www.hilton.com/en/hotels/lonsbhi-hilton-london-bankside/
@hiltonbankside