Horlicks lovers can now enjoy delicious malty goodness at the touch of a button, as the much-loved hot malted milk brand launches Horlicks Pods compatible with Dolce Gusto® pod machines. Forget the mixing and messing and sit back to enjoy the malty delight of Horlicks that's perfect every time.
Horlicks has been the nation's favourite malted drink for over 145 years with an enviable legacy that's hard to beat. The hot malted milk drink has fuelled soldiers through two world wars, warmed explorers on polar expeditions and fired up Olympic athletes.  Horlicks is filled with nourishment and has been the mainstay of any kitchen cupboard for decades.
The new Horlicks Pods take this legacy into the 21st Century, delivering a convenient, easy-to-make delicious drink thanks to compatibility with Dolce Gusto® pod machines, producing a warming Horlicks drink that's frothy and creamy in texture.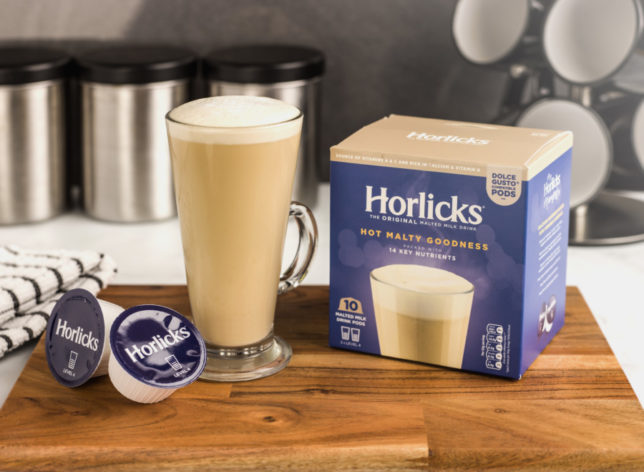 Here at SLOAN! HQ, we loved being able to choose how to enjoy each cup of Horlicks to suit different moods and needs. You can use just the one pod for a quick shot of goodness to enjoy in a quiet moment or indulge in two pods for a longer relaxing experience at the end of a busy day.
Every delicious serving of 2 Pods served at 4 bar is rich in calcium and vitamin D and a good source of vitamins A and C. So each warming drink of Horlicks is good for you as well as giving you a delicious hug in a mug!
Horlicks Pods are the perfect way to relax, take a moment and simply unwind with a cup of warm, comforting and delicious malty goodness.
Horlicks Pods are available online from Garraways.co.uk and Amazon.co.uk (£4.49 for a pack of 16 or check out or bulk offers online), and B&M stores (£2.00 for a pack of 10).