Tucked away in a historic courtyard in the heart of Mayfair, Hush Mayfair is a true hidden gem, and one of London's most popular dining destinations, founded by Jamie Barber and Geoffrey Moore, Sir Roger Moore's son. From Stanley Tucci and Colin Firth to Victoria Beckham and Joan Collins, Hush Mayfair has been quietly attracting those in the know for over two decades.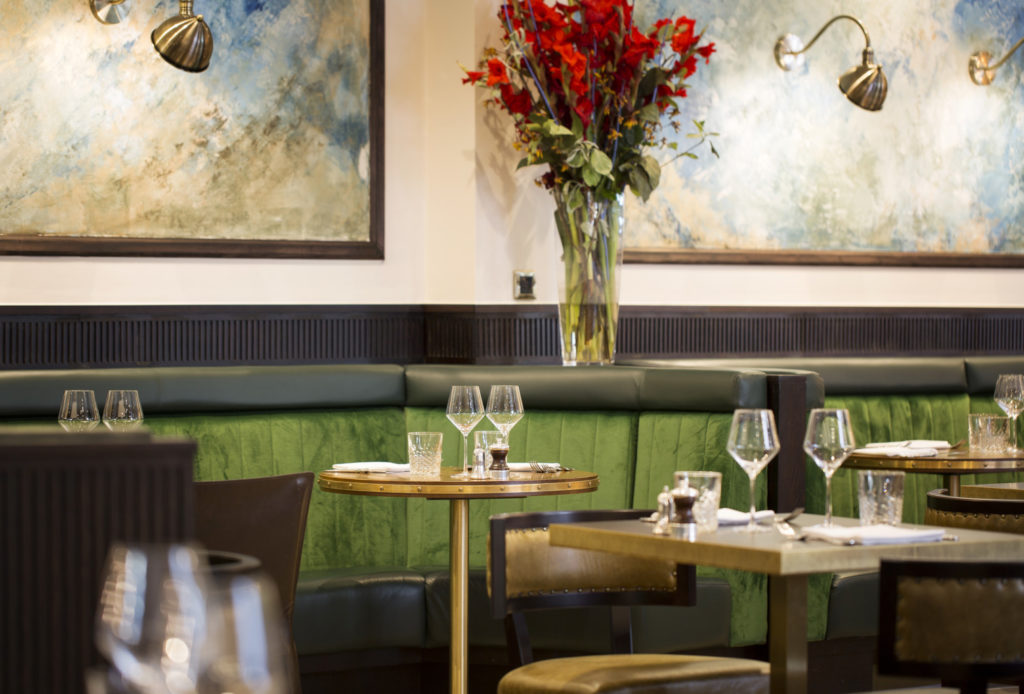 Part of boutique restaurant group, The Hush Collection, Hush Mayfair features a bustling brasserie and an exceptional cocktail bar plus two elegant private event spaces/dining rooms. The private dining room (known as the Sir Roger Moore Room) is beloved by the movers and shakers of the industry. The all-day menu available in the Brasserie and Courtyard changes regularly and features classic favourites with a modern European twist.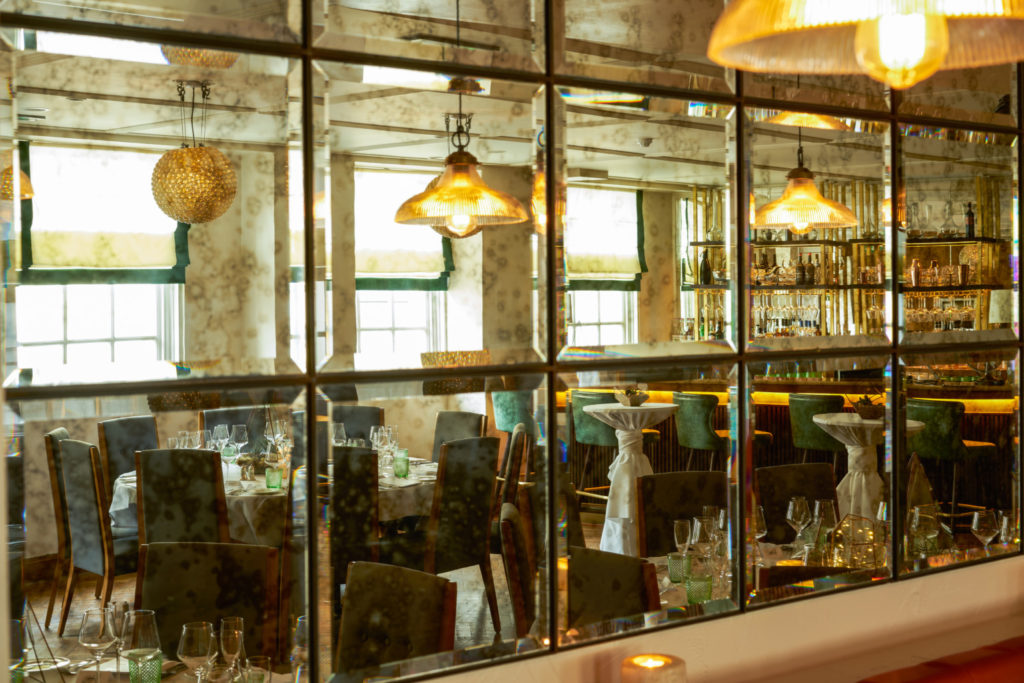 Offering the ambience of a private members club, without the need for a membership, Hush Mayfair is an elegant yet decadent destination that's the perfect spot for the capital's curious diners and drinkers, and is a must-visit for everything from long leisurely lunches, to post-work drinks and weekend catch-ups with friends.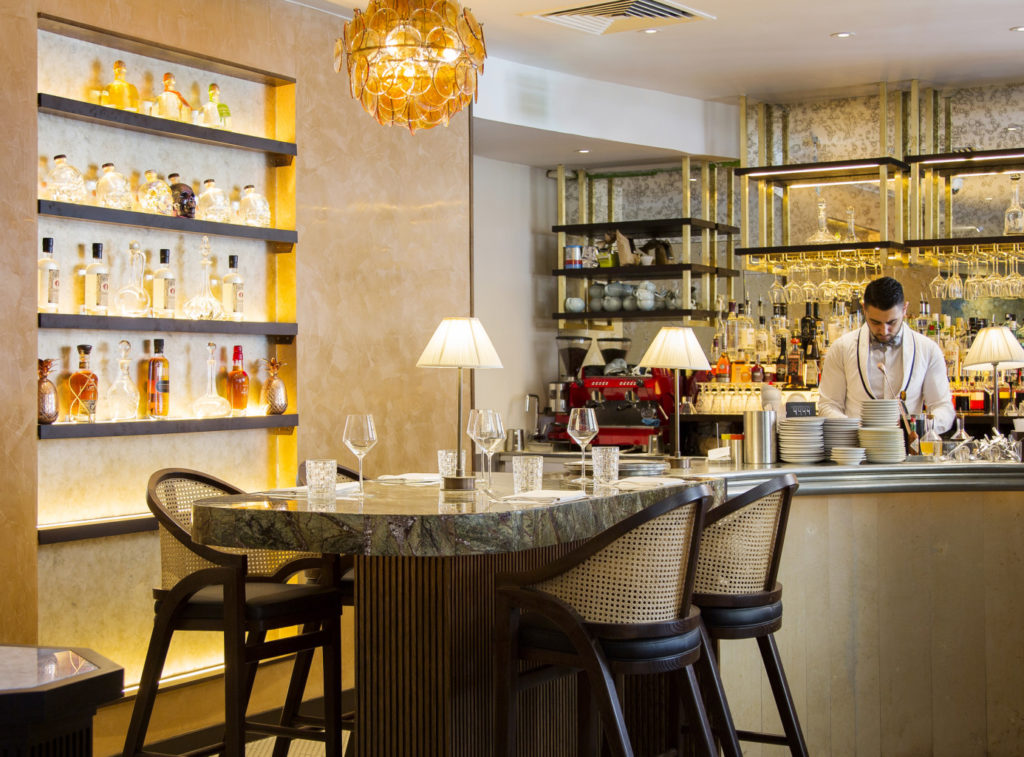 One of London's most impressive outdoor dining spaces, the much-loved Courtyard terrace has been transformed for spring in partnership with ENGINE, the hand-crafted organic London dry gin which uses 100% Italian botanicals and is packaged in a unique 'oil can' container, inspired by founder Palo Dalla Mora's love of racing and representative of Italy's involvement in the motoring world.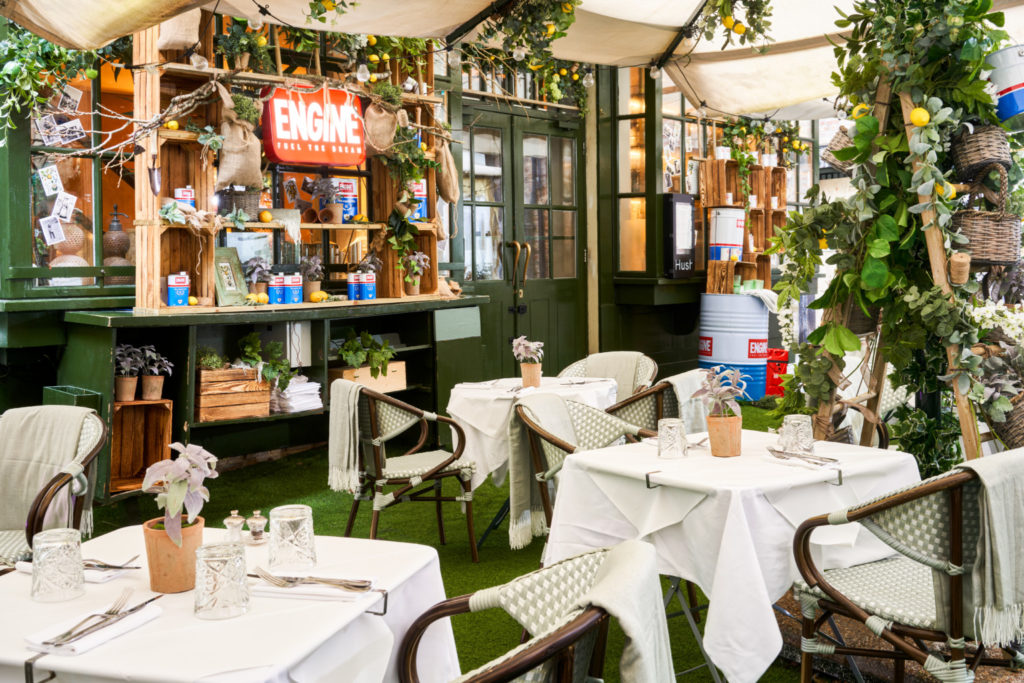 Designed to transport you on a ride through the rolling hills and ancient forests of North-western Italy, the Courtyard at Hush Mayfair has been bedecked in plentiful foliage and greenery. Taking inspiration from the blend of botanicals found in ENGINE, sage branches and Amalfi Coast lemons adorn rustic ladders.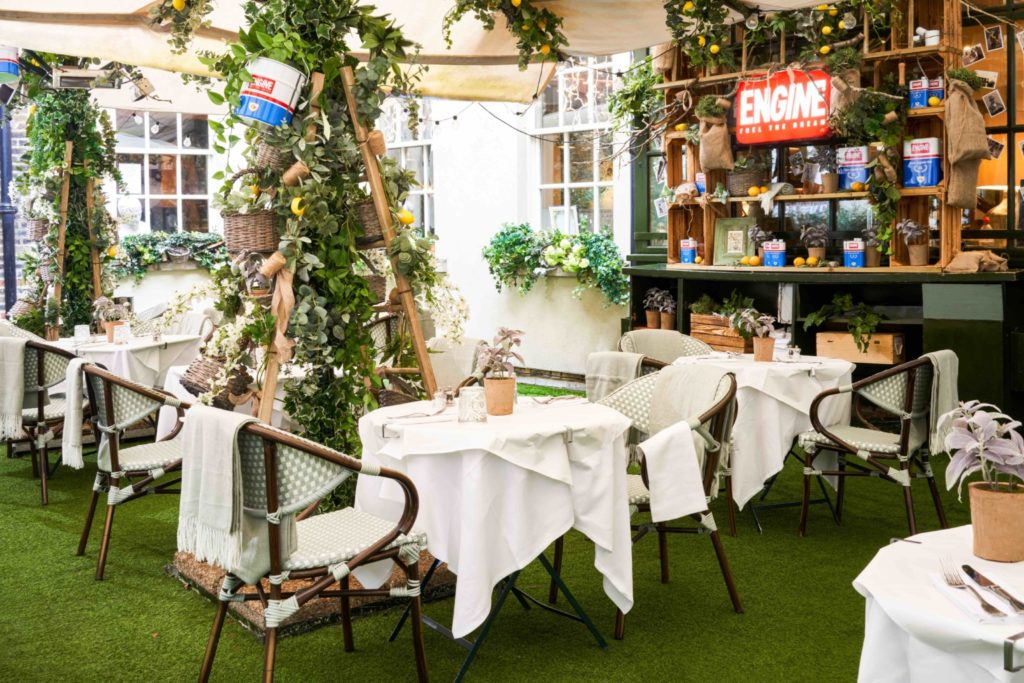 Orchard baskets, crates and filled burlap sacks are scattered alongside potted herbs and plants. An Instagrammers delight, take a seat on a picturesque wooden swinging bench surrounded by gorgeous greenery or strike a pose in front of the iconic and intricate archway.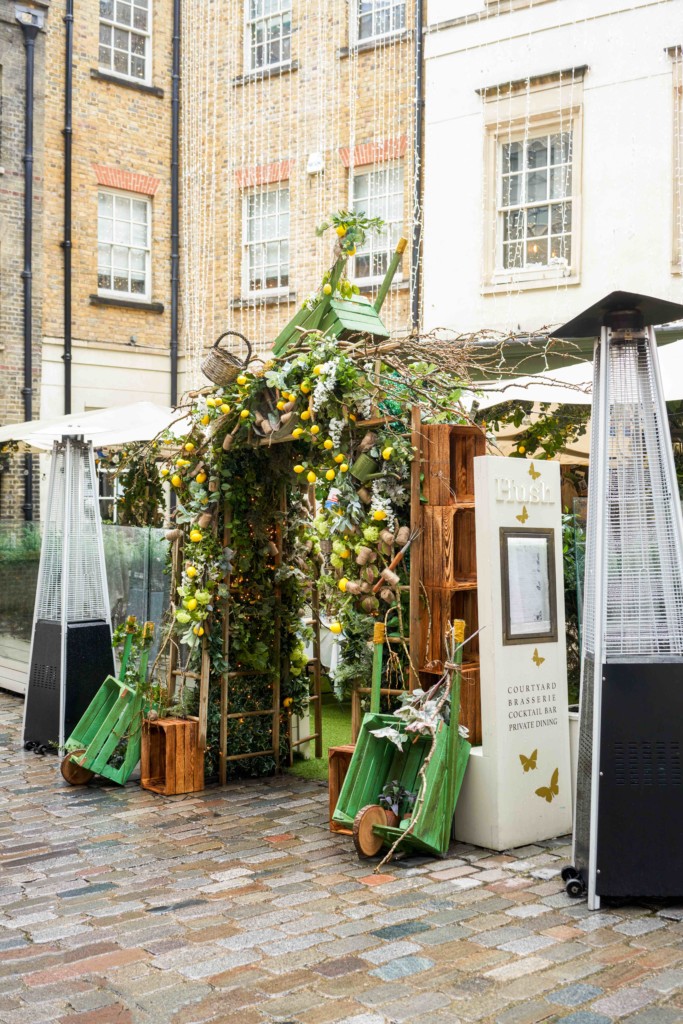 We dropped by for a relaxed lunch in the Courtyard at Hush Mayfair. Of the six cocktails on offer made with ENGINE organic gin, Remember the Star shone the brightest. A zingy blend of ENGINE Organic Gin, St Germain, grapefruit, ginger, bergamot and blackberry, this very fruity drink would complement any spring drinks setting but works especially well out in the Courtyard terrace.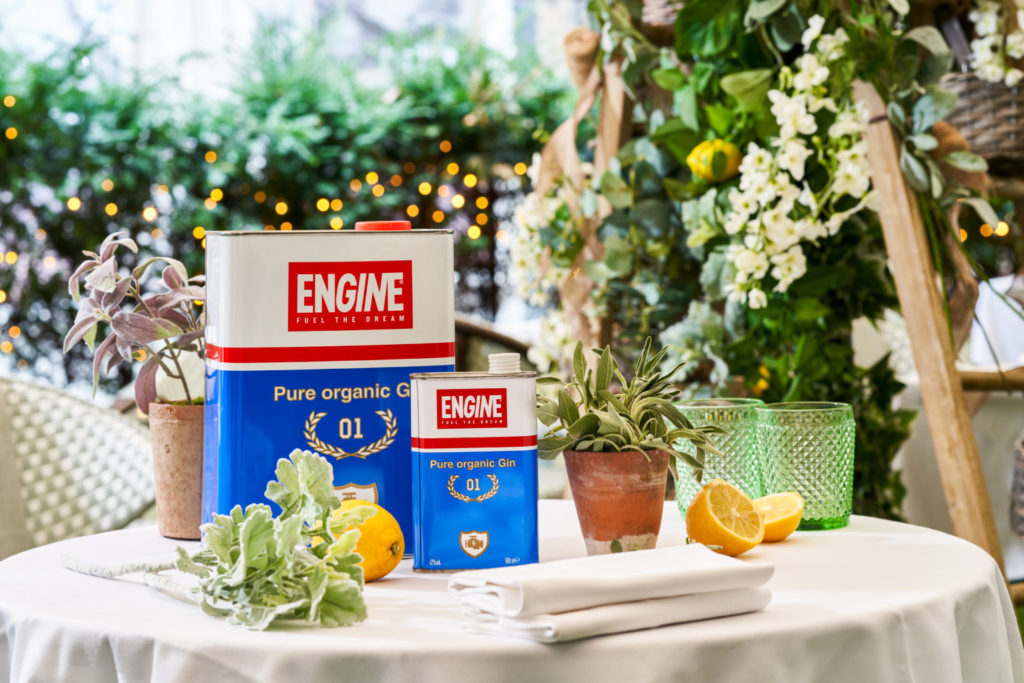 If you wish to add a little sparkle into your daytime drinking, Old Alliance is a much higher calibre cocktail than a Bellini. Yes, you still have the peach and a hint of bubbles however the Pier Ferrand Cognac and oregat take the Canard Duchene Champagne to a higher level of bubbly delights.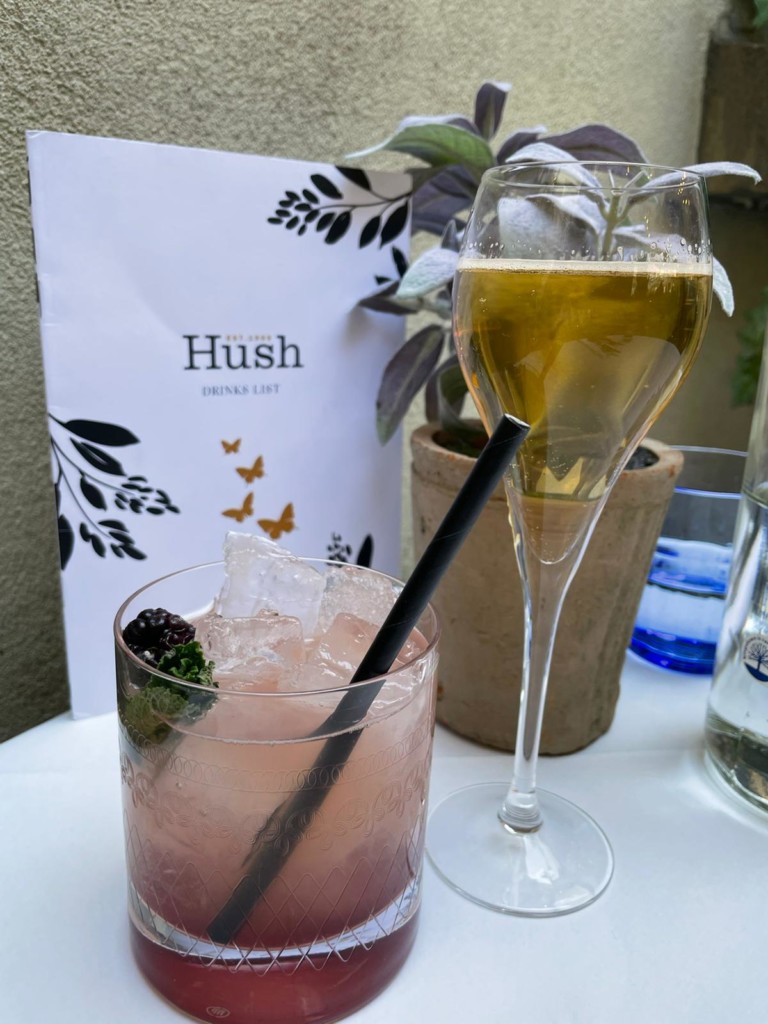 For pre-dinner nibbles, I highly recommend ordering the Fried Brussels Sprouts with bacon, smoked almonds and caramelised yoghurt. The sweetness of the yoghurt pairs wonderfully with the saltiness of the bacon. Texture and crunch were brought to life by the almonds. Very moreish and a must for any Brussels sprout lover even if Christmas is many months away.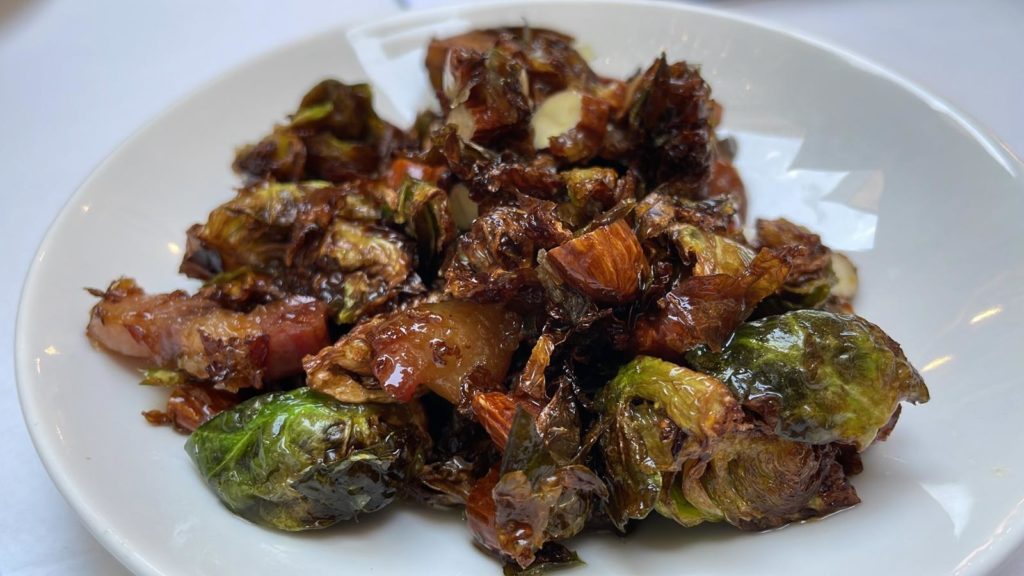 From the Starters menu, the Roasted Orkney Scallops had a perfect sear yet were light and succulent. The combination of pine nuts and cauliflower combined perfectly with a cheeky curry kick sweetened by raisins which lingered after each bite.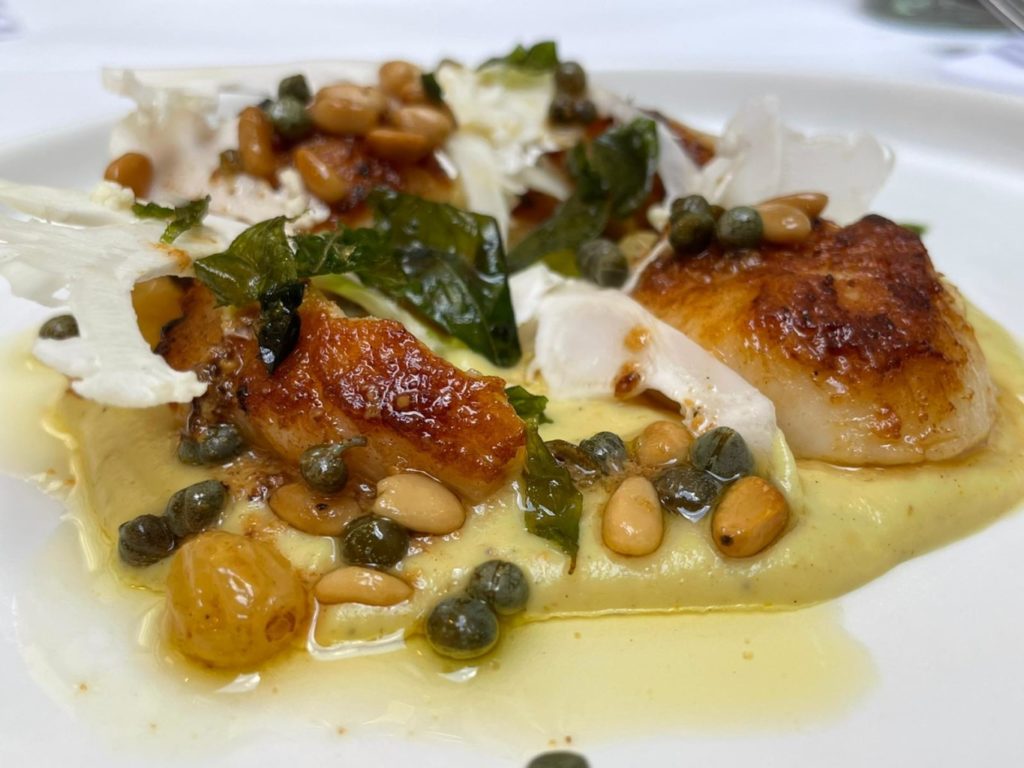 My lunch companion chose the Aged Beef Fillet Carpaccio. Quite a generous portion with a lot of flavour. The first bite gave an impactful injection of horseradish but by the second bite, the flavours were perfectly balanced and the capers really added depth and complexity to a very fresh starter.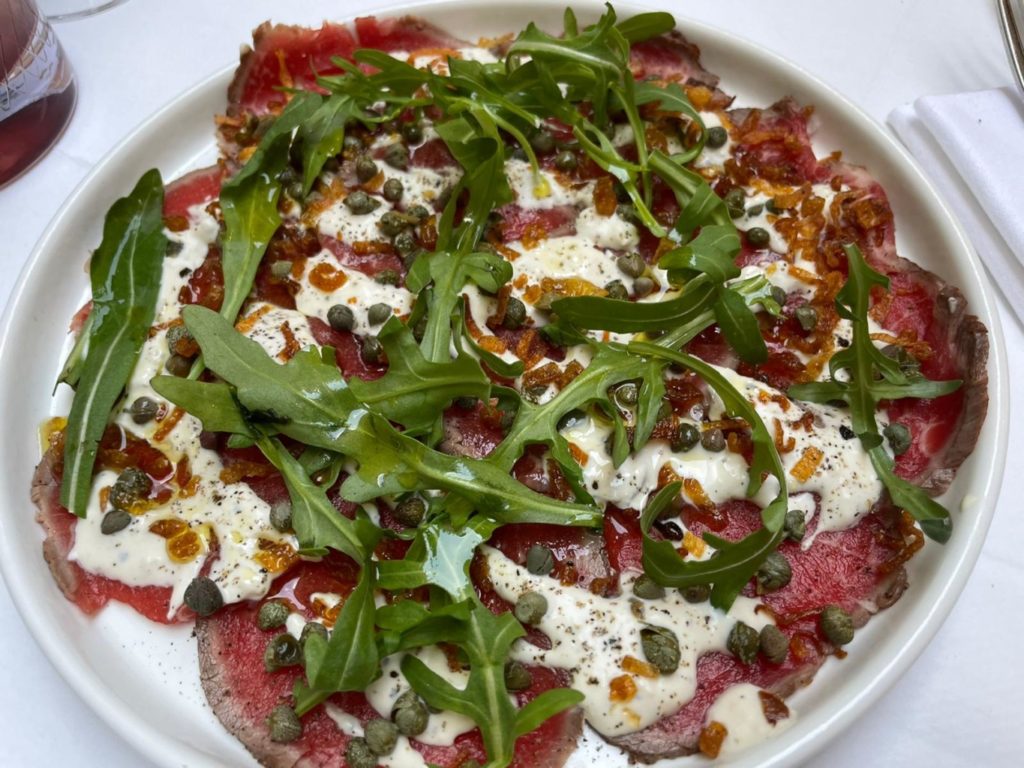 For the Mains, the Roasted Stonebass was an interesting combination that felt like a bouillabaisse and a Thai curry had a love child. An interesting fusion that worked. The fish had a meaty texture yet still came across as delicate. The skin was crispy and was almost like the bacon of the sea with enough salt to be flavourful but not too much to overpower the dish. Fennel is an acquired taste, but the spices balanced well with this root vegetable. The spinach works as a welcome burst of leafy greens to this well-crafted dish.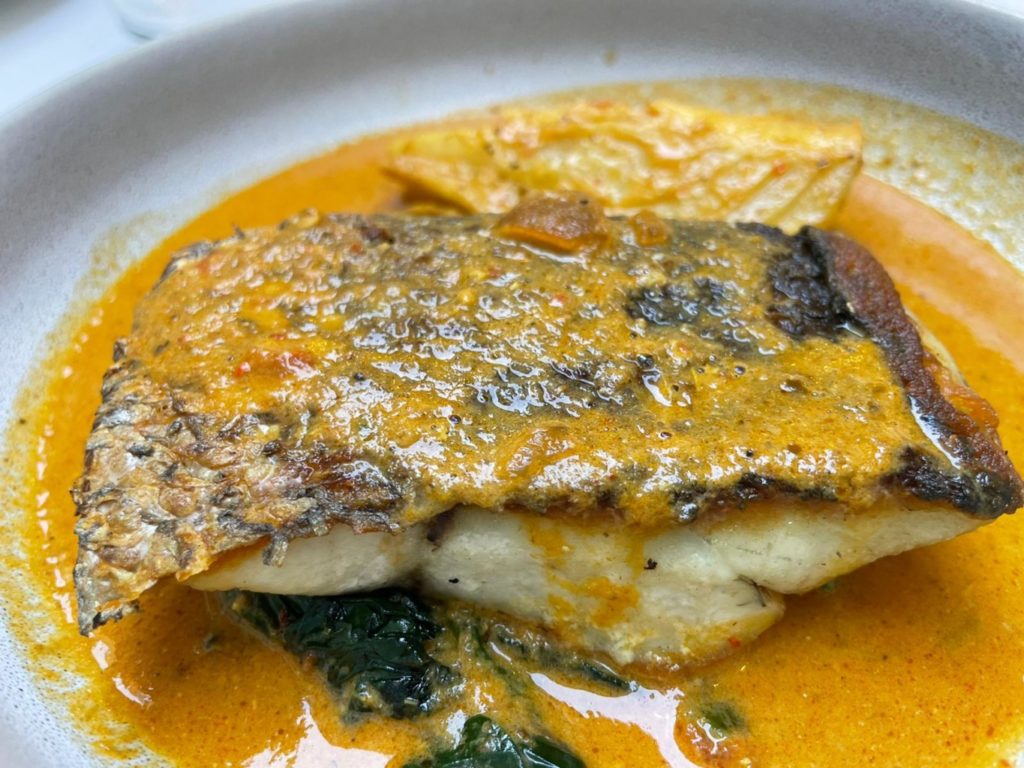 The Miso Marinated Black Cod was a daring attempt for such a European menu. More often seen on a Japanese menu, I was intrigued to see if this combination would work well outside of a Japanese dining setting. I was pleasantly surprised although I would still say the Japanese restaurants have the edge. This was still a delicious dish and satisfied my hankering for Black Cod with the pleasant combination of Pak Choi swimming in a dashi broth. A winning dish despite the high standards I put upon it.
Blood Orange & Pistachio Trifle was disappointing. The dessert looks pretty but can only boast a meagre topping of some pistachio nuts.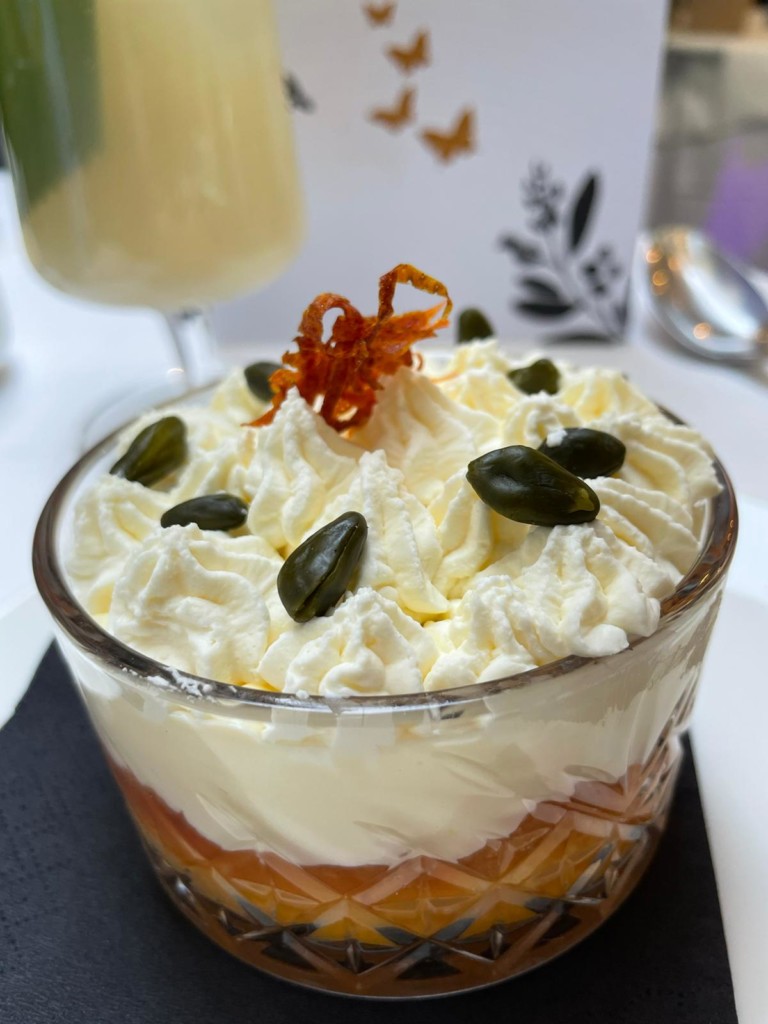 If you want a hard hit of pistachio, we suggest choosing the Sicilian Bronte Pistachio gelato from the selection on offer from Hackney Gelato. We paired this with the highly recommended Warm Sticky Toffee Pudding – which normally comes with clotted cream and ice cream. The dessert is probably better paired with the Madagascan Vanilla gelato unless you are a hardcore pistachio lover like myself. Whatever ice cream you choose, you can't go wrong with the Sticky Toffee Pudding because it tastes so good.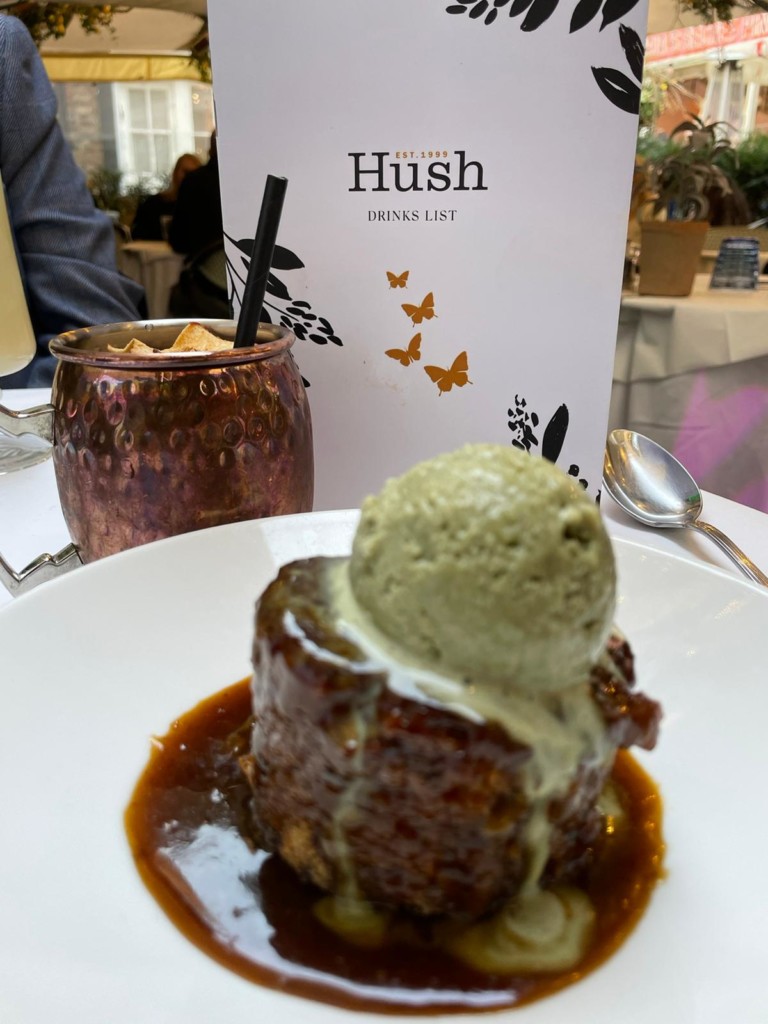 There is a lot of attention from the wait staff but sometimes they don't seem to be communicating with the kitchen as our Aspen Fries came out after the main meal and the desserts swiftly followed before we could even eat 3 of the fries. As desserts had to be eaten presto pronto, it wasn't the best timing as black truffle and gelato don't really go together but the rest of the lunch was so lovely that we decided to overlook this hiccup and my lunch companion enjoyed the fries while I tucked into the desserts. All's well that ends well!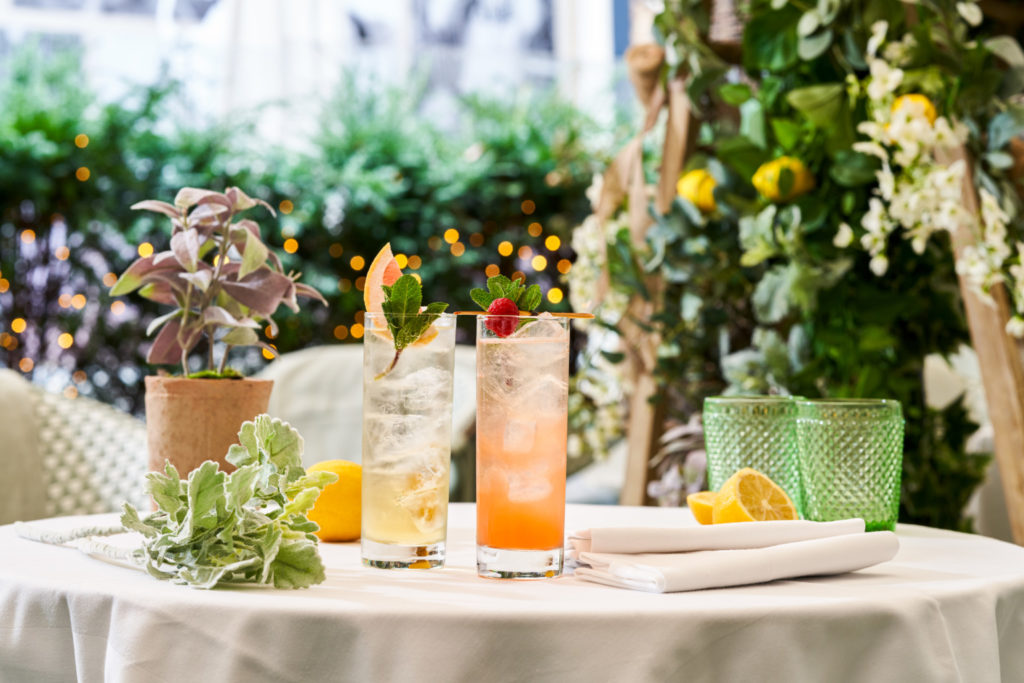 Hush Mayfair
8 Lancashire Court, London W1S 1EY
www.hush.co.uk
@hushmayfair