Simon Lockyer, Headmaster of the Royal Hospital School in Suffolk, a co-educational boarding school for children aged 11 – 18, provides a checklist for parents when thinking about an independent education for their child.
Independent schools can offer children a great start in life. By providing a high standard of education and subject specialist teachers, a plethora of extra-curricular activities and a dedicated, nurturing environment, independent schools help pupils achieve their full potential academically and as an individual.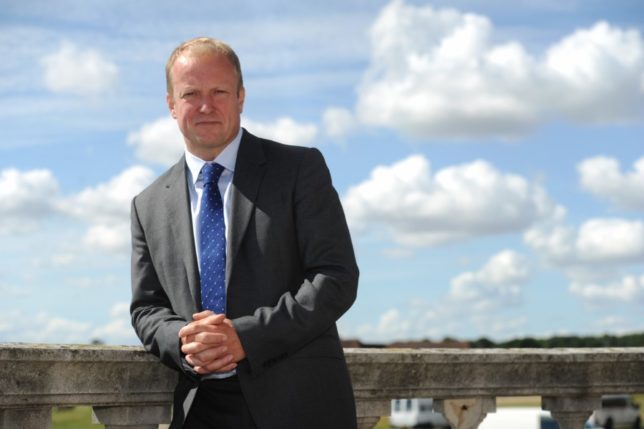 It may well be that you were privately educated and keen for your child to follow in your footsteps by attending the same establishment as you did. However, even if you've made up your mind to send your child to your old school, it's still worth visiting several others for comparison as places change over time, often due to the influence of the current leadership.
Here are the six things to consider when choosing independent schools:
1. Location
Location is always going to play an important role when selecting a school, especially If you want your child to attend as a day pupil. Is it within reasonable distance for a daily commute? Is there a direct train or bus service or does the school run its own bus service? Bear in mind that independent schools usually have numerous activities taking place in the evenings, some have Saturday morning school and sports fixtures on a Saturday afternoon – if you're not prepared to make these regular school runs, boarding might be a better option.
Many parents considering boarding may wish to have the opportunity to attend fixtures and performances so being within striking distance is still a consideration. If you opt for weekly or flexi-boarding, you'll need to ensure the journey to and from home is practical. Make sure the school is close to a train station and not too far from a major road network. Easy access to an international airport is a must for parents who live abroad or might be considering such a move in the future.
Finally, take the school surroundings into consideration. Space is one of the greatest things we can give children. Does it have acres of grounds, trees and access to space where children can run around and enjoy the great outdoors? How close are they to the sea or a lake if they want to participate in water sports such as sailing?
2. Ethos
Every independent school has its own unique ethos and philosophy, often dependent on its heritage and how it came into being. Some schools have close ties to organisations such as livery companies or the armed forces because of their origins, others might have links to the church or one of the London tradesmen's guilds whilst numerous schools grew through charitable status. Whilst schools have changed beyond recognition over the centuries, their uniform, their traditions and their routines will often have a resonance with their past. As a parent it is important to be aligned with the principles and values to which the school espouses.
Don't forget to arrange a visit to meet the head teacher – they will influence the feel of the school more than anyone and will give you a good take on the current ethos.
3. Facilities
Whilst an impressive building with the air of a stately home might look good on a brochure, it doesn't mean it makes for a great school. Visit in person to assess the use a school makes of its space and the room allocated to each of the academic departments – are there enough classrooms to enable sixth formers to undertake more advanced projects? A library, and how it is used by the staff and pupils, speaks volumes about the school.
Visit the art, design and technology facilities to look at the range of different mediums the pupils are offered to explore their creativity. Music is another area to focus upon – what range of instruments does the school teach, are there plenty of practice rooms, does the school have space for children to perform, are there bands and choirs they can join?
Outdoor playing fields should be a given for rugby, cricket, netball, tennis and hockey. Does the school have a gym, a swimming pool and other dedicated facilities? As an example, here at the Royal Hospital School we have a vast climbing wall and a martial arts centre.
Even consider areas like the dining hall and indoor sports' facilities. Do they provide enough space for the size of the school?
4. Exam results
Parents often opt for independent over state schools because of their excellent academic track record. When considering different schools, it's always worth looking at their GCSE and A level results but don't forget to ask about their alumni and what they are doing now. Whilst a strong set of exam results is impressive, the careers former pupils have gone on to lead can be even more telling.
5. Co-curricular
What makes a well-rounded education is often those things pupils spend their time doing outside the classroom. A good independent school will offer a host of activities to choose from, giving them many new and unique experiences.
Beyond the sports field, look for a school whose clubs cover a wide variety of tastes and interests such as Model United Nations, debating, chess, baking, Greek, horse riding and ukulele to name but a few. Ask about the school's Combined Cadet Force and whether it encourages pupils to participate in the Duke of Edinburgh Award Scheme.
In addition, find out whether the pupils get involved in charity and community events where time is spent helping other people and focusing on real-world issues.
6. Pastoral care
Leaving your child in the hands of virtual strangers can be difficult for parents, especially if they are going to be boarding for the first time. Understandably, you'll want to make sure your child is going to have the best possible care at all times.
A good place to begin is with the houses of the school which will be your child's home-from-home. One of the most important relationships for parents is with the housemaster or housemistress. The house staff and matrons are almost surrogate parents and finding out their position on well-being and support will help you with your choice of school. Ask about health and wellbeing policies, whether there is a doctor and dentist on site, how does the school cope with bullying. Good schools involve pupils in the likes of anti-bullying committees to ensure a grass roots approach to tackling issues from the ground up
Ultimately, your instinct and that of your child will dictate your choice but make sure your head, as well as your heart, plays a part in the decision.
About the expert
Simon Lockyer has been the headmaster of the Royal Hospital School in Suffolk, a co-educational boarding school for children aged 11 – 18, since January 2016. He was previously second master at Portsmouth Grammar School and has also held posts as housemaster and head of department at Wellington College, Berkshire. He is married with three children. To find out more about the Royal Hospital School in Suffolk, visit www.royalhospitalschool.org