Veganism grew exponentially throughout 2018, very much taking Great Britain by storm; becoming a mainstream, plant-based lifestyle, it seems that a rapidly growing number of Brits are boldly saying farewell to all animal products. This trend shows no sign of slowing down, as another annual 'Veganuary' is proving to inspire even more of us with its motivational, ethical challenge.
However, if you're new to the world of veganism the idea of basing your entire monthly menu around this new diet might feel a little overwhelming. With unexpected animal products hiding in the least predictable of foods, it can be difficult to plan creative, exciting, mouth-watering dishes (without having to worry that you've somehow made a mistake). Vegan food needn't be boring or restrictive, we simply need a little help along the way.
Renowned chef George Rouse outlines five inspiring dish ideas to liven up the end of Veganuary and help you on your path to veganism should you wish to follow a plant-based diet for the rest of the year.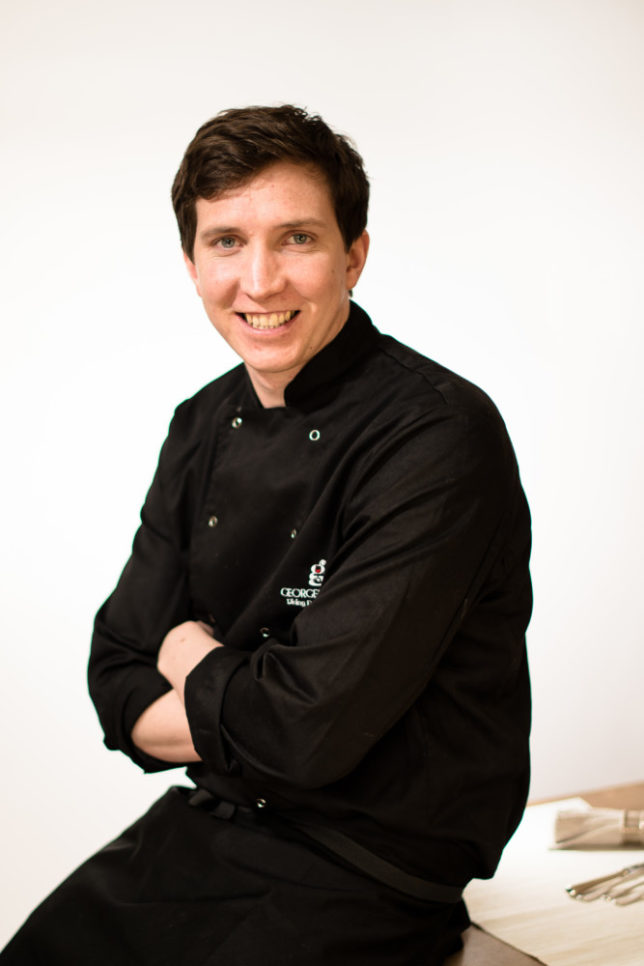 1. Pesto and avocado pizza
If pizza isn't served in an Italian restaurant or by a delivery man with a box that smells like heaven, it can feel like an unnecessarily complex dinner to consider. However, pizza making needn't be a lengthy task and it can create a delicious vegan dinner! We don't need pepperoni to enjoy this family classic.
The options are endless with pizza; if you want to put your culinary skills to the test, go for it and make your own base from scratch! Otherwise, simply buy a flatbread or ready-to-go pizza base from the supermarket. Top with pesto sauce, avocado, cherry tomatoes, pine nuts, rocket leaves, vegan cheese and basil for a mouth-watering, fun meal (if you really want to, you could make your own pesto too!).
2. Vegan 'meatball' pasta
Meatball pasta is a delicious, Italian staple that regularly resides on most of our weekly meal lists. Offering a wonderfully rich flavour and satisfying bowl of pasta (who doesn't love pasta, quite frankly?), going without this during Veganuary might leave you feeling a little disheartened.
Worry not! Vegan meatball pasta is a thing, and it's just as tasty. For your 'meatball' equivalents, combine cooked kidney beans, garlic, onion, oregano, tomato paste, soy sauce, rolled oats, sunflower seeds, mushrooms and season to taste. Pair with a pesto or tomato sauce for the pasta and you'll quickly forget that this dish is meat-free.
3. Cauliflower tikka masala
As the weekend rolls around, you might find yourself craving an indulgent takeaway. However, finding a vegan option might not be that simple, especially if your local takeaways don't have a particularly extensive menu.
Luckily, it's easier than you might think to cook up a vegan 'takeaway' storm! Indian dishes don't need animal products to taste incredible, as you'll find with cauliflower tikka masala. Combine chopped cauliflower florets with vegan butter (or oil), onion, garlic, grated ginger, dried fenugreek leaves, garam masala, turmeric, ground chili, ground cumin, salt, crushed tomatoes, maple syrup, non-dairy yoghurt (or cashew cream) and parsley for an inspiring piece of Indian vegan cuisine.
4. Peanut butter and chocolate cheesecake
Cheesecake is a dessert option that can't be missed and whilst the name might suggest that it requires dairy to simply exist, this couldn't be further from the truth. With a few simple adjustments, you can enjoy vegan cheesecake to satisfy your sweet tooth.
For the crust, consider using pitted dates, raw walnuts and sea salt (add water as required to make sticky). Meanwhile, make a filling out of raw cashews, maple syrup, full-fat coconut milk, grape seed, olive or coconut oil and lemon juice. Top with vegan chocolate, peanuts, caramel and any other goodies you'd like! Freeze for 4-6 hours and voila.
5. Coconut and banana pancakes
Porridge and avocados aren't your only option if you're a vegan, there are several creative ways you can start your day. Consider making banana and coconut pancakes; combine plain flour, baking powder, golden caster sugar and coconut milk. Fry with vegetable oil and when cooking, place your slices of banana into each pancake. Top with scooped out passion fruit and you'll hope Veganuary never ends!
About the expert
George Rouse is a renowned chef and owner of luxury London catering company, George's Kitchen. For more information about vegan catering, visit www.georgeskitchen.co.uk