Institut Esthederm's Intensive Hyaluronic Collection centres on the concept of applying the most powerful molecules, at the right dose and with continual use for a set time of two months. These cosmeceuticals – cosmetic products with medicinal properties – act as targeted solutions for specific skin concerns.
The Intensive range, which is often prescribed by dermatologists and aesthetic doctors, is made up of targeted treatments and each Intensive formula has clear, precise indications, making it easy to choose the right product. We were particularly interested in the anti-ageing treatment of wrinkles, fine lines and intense dehydration so chose to look at the Intensive Hyaluronic range.
The Intensive Hyaluronic Serum (£49.50) is the first line of defence against the signs of ageing. The serum intensely moisturises the skin almost immediately and after two months there should be a visible reduction in wrinkles with a new youthful radiance to the skin looking plump, perfectly hydrated and smooth.

The Intensive Hyaluronic Cream (£49.50) is a rich day cream with a non-greasy feel and nude finish. As well as tackling fine lines and wrinkles, the cream also combats oxidative stress and dehydration causing tight uncomfortable skin. With three forms of highly purified hyaluronic acid, the cream promises to leave skin looking younger and perfectly hydrated after two months with a smoother appearance and protected from environmental stresses.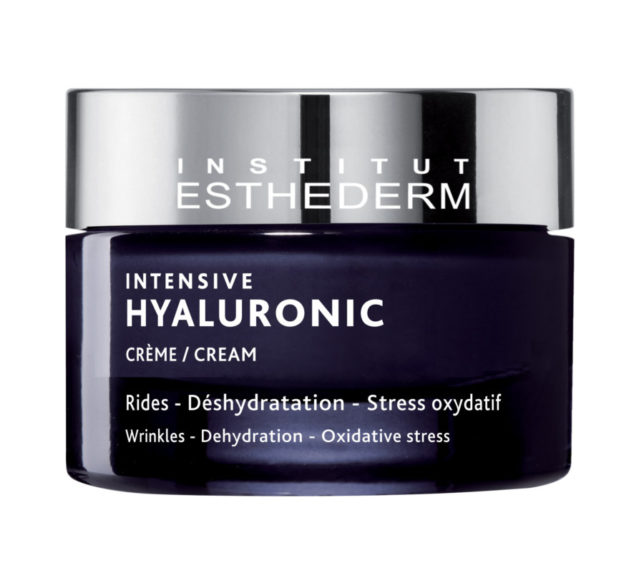 For an added boost to your Intensive skincare routine, the Intensive Hyaluronic Mask (£31) can be used either 2 to 3 times a week as a face mask for instant SOS care for dehydrated skin or as an overnight cream when more hydration is needed. The creamy texture feels great on the skin and after applying a thick layer that's left on for 15 minutes, the mask is rinsed off in warm water to leave skin feeling more radiant and instantly hydrated. After a couple of months of using the Intensive Hyaluronic Mask, you should notice that your skin looks plumped and smoothed.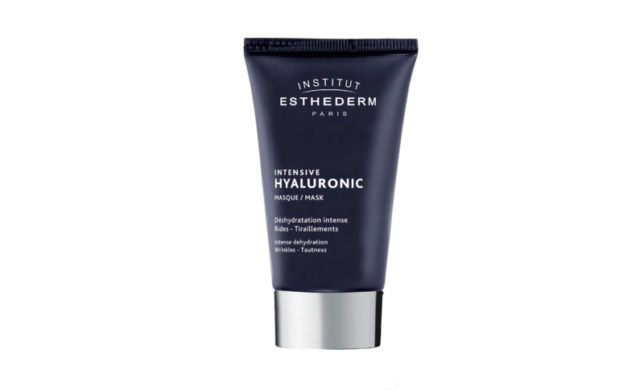 So, how do these products from Institut Esthederm's Intensive Hyaluronic collection work? The depletion of water in the dermis is an early factor in ageing. In cosmetics, hyaluronic acid can be broken down into various molecular weights, making it possible to adapt its properties to multiple benefits, ranging from surface hydration to dermal stimulation.
The Intensive Hyaluronic products promote the rapid synthesis of dermal hyaluronic acid. In addition, Esthederm's Global Cellular Protection protects cellular DNA from damage caused by the entire light spectrum and anti-hyaluronidaise prevents newly formed hyaluronic acid from deteriorating. All molecular ingredients have been researched by Institut Esthederm, are scientifically proven and provide radical improvements to the skin.
For those wanting to prevent or reduce the visible signs of ageing, we recommend investing in the Intensive Hyaluronic collection and trying it out for the minimum of two months to see whether you too achieve the optimal results promised by Institut Esthederm. All products mentioned are available from www.feelunique.com