Throughout May on SLOAN! Online, best-selling cookbook author, Fairtrade and sustainability champion, Melissa Hemsley, shares a tasty selection of mushroom recipes perfect for Spring. Perfect for both flexitarians and vegetarians, Melissa's range of dishes appeases all tastes. Today's recipe is a Thai-inspired lunch dish that feeds four in 45 minutes…
Lemongrass mushroom "mince", fried until golden in lettuce cups with lime fish sauce dipping sauce, served hot and DIY help yourself with cold noodles or cooked rice or quinoa served with lots of herbs, carrot & radish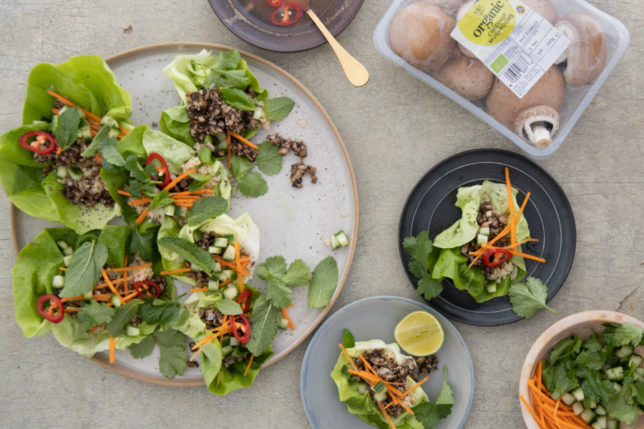 Ingredients
Mushroom Filling
500g mix of ASDA Extra Special Shitake Mushrooms AND ASDA Organic Chestnut mushrooms
60g walnuts
1½ tbsp coconut oil or ghee
1 lemongrass stalk, only the white bottom part, finely chopped
1 chilli, deseeded if you like, to your taste
2 tbsp tamari or soy sauce
2 big garlic cloves, finely chopped
½ bunch of spring onions, save the rest for garnishing
4 portions worth of cooked noodles or rice or quinoa
Sea salt
Dipping/pouring sauce
Juice of 1 lime (about 2 tbsp)
1½ tbsp fish sauce or vegan style fish sauce
1 tbsp maple syrup
4+ tbsp water
Chilli, finely sliced, to taste
Garnishing
5 heads of small round soft lettuce cups (I recommend double layering each cup)
2 handfuls finely sliced carrots and cucumber
2 handfuls fresh mint leaves
2 handfuls fresh coriander leaves and stalks
The rest of the spring onions
Method
Prepare the quinoa/ noodles or rice according to the packet instructions then let them cool and drain (if applicable). Meanwhile while that's cooking, go ahead and prepare all the garnishing and arrange them on a plate.
Mix the sauce ingredients together and taste for seasoning, it will be salty from the fish sauce, a little sweet, tangy from the lime and spicy, feel free to adjust with a little chilli, tamari or salt if you need more oomph, set aside.
Finely chop the mushrooms and mushroom stalks.
In a large frying pan or wok, toast the walnuts for a few minutes until golden then set aside
Put the pan back on the hob, melt the coconut oil and stir fry the mushroom on a high heat for about 5 minutes, stirring every now and then until they release their liquid and start going golden at the edges.
Add a pinch of salt and push the mushrooms over to one side of the pan, then add the finely chopped aromatics  – spring onions, lemongrass, garlic and chilli and stir fry for a minute before stirring into the mushrooms then add the tamari.
Chop the walnuts finely then stir them into the mushrooms and taste for seasoning.
Serve up your lettuce cups DIY style – pile some quinoa/rice/noodles into each lettuce cup, then top with the mushroom mix and lots of fresh herbs and then using a teaspoon pour a little sauce on top of each to finish.
The UK and Ireland Mushrooms Producers have partnered with Melissa Hemsley to inspire the nation to cook new and flavourful food that highlights the versatility of mushrooms in recipes. For inspiration on how to use tasty mushrooms in an array of meals, head to @madewithmushrooms on Instagram to see the latest creations.