Throughout May on SLOAN! Online, best-selling cookbook author, Fairtrade and sustainability champion, Melissa Hemsley, shares a tasty selection of mushroom recipes perfect for Spring. Perfect for both flexitarians and vegetarians, Melissa's range of dishes appeases all tastes. Today's recipe is a tasty salad dish that's the perfect lunch for two in 30 minutes…
Soba noodle salad tossed with sesame spicy fried mushrooms with quickly pickled cucumbers, spring onions and coriander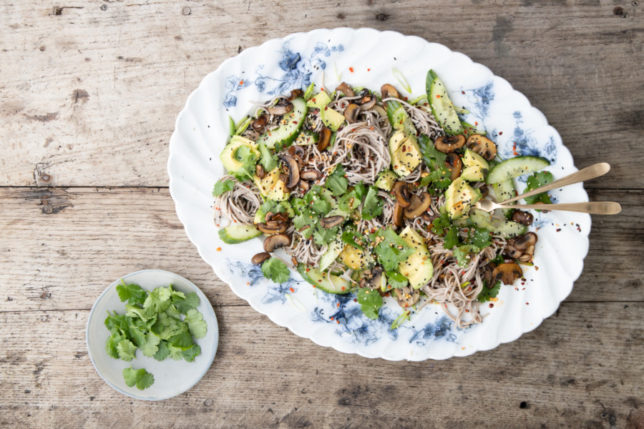 Ingredients
Mushroom Noodles
250g Sainsbury's So Organic Chestnut Mushrooms
3 tbsp black and white sesame seeds
2 bundles of buckwheat (Soba) noodles
Fresh chilli, finely chopped or chilli flakes
2 tsp maple syrup
1 tbsp coconut oil
Big handful fresh coriander, stems finely chopped
1 small ripe avocado, chopped or sliced
4 spring onions, finely sliced and green bits too
Quick 'pickled' cucumbers
1/2 medium cucumber
Juice of 1/2 lime, slice the rest of the lime into wedges
Sea salt
Dressing
1 big clove garlic, finely chopped
1 tbsp rice vinegar
1 tbsp tamari or soy sauce
2 tsp toasted sesame oil
2 tsp of your favourite chilli sauce
Method
Finely slice the cucumber and pop into a small bowl with the lime juice and a pinch of sea salt then scrunch the cucumber so it's coated and set aside.
In a medium bowl, mix all the dressing ingredients together.
Heat up a large frying pan or wok, melt the coconut oil and roughly slice the mushrooms.  Add the mushrooms and let fry on a medium high heat for about 5 minutes, stirring every now and then until the mushrooms release their liquid and they start going golden at the edges. Add the chilli, sesame seeds and maple syrup, stir and let fry with the mushrooms for a final minute.
Bring a medium saucepan of water to the boil and cook the noodles according to packet instructions – typically around 4-5 minutes, drain and immediately rinse with cold water, shake off any excess water, a little water is fine then tip into a medium bowl (in which you have mixed all the dressing ingredients together).  You want to mix the noodles with the dressing straight away so that it stops the noodles sticking.
This salad is great warm or cold from the fridge, toss everything together with spring onions and coriander and top with the avocado and quickly pickled cucumbers plus the leftover ½ lime sliced into wedges.
The UK and Ireland Mushrooms Producers have partnered with Melissa Hemsley to inspire the nation to cook new and flavourful food that highlights the versatility of mushrooms in recipes. For inspiration on how to use tasty mushrooms in an array of meals, head to @madewithmushrooms on Instagram to see the latest creations.