By Dr Knut Moe, Medical Director of men's health and hair loss treatment service Sons.
Working from home seems nice at first, no 1-hour commute to and from work each day, fridge is right next to you for snacks, don't have make small talk with anyone, don't even have to get dressed properly. After a while however, these seemingly nice breaks from the norm can begin to take their toll. Humans are not designed to be isolated, to be stuck at a desk at home, we are a social species who thrive on interacting with others. We're also not designed to be at the desk 12 hours a day, physically or mentally, and so the benefits of working from home can soon have a negative impact if you let them. The below tips will help you make the most of the benefits and optimise your health whilst working from home whilst avoiding some of the more common pitfalls.
Being mindful of your diet
Working from home means it's much easier to stay healthy when it comes to lunches, as we're not limited to grabbing the quickest food from local cafés surrounding the office and can be more mindful of what we're putting in our bodies. The problem is that sometimes it's easy to 'graze' at home and snack continuously throughout the day. Combining this with a more sedentary lifestyle, and it's easy to pile on the pounds in no time. Keeping a balanced diet is key for good mental and physical health, so It is important to make sure you're getting in all the nutrients you need, whether that's through taking the time to plan your lunches or preparing vegetables and keeping them ready in the fridge, so you can easily throw together quick lunches whilst keeping your health on track. Whilst many people struggle with snacking during the working days, this can be improved by increasing your protein intake to help you stay fuller for longer or preparing healthier snacks that are ready to grab when you're feeling peckish.
Exercise
Now that most of us no longer have a daily commute, we have more time to work on building healthy habits such as regular exercise. It's easy to use our commute time catching up on sleep or even work, however, rather than that, try incorporating an exercise regime into your daily routine.  A daily exercise regime doesn't mean you need to spend money on weights and equipment that you may no longer have access to with the closing of gyms, but can be as simple as allocating your usual commute time to a walk around the block or your local park. I know many people who leave the house at 8am, go for a 30minute brisk walk, then return home and head into the spare room to work and do the same thing at the end of the workday. Not only will this make sure you're not missing out on the exercise benefits of the daily commute to and from the office, but it will also help clear your head and shut off from any worries you may have, whilst increasing oxygen flow through the body to help you stay feeling energised. Exercise is invigorating for the body and the mind, and it's a good way to look after ourselves mentally as well as physically – it also acts as a good bookend to the day, to delineate between work time and home time, something which can often become blurred when working from home.
Sleep
Sleep is a hugely important factor when it comes to optimising your health, with studies from the National Sleep Foundation concluding that most adults need 7-9 hours of sleep per night. An ideal sleeping pattern involves having a consistent sleep routine, which can be achieved by going to bed broadly within the same 30 – 60-minute timeframe each night. It's also important to get up at approximately the same time each day, even at weekends – so whilst it may seem like a long lie in is beneficial at the weekends, it's actually thought to be less beneficial than getting up at consistently the same time.  With most of us facing increased screen time during our working days, it is important to try and reduce screen time after logging off work to allow your brain time to wind down (and reduce blue light exposure, thought to give us a less restful sleep), perhaps by catching up with a friend or family member over the phone or reading a book.
Mental health
With anxiety up 57% through the pandemic, mental health requires just as much attention as physical health. Many people are struggling with the change in working conditions and the increased stresses that have arisen as a result of the pandemic. One problem many face whilst working from home is not being able to switch off from work or delineate work time from home time, as not all of us are lucky enough to have our own office space, resulting in our relaxation space blending in with our workspace. However, it is important to make sure you disconnect from work to prevent the risk of feeling overworked or too mentally fatigued. This can be achieved by getting out of the house for some fresh air after you finish your working hours, and trying to keep the area you work in separate to the area you spend your evening in. Make sure you have enough down time before going to bed and try to try some new things each week, be it a new book, new exercise activity, cooking something new or ordering a meal kit from a different restaurant. Most of all, it's important to talk to people, especially if you live alone. Working from home can be very isolating for some, if you're feeling a little low, call a friend or family member for a chat. If you're doing ok, chances are that there's somebody you know who's not – maybe reach out and reconnect with them to see how they're doing, it might make a huge difference to their day.
For more information on Sons, please visit www.sons.co.uk
About the expert
Dr Knut Moe is the Medical Director at Sons, the subscription-based men's healthcare company that is breaking down taboos and giving men simple solutions that work. Currently in the UK 6.5 million men suffer with hair loss and navigating through the range of treatments and advice available online is a minefield. For Dr Knut, who has spent many years treating hair loss, it was the growing number of men concerned about hair loss, and the lack of cost effective and scientifically proven solutions that led to him to Sons. The company prides itself on giving men straight talking and honest advice, combined with evidence-based treatment.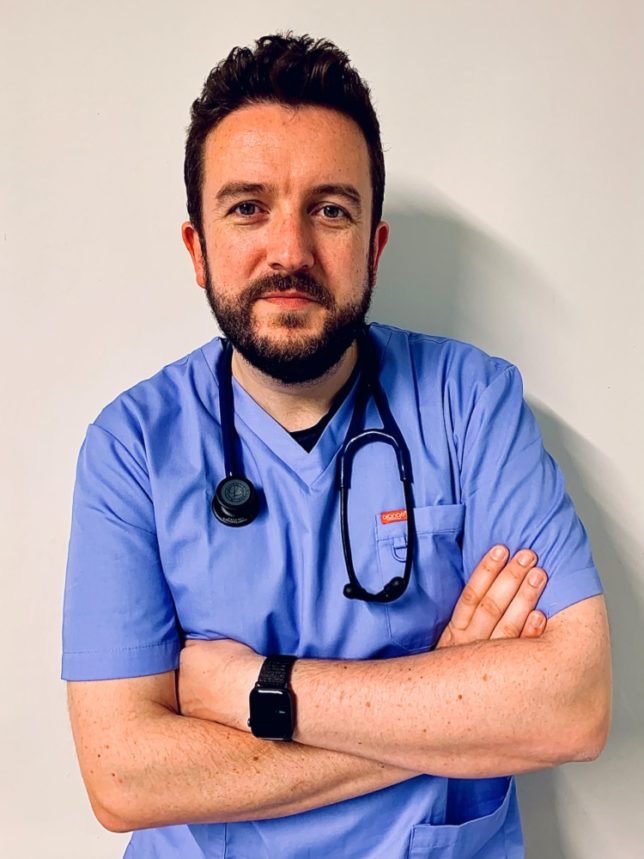 As a qualified GP, Dr Knut began his medical studies at the Royal College of Surgeons in Ireland, where he won the JJ Fitzsimons Gold Medal in Operative Surgery, graduating with honours, and from an early outset, he was interested in men's health. He joins Sons as Medical Director having gained extensive experience in hair loss, having worked at a leading Irish hair loss clinic for the past five years.
Prior to studying medicine, Dr Knut studied Business Studies and Political Science at Trinity College Dublin. He then worked in the financial services sector in London with Barclays Capital as an investment analyst in Canary Wharf.  It was his time working in the city that sparked his interest in becoming a doctor and specialising in men's healthcare. Knut says "I noticed that guys didn't talk about their health concerns, even if they had them and I wanted to help change this. As a doctor I see that it's the men aged 18-40 that often are slow to come into the practice to talk about personal issues such as hair loss. If they do come in, they tell me they are confused by differing information and costly treatments when they go online. What attracted me to Sons was developing treatments that work and don't cost the earth. The online business model means men can have an online consultation and receive the appropriate treatment, delivered straight to the door."
Dr Knut's medical interest and expertise is in men's health and he continues to work as a general practitioner in two family-run general practice clinics in Dublin, where is he Managing Partner. He is also an Associate Clinical Professor in University College Dublin, School of Medicine. He holds an MBA from UCD Michael Smurfit Graduate Business School, graduating with First Class Honours.