Since its launch in 2002, Pure Collection has become one of the largest direct and online retailers of cashmere in the world. They work exclusively with goat herders in Mongolia to ensure superb quality at a price that's fair and right. Cashmere has always remained at the heart of everything Pure Collection does, as the very first brand to achieve 100% sustainable cashmere production.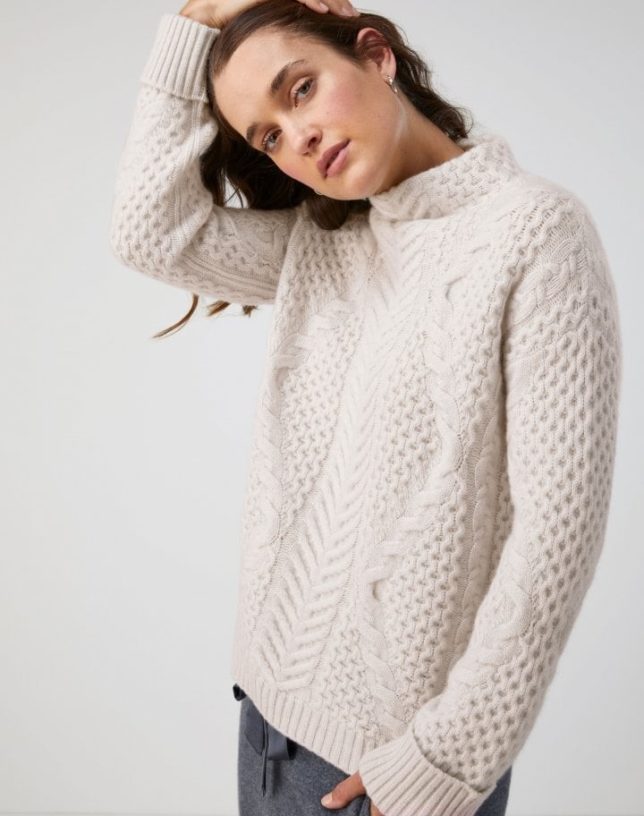 The Organic Cashmere Lofty Cable Sweater is bound to become a firm wardrobe favourite this season as the colder days draw in. Knitted in organically certified Gassato cashmere, this cosy cashmere knit is the ideal everyday sweater for the girl about town.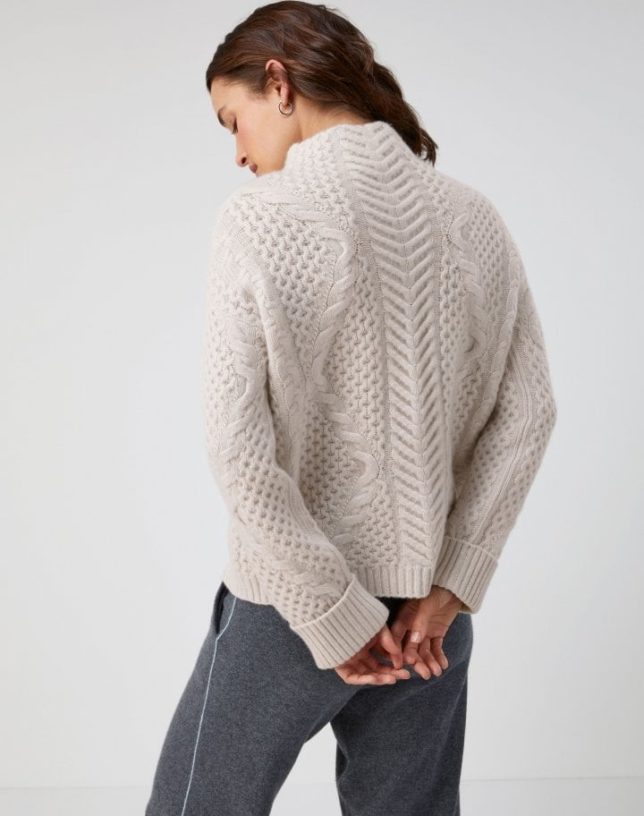 With luxe all over cable knit detailing and a stylish funnel neck, this straight fitting sweater has an oversized fit for a relaxed look. If you prefer a slim fit, we recommend buying one size smaller. The full length sleeves have turn back rib cuffs for a classic casual style which is carried through in the rib edge hem.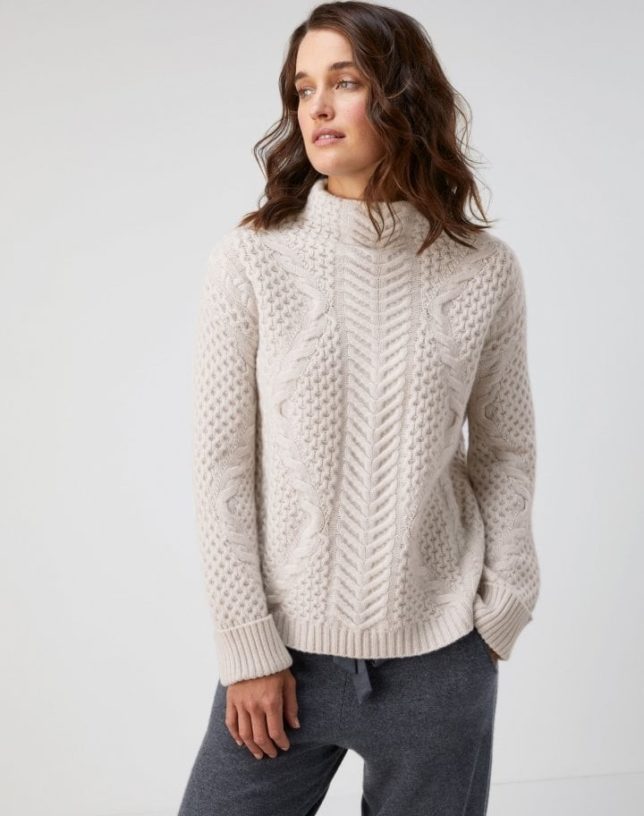 Pure Collection has achieved 100% sustainability in their cashmere production thanks to their winning combination of expertise and integrity. The brand has built close relationships with supplier partners who own their own herds of goats, all of which live in controlled areas in Inner Mongolia.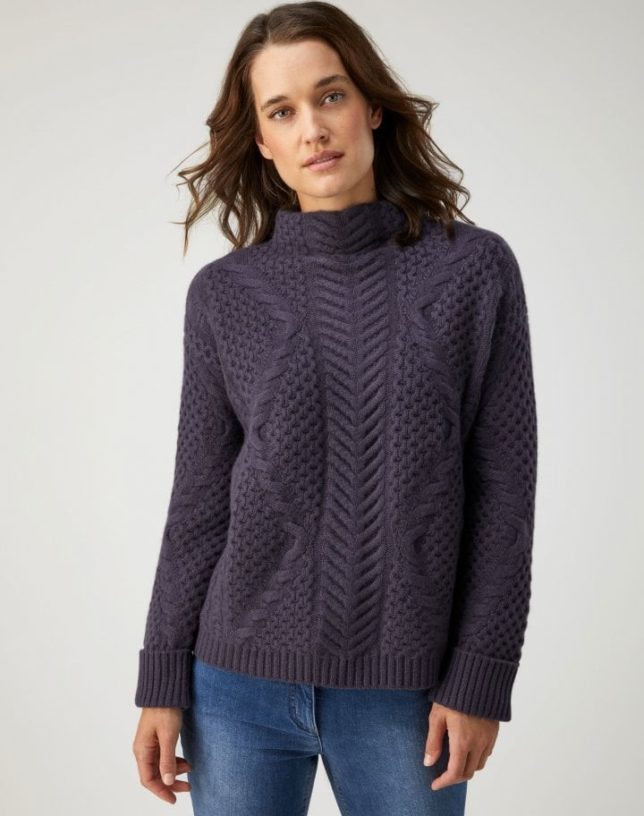 Aware of the potential detriment of overgrazing, Pure Collection pioneered a sustainable farming programme to tackle the root cause of desertification, caused by cashmere goats overgrazing in Mongolian grasslands. This provided an incentive for herders to feed the goats a more nutritious diet, rather than grazing their goats solely on the ecologically sensitive grasslands.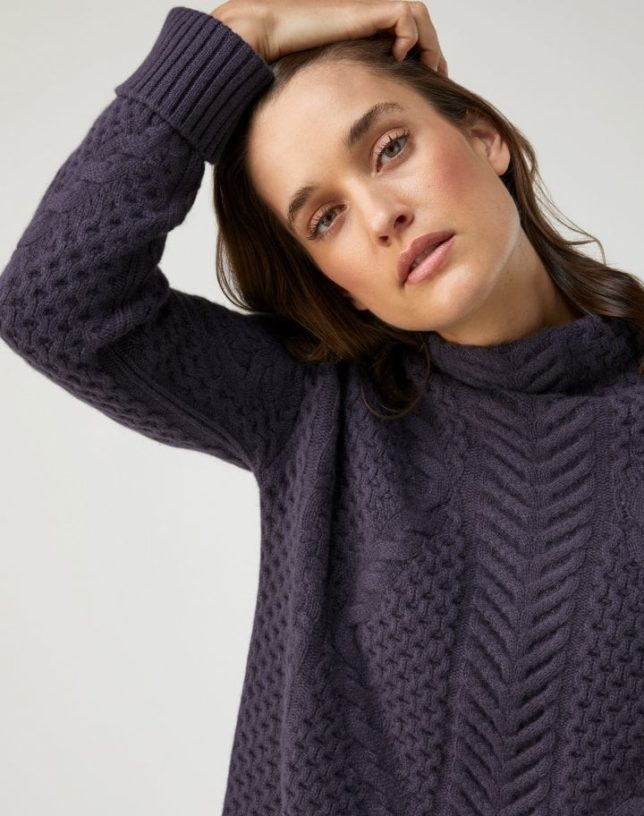 The process of keeping cashmere maintained to its finest quality is not an easy task, before items make it onto the shelves at Pure, the cashmere has to be hand combed, sorted and graded. This ensures all unwanted hairs are separated. It is then washed to remove dirt and grease: any coarse hairs are also removed during this process. They are then dyed and spun before being knitted and linked, the majority are done by hand.
If you would like to find out more about the Pure Collection production process, you can find further details at www.purecollection.com